A big welcome to M. L. Brennan who is here counting down her Top 10 Vampire Influences and celebrating the release of Generation V, American Vampire #1 (published on May 7, 2013 by Roc).  Does she list any of your favorite vampires? Want to win a copy? Enter via the widget below.
M. L. Brennan's Top 10 Vampire Influences
Thanks so much for inviting me! I've always had fun with vampires in fiction, so when I sat down to write my own vampire book, Generation V, there were a lot of different influences bouncing around in my mind. What I love so much about the vampire is that everyone who uses them takes the basic mold that exists and then makes changes or adjustments to fit this creature into the world that they have created. So when I was thinking about the vampires that had influenced me, what I was also thinking about was how each was a different variation on the theme.
So here's a list of those influences:

10
Dracula 2000
This was a moderately bad movie that was operating in an interesting gray area when the popularity of Anne Rice had waned a bit we were all still five years away from sparkly vampires. The movie has some perks – very attractive casting being among them. The script is not one of those perks. (the primary plot point involves leeches that have been sucking an imprisoned Dracula's blood and Dr. Van Helsing *totally* abusing his doctor's license! And bad parenting.)
What influences me about this movie was one two-minute sequence of it when Dracula, newly freed and feeling frisky after having eaten a few people, rides an escalator down into a Virgin Records store, and it is a perfect power introduction of the old creature into the new world, and a world that the vampire was adapting to and taking control of very well. I love that sequence. It is almost worth watching the movie for.
9

Underworld
Underworld is one of my influences because Selene is probably the most kick-ass vampire ever. How can someone not watch the first ten minutes of Underworld, where Selene is sitting on the top of a building at night, then jumps off the building, lands hundreds of feet below, then struts forward toward her prey with her coat blowing in the wind, and not say that it would be cool to write about vampires?
8

Anne Rice
I first read her books in early high school, so her vampires were (other than Dracula: Dead and Loving It) really my first big exposure. She made vampires erotic, powerful, and weirdly sexless. Seriously – they will live forever, with incredible hair and clear skin (a lot of description is spent on that), but all the dudes are now impotent. Kinda harsh.
Most important was the other thing she did – she made vampires WHINY. Dracula might have a few moments of introspection every now and again, but he'll kill some hot chick and feel better about himself. Interview With The Vampire (and the subsequent movie) created the powerful new image of an immortal who must kill to survive, and will spent eternity moping about it. Usually surrounded by Spanish moss.
7

Buffy the Vampire Slayer
Vampires are dead humans possessed by demons that will "vamp out" and then explode into dust when either decapitated or staked through the heart by any kind of wood (sometimes this happened with pencils, by the way). It was an awesome series (with very easy body disposal, probably to assist its high school protagonist) that had the great contrast of the usual mindless biting and scheming vampires as a norm, but also a hunky, brooding, remorseful, and kind of whiny one named Angel who was the protagonist's boyfriend for a while. This was also supplemented in later seasons by a vampire named Spike who, through the wonders of modern technology in the form of a behavior-modifying chip, was forced into positive behavior.
6

Supernatural
In the first seasons of Supernatural, vampires were straight-out monsters. They killed people, they were creepy when they did it, and they weren't just monkeying around with a pair of long fangs – oh, no – they had crazy hundred-fang mouths! Killing vampires was also very serious business, giving the Winchester brothers huge problems.
In the post-Lestat fantasy world (and even moreso post-Edward Cullen), there's something really refreshing about seeing a depiction of vampires as monstrous – not infected humans who suffer, brood, mourn, and periodically fall in love with their prey – but are full predators who actively seek to kill, and enjoy it.
In later seasons Supernatural flipped a lot of that stuff. But the first-season vampires were a big influence on me.
5

The Sookie Stackhouse Southern Vampire series
The brooding, romantic hero vampire is named… Bill. And when the heroine learns that, she spends about five minutes making fun of him. That just never stopped being funny for me.
Charlaine Harris created a fascinating and nuanced world of vampires, which in this series again dead humans who essentially view themselves as completely separate due to their powers and the fact that they subsist on human blood. But what I really thought was brilliant was this idea that when the Japanese developed a synthetic form of blood, the vampires now had a guilt-free food source and "came out of the coffin." And the rest of the series is based on the culture clash that followed – my favorite part being the pressure within the vampire community itself between those who want to "mainstream" and pretend to just be humans who have a virus, and those who have no desire to stop killing people and doing whatever they want.
4

Discworld
Terry Pratchett includes pretty much everything in his Discworld books – including vampires. Pratchett's vampires have a lot of things that I like – those who don't feed from humans are part of the Uberwald League of Temperance ("Black Ribboners"), because they live so long all the vampires start collecting incredibly long names and titles, and, most importantly, vampires are complete upper-crust snobs of the worst order.
3

Moonlight
It didn't last long, and there were definitely some flaws to it, but this show was actually a lot of fun. Yes, there was the complete silliness of vampire Mick St. John deciding that his best idea ever would be to start kind of dating a human reporter. The writers gave up that one about halfway through the first season (not that it was enough to save the show). But there are two reasons why I put this one higher than Buffy the Vampire Slayer – firstly, and most importantly, this show had the balls to stand up and declare that writing vampires as only being able to come out at night is really damn hard! And that they were going to have none of that silliness! Vampires on Moonlight strutted outside whenever they wanted, with only the token nod of sunglasses and the occasional wan expression and a line of "I've been out too long, I should go back inside."
Kudos, Moonlight. (yes, I know that The Vampire Diaries also has vampires who go out in the daylight. But that's because of magic rings, which is a completely different subject.)
The second great thing about Moonlight was the character Josef Kostan. He was a vampire, but he was also a successful businessman, and the amorality that was an intrinsic part of what made the character great was probably due about 50/50 from each of those elements. I really liked the idea of a vampire that had ties to the community, and a real business to run. There was an element of realism to him. (It was also nice to have a character who was willing to tell Mick St. John exactly how stupid his life choices were.)
2

Patricia Briggs
I utterly love the vampires in Patricia Briggs's Mercedes Thompson series – because they always scare the ever-living crap out of me. They are inhuman and creepy, and the reader is never allowed to forget it. They feed on humans in a way that isn't sexy or loving – the humans are cattle, and often mistreated. Briggs has a great vampire character named Stefan who is nicer than the average vampire – but the books always make it clear that no matter how likeable he is, human life doesn't have much meaning to him. When I was in the planning phases for Generation V, I spent a lot of time rereading Briggs's Blood Born and Moon Called.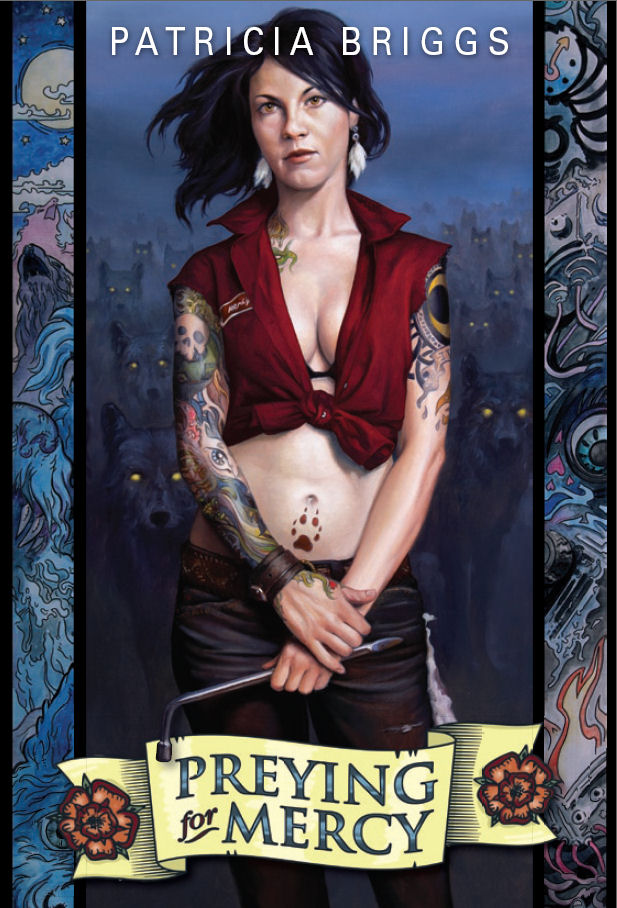 1

J. R. Ward
J. R. Ward's series about the Black Dagger Brotherhood really rethought vampires in a very new and exciting way. Ward made a lot of changes – daylight is still bad for her vampires, but they can teleport, plus they have a mental hypnotism power over humans that basically functions like the flashy-thing mind-wiper from Men In Black. There was also an interesting change to the blood drinking – Ward's vampires don't drink human blood – they drink vampire blood. Specifically the blood of opposite gender vampires. (cue the sexy times)
But for me the most important thing was that she made them a distinct species. These weren't dead or infected humans anymore, this was a species with its own specific history and biology that kept itself hidden from humans.
My first novel, Generation V, will be published on May 7, 2013 from ROC Books, and is a work of urban fantasy.
I cut my baby bibliophile teeth on my older brother's collection of Isaac Asimov and Frank Herbert, but it was a chance encounter with Emma Bull's War For The Oaks as a teenager that led to genre true love. Today, I'll read everything from Mary Roach's non-fiction to Brandon Sanderson's epic fantasies, but I'll still drop everything for vampires and werewolves in the big city. I live in Connecticut with my husband and three cats.
Website | Blog | Twitter | Facebook |
One copy of Generation V by M. L. Brennan
Available on May 7, 2013 by Roc
Description:
Reality Bites
Fortitude Scott's life is a mess. A degree in film theory has left him with zero marketable skills, his job revolves around pouring coffee, his roommate hasn't paid rent in four months, and he's also a vampire. Well, sort of. He's still mostly human.
But when a new vampire comes into his family's territory and young girls start going missing, Fort can't ignore his heritage anymore. His mother and his older, stronger siblings think he's crazy for wanting to get involved. So it's up to Fort to take action, with the assistance of Suzume Hollis, a dangerous and sexy shape-shifter. Fort is determined to find a way to outsmart the deadly vamp, even if he isn't quite sure how.
But without having matured into full vampirehood and with Suzume ready to split if things get too risky, Fort's rescue mission might just kill him.…
Enter the giveaway via the widget below – US only
---
Interested in being a guest on All Things Urban Fantasy? Fill out our Guest Request Form