Alpha & Omega: Cry Wolf Vol 2

by David Lawrence, Jenny Frison, Patricia Briggs, Todd Herman
Series: A
Genres: Graphic Novel, Urban Fantasy
Published by InkLit on May 7, 2013
Format: Hardcover
Pages: 112
Source: Publisher
Cover Artist: Dan Dos Santos
Reviewed by: Abigail


Sexual Content: Kissing

A world of shapeshifting wolves comes vividly to life in this collection of four comics based on Cry Wolf, the first book in Patricia Briggs's #1 New York Times bestselling Alpha and Omega series.

Charles and Anna are on the hunt for a rogue werewolf in the Montana mountains. The creature has morphed into something so dark that it kills everything in its path: deer, elk, grizzlies…humans.

But the wolf is the creature of something far more powerful. One of Charles and Anna's own pack harbors a centuries-old secret that has come back to haunt him—and wreak vengeance on those around him.

Charles and Anna—unaware of the truth—are two innocents who stand in the way. But even as members of their pack rally around them, Anna's rare power comes into its own—and is unleashed…
When the world is as lush and mystical as Patricia Briggs has created for the Alpha and Omega series, it just begs to be adapted to a visual form.  This graphic novelization (which includes issues 5-8 of the comics) is once again brought to vivid life by David Lawrence, Todd Herman, and Jenny Frison.  It's an excellent team, as this volume, is even more beautiful than the first.
While I'm partial to Dan Dos Santos as the artist who creates the novel covers for Patricia Briggs series, as well as the covers for these graphic novel collections, Jenny Frison's issue covers (all included in this volume) are pretty spectacular.  She captures action in a way that makes the wolves feel like they are about to leap off the page.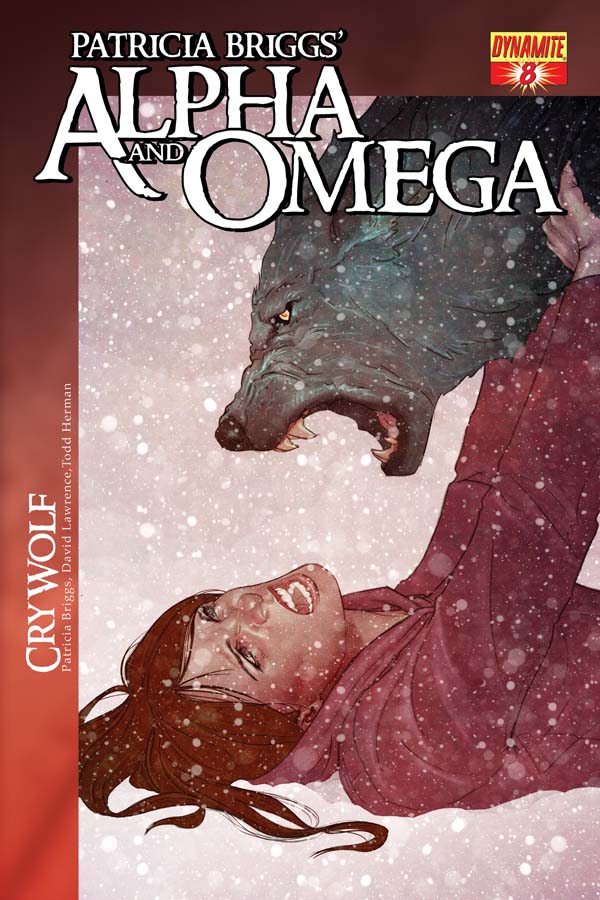 I still view these graphic novels as a compliment to the full novels, but this volume does a pretty impressive job of condensing the plot both through Patty's original dialog, and Todd Herman's deft illustrations. I especially liked how tortured Asil was drawn (great to get to see so much of the character since he crosses over so prominently in FROST BURNED, the most recent Mercy Thompson novel).  This volume is a no brainer for fans of Patricia Briggs, but more than that, it's a real treat for graphic novel fans too.
Series Titles:
More Reviews:
Similar Titles:
Mercedes Thompson Graphic Novels series

Anita Blake, Vampire Hunter Graphic Novels series by Laurel K. Hamilton

The Hollows Graphic Novel series by Kim Harrison