There is an abundance of smoldering gazes, bare pecs, and leather-clad tough guys in this week's post and the comments loved some, hated some, and cracked me up across the board. Thanks so much to our guest this week, Katie from A Book Obsession. If you're a blogger interested in joining in on the commenting fun, fill out a Guest Commentator form here!
Expected publication: December 3rd 2013 by Signet
Source: Goodreads
Covers in Series
Utterly destroyed, or lost forever?
This is the question that plagues Riley Poe. After her vampire lover, Eli Dupre, was seemingly murdered by a fallen angel, she receives word that he's actually trapped in an alternate dimension, where hell on earth is revealed and dark forces reign. Riley's been there before, and it nearly ripped her to pieces.
But her efforts to find Eli are thwarted by a new foe: a powerful, unstoppable vampire is slaughtering humans. Riley knows how to handle a vamp, and with the WUP team by her side, she's determined to take down the rogue.
But what she finds rocks her to the core, as she discovers a startling connection between the slaughter and Eli, who might not be missing after all—and who might not be the same vampire she fell in love with.
No Author Comment Available.
Chris Says 
I echo Kristina's comments here. Not a whole lot to love with this cover, but nothing to really hate about it either. Standard stuff. 
Katie Says 
I really loved the first cover in this series, but each one since hasn't really wowed me. This one is just too washed out for my tastes, and her tattoos just look odd this time around. 
Kristina Says 
Before I made the cover bigger it looked like she had weird mud patterns on her arms. Pretty classic UF cover and I do like the crossbow.
Revealed (House of Night #11) by P. C. Cast & Kristin Cast
Expected publication: October 15th 2013
Source: Author's Website
Covers in Series
The spellbinding eleventh and penultimate installment in the #1 New York Times bestselling vampyre series
Drastically altered after her fall at the end of Hidden, Neferet is now more dangerous than ever—and her quest for vengeance will wreak havoc on humans, as well as Zoey and her friends. Chaos is loosed in Tulsa and the House of Night is blamed. Can Zoey stop Neferet in time to keep her anger from escalating to full-on war? Or will someone else have to step in to take the fall?
The House of Night series is an international phenomenon, reaching #1 on U.S., German, and UK bestseller lists, and remaining a fixture on The New York Times Children's Series bestseller list for nearly 150 weeks and counting. With more than 12 million copies in print, rights sold in thirty–eight countries to date, and relatable, addictive characters, this series is unstoppable. Now, in the eleventh and penultimate installment of the series, the action is more intense and the stakes even higher as Zoey and her friends battle to protect their school and home from devastating evil—all while balancing romances, precarious friendships and the daily drama of the House of Night's halls.
No Author Comment Available.
Chris Says 
This is a very well done cover. Maybe I don't read the right books, but that's not a color I see used very often. I also like how they make you believe that whomever is hiding under that hood is going to be the big reveal. Even if that ends up not being the case, it's still a cool, mysterious cover. 
Katie Says 
I think this is one of the best HoN covers yet. It's such a pretty color, and adds just the right amount of mystery. It makes me want to get caught back with this series. 
Kristina Says 
She looks mysterious and the pattern on these books are always a nice touch. I wonder if she is going to Reveal her face behind that hood in the book. I bet her eyes glow. They always do when they are hiding them behind a hood. Hint: The eyes are purple! Okay I don't actually know…
Only the Good Die Young (Ghost for Hire #1) by Chris Marie Green
Roc, February 2014
Source: Author's Blog
Covers in Series
N/A
My name is Jensen Murphy, and thirty years ago I was just an ordinary California girl. I had friends, family, a guy who might be The One. Ordinary—until I became a statistic, one of the unsolved murders of the year. Afterwards, I didn't go anywhere in pursuit of any bright light—I stayed under the oak tree where my body was found, and relived my death, over an over. So when a psychic named Amanda Lee Minter pulled me out of that loop into the real world, I was very grateful.
So I'm now a ghost-at-large—rescued by Amanda (I found out) to be a supernatural snoop.  I'm helping her uncover a killer (not mine—she promises me we'll get to that) which should be easy for a spirit.  Except that I've found out that even ghosts have enemies, human—and otherwise…
No Author Comment Available.
Chris Says 
This is getting a middle grade from me simply because I was happy that the 'ghost' on the cover was fully clothed. And wearing normal clothes at that! This would have been a much better cover without the model on it though. 
Katie Says 
Other than it being obvious that she's a ghost, this cover really doesn't do anything for me. It just feels generic and I'm not a fan of the font. 
Kristina Says 
Not too thrilled by the cover but she does look ghostly so that's a plus. She's just standing there looking pouty. I guess she was good since she died young.
Expected publication: October 1st 2013 by Simon & Schuster Books for Young Readers
Source: Hollywood Crush
Covers in Series
In the second book of the Arcana Chronicles Evie has now fully come into her powers as the tarot Empress. And Jackson was there to see it all. In the aftermath of killing Arthur, the tarot Alchemist, Evie realizes that a war is brewing between the other teens that, following the apocalypse, have been given powers and its kill or be killed.
Things get even more complicated when Evie meets Death, the mysterious, sexy Endless Knight. Somehow the Empress and Death share a romantic history – one that Evie can't remember, but Death can't forget. She is drawn to the Endless Knight, but is in love with Jack. Determined to discover why she's been granted these powers, Evie struggles to accept her place in a prophecy that will either save the world, or completely destroy it.
See the photo shoot video here.
No Author Comment Available.
Chris Says 
You'd think a #1 New York Times best-selling author would rate covers that don't look like they were the result of a bad copy and paste in Photoshop. And what's up with the white text against the white cloak? Yuck. 
Katie Says 
I'm sorry but this cover is terrible. The dude's head looks like it was originally attached to a different body and then photoshoped into that trench coat. Something is off with the girl and her hood as well. I agree with Chris, I can't believe this is a Kresley Cole cover considering her massive best selling status! 
Kristina Says 
They look like they were photoshopped together. I like the background.
Darker Days (The Darker Agency #1) by Jus Accardo
Expected publication: August 2013 by Entangled Publishing
Source: Stuck in Books
Covers in Series
N/A
Jessie Darker goes to high school during the day, but at night she helps with the family investigation business. Cheating husbands and stolen inheritances? They're your girls—but their specialty is a bit darker. Zombie in your garage? Pesky Poltergeist living in your pool? They'll have the problem solved in a magical minute. For a nominal fee, of course…
When gorgeous new client, Lukas Scott, saunters into the office requesting their help to find a stolen box, it sounds like a simple case—until the truth comes out. The box is full of Sin.
Seven deadly ones, in fact.
They've got five days to recapture the Sins before they're recalled by the box, taking seven hijacked human bodies with them. Easy peasy—except for one thing…
There's a spell that will allow the Sins to remain free, causing chaos forever. When the key ingredient threatens the life of someone she knows, Jessie must make the ultimate choice between love and family—or lose everything.
No Author Comment Available.
Chris Says 
The girl on the cover looks like she's on her way to the mall. This is another case of a cool looking cover hurt by an out of place looking cover model. 
Katie Says 
I've always been a huge fan of dual images, and the colors on this one are so pretty, so I love it. 
Kristina Says 
OMG! She's fully clothed! *faints* Oh wait its a YA cover duh. I like the different look of the purple side street vs the blue side.
The Sharpest Blade (Shadow Reader #3) by Sandy Williams
Expected publication: December 31st 2013
Source: Goodreads
Covers in Series
Torn between two worlds.
Torn between two lives.
McKenzie Lewis's ability to read the shadows has put her—and …those she loves—in harm's way again and again. The violence must end, but will the cost of peace be more devastating than anyone ever imagined?
After ten years of turmoil, the life McKenzie has always longed for may finally be within her grasp. No one is swinging a sword at her head or asking her to track the fae, and she finally has a regular—albeit boring—job. But when a ruthless enemy strikes against her friends, McKenzie abandons her attempt at normalcy and rushes back to the Realm.
With the fae she loves and the fae she's tied to pulling her in different directions, McKenzie must uncover the truth behind the war and accept the painful sacrifices that must be made to end it. Armed with dangerous secrets and with powerful allies at her side, her actions will either rip the Realm apart—or save it.
"When I was trying to guess what color scheme the artist would use for this book, turquoise never crossed my mind. I have to say, though, I adore it. The swirly magic is always my favorite part of the covers. What's also awesome about this cover? The quote from Fiction Vixen. I think it's great when bloggers' reviews are put on covers!" – Sandy Williams
Chris Says 
This is a pretty good example of how to do sexy on a cover without being annoyingly in your face about it. The pose she's in looks horribly uncomfortable though! 
Katie Says 
I knew exactly what series this was before even looking at any of the text. I think it fits in perfectly with the other books. Her pose says major badass. 
Kristina Says 
I agree on the color scheme being nice and swirly magic is always a nice touch for covers. But I have to ask, is it really the sharpest blade? I mean do we have a sharp blade competition happening? I bet she has lots of 1st place ribbons at this theoretical competition.
Expected publication: January 7th 2014 by Berkley
Source: Goodreads
Covers in Series
No Description Available.
No Author Comment Available.
Chris Says 
Stupid tattoos and guy who doesn't appear to have any reason to not be wearing a shirt? Put those together and you get boring cover that doesn't distinguish itself from the pack. (Wild Wolf. Pack. Get it? Well, I thought it was funny…) 
Katie Says 
It's like every other PNR cover out there. Not terrible, but not great either. But I agress with Kristina, at least they didn't lop of his head! 
Kristina Says 
I commend this cover for not cutting off the poor man's head but he's still hiding behind the author's name! Oh and bad tattoo job. I await the next book titled "Domesticated Wolf aka Dog".
Expected publication: July 2nd 2013 by Samhain Publishing
Source: Author's Tweet
Covers in Series
No Description Available.
No Author Comment Available.
Chris Says 
I don't know what's going on with this cover. Is the owl an elder god? Or is the giant head? Nothing about this cover is interesting at all. Yawn. 
Katie Says 
I realize this is a novella, but I'm just not a fan. Perhaps if they had removed the owl and just had the dude I would have liked it. The shadowing is pretty cool and I like the eye effect, but I just don't get the owl. I mean what is this cover trying to say? 
Kristina Says 
Boring. Does he turn into an owl? How does the mass conversion for that work? Perhaps he becomes a giant owl who can shoot magic out of his eyes! Okay maybe not the eye shooting thing. I wonder if in human form he can rotate his head like an owl. That would be a creepy party trick.
Expected publication: January 7th 2014 by Ballantine Books
Source: Goodreads
Covers in Series
New York Times bestselling author Jacquelyn Frank continues her scorching and sensual new series set in the world of the Nightwalkers, where alluring entities known as Bodywalkers are the vanguards against the raging forces of darkness.
As a mercenary, Leo Alvarez has signed on for a lot—but he never signed on for his best friend becoming host to the soul of an ancient Egyptian pharaoh. Jackson is now inhabited by a Bodywalker, and Leo is forced to grapple with a realm of supernatural beings far more dangerous than anything he's ever encountered.
But when Jackson is wounded by an attack from a demon god, Leo must team up with another supernatural creature—a Night Angel—to save his friend from utter destruction. With skin as black as midnight, hair as white as snow, and a body of pure perfection, the Night Angel arouses a burning desire in Leo, even as he refuses to be intimidated by her power—or the power of those who would destroy his friend. An unusual alliance is forged, electrified by sexual temptation, and together the two must unite their strengths to bring down a supreme evil.
No Author Comment Available.
Chris Says 
Did I miss the meeting where lame tribal tattoos symbolize that a book is paranormal fiction? Cause it can stop anytime. The cover says something about Nightwalkers so I'm gonna guess it has something to do with vampires, but going by this cover I honestly have no idea if that's the case. 
Katie Says 
I can't stop laughing at Kristina's response. But yes, what is going on with this cover? Tribal tattoos aside, the colors, post, even the smog around his behind and this cover is awful. 
Kristina Says 
Did his shirt forsake him? Is that why he is forsaken? I think the shirt was finally sick of his tattoo and is protesting the prevalance of tribal tats on books. Go for a skull and crossbones people! Or a heart with "Mom" on it. Put an arrow through that heart to make it extra special. Or how about a hula lady on the bicep so she can dance when he flexes. Yeah, anything but tribal tattoos.
Expected publication: January 7th 2014 by Hyperion Book CH
Source: Goodreads
Covers in Series
No Description Available.
No Author Comment Available.
Chris Says 
This is an example of a paranormal romance done right. No offensive half naked people and a cover that actually hints at paranormal stuff. Huzzah! 
Katie Says 
This one just doesn't impress me. There isn't anything memorable about it, and honestly I'd pass right by it in a store and not look twice. 
Kristina Says 
I agree with Chris. This is a paranormal romance cover done right and it doesn't even have a shirtless dude! Nicely done.
Warrior Untamed (Warrior #3) by Melissa Mayhue
Expected publication: November 26th 2013 by Pocket Books
Source: Goodreads
Covers in Series
In the third page-turning novel in the captivating Warriors series, a fiery lass bent on revenge meets her match in a powerful Norse warrior.
If only Bridget MacCulloch, descendant of the mighty Picts, could control her temper and overcome her lack of patience, she'd likely be the most formidable warrior of her day. But how's she supposed to master that temper when all the men she encounters seem determined to thwart her every move, suggesting that she find a good husband and settle down? Her only interest in life is avenging her father's death—a goal which in no way includes spending time with the arrogant, domineering Norseman who saved her life.
As a descendant of the Norse god Thor, Halldor O'Donar carries his ancestor's title as the Protector of Man. Though he's plagued by interfering Faeries, he's determined to save Mankind from a monster that escaped from his ancestors' world. The last thing he wants is a wild-tempered woman to distract him from his quest.
But the Fates have other ideas. Brie and Hall find that the only way to meet their individual goals is to work together. To succeed, she must learn to harness her negative emotions to free the power of the warrior within, and he must let down his protective walls to allow one very special woman inside…
No Author Comment Available.
Chris Says 
Ugh. What is this? It's snowing and he has no shirt. Blah. That's also an awfully modern looking haircut he's got going on as well. Isn't this supposed to be set a few hundred years ago? 
Katie Says 
What is going on with this cover? She's dressed, yet he's shirtless and wearing a kilt in the snow? At first glance my mind saw this as a steampunk cover, but the bow and sword are throwing me off. I just feel like it's all over the place. 
Kristina Says 
They still have the random shirtless dude but he's nicely balanced out by the fully clothed woman (Its winter on the cover…isn't he cold?) I like the swirling magic and it looks like an interesting adventure. Maybe she teaches him how to dress for the weather.
Seducing the Demon Huntress by Victoria Davies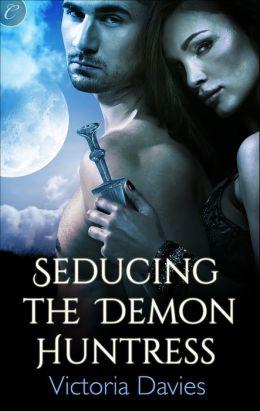 Expected publication: June 3rd 2013 by Carina Press
Source: Goodreads
Covers in Series
N/A
Trick or treat, survive until the night's complete.
For most people Halloween is a night of candy, costumes and revelry but for Kerilyn, it's the most dangerous night of the year. Hailing from a line of demon hunters, Kerilyn's family has long been hated by the ruling lords of the Netherworld. On All Hallow's Eve, the deadly brothers are released from their realm, along with their subjects, the spirits and the demons. Like every good hunter, Kerilyn fortifies her home with spells and tricks to keep her safe. But there is one man no spell can protect her heart from.
Arawn, Lord of the Spirits, has appeared at her fence every Halloween for years. While the handsome lord may turn her head with his heated looks and seductive words, Kerilyn knows without a doubt that should she ever invite him in, her life would be forfeit. But when his brother, the Lord of the Demons, kidnaps her niece, Kerilyn must leave her sanctuary. Now she has a choice. Can the man she's dreamed of for years be trusted, or will the spirit lord help his brother destroy her?
No Author Comment Available.
Chris Says 
The lack of blood while gripping a blade is bugging me just as badly, Kristina. This is a horribly generic cover that could be slapped on any paranormal romance. 
Katie Says 
Okay I'm starting to feel rather picky, but most of these covers are just not doing anything for me. Terrible expressions, terrible lighting, this one just screams self pub to me. 
Kristina Says 
Is that a blade in her hand. She is griping a blade! Shouldn't there be blood? Besides the poor weapons handling its not that interesting of a cover.
Moonlight (The Moon Series #1) by Lisa Kessler
Expected publication: July 15th 2013 by Entangled: Edge
Source: Goodreads
Covers in Series
N/A
Rancher Adam Sloan is more than meets the eye. As the heir to his Pack, the sexy werewolf's biggest challenge is keeping his kin's true nature under wraps. But a group of jaguar shifters threatens to reveal the pack, blasting into town killing humans in plain sight. And when he smells one at the local diner, his standing orders are to take her out.
Lana Turpin doesn't realize she's a moving target. Raised in the foster system, she only knows that she blacks out during the new moon and wakes up without remembering a thing. But now she's being tracked by some strange organization that wants her back—even though she's never stepped foot inside their compound. And the stranger across the diner is watching her like an enemy.
It should be a simple mission for Adam, but when he touches the frustratingly beautiful Lana, his inner wolf howls…mate. Now, the two must find and stop the people who hunt her…and Adam must keep his own family from killing the only woman he will ever love.
No Author Comment Available.
Chris Says 
I would have given this a thumbs up if the dude had been pantsless rather than shirtless for a book in The Moon Series. 
Katie Says 
I like the font of the title. Other than that, it's just like every other PNR out there. 
Kristina Says 
He has no tattoo!!!! That's really the only reason I gave this cover a Middle thumb and not a Down one.
Expected publication: June 24th 2013 by Carina Press
Source: Goodreads
Covers in Series
Raquel Lindgren knows what her future holds. An arranged marriage. A new home in Ragnarok, Iowa, with another clan of refugees from Asgard. She should be happy. But there's a mental block preventing her from tapping in to her true abilities as a witch. And she's more attracted to the best man than she is to the groom…
Fen can't believe he's falling for his best friend's future wife. As a hound, a wolf shifter, his duty lies with the pack. He's seen too many hounds destroyed by love, and he's sworn never to take a mate, never to have children of his own. He can't deny his desire for Raquel, but she deserves more than he can offer her.
Raquel's been raised to trust in magic, her clan and her destiny. But when a vengeful demon threatens to break out of Asgard and destroy the clan, Raquel learns she must trust in love if she is to take the future into her own hands.
No Author Comment Available.
Chris Says 
I feel obligated to give this an up vote after all the ragging I've done on the partially clothed covers this week. Totally agree with Katie and Kristina on the font as well. 
Katie Says 
Love the Font of Witch Bound, but what is up with that dude's expression? He doesn't not look thrilled to be holding her, definititely doesn't say "happy in love" to me. 
Kristina Says 
Both of them are fully clothed and lack tattoos! I assume they have pants on. Besides that the way the are holding eachother is kind of romantic and the title font is pretty.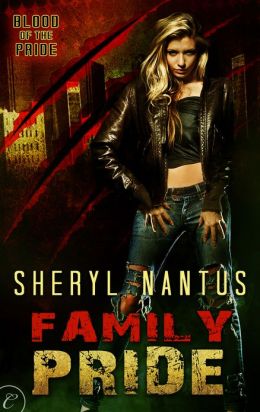 Expected publication: June 3rd 2013 by Carina Press
Source: Goodreads
Covers in Series
No Description Available.
No Author Comment Available.
Chris Says 
It hurts to give an up vote to a book that appears to be about werewolves or another type of shapechanger since I hate them, but yeah, this is a stellar urban fantasy cover. Great font, great artwork and just the right amount of paranormal flourishes. 
Katie Says 
Definite Urban Fantasy. LOVE everything, from the colors, to the claw marks, even her pose and expression. 
Kristina Says 
This screams Urban Fantasy and I am liking her leather jacket. Its dark and and the claw marks are a nice addition.

And our picks for Best & Worst covers of the week…
Best
Worst
What are your picks for Best and Worst covers? See even more covers on ATUF's Pinterest boards.

---
Have a cover we should include in an upcoming post? Fill out our Cover Submit form