A big welcome to Faith Hunter who is here for her blog tour celebrating the release of Blood Trade, Jane Yellowrock #6 (published on April 2, 2013 by Roc) which we described as, "a perfect blend of dark fantasy and mystery with a complex and tough vampire killing heroine". Want to win a copy and swag? Enter via the widget below.
Interview with Faith Hunter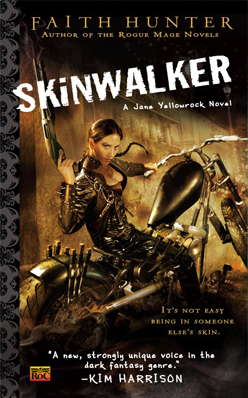 ATUF: Tell us about Jane Yellowrock's voice and Beast's voice. How did you find them?
FH: Their voices are not easy, because to me, Jane is like one of those faceted crystal prism balls. It's clear, but when you hold it up to look inside, it bends light around in strange and wonderful ways, and throws off rainbow hues. Jane is like that. Violent, broken, tender, loving, giving, solitary. She is a Cherokee Skinwalker—possibly the last of her kind. She is a modern woman. She is a warrior woman who accidentally did black magic once, very long ago, and now has the soul of a mountain lion inside with her, and that panther has her own voice, too. Jane is … complicated, partially because her own history is lost to her in a version of traumatic, protective amnesia that left her isolated from everyone. I thought that as I wrote the series, she would unravel to me, become an open book (koff-koff). Instead, it seems she is growing more complicated! Her love life is growing more complicated… Jane is a really complex character, and not only because of her coexistence with Beast.
Beast's voice was even more difficult because Beast started out with an animal brain and learned the concept of language from Jane. This made her voice primitive, and language skills nascent at best, and her understanding of social skills … well, let's be kind and call them minimalistic. (writer rolls eyes)
ATUF: So far you have SKINWALKER, BLOOD CROSS, MERCY BLADE, RAVEN CURSED, DEATH'S RIVAL and now BLOOD TRADE. How many do you plan to write?
FH: I have contracts for three more, and perhaps I can see as many as 15 total. But there will certainly be an end to the series. And then? Maybe spinoffs. I'd LOVE to write Angelina's story. Love me some Angie Baby! And Rick's story. HOT!
ATUF: If your Jane Yellowrock series were being made into a movie, who would you cast for the leading roles? Why?
FH: Rhona Mitra comes to mind. She was in SHOOTER, UNDERWORLD – RISE OF THE LYCANS, and others. But I'm open to any female actress Hollywood can find who is 6 feet tall, looks Cherokee, and has mad fighting skills. Oh – and yellow eyes.  (rolls my own)
ATUF: Tell us 4 reasons why people should read your books.
If you read urban fantasy, like action, mystery, and a little romance, Jane Yellowrock is your gal!

Something totally different in a character voice: Jane has two – herself and Beast.
My heroes are very sexy, complicated men. And Jane just can't pick between them. Sexual tension is the name of the game.
Bad guys you love to hate, and good guys who are To. Die. For. Maybe literally. And even, good guys who are dangerous, and Jane might have to fight someday.
ATUF: Which 4 characteristics should a perfect heroine have in your opinion? And do you think  Jane fits this description?
FH: This is a great question, and a difficult one for me.
The perfect kick-butt heroine should be strong. Readers want to read about a character who can kick bad-guy butt, but who also knows when to fight, and when to walk away. A character who is violent for no reason, or whose first and *only* response to violence is more violence, is boring. While violence against women is unacceptable, sometimes violence back is just as unacceptable. Sometimes a character who takes a licking should just walk away, or she could become predictable or two dimensional. (Like that line in that line the old song, "Know when fold 'em.") A character should be able to surprise readers to keep them interested.
She should have weaknesses or be broken. Readers like to see characters who have flaws, problems, empty or dark places in their souls, people who are fighters and who push through the darkness no matter what. Life is hard. If a broken character can do it and find joy, then maybe I can too. I think that's why I write broken characters. I'm broken. Healing, but broken.
She should be tender. A character who is too hard is a robot. A character has to care for someone, and in Jane Yellowrock's case, there are a lot of secondary characters that she loves—more noteworthy Angelina (Angie Baby). Without tenderness, a character is just a psycho killing machine. Something has to make her weep. Children make Jane weep.
She should be capable of love, even if she fears it. She should be willing to try a committed relationship, even though she's scared.
Is Jane all that? I think so. Despite Beast's *little problem* which happened in RAVEN CURSED Jane is Beast-strong. She is broken by her past. She loves Angie Baby and Molly, her godchild and best friend. She wants to love. Even though it hurts. And she pushes on, no matter what, even when she wants to give up and die.
ATUF: Can you tell us a bit more about the worlds your novels are set in?
FH: The Rogue Mage novels are set in a post-apocalyptic world where the angels of judgment came and raised their swords of punishment. Billions of humans died of the plagues they sent, of war with the demons and Darkness that followed. When the first generation of post-apocalypse babies were born – they could do magic. Thorn St. Croix is a stone-mage. And becomes a battle-mage as well.
The world of the Jane Yellowrock novels is our world in every way. Except for a shift in the historical timeline when vamps and witches came out of the closet. When Marilyn Monroe was staked by the Secret Service while trying to turn the president of the US, in the oval office, the millennia-long secrets were revealed. From that moment, everything is both the same and very, very different. These books are more lighthearted and funny and real, in the sense that the world is our world. But they are also dark and violent and painful, because Jaen is so broken. But such a fighter too!
ATUF: Thanks so much for stopping by Faith.  Come back anytime!
Faith Hunter writes dark urban fantasy: Skinwalker series, featuring Jane Yellowrock with Skinwalker, Blood Cross, Mercy Blade, Raven Cursed, Death's Rival and Blood Trade. Her Rogue Mage novels, a dark, urban fantasy series—Bloodring, Seraphs, and Host—feature Thorn St. Croix, a stone mage in a post-apocalyptic, alternate reality.
Website | Blog | Twitter | Facebook |
One copy of Blood Trade by Faith Hunter and a Jane Yellowrock swag pack!
Available on April 2, 2013 by Roc
Description:
Jane Yellowrock is a shape-shifting skinwalker who's always up for a fight—even if it means putting her life on the line…
The Master of Natchez, Mississippi has a nasty problem on his hands. Rogue vampires—those who follow the Naturaleza and believe that humans should be nothing more than prey to be hunted—are terrorizing his city. Luckily, he knows the perfect skinwalker to call in to take back the streets.
But what he doesn't tell Jane is that there's something different about these vamps. Something that makes them harder to kill—even for a pro like Jane. Now, her simple job has turned into a fight to stay alive…and to protect the desperately ill child left in her care.
Read an Excerpt | Watch Book Trailer | Read our Review
Enter the giveaway via the widget below – Open to US only
---
Interested in being a guest on All Things Urban Fantasy? Fill out our Guest Request Form