There are some stylistically *gorgeous* covers this week.  With another guest commentator to join in on the fun, Jackie from the ever lovely Literary Escapism, we have a wonderful canvas of different tastes when making our Best and Worst determinations.  Though of course I'm partial to my own favorite cover, Adrienne Kress's OUTCAST, Jackie's top choice (shown below) shares a lot in terms of color and composition. And mystery.  And awesomeness.  Ok, I just love most of these covers.  Too much gorgeous to resist!
Any Other Name (The Split Worlds #2) by Emma Newman
Expected publication: May 28th 2013 by Angry Robot
Source: Publisher Website
Covers in Series
Cat has been forced into an arranged marriage with William – a situation that comes with far more strings than even she could have anticipated, especially when she learns of his family's intentions for them both.
Meanwhile, Max and the gargoyle investigate The Agency – a mysterious organisation that appears to play by its own rules – and none of them favourable to Society.
Over in Mundanus, Sam has discovered something very peculiar about his wife's employer – something that could herald a change for everyone in both sides of the Split Worlds.
No Author Comment Available.
Chris Says 
Love the use of color on the flowers against the stark black and blue of the rest of the cover. Has a nice, spooky vibe to it. 
Julia Says 
The framing of this cover is absolutely gorgeous, but I wish the title and series text were less cramped.  
Jackie Says 
Love black/blue color scheme and the detail is amazing. The colored flowers add just enough color to give the cover a real eye candy appeal.
Backward Glass by David Lomax
Expected publication: October 8th 2013 by Flux
Source: Goodreads
Covers in Series
N/A
Crack your head, knock you dead, then Prince Harming's hunger's fed.
It's 1977, and Kenny Maxwell is dreading the move away from his friends. But then, behind the walls of his family's new falling-apart Victorian home, he finds something incredible–a mummified baby and a note: "Help me make it not happen, Kenny. Help me stop him."
Shortly afterwards, a beautiful girl named Luka shows up. She introduces Kenny to the backward glass, a mirror that allows them to travel through time. Meeting other "mirror kids" in the past and future is exciting, but there's also danger. The urban legend of Prince Harming, who kidnaps and kills children, is true–and he's hunting them. When Kenny gets stranded in the past, he must find the courage to answer a call for help, change the fate of a baby–and confront his own destiny.
No Author Comment Available.
Chris Says 
Too much light coming from the mirror. Makes it hard to see the hands coming out at first glance. Also not a big fan of the use of multiple images for the kid on the cover either. 
Julia Says 
Woah, nothing could better explain the look on this guy's face than those creepy-ass arms.
Jackie Says 
Meh…the arms reaching out of the circle of light seem a little distracting. It also makes the title hard to read. I'm also not digging the trippy feel with all the wavy lines and character. It's a bit much, plus it's not really original. I don't dislike it, but it's easy to pass over.
The Heavens Rise by Christopher Rice
Expected publication: October 15th 2013 by Gallery Books
Source: Goodreads
Covers in Series
N/A
New York Times bestselling author Christopher Rice returns to New Orleans in this supernatural novel featuring a group of teenagers who find themselves with mysterious and dangerous powers.My name is Niquette Delongpre and on the night before my mother's forty-seventh birthday, my entire family vanished without a trace. Everyone assumed the swamp swallowed them. They were wrong. The real story begins weeks earlier, in the very soil of the place we called Elysium, which means "final resting place for the heroic and virtuous." An ironic name, given that the secret unearthed there has the potential to change the course of human history.
Deep in the swamps outside of New Orleans, Niquette Delongpre and her family uncover a well on their property—a well that has roots all the way down into the soils of the Mississippi River. A well that brings ancient things to the surface—things that should have stayed buried.
When Niquette is exposed to a small parasite, it triggers in her mysterious and dangerous powers. As she tries to come to grips with these new abilities and what they might mean for her future, she realizes that she is not alone. Someone else, someone who was exposed to the same mysterious parasite during a clandestine visit to the swamp Niquette would rather keep secret, also is discovering his new talents, and he's not as nice as she is…
No Author Comment Available.
Chris Says 
I like the imagery on this cover quite a bit. Only reason it's not getting a thumbs up is that I had no idea by looking at it that this is a paranormal/horror novel. 
Julia Says 
I wasn't a fan of The Necromancer's House (and may have mocked the blur effect), but seeing the same theme all squared up and without the blur… still not a fan.  Kind of boring and could be any genre. 
Jackie Says 
Pretty, but again not too original. "Ooohhh…there's a sultry southern mansion on the front. This is obviously a book about…something?" The cover gives no indication about the story within. I'm assuming it's paranormal since it's here on ATUF, but beyond that, how would I know? Is it a mystery? Thriller? Ghost Story? Romance? If it can't give me a clue as to what I'll be getting into, then why bother?
Lovecraft's Monsters edited by Ellen Datlow
Expected publication: February 1st 2014 by Tachyon Publications
Source: Editor's Website
Covers in Series
N/A
Deliciously creepy, this loving tribute to the master of modern horror features riveting stories from his wicked progeny. H. P. Lovecraft created a wealth of legendary monstrosities a century ago, and this collection of stories reconnects with those imaginings: the massive, tentacled Cthulhu, who lurks beneath the sea waiting for his moment to rise; the demon Sultan Azathoth, who lies babbling at the center of the universe, mad beyond imagining; the Deep Ones, who come to shore to breed with mortal men; and the unspeakably-evil Hastur, whose very name brings death. Celebrating these famous beasts in all their grotesque glory, each story is a gripping new take on a classic mythos creature accompanied by an illuminating illustration. In one accursed tale, something unnatural slouches from the sea into an all-night diner to meet the foolish young woman waiting for him. In another storyline the Hounds of Tindalos struggle to survive trapped in human bodies, haunting pool halls for men they can lure into the dark. Strange, haunting, and undeniably monstrous, this is the best of Lovecraft's creatures—reawakened and re-imagined.
Table of Contents
Only the End of the World Again by Neil Gaiman                                         
Bulldozer by Laird Barron                                                                             
Red Goat Black Goat by Nadia Bulkin
The Same Deep Waters as You by Brian Hodge                                   
A Quarter to Three by  Kim Newman                                           
The Dappled Thing       by William Browning Spencer
Inelastic Collisions by Elizabeth Bear
Remnants by Fred Chappell                                                                        
Love is Forbidden, We Croak & Howl  by Caitlín R. Kiernan
The Sect of the Idiot by Thomas Ligotti
Jar of Salts by Gemma Files                                             
Black is the Pit From Pole to Pole by Howard Waldrop  and Steven Utley
Waiting at the Crossroads Motel by Steve Rasnic Tem
I've Come to Talk with you Again by Karl Edward Wagner
The Bleeding Shadow by Joe R. Lansdale                                         
That of Which We Speak When We Speak of the Unspeakable by Nick Mamatas
Haruspicy by Gemma Files                                                                           
Children of the Fang by John Langan                                  
"Each 'critter' will be be illustrated by John Coulthart. " – Ellen Datlow
Chris Says 
Cthulu for the win. Love this cover. 
Julia Says 
Love the use of light on this cover.  Beautiful, sepia creepiness, tentacles, what more can one hope for?
Jackie Says 
It's a nice change of pace for the many Lovecraft novels that seem to be coming out lately. I love how Cthulu doesn't have it's typical appearance AND it's not dominating the cover. But what sells this for me is the painting in the corner. It doesn't dominate the cover, but it draws my eye and wants me to take a closer look. In fact, I think I'll look at it again.
Expected publication: November 5th 2013 by Pyr
Source: Author's Website
Covers in Series
Jack and his friends are in a race against time to save the remaining inhabitants of a postapocalyptic London from a nuclear bomb. Two years after London is struck by a devastating terrorist attack, it is cut off from the rest of the world, protected by a large force of soldiers (known as Choppers) while the rest of Britain believe that their ex-capital is a toxic, uninhabited wasteland. But that's not true. Jack and his friends know that the truth is very different–and incredible: the few remaining survivors in London are changing; developing strange, fantastic powers; evolving. And the Chopper force guarding London is treating the ruined city as its own experimental ground. Now, Jack's powers are growing. His friend Lucy-Anne's powers are developing too, and Nomad–that mysterious woman who started it all–is close by. But the Choppers have initiated their final safeguard–a huge nuclear bomb that will wipe out London, and everyone still within its boundaries. Jack and his friends must spread the news of the bomb and save everyone they can. Before that can happen, Jack must face his father, the deadly Reaper, in their final showdown.
No Author Comment Available.
Chris Says 
Love the background on this one. Has a cool, apocalyptic vibe to it. The book title and logo are also really well done in their font and placement on this one.
Julia Says 
I love the subtle colors on this cover, the poppies in the foreground and the dome in the back. Little hints of hope.
Jackie Says 
Love the red poppies. There's just something about nature offering beauty with London burning in the background that just does something for me. *grin* Although I could do without the models on the cover – haven't we seen that pose before?
Beautiful Danger (In the Company of Vampires #1) by Michele Hauf
Expected publication: July 1st 2013 by Harlequin
Source: Author's Website
Covers in Series
N/A
Could Her Sworn Enemy Lead Her Out of Darkness?As a member of an ancient order of hunters, Lark has found that eliminating dangerous vampires is about more than duty. It's personal—a kill for every day her husband was held captive before his death. Staking her prey isn't a challenge until she confronts Domingos LaRoque. Mad with vengeance and the blood of a powerful phoenix, Domingos tests her skills…and seduces her soul.
Once a talented musician, Domingos can't escape the constant music in his head…or his need to destroy the werewolf pack that tortured him. Though trusting the hunter ordered to kill him could be his gravest mistake, the dark desires between them can't be refused. Yet as he and Lark become allies to defeat a mutual threat, loving the enemy may be the ultimate sacrifice.
No Author Comment Available.
Chris Says 
I have no idea what's going on here. What's the danger mentioned in the title? Is the book about the danger of letting birds fly around your house? 
Julia Says 
The central image on this cover seems lost and too small, and the whole composition seems old fashioned and dated. The white doves give kind of a David Copperfield vibe, too.
Jackie Says 
It's okay, but I generally don't expect much from Nocturne covers. I like the elements – the girl, the ballroom, the colors – just not together. The girl seems out of place. Why would you wear al long black trenchcoat in a ballroom?
First Bite (Dark Wolf #1) by Dani Harper
Expected publication: October 15th 2013 by Montlake Romance
Source: Author's Website
Covers in Series
N/A
Geneva "Neva" Ross doesn't want to die. But now that she's been turned into a werewolf against her will, she'll do anything to protect her family and friends…even if that means taking her own life.
After witnessing Neva's leap from a high ledge, Travis Williamson—a Changeling with a dark past—uses his powers to save her life. He feels a connection to the strong-willed woman whose eyes flash that familiar Changeling green. While Neva is hospitalized, Travis risks everything to kidnap her, knowing the approaching full moon will put everyone in jeopardy.
Bickering constantly to hide their growing attraction, Travis and Neva run from the authorities…and from Neva's sinister sire, Meredith de la Ronde. Meredith delights in creating new shape-shifters and compelling them to do her dark bidding; now Neva must join Meredith's murderous wolf pack…or die.
Intensely suspenseful with deliciously sexy twists, this paranormal romance—the first in (the title of series)—intertwines sensual passion with an epic, thrilling battle between good and evil.
No Author Comment Available.
Chris Says 
Is there a service that sells the same basic cover over and over again to book publishers?
Julia Says 
Some very traditional UF elements, but I like how the title font sweeps across her waist.
Jackie Says 
That's a lot of red. I like red, but it's drowning everything else on the cover. Granted, that may not be a bad thing since the rest of the cover is more of the same tired cover that keeps showing up. No imagination.
Outcast by Adrienne Kress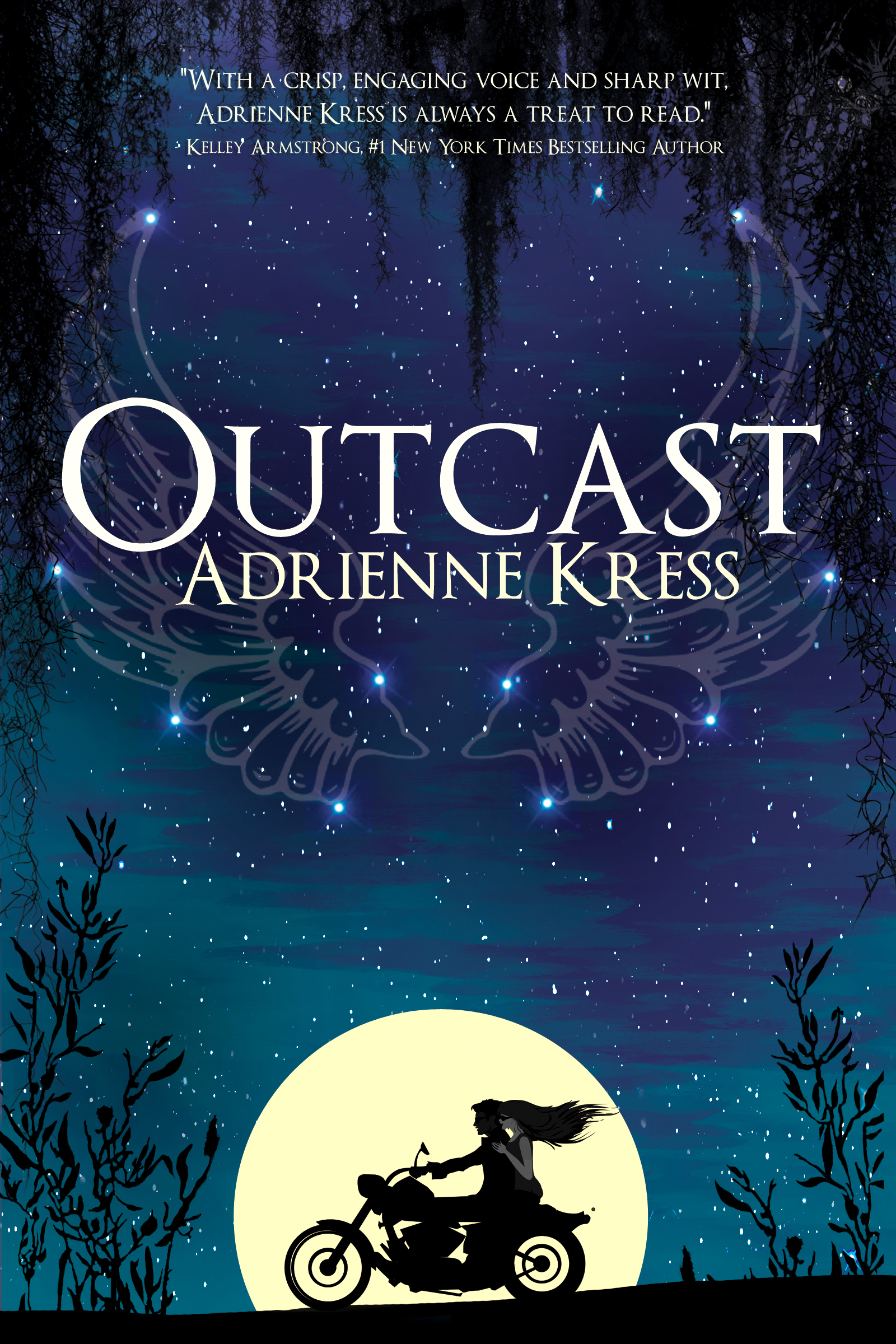 Expected publication: June 4th 2013 by Diversion Books
Source: The Book Smugglers
Covers in Series
N/A
"With a crisp, engaging voice and sharp wit, Adrienne Kress is always a treat to read." – Kelley Armstrong, #1 New York Times Bestselling Author
After six years of "angels" coming out of the sky and taking people from her town, 16-year-old Riley Carver has just about had it living with the constant fear. When one decides to terrorize her in her own backyard, it's the final straw. She takes her mother's shotgun and shoots the thing. So it's dead. Or … not? In place of the creature she shot, is a guy. A really hot guy. A really hot alive and breathing guy. Oh, and he's totally naked.
Not sure what to do, she drags his unconscious body to the tool shed and ties him up. After all, he's an angel and they have tricks. When he regains consciousness she's all set to interrogate him about why the angels come to her town, and how to get back her best friend (and almost boyfriend) Chris, who was taken the year before. But it turns out the naked guy in her shed is just as confused about everything as she is.
He thinks it's 1956.
Set in the deep south, OUTCAST is a story of love, trust, and coming of age. It's also a story about the supernatural, a girl with a strange sense of humor who's got wicked aim, a greaser from the 50's, and an army of misfits coming together for one purpose: To kick some serious angel ass.
"A refreshingly different take on angel mythology with a funny, gutsy, shotgun-toting heroine and a rivetingly sexy hero, set in an eerie deep south town, OUTCAST is a spooky, spirited, compulsively readable story—charged with wit, wisdom, and bittersweet romance."
– Lesley Livingston, author of the internationally bestselling Wondrous Strange series
No Author Comment Available.
Chris Says 
This is a fun, minimalist cover. I really like it. I like the motorcyclists silouetted against the moon. Very cool. 
Julia Says 
So gorgeous!  The wings are a little silly, but work with the motorcycle.  I love the silhouette on the moon, this looks like a moment out of a Disney movie!
Jackie Says 
Love it. At first glance it looks simple with the vines and fauna, but then all the detail starts popping out – the stars look amazing, the angel wings are subtle yet striking, and there's depth to the image. I love the more artsy covers because you can tell time was put into them. This is a great example of that.
The Enchanter Heir (The Heir Chronicles #4) by Cinda Williams Chima
Expected publication: October 22nd 2013 by Disney-Hyperion
Source: Hypable
Covers in Series
They called it the Thorn Hill Massacre—the brutal attack on a once-thriving Weir community. Though Jonah Kinlock lived through it, he did not emerge unscathed: like the other survivors, Jonah possesses unique magical gifts that set him apart from members of the mainline guilds. At seventeen, Jonah has become the deadliest assassin in Nightshade, a global network that hunts the undead. He is being groomed to succeed Gabriel Mandrake, the sorcerer, philanthropist, and ruthless music promoter who established the Thorn Hill Foundation, the public face of Nightshade. More and more, Jonah's at odds with Gabriel's tactics and choice of targets. Desperate to help his dying brother Kenzie, Jonah opens doors that Gabriel prefers to keep closed.
Emma Claire Greenwood grew up worlds away, raised by a grandfather who taught her music rather than magic. An unschooled wild child, she runs the streets until the night she finds her grandfather dying, gripping a note warning Emma that she might be in danger. The clue he leaves behind leads Emma into Jonah's life—and a shared legacy of secrets and lingering questions.
Was Thorn Hill really a peaceful commune? Or was it, as the Wizard Guild claims, a hotbed of underguild terrorists? The Wizards' suspicions grow when members of the mainline guilds start turning up dead. They blame Madison Moss and the Interguild Council, threatening the fragile peace brokered at Trinity.
Racing against time, Jonah and Emma work to uncover the truth about Thorn Hill, amid growing suspicion that whoever planned the Thorn Hill Massacre might strike again.
No Author Comment Available.
Chris Says 
It's a simple cover, but I like it. The swirls of smoke (magic?) around the sword are used to good effect. 
Julia Says 
If I were twelve, I couldn't resist this cover.  Pretty and promising adventure.
Jackie Says 
The sword is pretty, but the direction of the text and the bridge in the background are more distracting than anything. I would have much rather seen the sword on a solid or textured background vs an image. It's not a bad cover, just not the greatest either.
Remnants of Tomorrow (Ashes Trilogy #3) by Kassy Tayler
Expected publication: February 4th 2014 by St. Martin's Griffin
Source: Author's Website
Covers in Series
The last book in the Ashes Trilogy.
No Author Comment Available.
Chris Says 
Not sure what's going on here. Is the girl inside some sort of machine? Or inside the tunnel? Or are we supposed to be in the machine and looking out? I don't get it. 
Julia Says 
This cover reminds me of The Iron Duke, which isn't a good association.  The feather and the gears and the zeppelin all seem to be trying too hard.  My least favorite of the trilogy.  
Jackie Says 
Seems like it's copying other recent steampunk releases and I've seen better gear artwork. I do like the inner image though. It leaves something for the imagination – are we looking through a tunnel of fire? Up from the earth?
City of Lost Dreams (City of Dark Magic #2) by Manus Flyte
Expected publication: November 26th 2013 by Penguin Books
Source: Pinterest
Covers in Series
The exhilarating, genre-bending sequel to the sensational New York Times bestseller City of Dark Magic
In this action-packed sequel to City of Dark Magic, we find musicologist Sarah Weston in Vienna in search of a cure for her friend Pollina, who is now gravely ill and who may not have much time left. Meanwhile, Nicolas Pertusato, in London in search of an ancient alchemical cure for the girl, discovers an old enemy is one step ahead of him. In Prague, Prince Max tries to unravel the strange reappearance of a long dead saint while being pursued by a seductive red-headed historian with dark motives of her own.
In the city of Beethoven, Mozart, and Freud, Sarah becomes the target in a deadly web of intrigue that involves a scientist on the run, stolen art, seductive pastries, a few surprises from long-dead alchemists, a distractingly attractive horseman who's more than a little bloodthirsty, and a trail of secrets and lies. But nothing will be more dangerous than the brilliant and vindictive villain who seeks to bend time itself. Sarah must travel deep into an ancient mystery to save the people she loves.
No Author Comment Available.
Chris Says 
Love the font. Love the colors. Love the images. The cover hints at magic without being over-the-top about it. Fantastic! 
Julia Says 
The little figures paired with the skyline totally works for me.
Jackie Says 
I love how simple it is and yet there's a lot to look at. The silohuette of London is pretty, the orange has a comanding presence without be too much and the scrollwork is pretty. I'm not sure how I feel about the title though. It seems a little lost with the black imagery behind it, but it's still pretty.
Would-Be Witch (Southern Witch #1) by Kimberly Frost
Expected publication: September 3rd 2013 by Berkley
Source: Goodreads
Covers in Series
N/A
In the small town of Duvall, Texas, the only thing that causes more trouble than gossip is magic.
The family magic seems to have skipped over Tammy Jo Trask. All she gets in the way of the supernatural are a few untimely visits from the long-dead, smart-mouthed family ghost Edie. But when her locket—an heirloom that happens to hold Edie's soul—is stolen in the midst of a town-wide crime spree, it's time for Tammy to find her inner witch.
After a few bad experiences with her magic, Tammy turns to the only one who can help: the very rich and highly magical Bryn Lyons. He might have all the answers, but the locket isn't the only thing passed down in Tammy's family. She also inherited a warning…to stay away from anyone named Lyons….
No Author Comment Available.
Chris Says 
I like the use of red against the black and white background, but why is her back arched like it is? 
Julia Says 
I like the leaves blowing across her hair, but the floating cat head seems cheesy. The original cover is sillier, but better integrated the cat.
Jackie Says 
I like the red on white affect it has. It's different and for once there's not a ton of black dominating an image.
Absent by Katie Williams
Expected publication: May 21st 2013 by Chronicle Books
Source: Author's Website
Covers in Series
N/A
Forever is a long time to be stuck in high school.
Seventeen-year-old Paige is dead, the victim of a freak fall from the roof during Physics class. Now she's a ghost, permanently bound to the grounds of her high school. It isn't all bad, she can find out everyone's secrets, which can be amusing—for a while. But then Paige hears something that isn't amusing at all: the rumor spread by the most popular girl at school that her death wasn't an accident—that she supposedly jumped on purpose. Paige is desperate to stop the gossip, but what can a ghost do? Then Paige discovers something amazing. She can possess living people when they think of her, and she can make them do almost anything. Maybe, just maybe, she can get inside the girl who's responsible for the stories. . . and have a little fun turning the tables while she's at it.
Katie Williams's second novel is a suspenseful page-turner full of eerie wit and a touch of the otherworldly.
No Author Comment Available.
Chris Says 
I couldn't tell you why, but this cover gives me the creeps. In a good way. 
Julia Says 
An interesting spin on the "single object cover", I like how the silver moth seems creepy while it's reflection has all the color and allure of a butterfly.
Jackie Says 
I have no real feelings about this one. The most interesting part about it is the ragged look, but it doesn't stand out to me.
Expected publication: June 20th 2013 by eKensington
Source: Goodreads
Covers in Series
Maggie is a wolf shifter who was captured and experimented on by the Kurjans. Now that a cure has finally been found for shifters (although not for vampire mates or witches), she can concentrate on creating a new life for herself and finally accepting that her memories are gone forever. Most memories, that is. Sometimes in the hazy world between dreams and dawn, she hears a Scottish voice, dark and deep, that sounds suspiciously like wolf-shifter Terrent Vilks. A man she happened to anger by kidnapping a few years back. Hey, it was for a good cause.
Terrent Vilks knows more than he's let on for the past several years. After digging for answers, he knows exactly why the demons want Maggie dead. And he remembers his past with Maggie…very well. She is finally where he wants her. Now all he has to do is discover what exactly the Kurjans did to her, beat the demons into so much submission they leave her alone, and get her to fall in love with him. Again. Good thing he's used to wrangling monsters.
No Author Comment Available.
Chris Says 
Oh good. I was starting to worry we wouldn't see any covers focusing on a shirtless guy this week. Kudos for keeping the cliché going. 
Julia Says 
Orange, abs… blah…
Jackie Says 
He's definitely twisted, but is he comfortable? If you're on a romance cover, you should look like you're comfortable, right? It's another romance novel with a typical cover – not exciting here.
Dragon Mine (The Hidden #1) by Jaime Rush
Expected publication: June 4th 2013 by Forever Yours
Source: Goodreads
Covers in Series
N/A
No Description Available.
No Author Comment Available.
Chris Says 
It looks like he's holding the weapon in his right hand by the blade and yet apparently feels no pain. Why is it not cutting him? Is it not sharp? And if it's not sharp, why is he using it as a weapon? These are the things that keep me up at night. 
Julia Says 
Cheesy tattoo, bloody smoke, nice knives. Kind of a wash for me.
Jackie Says 
He's holding a big fraking knife and it's front and center. Two of them! How awesome is that? We get girls holding weapons, but guys? They're usualy shown in a menacing stance, but rarely with weapons and if any, usually swords. This one is not just telling you he can kick ass, he's showing you he means business and the starkness of the background makes you notice him first. Plus I'm not ashamed to say I like a little man candy at times and he's definitely more my type than a bare chest.

And our picks for Best & Worst covers of the week…
Best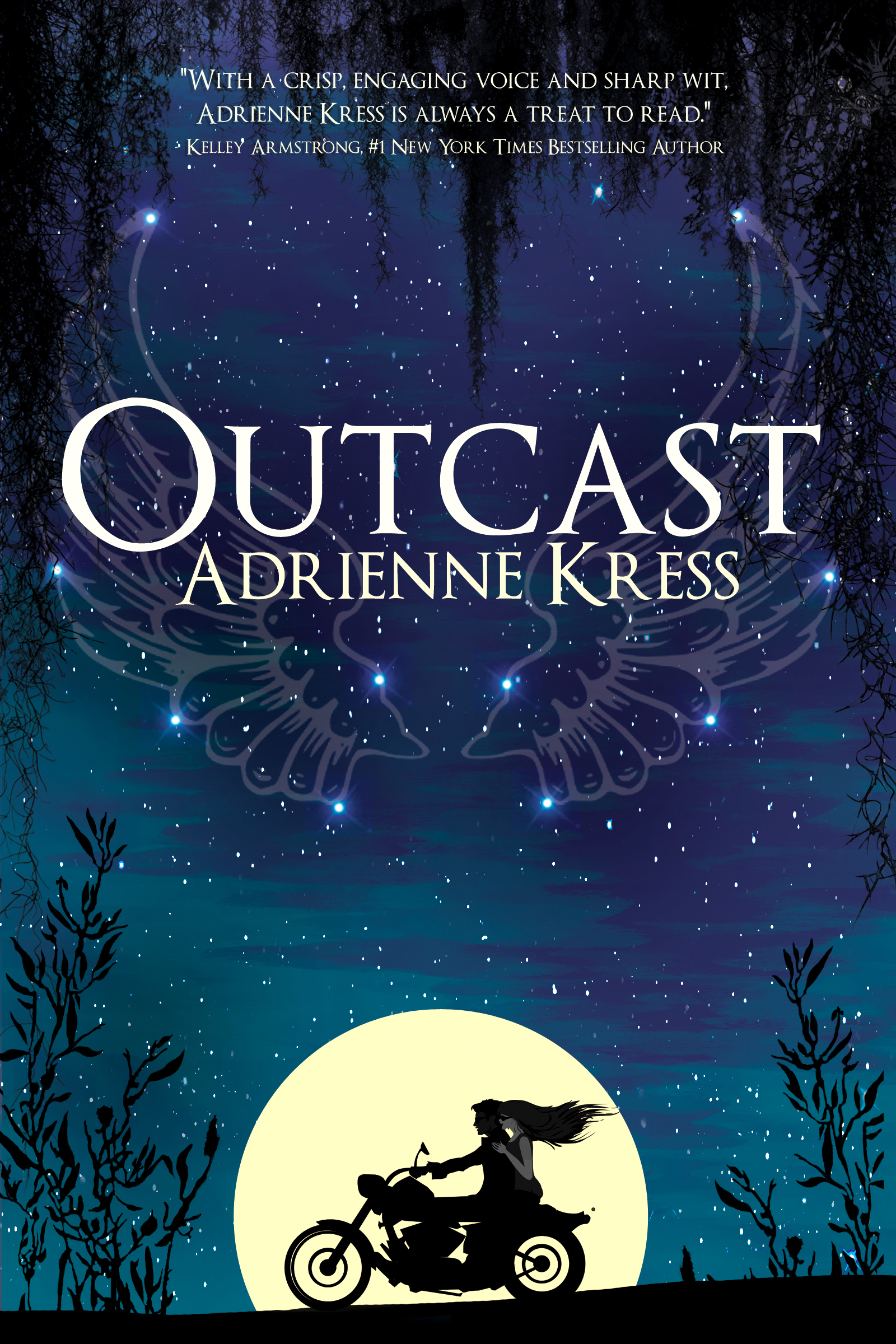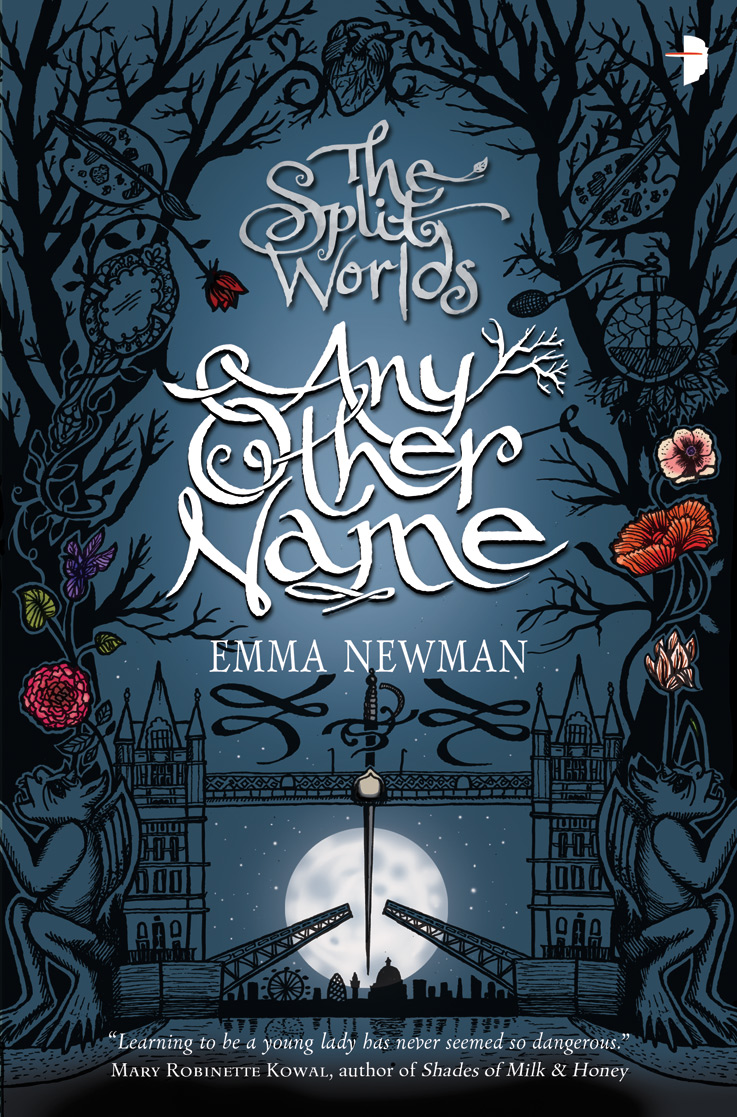 Worst
What are your picks for Best and Worst covers? See even more covers on ATUF's Pinterest boards.

---
Have a cover we should include in an upcoming post? Fill out our Cover Submit form