Some covers start me salivating as soon as the screen loads, but Karen Marie Moning's BURNED rockets me right past "eager anticipation" to "frantic obsession".  Fever is one of those series that I've read a few times (ICED twice already since October), so I'd probably be excited if they wrapped it in brown paper and string, but the firey gold of BURNED is a thing of beauty *pets pretty, pretty cover*.
Love our Cover Art Coverage posts? We made the finals in the #BBTC Awards for Best Feature! Please vote for us by April 1st!
Demon Derby by Carrie Harris
Expected publication: March 2014
Source: Addicted 2 Heroines
Covers in Series
N/A
Casey kicked cancer's ass. Now a demon wants to kick hers…
Casey hates being known as the girl who survived cancer. She wants people to treat her like her old self, fearless and strong. And after a creepy encounter with a crazy guy in an alley, Casey is all about reclaiming her power.
So when she has a chance to try out for the Apocalypsies roller derby team, she jumps on it. Being a derby girl would prove that she doesn't need anybody's pity. It doesn't hurt that Michael, the team manager, is almost unnaturally hot. Which makes sense when Casey finds out that he's not even human.
Michael's got a secret: he trains demon hunters. That crazy guy in the alley? Demon. And the fact that Casey went head to head with evil and lived makes her a threat to demonkind. Casey thought she'd already fought and won the battle of her lifetime. But it's only beginning…
No Author Comment Available.
Abigail Says 
Well this does match the title, but it's so bright that it makes me think this will be directed at younger teens. 
Chris Says 
I love this. Mostly because the idea of a paranormal roller derby sounds so bad it's good.
Kristina Says 
I love the fishnet combo with the rollerskates. I am very intrigued by this roller demon derby thing. The dragons framing the title is also very cool.
Cold Blooded (Jessica McClain #3) by Amanda Carlson
Expected publication: October 8th 2013 by Orbit
Source: Author's Website
Covers in Series
Jessica arrives back in town to find her best friend missing and the most powerful witch in the country is blaming her for it. But before they can move to save her, the group is attacked.
On the run, Jessica and Rourke head to the mountains. Several surprises await them, but in order to save her father they are forced to leave for New Orleans early.
Arriving on the Vampire Queen's doorstep unexpectedly, and bringing trouble on their heels, the Sects are thrown into an all out war. The vicious
skirmish ends up forcing the vamps and Jessica to fight on the same team.
The Vamp Queen ends up owing Jessica, but what Jessica doesn't realize is just how soon she'll have to cash it in…
No Author Comment Available.
Abigail Says 
I'm a big fan of the covers for this series. They really are spot on UF. 
Chris Says 
Love the font. Love the castle. Hate the outfit. 
Kristina Says 
Ah! She has no pupils! The spooky castle and the lack of pupils is very creepy.
Unbreakable (Legion #1) by Kami Garcia
Expected publication: October 1st 2013 by Little, Brown Books for Young Readers
Source: EW.com
Covers in Series
N/A
I never believed in ghosts. Until one tried to kill me.
When Kennedy Waters finds her mother dead, her world begins to unravel. She doesn't know that paranormal forces in a much darker world are the ones pulling the strings. Not until identical twins Jared and Lukas Lockhart break into Kennedy's room and destroy a dangerous spirit sent to kill her. The brothers reveal that her mother was part of an ancient secret society responsible for protecting the world from a vengeful demon — a society whose five members were all murdered on the same night.
Now Kennedy has to take her mother's place in the Legion if she wants to uncover the truth and stay alive. Along with new Legion members Priest and Alara, the teens race to find the only weapon that might be able to destroy the demon — battling the deadly spirits he controls every step of the way.
Suspense, romance, and the paranormal meet in this chilling urban fantasy, the first book in a new series from Kami Garcia, bestselling coauthor of the Beautiful Creatures novels.
No Author Comment Available.
Abigail Says 
It is creepy and horror vibe matches the description, but it's not calling out to me. 
Chris Says 
This a well-done creepy/cool cover. 
Kristina Says 
Wow. She looks creepy and goth. I love the mysterious text and the color reminds me of old parchment.
Alienated (Alienated #1) by Melissa Landers
Expected publication: February 4th 2014 by Disney Hyperion
Source: YA Highway
Covers in Series
N/A
Interplanetary relations have never been more exciting! The first in a funny, romantic YA sci-fi series.
Two years ago, the aliens made contact. Now Cara Sweeney is going to be sharing a bathroom with one of them.
Handpicked to host the first-ever L'eihr exchange student, Cara thinks her future is set. Not only does she get a free ride to her dream college, she'll have inside information about the mysterious L'eihrs that every journalist would kill for. Cara's blog following is about to skyrocket.
Still, Cara isn't sure what to think when she meets Aelyx. Humans and L'eihrs have nearly identical DNA, but cold, infuriatingly brilliant Aelyx couldn't seem more alien. She's certain about one thing, though: no human boy is this good-looking.
But when Cara's classmates get swept up by anti-L'eihr paranoia, Midtown High School suddenly isn't safe anymore. Threatening notes appear in Cara's locker, and a police officer has to escort her and Aelyx to class.
Cara finds support in the last person she expected. She realizes that Aelyx isn't just her only friend; she's fallen hard for him. But Aelyx has been hiding the truth about the purpose of his exchange, and its potentially deadly consequences. Soon Cara will be in for the fight of her life—not just for herself and the boy she loves, but for the future of her planet.
"Isn't that stunning? From the beginning, I begged and begged Hyperion to put a cute boy on the cover, otherwise readers might hear "alien" and immediately think "tentacles." And holy hotness, did they ever hook me up! I love the models they selected to represent Aelyx and Cara. And just look at them all kicked back, chillaxing on their respective planets. They have no clue I'm about to unleash a heap of chaos into their lives. ::maniacal laugh:: Another aspect I like about this cover is the marked differences between the terrain on Earth and L'eihr. Color plays an important role in the beginning of the book. The spectrum on L'eihr is muted, so Aelyx struggles to adjust to Earth's vibrancy when he first arrives for the exchange. This cover does a great job contrasting the neutral tones of his world with the vividness of ours. Well done, Hyperion team!" – Melissa Landers
Abigail Says 
I love the sureal feel and the overly saturated colors. The one thing I wish they'd done was make the title readable flipped upside down too (like this). 
Chris Says 
Doesn't really catch the eye. Author's name is easy to miss. The font for the title seems wrong for the cover. 
Kristina Says 
What would make this cover really awesome would be to have the author's name on the other end of the cover and mirror the title. I like the reflecting scenes with the Earth girl the Alien lying on the ground on different planets.
Last to Rise (Rojan Dizon #3) by Francis Knight
Expected publication: November 26th 2013 by Orbit
Source: Orbit Books
Covers in Series
No Description Available.
No Author Comment Available.
Abigail Says 
I'm with Chris. Another fantastic cover for this series. 
Chris Says 
This series has absolutely fantastic covers, even if I don't care for the actual story. 
Kristina Says 
This series does epic very well most of it is probably due to the huge title font. I love the city design though on first glance it reminded me of Rivendell from Lord of the Rings.
Long Live the Queen (The Immortal Empire #3) by Kate Locke
Expected publication: November 12th 2013 by Orbit
Source: Orbit Books
Covers in Series
Xandra Vardan thought life would be simpler when she accepted the goblin crown and became their queen, but life has only become more complicated. Everyone — vampires, werewolves and humans — wants the goblins on their side, because whoever has the goblins – wins.
Queen Victoria wants her head, Alpha wolf Vex wants her heart, and she still doesn't know the identity of the person who wanted her blood. What she does know is that a project from one of the 'secret' aristocrat labs has gotten free and she's the only one who can stop the perfect killing machine — a sixteen year-old girl. With human zealots intent on ridding the world of anyone with plagued blood and supernatural politics taking Britain to the verge of civil war, Xandra's finding out that being queen isn't all it's cracked up to be, and if she doesn't do something fast, hers will be the shortest reign in history.
No Author Comment Available.
Abigail Says 
I dig the cheeky expression she always has. That combined with the acid colors really set these covers apart. 
Chris Says 
A perfect style for this series. Love the use of colors and that outfit is so awesomely Steampunk. 
Kristina Says 
I agree with Abigail. Her cheeky expression is wonderful and I adore the colors used for the font. The skull with the crown is a neat touch.
To Dance With the Devil (Blood Singer #6) by Cat Adams
Expected publication: November 5th 2013 by Tor Books
Source: Author's Website
Covers in Series
The successful urban fantasy series continues as Celia Graves—part human, part vampire, part Siren—faces black
magic and heartbreak.
Celia Graves's newest client is one of the last surviving members of a magical family that is trapped in a generations-old feud with other magic-workers. She's supposed to die at the next full moon unless Celia can broker peace between the clans or break the curse before it can take effect.
For the first time in a long while, Celia's personal life is looking up. Her vampire abilities seem to be under control, her Siren abilities have gotten more reliable, and even though her office was blown up, her services are more in demand than ever now that she's fought off terrorists and been part of the royal wedding of the year. Her friends all seem to be finding love and her grandmother has—finally—agreed to go to family therapy. The only trouble spot is Celia's love life. Not long ago, she had two boyfriends.
Now she barely has one and she isn't sure she wants him. But Bruno DeLuca is a powerful mage and Celia needs his help . . . especially after she's attacked and her client is kidnapped.
No Author Comment Available.
Abigail Says 
Ha! I actually like the starburst behind the title. This model is so distinctive that she really brands the series for me. Another win. 
Chris Says 
This would have been a thumbs up, but man are the red lines shooting out behind the title distracting. 
Kristina Says 
Sorry Chris I too like the starburst here. I love how it contrasts to the model's almost scary pale skin. Also I wonder why the starburst is making its first appearance in this series covers in the sixth book. Perhaps its a big book in this series.
Touch (The Queen of the Dead #2) by Michelle Sagara
Expected publication: May 7th 2013 by DAW Hardcover
Source: Goodreads
Covers in Series
Nathan died the summer before his final year in high school. But he wakes in his room—or in the shrine of his room his mother's made—confused, cold, and unable to interact with anyone or anything he sees. The only clear memory he has is a dream of a shining city and its glorious queen, but the dream fades, until he once again meets his girlfriend Emma by the side of his own grave.
Nathan wants life. He wants Emma. But, even if Emma can deliver what he desires, the cost may be too high to pay…
No Author Comment Available.
Abigail Says 
The title graphic is killer again. Ghost boy adds a romantic hint, but I do miss the hellhound from the debut. Still, the Gothic vibe really works for this series. 
Chris Says 
If the area around the title was a little less busy this would be a thumbs up. 
Kristina Says 
I love the border around the title. Its very gothic feeling.
The Book of Love (The Secret Sisterhood of Heartbreakers #2) by Lynn Weingarten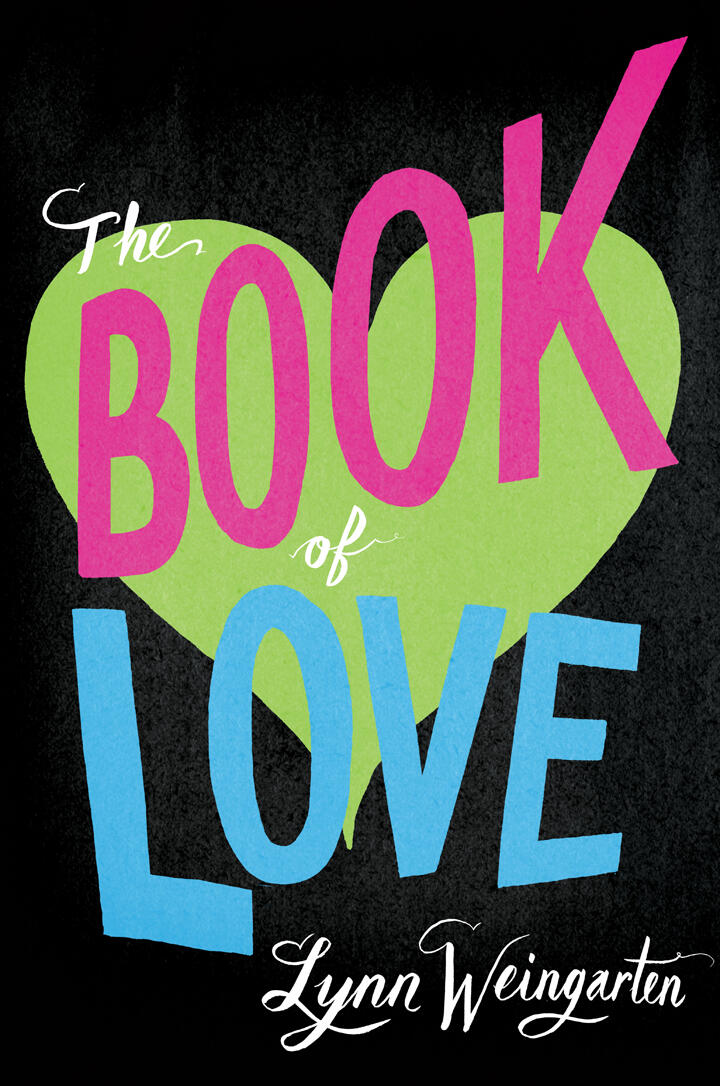 Expected publication: December 1st 2013 by Harperteen
Source: Author's Twitter
Covers in Series
The Secret Sisterhood of Heartbreakers has given Lucy everything she thought she wanted. Gone is the poor, innocent girl pining away for a guy who didn't deserve her and in her place is a fierce, fabulous Heartbreaker with glamorous sisters, an unbreakable heart, and access to magic.
The only problem is this: Lucy's floppy-haired, blues-playing best friend Tristan is in pain. And she's powerless to help him.
Or is she?
It's time for the annual Heartbreaker competition — a chance for Lucy and her sisters to win The Book of Love, an ancient tome containing centuries' worth of Heartbreaker wisdom, and maybe, just maybe, enough magic to fix Tristan's heart for good.
Lucy will do whatever it takes; if it helps her fix her friend, she knows it's worth it. At least she thinks she knows.
As Lucy goes deeper into the world of the sisterhood, she learns that even those closest to her have unimaginable secrets, and when it comes to magic, nothing comes without a price . . .
No Author Comment Available.
Abigail Says 
I know they are redoing the debut to match this one, but it is painfully plain. Absolutely nothing is working here for me. 
Chris Says 
I have no idea what this book is about or if it's even paranormal, but I am a total sucker for retro fonts when used with fun colors. 
Kristina Says 
I like the colors but it is a really simple design that I'd pass up in the bookstore.
How to Run with a Naked Werewolf (Naked Werewolf #3) by Molly Harper
Expected publication: December 31st 2013 by Pocket Books
Source: Author's Blog
Covers in Series
Caleb Graham is a werewolf by nature, a tracker by profession. He uses his "extra gifts" to find people, and not always in the most legal or ethical manner. He doesn't care what they've done, or who wants them found, as long as his considerable fee is paid. He likes his life simple and uncomplicated.
Anna Moder, former physician to Caleb's pack, happens across Caleb during a particularly violent "negotiation" that has left him bloodied and unconscious. She helps him, despite the fact that he's cost her a car, so he insists that she stay with him on the road for a while. As they grow closer, Anna looks past the gruff exterior and and the questionable job to thoroughly decent werewolf underneath.
Anna – who is careful to edit her involvement with Caleb's pack from their conversations – doesn't talk about why a nice girl wants to live in the middle of frozen nowhere, but she's obviously on the run from something. When Anna's past collides with Caleb's current assignment from one of his sleazier contacts, Caleb finally has to make a choice—protect his job…or his potential mate?
No Author Comment Available.
Abigail Says 
This is wrong on so many levels. No one is looking at this and thinking sexy. We're all anticipating the most painful frostbite ever…Ridiculous. 
Chris Says 
Wtf. This is a real book? Why does she have no pants? Is she the naked werewolf? And if she is, why does she have a coat on? So confused. 
Kristina Says 
She's not wearing any pants…. the no pants thing is really bothering me so I can't comment any further. So not thinking cute or sexy, just cold.
Chimes at Midnight (October Daye #7) by Seanan McGuire
Expected publication: September 3rd 2013 by DAW
Source: Author's Blog
Covers in Series
Things are starting to look up for October "Toby" Daye. She's training her squire, doing her job, and has finally allowed herself to grow closer to the local King of Cats. It seems like her life may finally be settling down…at least until dead changelings start appearing in the alleys of San Francisco, killed by an overdose of goblin fruit.
Toby's efforts to take the problem to the Queen of the Mists are met with harsh reprisals, leaving her under sentence of exile from her home and everyone she loves. Now Toby must find a way to reverse the Queens decree, get the goblin fruit off the streets–and, oh, yes, save her own life, since more than a few of her problems have once again followed her home. And then there's the question of the Queen herself, who seems increasingly unlikely to have a valid claim to the throne….
To find the answers, October and her friends will have to travel from the legendary Library of Stars into the hidden depths of the Kingdom of the Mists–and they'll have to do it fast, because time is running out. In faerie, some fates are worse than death.
October Daye is about to find out what they are.
"OH MY GOD YOU GUYS OH MY GOD IT'S THE COVER TO CHIMES AT MIDNIGHT AND IT'S GORGEOUS!  Toby is badass and there are books and she looks like she's about to cut somebody and and and I'M SO HAPPY!!!!" – Seanan McGuire
Abigail Says 
Chris McGrath's signature gritty style is synonymous with this series for me. The library setting is really grabbing my interest this time. 
Chris Says 
When Chris McGrath is on his game, he's really on his game. Excellent! 
Kristina Says 
I adore this gritty style and library setting will usually warrent a thumbs up from me. Especially ones with really old books and candles.
Burned (Fever #7) by Karen Marie Moning
Published by Delacorte Press
Source: Author's Facebook
Covers in Series
"I'm currently working on a trilogy that features Dani, Christian MacKeltar, Ryodan, and the mysterious 'Dancer,' set primarily in Fever-Dublin. Each installment in the trilogy is a stand-alone mystery, however there are larger plot arcs unfolding in the background…
..For those of you who have been worrying—the trilogy is not YA. If I had to categorize it, I would say it straddles the line between YA and adult uneasily. …Many of the questions I left unanswered in the FEVER series are addressed in this new series.
Exciting news: I've agreed to write two more books after that. Once the new trilogy is complete, I'm returning to the core story begun in the FEVER series, and will resume writing about Mac, Barrons, V'lane, Cruce, the Unseelie king, the concubine, the Song of Making.
All in all, there are five more books coming about the Fever World!"
***
"ICED is the sixth book in the Fever series. The only difference is ICED is narrated by Dani, interspersed with various other first-person points of view. (One of those first person points of view is Christian MacKeltar.)
ICED opens up one week before Shadowfever ends, at the sidhe-seer's abbey, the morning after the Cruce got imprisoned beneath it. You don't miss a beat in the action I developed in the prior books.
Some of the characters you will see: Dani, Dancer, Ryodan, Christian, Lor, Jo, Kat, Cruce, Velvet, a glimpse or two of Mac & Barrons, and many others.
BURNED and FLAYED are books 7 & 8 in the Fever series. Again, told from Dani's viewpoint, plus others. Books 9 & 10 will return to Mac's point of view. Mostly. If you don't read 6, 7 & 8, books 9 and 10 won't make any sense."
No Author Comment Available.
Abigail Says 
The title design looks like molten gold. This isn't what I expected, but I'm loving it nonetheless. 
Chris Says 
Love the use of red and gold on this cover. 
Kristina Says 
Wow. This contrasts very well with ICED. I love the golden and fiery colors. The detailing is really cool too. I can't stop staring at it.
Hellhound (Deadtown #5) by Nancy Holzner
Expected publication: July 30th 2013 by Ace
Source: Goodreads
Covers in Series
Boston's zombies have suddenly become inexplicably violent, resulting in a catastrophic all-out battle against humans. And it might put Vicky on the front lines of the wrong side of the war.
No Author Comment Available.
Abigail Says 
Her hair needs to be stopped. It's so bad and distracting on every cover. I'm barely able to focus on the cool wolfhound and flaming sword. 
Chris Says 
I'm with Kristina on this one. The wolfhound and flaming sword are awesome. And playing to stereotype I didn't even notice her hair till I I saw Abigail's comment… 
Kristina Says 
I love the wolfhound and the flaming sword!
Man Made Boy by Jon Skovron
Expected publication: October 3rd 2013 by Viking Penguin
Source: Author's Blog
Covers in Series
N/A
Love can be a real monster.
Sixteen-year-old Boy's never left home. When you're the son of Frankenstein's monster and the Bride, it's tough to go out in public, unless you want to draw the attention of a torch-wielding mob. And since Boy and his family live in a secret enclave of monsters hidden under Times Square, it's important they maintain a low profile.
Boy's only interactions with the world are through the Internet, where he's a hacker extraordinaire who can hide his hulking body and stitched-together face behind a layer of code. When conflict erupts at home, Boy runs away and embarks on a cross-country road trip with the granddaughters of Jekyll and Hyde, who introduce him to malls and diners, love and heartbreak. But no matter how far Boy runs, he can't escape his demons—both literal and figurative—until he faces his family once more.
This hilarious, romantic, and wildly imaginative tale redefines what it means to be a monster—and a man.
No Author Comment Available.
Abigail Says 
Love this so much. Teen Frankenstein's monster is an awesome idea and this cover communicates so much about the romance and humor we can expect. Can't wait. 
Chris Says 
Absolutely fantastic. Love this cover to pieces. 
Kristina Says 
This cover looks so adorable. The details in the font are cool. Without even looking at the description I want to read this book.
Ritual Magic (World of the Lupi #10) by Eileen Wilks
Expected publication: August 6th 2013 by Berkley
Source: Wanton Thoughts & Wicked Scribes
Covers in Series
In sidhe realms, Queens' Law prohibits tampering with the dead—and not just because of what it does to the dead. Tamper with the dead, and you damage the living . . . and strain the very fabric of time.
No Author Comment Available.
Abigail Says 
I prefer her in more of an action pose, but this series always delivers awesome UF covers. 
Chris Says 
Love the eerie green glow of the dagger. The whole cover has a cool mysterious vibe to it that I really like. 
Kristina Says 
Love the glowing dagger. This cover screams Urban Fantasy.

And our picks for Best & Worst covers of the week…
Best
Worst
What are your picks for Best and Worst covers? See even more covers on ATUF's Pinterest boards.

---
Have a cover we should include in an upcoming post? Fill out our Cover Submit form