I had two covers vying for Best this week, and no cover that really deserved a Worst in my mind.  For me, Holly Black's creepy, gorgeous THE COLDEST GIRL IN COLDTOWN was beat out by the barest margin by Francesca Lia Block's stylized LOVE IN THE TIME OF GLOBAL WARMING.  Which cover won your heart this week?
This Wicked Game by Michelle Zink
Expected publication: November 1st 2013 by Dial Books
Source: Author's Website
Covers in Series
N/A
Claire Kincaid's family has been in business for over fifty years.
The voodoo business.
Part of the International Guild of High Priests and Priestesses, a secret society that have practiced voodoo for generations, the Kincaid's run an underground supply house for authentic voodoo supplies. Claire plays along, filling orders for powders, oils and other bizarre ingredients in the family store, but she has a secret.
She doesn't believe.
Struggling to reconcile her modern sensibilities with a completely unscientific craft based on suspicion, Claire can't wait to escape New Orleans – and voodoo – when she goes to college, a desire that creates almost constant conflict in her secret affair with Xander Toussaint, son of the Guild's powerful founding family.
But when a mysterious customer places an order for a deadly ingredient, Claire begins to realize that there's more to voodoo – and the families that make up the Guild – than meets the eye.
Including her own.
As she bands together with the other firstborns of the Guild, she comes face to face with a deadly enemy – and the disbelief that may very well kill her.
"Super excited to share it with you guys!" – Michelle Zink
Abigail Says 
This is interesting the way it suggests a mask. The bold yellow text is unexpected, but it works. 
Julia Says 
Wow, very creepy and striking.  The iron latice is a great compliment to the voodoo vibe, and I like how alien her face looks when bisected by those twining coils.
Kristina Says 
I like the design on this gate/fence especially the tiny skull.
Expected publication: November 2013 by Little, Brown Books for Young Readers
Source: Author's Website
Covers in Series
Kai and Ginny grew up together–best friends since they could toddle around their building's rooftop rose garden. Now they're seventeen, and their relationship has developed into something sweeter, complete with stolen kisses and plans to someday run away together.
But one night, Kai disappears with a mysterious stranger named Mora–a beautiful girl with a dark past and a heart of ice. Refusing to be cast aside, Ginny goes after them and is thrust into a world she never imagined, one filled with monsters and thieves and the idea that love is not enough.
If Ginny and Kai survive the journey, will she still be the girl he loved–and moreover, will she still be the girl who loved him?
Jackson Pearce, author of the acclaimed SISTERS RED and FATHOMLESS, has returned with a unique vision of Hans Christian Andersen's "The Snow Queen," one about power and redemption, failure and hope, and the true meaning of strength.
No Author Comment Available.
Abigail Says 
Another great title detail for this series. This is also a good example of an object cover done right. Lots of good details. 
Julia Says 
I don't know "The Snow Queen" well enough to recognize this one from the cover alone, but the birds reflected in the broken mirror definitely sent me down the "fairy tale" rabbit hole.
Kristina Says 
I like the bird reflections in the broken glass. Did the branches break the mirror? The thread twisting around the title is a nice little touch.
Thin Space by Jody Casella
Expected publication: September 10th 2013 by Beyond Words/Simon Pulse
Source: Author's Blog
Covers in Series
N/A
Ever since the car accident that killed his twin brother, Marshall Windsor has been consumed with guilt and crippled by secrets of that fateful night. He has only one chance to make amends, to right his wrongs and set things right. He must find a Thin Space—a mythical point where the barrier between this world and the next is thin enough for a person to step through to the other side.
But, when a new girl moves into the house next door, the same house Marsh is sure holds a thin space, she may be the key—or the unraveling of all his secrets.
As they get closer to finding a thin space—and closer to each other—Marsh must decide once and for all how far he's willing to go to right the wrongs of the living…and the dead.
No Author Comment Available.
Abigail Says 
It's on the bland side. 
Julia Says 
I like how the shape of the trees frames the figure, but this cover looks more Murder/Thriller than Paranormal YA.
Kristina Says 
Nice realistic looking black and white photograph. Is this a real photo or a really good illustration? I vote photograph.
Unnatural Creatures: Stories Selected by Neil Gaiman
Expected publication: April 23rd 2013 by HarperCollins
Source: Goodreads
Covers in Series
N/A
Unnatural Creatures by Neil Gaiman has descriptive copy which is not yet available from the Publisher.
No Author Comment Available.
Abigail Says 
You can't really tell unless to click to see the enlarged version, but I believe all the scrolling details are embossed and foiled. I bet it's gorgeous in person.
Julia Says 
Roots and waves, tentacles to tendrils, my eye just keeps following this image round and round.  I love the way the text is positioned, too, complementary and eye catching.
Kristina Says 
I like the detailing of the creatures around the edges. Typically I'd shy away from using so many different fonts on one cover but it looks really interesting here.
The Coldest Girl in Coldtown by Holly Black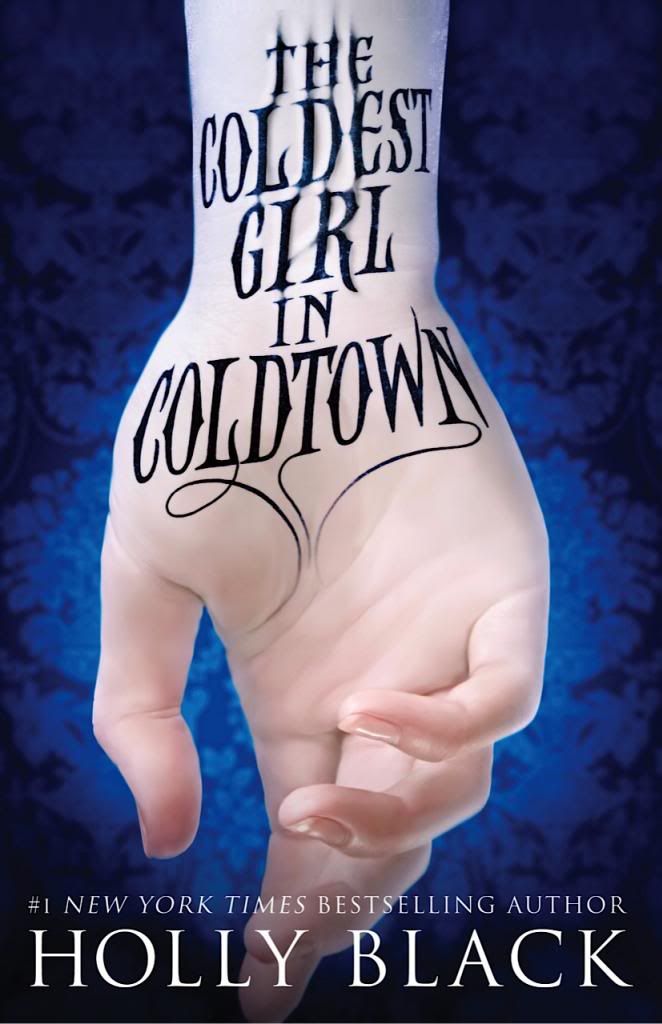 Expected publication: September 17th 2013 by Little, Brown Books for Young Readers
Source: Author's Tumblr
Covers in Series
N/A
COLDTOWN WAS DANGEROUS, TANA KNEW. A GLAMOROUS CAGE, A PRISON FOR THE DAMNED AND ANYONE WHO WANTED TO PARTY WITH THEM.
Tana lived in a world where walled cities called Coldtowns exist. In them, quarantined monsters and humans mingle in a decadently bloody mix of predator and prey. The only problem is, once you pass through Coldtown's gates, you can never leave.
One morning, after a perfectly ordinary party, Tana wakes up surrounded by corpses. The only other survivors of this massacre are her exasperatingly endearing ex-boyfriend, infected and on the edge, and mysterious boy burdened with a terrible secret. Shaken and determined, Tana enters a race against the clock to save the three of them the only way she knows how: by going straight to the wicked, opulent heart of Coldtown itself.
"I absolutely love it, especially the veins underneath the type which I think are perfect for the book and also gorgeous (in a creepy way, yes, but I am a creepy lady) and the blue brocade which almost looks composed of menacing faces." – Holly Black
Abigail Says 
The bleeding tattoo look is sort of interesting, and I agree with Holly about the menacing faces in the wallpaper 
Julia Says 
Holly took the words right out of my mouth, I love how the black letters subtly bleed into veins on her arm.  This title looks like a real tattoo, but that bleeding adds a little extra creepiness.  Beautifully done.
Kristina Says 
While the letters dripping down the wrist kind of creeps me out, this is a unique cover.
Death, and the Girl He Loves (Darklight #3) by Darynda Jones
Expected publication: October 8th 2013 by St. Martin's Press
Source: Goodreads
Covers in Series
No Description Available.
No Author Comment Available.
Abigail Says 
Why does this series get the standard self-pub stock photo look? I don't get it. Time to step it up, St. Martin's 
Julia Says 
These covers aren't particularly eye catching, but the continuity of style and cover models means that I had no trouble placing the series.  I like the drama in her pose and his little smile.
Kristina Says 
They're nice but they are kind of boring and don't tell us this is a paranormal series.
Quintessence by David Walton
Expected publication: March 19th 2013 by Tor Books
Source: Author's Blog
Covers in Series
N/A
Imagine an Age of Exploration full of alchemy, human dissection, sea monsters, betrayal, torture, religious controversy, and magic. In Europe, the magic is thin, but at the edge of the world, where the stars reach down close to the Earth, wonders abound. This drives the bravest explorers to the alluring Western Ocean. Christopher Sinclair is an alchemist who cares only about one thing: quintessence, a substance he believes will grant magical powers and immortality. And he has a ship.
No Author Comment Available.
Abigail Says 
So this is just cool, isn't it? Who doesn't love seamonsters? 
Julia Says 
This is a tricky cover.  The dark serpent in the foreground is blacking out the golden, gorgeous ship in the background, but it certainly lends itself to the drama of the situation.
Kristina Says 
Sea creature attacking an old timey ship gets two thumbs up from me!
Strange Fates (Nyx Fortuna #1) by Marlene Perez
Expected publication: March 5th 2013 by Orbit
Source: Goodreads
Covers in Series
N/A
The first in a line of three exciting new urban fantasy novels blending elements of Greek myth and forbidden romance against the backdrop of Minnesota's magical underworld.

Brooding, leather jacket-wearing Nyx Fortuna looks like a 20-something, and has for centuries now. As the son of the forgotten fourth Fate, Lady Fortuna, he has been hunted his entire life by the three Sisters of Fate that murdered his mother.
Fed up and out for revenge, Nyx comes to Minneapolis following a tip that his aunts have set up a business there. His goal ­ to bring down his mother's killers and retrieve the thread of fate that has trapped him in the body of a twenty year old unable to age or die.
But when a chance meeting with the mysterious, dangerous and very mortal Elizabeth Abernathy throws off his plans, he must reconcile his humanity and his immortality.
No Author Comment Available.
Abigail Says 
It's the little details like his giant pupil that edge this to a thumbs up for me. 
Julia Says 
An arresting eyebrow, I love his otherworldly eyes and all that scruff.
Kristina Says 
He looks suprised…or he's trying not to blink…I like the little cards with symbols on them. Fits with the 'Fates' mentioned in the description.
Love in the Time of Global Warming by Francesca Lia Block
Expected publication: August 27th 2013 by Henry Holt and Co.
Source: Bloody Bookaholic
Covers in Series
N/A
Seventeen-year-old Penelope (Pen) has lost everything—her home, her parents, and her ten-year-old brother. Like a female Odysseus in search of home, she navigates a dark world full of strange creatures, gathers companions and loses them, finds love and loses it, and faces her mortal enemy.
In her signature style, Francesca Lia Block has created a world that is beautiful in its destruction and as frightening as it is lovely. At the helm is Pen, a strong heroine who holds hope and love in her hands and refuses to be defeated.
No Author Comment Available.
Abigail Says 
Trippy, and childlike, and whimsicle. I'm betting it matches the book perfectly. 
Julia Says 
I love this image, and reading the description makes it an even better fit.  The waves rising up to her neck fit both Odysseus and global warming, and the lotus and butterflies are both mythic and magical.
Kristina Says 
I love the butterflies coming out of her hair!
Quarantine: The Saints (Quarantine #2) by Lex Thomas
Expected publication: July 9th 2013 by EgmontUSA
Source: Author's Website
Covers in Series
No Description Available.
No Author Comment Available.
Abigail Says 
I tilted my head too 🙂 Gritty, broken, school. I'd read a book for those three words alone. 
Julia Says 
The colors and angles are eye catching, but this cover looks like a background waiting for someone to walk on screen.  My eye goes right past it without anything connection.
Kristina Says 
I automatically tilted my head when I saw this cover. The deteriorated/broken down depictions in these covers is really interesting. It kind of reminds me of some of the photos from Chernobyl with everything abandoned and slowly decomposing.
White Trash Zombie Apocalypse (White Trash Zombie #3) by Diana Rowland
Expected publication: July 2nd 2013 by DAW
Source: Author's Twitter
Covers in Series
Lights, cameras… zombies!
When a zombie movie starts filming in town, things get crazy, and white trash zombie Angel Crawford suspects it's not just the plot of the movie that's rotten. With zombies both real and fake roaming the streets, it's up to Angel to fit all the pieces — and body parts — together to save herself, her town, and quite possibly the human race.
No Author Comment Available.
Abigail Says
…I don't know what to say. I'm semi repulsed, but semi intrigued too…I keep going back and forth between those two reactions. 
Julia Says 
Haha, these covers are just so riveting and gaudy.  I can't look away, even as I cringe. The heart in her crotch is so hideous and so white trash it's… perfect?
Kristina Says 
That color is amazing.
Expected publication: August 2013 by Harlequin Teen
Source: Author's Blog
Covers in Series
No Description Available.
No Author Comment Available.
Abigail Says 
Super pretty. The canary gold color is perfect. 
Julia Says 
White, black, yellow!  The sunshine isn't as striking as the black/white contrast, but a good fit for the series.
Kristina Says 
That color is amazing.

And our picks for Best & Worst covers of the week…
Best
Worst
What are your picks for Best and Worst covers? See even more covers on ATUF's Pinterest boards.

---
Have a cover we should include in an upcoming post? Fill out our Cover Submit form