Remember back in December, when we posted this: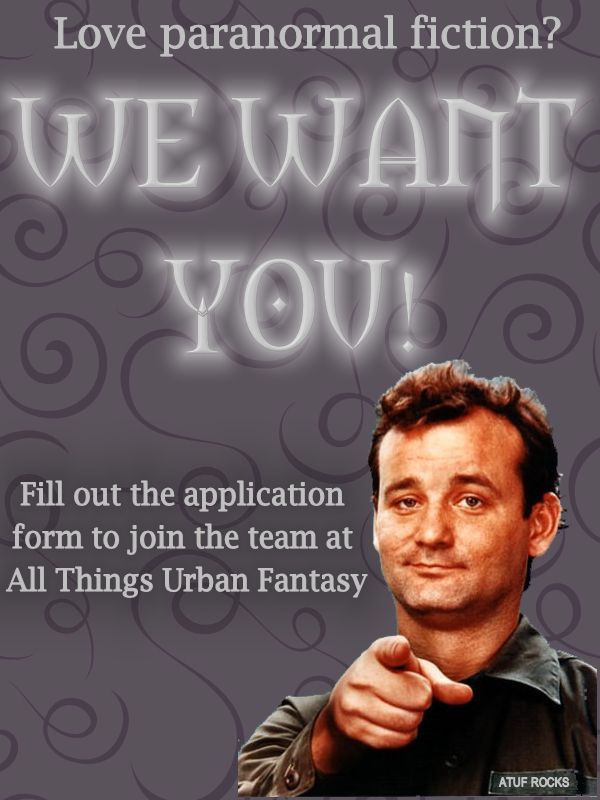 That was when we started the hunt for a new blogger to join Julia, Kristina, and me here at All Things Urban Fantasy.  Since 2009 we've expanded our team every year, and we were due again.  The response was pretty fantastic, but unfortunately, we weren't able to find one more person to join us.  We found two!  Both Chris (our first male reviewer) and Kate are big time Urban Fantasy lovers as well as fans of paranormal and speculative fiction in general.  Since we're a picky bunch, we had them jump through a few preliminary hoops before making our decision, but they both wowed us from start to finish.  And we think you are going to love them too!  You'll be seeing reviews from both of them very soon.  Please take a second to say hello to them:
Meet Chris
Hi everybody! I'd first like to thank Abigail, Julia and Kristina for having me aboard. I've been a fan of the site for sometime and I'm excited to be able to contribute to it!
As for me, well, I've been an avid reader for as long as I can remember. It started with Encyclopedia Brown way back in second grade and just got better from there.
My first introduction to fantasy came when a friend loaned me their well-worn copy of DRAGONS OF AUTUMN TWILIGHT by Margaret Weiss and Tracy Hickman back in junior high. I was immediately hooked and quickly tore through the entire Dragonlance series of books. To this day I still hold a fond place in my heart for Tanis, Tasselhoff, Laurana and the rest of the characters from that world.
My introduction to urban fantasy came through the novels based on White Wolf's Vampire the Masquerade role-playing game. From there I moved on to Jim Butcher's Dresden Files and the rest was history. I'm not very good at saying who my favorite authors are since the list is almost always the authors I've recently read, but I do have a few whose book I'll buy without even knowing what they're about. Neil Gaiman, Jim Butcher, Stacia Kane, Charles de Lint and Chuck Wendig are a few of the authors on that list.
Urban fantasy remains one of my favorite genres to this day and the opportunity to have a place like ATUF to talk about it is just fantastic.
 Meet Kate
I was that girl in high school who read in the five minutes between classes and in college I had giant rubbermaid tubs of mass market paperbacks because I didn't have enough bookshelves. Part of my first paycheck from my real adult job went towards an e-reader and my mother sent me a condolences card when Borders went out of business. These days, it's entirely possible that you'll find me waiting in the rain for the bus with an umbrella in one hand and my Kindle in the other. The invention of e-readers was one of the best things to happen to the square footage of my living space, but there is something about having shelves of books that makes me absurdly happy, too. My husband will tell you he sometimes catches me staring at my bookshelves with a loving look I normally reserve for him. All that together pretty much sums up how I feel about books and reading in general.
I came to vampires and werewolves via the Twilight series. After that, I promptly fell in love with Eric in the Sookie Stackhouse series, and haven't looked back since. Obviously I'm here because I love urban fantasy- some of my auto buy authors are Laura Resnick, Jeaniene Frost, Karen Chance, Jennifer Estep and Chloe Niell. I've read Robin McKinley's Sunshine three times and I helped get my science fiction book club to read Souless last year. I've got a thing for strong, smart, ass-kicking women and any wonderfully sexy heros who can stand aside and let them do their thing. And a good romantic story line between the two gets me every time.
Since I don't really have anybody in my life to discuss any kind of paranormal books with, blogs have been my way of validating my love for the genre. So, I'm really excited to be joining All Things Urban Fantasy and being able to share that!