I'm so pleased to be hosting debut author Leigh Evans today for an interview about THE TROUBLE WITH FATE (Published December 24th 2012 by St. Martin's Paperbacks), the first book in the Mystwalker series, which I called, "…one of my favorite urban fantasy titles of the year!"  Read on to find out why: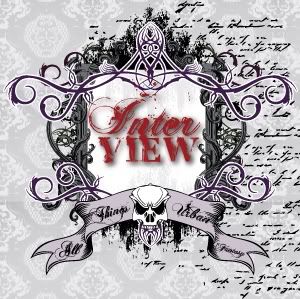 ATUF: How did you decide which elements of werewolves and fae to carry over to Hedi?
LE: It came down to one question. What would I choose? Dainty pointy ears or very hairy legs?
ATUF: I'm still amazed at how much personality and emotion you were able to convey in Merry the pendant. How did you conceive her as a character?
LE: Thank you. That's a lovely, lovely compliment.
To answer your question—I realized early in the game that Hedi's back story was pretty darn bleak. Without someone to love and protect her during those difficult years following the loss of her family, our girl might have turned into a very different character.
Bitter, instead of a girl who recognizes the bittersweet.
Clearly, Hedi needed a friend. Though, definitely not the good witch Glenda type of pal. No, my reluctant heroine-in-training needed someone who wasn't above delivering the odd, well-deserved bitch slap. Though, come to think of it, I didn't want her bff to take over the book, nor counsel Hedi because a big part of the fun is seeing where Hedi's poor choices land her.
Okay then, sorry, Merry, but you're going to be a mute. Or better yet, a sentient being trapped inside a hunk of amber. A fairy princess with an attitude—
That's the moment when Merry, the amulet with attitude, was truly born—that day in the kitchen, when she tapped me on the shoulder and interrupted my musings to firmly correct me. "Look, I'm not a princess, I'm really a—" (Oops, did I almost leak some back story?)
ATUF: The history between weres and fae in THE TROUBLE WITH FATE is volatile to say the least.  How crucial was this history to your series?
LE: Huge. I spend way too much time figuring out the different worlds, and the power structures within them. I mean weeks. It's insane. I have such a world behind the world I show on the page…I know the wars. I know the history. The people and their back stories—right down to their pivotal character moments. I write reams of notes. I make charts. I find pictures to capture what I see. A good portion of it goes into my inspiration books.
ATUF: If THE TROUBLE WITH FATE were ever made into a movie, who would your dream or, to keep things interesting, nightmare cast be?
LE: This puts me in a quandary. I would really would like to answer the question, but I've decided that I'm never, ever going to tell anyone who 'my' Hedi or Trowbridge resemble because of a very unfortunate incident. What incident? Well, a few years ago, I developed an awkward crush on a fictional character. I must have reread the passages featuring this guy a dozen times. And then one day, I read an article wherein the author described her dream cast. (Seriously? Him? Ew!) Put me right off the book. I haven't been able to open the novel since.
So, let's skip this one, okay?
ATUF: Can you give us a teaser for the next book in the Mystwalker series?
LE: Yup. What if Hedi sat on her pirate rock one night, and pinned a wish upon a star? What if Karma was listening? And what if that vengeful bitch gave Hedi everything that she yearned for?
ATUF: What other projects can we look forwarding to reading from you soon?
LE: THE THING ABOUT WERES will be out in July. I'm writing the final act of the 3rd Mystwalker novel right now. We have no title for it as yet because neither my publisher nor I ever know how the book's really going to end until I actually get to the end.
After that novel is turned into my editor (and I've recovered from my mental breakdown) I'm going to start on the 4th  book. That's something I can't wait to get to because I can see that first scene so vividly, it's like a movie playing in my head.
ATUF:What are some of your favorite titles/authors in the paranormal genres?
LE: Charlaine Harris, Jim Butcher, Suzanne McLeod, Karen Chance, Patty Briggs, Darynda Jones, and the amazing Chloe Neill. If you like something a little more firmly into darker high fantasy, check out Carol Berg or Anne Bishop.
ATUF: Finish this statement with as much/little detail as you like: You'll like THE TROUBLE WITH FATE if you like…
LE: The three W's—the wry, the wild and the wolf.
ATUF: Thanks so much for stopping by, Leigh!  Come back anytime.
Leigh was born in Montreal, Quebec but now lives in Southern Ontario with her husband. She's raised two kids, mothered three dogs, and herded a few cats. Other than that, her life was fairly routine until she hit the age of 50. Some women get tattoos. Leigh decided to write a book. A little tardy, but then again, her mum always said she was a late bloomer.
Published on December 24th 2012 by St. Martin's Paperbacks
Description:
I HAVE TWO WORDS FOR WEREWOLVES:
My name is Hedi Peacock and I have a secret. I'm not human, and I have the pointy Fae ears and Were inner-bitch to prove it. As fairy tales go, my childhood was damn near perfect, all fur and magic until a werewolf killed my father and the Fae executed my mother. I've never forgiven either side. Especially Robson Trowbridge. He was a part-time werewolf, a full-time bastard, and the first and only boy I ever loved. That is, until he became the prime suspect in my father's death…
BITE ME.
Today I'm a half-breed barista working at a fancy coffee house, living with my loopy Aunt Lou and a temperamental amulet named Merry, and wondering where in the world I'm going in life. A pretty normal existence, considering. But when a pack of Weres decides to kidnap my aunt and force me to steal another amulet, the only one who can help me is the last person I ever thought I'd turn to: Robson Trowbridge. And he's as annoyingly beautiful as I remember. That's the trouble with fate: Sometimes it barks. Other times it bites. And the rest of the time it just breaks your heart. Again…
 First in the incredible new Mystwalker series!
Read an excerpt|Read our review
---
Interested in being a guest on All Things Urban Fantasy? Fill out our Guest Request Form