I'm a sucker for beautiful colors and light, and this week I got more than my fair share of lovely covers to choose from.  Tina Connolly's COPPERHEAD won my vote (I'm a sucker for a dangerous dame), but Kristina and Abigail couldn't resist Jennifer Estep's new, sensitive Gin.  Which is your favorite?
Blood Oranges by Caitlin R. Kiernan
Expected publication: February 5th 2013 by Roc Trade
Source: Goodreads
Covers in Series
N/A
My name's Quinn. If you buy into my reputation, I'm the most notorious demon hunter in New England. But rumors of my badassery have been slightly exaggerated. Instead of having kung-fu skills and a closet full of medieval weapons, I'm an ex-junkie with a talent for being in the wrong place at the right time. Or the right place at the wrong time. Or…whatever. Wanted for crimes against inhumanity I (mostly) didn't commit, I was nearly a midnight snack for a werewolf until I was "saved" by a vampire calling itself the Bride of Quiet. Already cursed by a werewolf bite, the vamp took a pint out of me too. So now…now, well, you wouldn't think it could get worse, but you'd be dead wrong.
No Author Comment Available.
Abigail Says 
I'm used to a little more from Roc when it comes to covers. This isn't bad, but it looks like something a smaller press would do. 
Julia Says 
I usually don't like a hint of blood or fang for vampire books, but this one is really well done.  I love the colors, too, the red and orange are great for vampires and for the title.
Kristina Says 
She looks very punk. I like the fire behind her shoulder. Its an interesting touch as is that drop of blood on her lips.
Black Feathers (Black Dawn #1) by Joseph D'Lacey
Expected publication: March 26th 2013 by Angry Robot
Source: Goodreads
Covers in Series
N/A
Black Feathers is a modern fantasy set in two epochs: the Black Dawn, a time of environmental apocalypse, and generations into the future in its aftermath, the Bright Day.
In each era, a child undertakes a perilous journey to find a dark messiah known as The Crowman. In their hands lies the fate of the planet as they attempt to discover whether The Crowman is our saviour… or the final incarnation of evil.
No Author Comment Available.
Abigail Says 
The font is super eyecatching. It looks like what you'd find on an old hardcover under the dustjacket. 
Julia Says 
Gorgeous texture, I love how the intricacy of the image and the title stand out from the black background.  The black isn't flat, either, it looks like fabric.  Beautifully done.
Kristina Says 
The small designs in the circles are nice touches. I like how the cover looks like it has some texture to it. And that font is awesome.
Expected publication: March 1st 2013 by Inkspell Publishing
Source: Author's Blog
Covers in Series
N/A
Is it love or is it witchcraft? He'll never find out if he kills her first.
The first time Darren saw Samantha, she was floating above his high school gymnasium during a basketball game, invisible to everyone but him. Next time he sees her, she's sitting in front of him in class, wowing his friends and causing unexplainable things to happen that only he seems to notice. But things really get strange (and complicated) when his dying grandfather tells him that he is part of an ancient order, the "Pessum Ire," whose duty is to destroy witches. What does he do now, since he's almost positive Samantha is a witch…and he's crushing on her pretty hard?
No Author Comment Available.
Abigail Says 
I think this is the best cover yet from InkSpell. The colors are so fiery. 
Julia Says 
I love the color and the light on this cover, but the cover model's body language and expression is distractingly odd.
Kristina Says 
Oh no! Don't you dare blow that fiery fireball at me, person! That fire is so real looking.
After Eden (After Eden #1) by Helen Douglas
Expected publication: July 4th 2013 by Bloomsbury Childrens Books
Source: Icey Books
Covers in Series
N/A
Eden Anfield loves puzzles, so when mysterious new boy Ryan Westland shows up at her school she's hooked. On the face of it, he's a typical American teenager. So why doesn't he recognise pizza? And how come he hasn't heard of Hitler? What puzzles Eden the most, however, is the interest he's taking in her.
As Eden starts to fall in love with Ryan, she begins to unravel his secret. Her breakthrough comes one rainy afternoon when she stumbles across a book in Ryan's bedroom – a biography of her best friend – written over fifty years in the future. Confronting Ryan, she discovers that he is there with one unbelievably important purpose … and she might just have destroyed his only chance of success.
No Author Comment Available.
Abigail Says 
The neon colors here are a bit much. The image would actually work if it wasn't in neon yellow, AND, electric blue, AND hot pink. 
Julia Says 
Woah, too much of a good thing… I like the title font against a field of stars, those colors are great, but it's overshadowed by all the pyrotechnics down below.  By the time I got to the cover models, and the woman's freaky, freaky empty eye sockets, I was done.
Kristina Says 
Not a fan of the heads in the clouds and the colors don't work together.
Silent Cravings by Jess Haines & E. Blix
Expected publication: February 22nd 2013 by Musa Publishing
Source: Author's Website
Covers in Series
N/A
The Goliath werewolves, a California pack hoping to expand into new territories, made an extreme error in judgment when choosing Christoph to be their representative for negotiations in New York. After two fights in the open with another supernatural, Christoph orders a lower-ranking teenaged Were to take the downfall for his mistakes by serving in his place under vampire Alec Royce's watchful eye.
When Christoph and another packmate try to save the girl from Royce's clutches—never mind the inevitable war they'd start in the process—the two are outcast from their pack. The vampire once again demands servitude as recompense, and they soon find themselves magically "neutered" by enchanted leather fetish collars so they can't hurt themselves or anyone else in the vampire's entourage. Hey, the collars were all Royce had handy at the time.
Just when Christoph thought it couldn't get any worse, a mute vampire named Mouse decides to claim him, taking him for her own. She has her own set of problems, what with being mentally damaged by her sire, Max Carlyle, who delighted in enforcing her monstrous nature. She hungers for Christoph, but can't stand to see someone victimized or—even worse—afraid of her.
Christoph is taught the greater lesson of what it really means to follow the Goliath Code of Honor and Mouse narrowly avoids a nervous breakdown in the process of accepting her own predatory nature. The two must learn how to live together (and deal with his new accessory)—without driving Royce and the rest of his household crazy in the process.
No Author Comment Available.
Abigail Says 
Cute for this style, it's just not my favorite style. It's by Jess Haines though, so I'm dying to read it. 
Julia Says 
I like the title font and the splash of yellow against a dark cover, but the dark curlicues overlaying the dark cover are hard to see (at least digitally).  I only saw them because I was trying to figure out why the wolf had antennae.  
Kristina Says 
I like this style especially when done right.
Expected publication: June 25th 2013 by Brava
Source: Author's Blog
Covers in Series
Plunge deeper into the curious world of the deadly Nightshades.
The Moonstone is having a destabilizing effect on the time/space membrane leaving Phaeton trapped in a parallel mirror world where everything is opposite or upside down, yet oddly the same. He is held captive by Domina Valour and tested sorely in this darkly sensual third episode of the Phaeton Black series.
Gaspar Sinclair can't go after Phaeton. His physical body is unraveling before everyone's eyes. America Jones is large with child, but only she has the preternatural ability to locate Phaeton and bring him back. And Doctor Exeter's beautiful charge, Mia, has her claws in him. Quite literally.
To accomplish Phaeton's rescue, the doctor must let loose forces he hasn't the foggiest clue how to control, including his attraction to Mia.
While in the dimension of magnetic opposites, the doctor and Miss Jones attempt to reverse polarity to retrieve Phaeton and stop Gaspar from unraveling. Can America and Phaeton find a way to return together, or will this final test rip them apart forever?
No Author Comment Available.
Abigail Says 
Cool, right? Until you remember the cover for book one which has the guy in the EXACT same pose.
Julia Says 
Silly and flirty, though I don't particularly like the purple and yellow together.  The cover models seem a little lost on this cover, too.
Kristina Says 
Its not the exact same pose but really really really close. Couldn't they have done something else besides that pose?
The Shadowhunters' Codex by Cassandra Clare & Joshua Lewis
Expected publication: September 2013 by Simon and Schuster
Source: Goodreads
Covers in Series
N/A
The Clave is pleased to announce the newest edition of the Nephilim's oldest and most famous training manual: the Shadowhunter's Codex. Since the thirteenth century, the Codex has been the young Shadowhunter's best friend. When you're being swarmed by demons it can be easy to forget the finer points of obscure demon languages or the fastest way to stop an attack of Raum demons. With the Codex by your side, you never have to worry.
Now in its twenty-seventh edition, the Codex covers it all: the history and the laws of our world; how to identify, interact with, and if necessary, kill that world's many colorful denizens; which end of the stele is the end you write with. No more will your attempt to fight off rogue vampires and warlocks be slowed by the need to answer endless questions from your new recruits: What is a Pyxis? Why don't we use guns? If I can't see a warlock's mark, is there a polite way to ask him where it is? Where do we get all our holy water? Geography, History, Magic, and Zoology textbook all rolled into one, the Codex is here to help new Shadowhunters navigate the beautiful, often brutal world that we inhabit.
Do not let it be said that the Clave is outdated or, as the younger Shadowhunters say, "uncool": this new edition of the Codex will be available not only in the usual magically-sealed demonskin binding, but also in a smart, modern edition using all of today's most exciting printing techniques, including such new features as a sturdy clothbound cover, a protective dust jacket, and information about title, author, publisher, and so on conveniently available right on the cover. You'll be pleased to know that it fits neatly into most satchels, and unlike previous editions, it rarely sets off alarm wards.
The old woodcuts and engravings have been replaced as well: instead, you'll find lavish modern illustrations by some of the brightest luminaries of the fantastic. Creatures, weapons, people, and places have been carefully and accurately rendered by the likes of Rebecca Guay, Charles Vess, Jim Nelson, Theo Black, Elisabeth Alba, and Cassandra Jean. Chapters are beautifully introduced by the drawings of Michael Kaluta, and along with our condensation of the classic 2,450-page tome, A History of the Nephilim, you will find a selection of the best of the lovely illustrations of that volume by John Dollar.
No Author Comment Available.
Abigail Says 
Very cool. Makes me think of the old Clash of the Titans movie. 
Julia Says 
Mmmm, this cover is both creepy and forgettable.  The sword and cup seem to be floating in this guy's hands, and he's eerie but not memorable enough keep my attention.
Kristina Says 
Dangerously awesome and suspiciously naked battle angel gets a thumbs up!
Expected publication: July 2nd 2013 by Entangled Teen
Source: YA Bound
Covers in Series
Cash is haunted by things. Hungry, hollow things. They only leave him alone when Anaya, Heaven's beautiful reaper, is around. Cash has always been good with girls, but Anaya isn't like the others. She's dead. And with his deteriorating health, Cash might soon be as well.
Anaya never breaks the rules, but the night of the fire she recognized part of Cash's soul—and doomed him to something worse than death. Cash's soul now resides in an expired body, making him a shadow walker—a rare, coveted being that can walk between worlds. A being creatures of the underworld would do anything to get their hands on.
The lines between life and death are blurring, and Anaya and Cash find themselves falling helplessly over the edge. Trapped in a world where the living don't belong, can Cash make it out alive?
No Author Comment Available.
Abigail Says 
Wow, did they step up their game for book two. This is gorgeous. 
Julia Says 
I never would have put INBETWEEN and BLURRED in the same series based on covers alone, with switch to unisex t-shirts and jeans to Egyptian jewelry and and black smoke is pretty striking.  Whatever the connection may be, I love BLURRED.
Kristina Says 
Very nice. I love the silky black smoke flowing between them.
Expected publication: June 4th 2013 by Signet
Source: Author's Pinterest
Covers in Series
Fledgling vampire Sarah Dearly knew what she was getting into when she married master vampire Thierry de Bennicoeur. As an agent of the Ring, Thierry is sent all over the world to solve vampire crimes and keep them secret from humans. And now Sarah's on the job with him—for better or worse.
Right after their wedding in Las Vegas, Sarah and Thierry get their next assignment: Three vampires have gone missing in Salem, Massachusetts, and they need to find out why. Their contact in Salem turns out to be a local lothario with a penchant for witches, but before he can help them, he suddenly goes up in smoke—leaving behind nothing but a stain on the ground and a seemingly impossible mystery.
Did a witchy ex-mistress cast a deadly spell, or is there something even more sinister happening to the vampires of Salem? Getting to the truth may require raising the undead, with a little help from the owners of a vampire-friendly bed and breakfast. But uncovering Salem's darkest secrets may drag some of Thierry's own past into the light.
No Author Comment Available.
Abigail Says 
The titles for this series are always cute, but I still haven't warmed up to this art style. 
Julia Says 
I like the cartoony style, but these tilted covers seem a little off.  It's like a picture of a cover more than a cover itself.  I do like how the character is actually reacting to the tilt on this cover, cute.
Kristina Says 
This doesn't really look paranormal. It looks like it could be any sort of mystery book.
Expected publication: July 30th 2013 by Angry Robot
Source: Angry Robot
Covers in Series
My name's Markowski. I carry a badge. Also, a crucifix, some wooden stakes, a big vial of holy water, and a 9mm Beretta loaded with silver bullets.
A new supernatural gang is intent on invading Scranton – as if I didn't have enough to contend with!
Supernatural gang warfare? Not on my watch!
No Author Comment Available.
Abigail Says 
Okay, so this looks very intentional, but it's not a style that draws me in 
Julia Says 
Haha, campy and gruesome, perfect for this series.
Kristina Says 
That's hilarious and very creative. I love it! All of these covers are really nicely staged.
Copperhead (Ironskin #2) by Tina Connolly
Expected publication: September 2013 by Tor Books
Source: Author's Blog
Covers in Series
No Description Available.
"Larry Rostant and the team at Tor Books did an AMAZING job. I can't even express how thrilled I am by the cover. (Well, it's pretty obvious how thrilled I am. . .I mean, just LOOK at it!)  And yes, that's not Jane on the cover. Jane is in the story, but with COPPERHEAD we jump forward six months from the end of IRONSKIN and Jane's sister Helen gets the chance to tell her story. . . ." – Tina Connolly
Abigail Says 
Wow. Different character from the first book, so I didn't immediately connect the series, but the more I look at this, the more I see how it fits with the debut. 
Julia Says 
Wow, absolutely gorgeous.  This cover model is straight out Indiana Jones, classy and gorgeous and dangerous.  I love the colors and light.
Kristina Says 
She looks so sophisticated and I love the smoke wafting around her and her haughty expression.
Expected publication: August 27th 2013 by Pocket Books
Source: Heroes & Heartbreakers
Covers in Series
The hotly anticipated ninth novel in the hugely popular Elemental Assassin series finds Gin Blanco on a dangerous mission to rescue a friend. 
When a terror from the past threatens Gin's friend and body-disposer, Sophia, Gin will stop at nothing to protect her, even if it means walking straight into a killer's trap. Meanwhile, the rocky romance between Gin and Owen reaches a turning point—can they reunite and rekindle their love? Or will the things Gin has been forced to do in her line of work as the deadly assassin the Spider keep them apart forever? Assuming, that is, she survives long enough to find out…
No Author Comment Available.
Abigail Says 
This series has had phenominal covers thanks to the amazing Tony Mauro. This might be my knew favorite since it shows a softer, almost wounded looking Gin. 
Julia Says 
Wow, absolutely gorgeous.  I love the lighting and staging.  I didn't even even recognize Gin, she looks softer and more approachable (despite the grave digging).
Kristina Says 
Whose grave is she digging? I love the Mab sunburst on the headstone and the colors are wonderful.

And our picks for Best & Worst covers of the week…
Best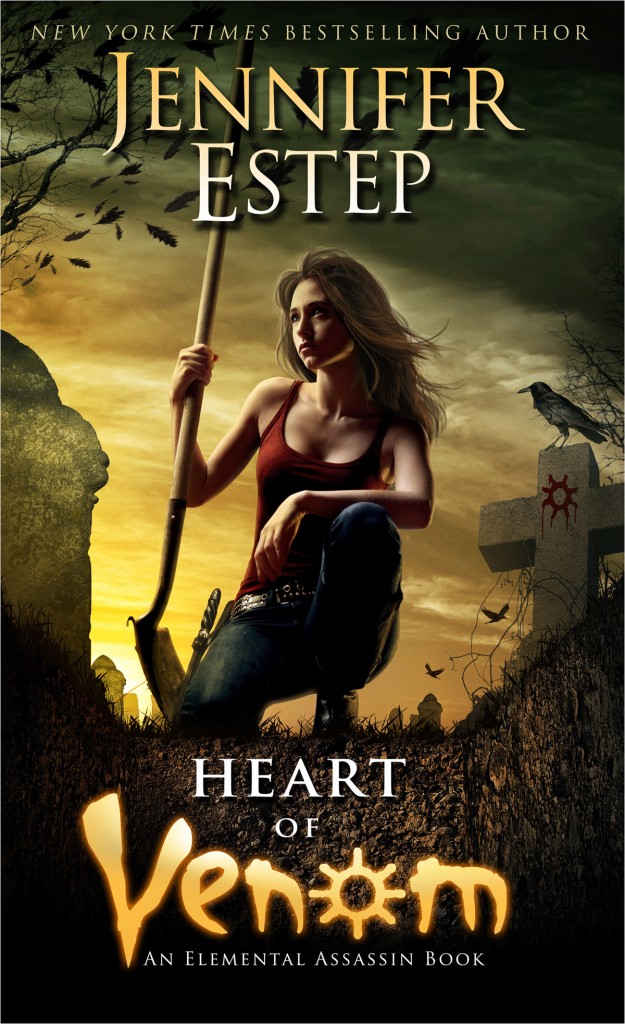 Worst
What are your picks for Best and Worst covers? See even more covers on ATUF's Pinterest boards.

---
Have a cover we should include in an upcoming post? Fill out our Cover Submit form