There is an assortment of anthologies this week, with author line ups that will make any Urban Fantasy lover salivate.  There's some variety in what we fell in love with.  I'm a suck for gorgeous illustrations, and Marie Brennan's A NATURAL HISTORY OF DRAGONS is giving me itchy fingers.
Vampires Gone Wild by Kerrelyn Sparks, Pamela Palmer, Amanda Arista, and Kim Falconer
Expected publication: February 12th 2013 by Avon Impulse
Source: Author's Blog
Covers in Series
N/A
Vampires Gone Wild is an anthology of four vampire novellas, written by Kerrelyn Sparks, Pamela Palmer, Kim Falconer, and Amanda Arista. Kerrelyn's novella features the Russian Vamp, Mikhail, as the hero!
No Author Comment Available.
Abigail's Thoughts
It's simple, but I'm psyched that Pamela Palmer's story take's place in her excellent Vamp City series.
Julia's Thoughts 
A little boring, but effective.  That's a lot of author's names to fit on a cover, and this design gives them pride of place over the (silly) title.
Kristina's Thoughts
Nice and definately fits the vampire theme in the stories. Though with the title I was thinking of something different for the cover…
Tall, Dark, and Avampire
Expected publication: August 1st 2013 by Sourcebooks Casablanca
Source: Author's Pinterest
Covers in Series
N/A
No Description Available.
No Author Comment Available.
Abigail's Thoughts
The pink neon 'sign' lettering totally saves an otherwise average cover
Julia's Thoughts 
The disco lights, neon, and bare chest made me chuckle.  More "Magic Mike" than Dracula, but I like the colors.
Kristina's Thoughts
I was immediately thinking of one of those neon signs on the Vegas strip when I saw the title. I agree it makes the cover more interesting.
December 2013
Source: Author's Pinterest
Covers in Series
No Description Available.
No Author Comment Available.
Abigail's Thoughts
Totally average and unmemorable.
Julia's Thoughts 
I'm just glad that flash of light isn't centered on his backside.  The lighting on his muscles is nice.
Kristina's Thoughts
Meh. At least they tried to be more creative with an armband instead of a tattoo. Is the armband going to be a new cover trend?
Weird Detectives edited by Paula Guran
Publication Date: April 10, 2013
Source: X
Covers in Series
N/A
Paranormal investigators. Occult detectives. Ghost hunters. Monster fighters. Humans who unravel uncanny crimes and solve psychic puzzles; sleuths with supernatural powers of their own who provide services far beyond those normal gumshoes, shamuses, and Sherlocks can provide. When vampires, werewolves, and thing that go bump in the night are part of your world, criminals can be as inhuman as the crimes they commit, and magic can seep into the mundane—those who solve the mysteries, bring justice for victims or even save the world itself, might wield wands as well as firearms, utter spells or simply use their powers of deduction. Some of the best twenty-first century tales from top authors of the century's most popular genre take you down mean streets and into strange crime scenes in this fantastic compilation.
Contents (alphabetical by author):
"Cryptic Coloration" by Elizabeth Bear
"The Key" by Ilsa J. Blick
"Mortal Bait" Richard Bowes
"Star of David" by Patricia Briggs
"Love Hurts" by Jim Butcher
"Swing Shift" by Dana Cameron
"The Necromancer's Apprentice" by Lillian Stewart Carl
"Sherlock Holmes and the Diving Bell" by Simon Clark
"The Adakian Eagle" by Bradley Denton
"Hecate's Golden Eye" by P.N. Elrod
"The Case of Death and Honey" by Neil Gaiman
"The Nightside, Needless to Say" by Simon R. Green
"Deal Breaker" by Justin Gustainis
"Death by Dahlia" by Charlaine Harris
"See Me" by Tanya Huff
"Signatures of the Dead" by Faith Hunter
"The Maltese Unicorn" by Caitlín R. Kiernan
"The Case of the Stalking Shadow" by Joe R. Lansdale
"Like a Part of the Family" by Jonathan Maberry
"The Beast of Glamis" by William Meikle
"Fox Tails" by Richard Parks
"Imposters" by Sarah Monette
"Defining Shadows" by Carrie Vaughn
No Author Comment Available.
Abigail's Thoughts
They both look a little young, but the art is perfect and line up is an UF dream.
Julia's Thoughts 
Holy crap, like I need to see anything other than that *amazing* list of authors!  I like the style and how the symbols blur as they get close to us.
Kristina's Thoughts
They do look a bit young but the design is cool. They also look like a young Mulder and Scully. What is he doing with his hand though?
A Natural History of Dragons: A Memoir by Lady Trent by Marie Brennan
Expected publication: February 5th 2013 by Tom Doherty Associates
Source: Tor.com
Covers in Series
N.A
Not a day goes by that the post does not bring me at least one letter from a young person (or sometimes one not so young) who wishes to follow in my footsteps and become a dragon naturalist. Nowadays, of course, the field is quite respectable, with university courses and intellectual societies putting out fat volumes titled Proceedings of some meeting or other. Those interested in respectable things, however, attend my lectures. The ones who write to me invariably want to hear about my adventures: my escape from captivity in the swamps of Mouleen, or my role in the great Battle of Keonga, or (most frequently) my flight to the inhospitable heights of the Mrtyahaima peaks, the only place on earth where the secrets of the ancient world could be unlocked.
Even the most dedicated of letter-writers could not hope to answer all these queries personally. I have therefore accepted the offer from Messrs. Carrigdon & Rudge to publish a series of memoirs, chronicling the more interesting portions of my life. By and large these shall focus on those expeditions which led to the discovery for which I have become so famous, but there shall also be occasional digressions into matters more entertaining, personal, or even (yes) salacious. One benefit of being an old woman now, and moreover one who has been called a "national treasure," is that there are very few who can tell me what I may and may not write.
Beyond this point, therefore, lie foetid swamps, society gossip, disfiguring diseases, familial conflicts, hostile foreigners, and a plenitude of mud. You, dear reader, continue on at your own risk. It is not for the faint of heart — no more so than the study of dragons itself. But such study offers rewards beyond compare: to stand in a dragon's presence, even for the briefest of moments — even at the risk of one's life — is a delight that, once experienced, can never be forgotten. If my humble words convey even a fraction of that wonder, I will rest content.
In this first volume, I will relate to you how my career as a lady adventurer and dragon naturalist began, commencing at the creation of my childhood fascination with all things winged, and for the bulk of its length describing my first foreign expedition, to study the rock-wyrms of Vystrana. Common gossip has made the bare facts well-known, but I warn you, dear reader, that all was not as you have heard.
Isabella, Lady Trent
Casselthwaite, Linshire
11 Iyar, 1895
No Author Comment Available.
Abigail's Thoughts
I'm totally torn. The cover is gorgeous and makes me want to break out my old Pern novels, but this didn't really say 'Lady adventurer' with "parallels to the "wickedly entertaining" Alexia Tarabotti novels by Gail Carriger …" which is how it's being pitched.
Julia's Thoughts 
Anyone with Dinotopia or the Voyage of the Basset on their shelf is going to want to get their hands on this one.  *Points thumbs towards chest*… This guy.  A gorgeous look, I'm dying to crack the cover to see more illustrations.
Kristina's Thoughts
It looks awesome but it doesn't really connect with the context of the story. I still want to stare at this cover a lot and hope there are more illustrations inside.
The Last Academy by Anne Applegate
Expected publication: May 1st 2013 by Point
Source: Author's Blog
Covers in Series
N/A
Curtis Sittenfeld's PREP meets THE SIXTH SENSE in this spine-tingling, unforgettable debut.
Camden Fisher arrives at boarding school haunted by a falling-out with her best friend back home. But the manicured grounds of Lethe Academy are like nothing Cam has ever known. There are gorgeous, preppy boys wielding tennis rackets, and circles of girls with secrets to spare. Only . . . something is not quite right. One of Cam's new friends mysteriously disappears, but the teachers don't seem too concerned. Cam wakes up to strangers in her room, who then melt into the night. She is suddenly plagued by odd memories, and senses there might be something dark and terrible brewing. But what? The answer will leave Cam–and readers–stunned and breathless, in this thrilling debut novel.
No Author Comment Available.
Abigail's Thoughts
I'm a sucker for old Gothic gates and this one is gorgeous. The silhouettes add a nice touch of mystery too.
Julia's Thoughts 
Nothing special for a paranormal YA, but I like the ominous silhouettes behind the gate.
Kristina's Thoughts
I like the gate design and the color scheme gives off a dark haunting feeling.
Expected publication: June 2013
Source: Unknown
Covers in Series
Eddie Drood, aka Shaman Bond, and his true love Molly Metcalf — who also happens to be a powerful witch — are attending Casino Infernale, an annual event held by the Shadow Bank, financiers of all global supernatural crime. Their mission: rig the game and bring down the Shadow Bank. But at Casino Infernale, the stakes are high. Winner takes all — and losers give up their souls…
No Author Comment Available.
Abigail's Thoughts
Dark and uninspired. This series has notoriously bad covers.
Julia's Thoughts 
Not a great copy of the cover, but undeniably a Drood cover.  Glowing silhouette, creepy background, Bond-pun title?  Check, check, and check.  Can't tell these apart but easy to peg the series.
Kristina's Thoughts
Interesting that most of the covers in the series are set at an angle. This is in keeping with the other covers but its kind of dark for me.
The Good, the Bad, and the Witchy (A Wishcraft Mystery #3) by Heather Blake
Expected publication: April 2nd 2013 by Signet
Source: Author's Blog
Covers in Series
Darcy Merriweather is Enchanted Village's newest resident Wishcrafter—a witch who can grant wishes for others. But as Darcy prepares a celebration for a magical florist, she discovers that every rose has its thorns…

When magical florist Harriette Harkette decides to throw a lavish eightieth birthday party for herself, she hires Darcy's Aunt Ve's personal concierge service, As You Wish, to plan the soiree. But turning eighty isn't all Harriette is celebrating—the Floracrafter has recently created the midnight black Witching Hour rose, the first all-natural rose of that color.
Darcy works hard on planning an extravagant celebration that will make Harriette feel like the belle of the ball. But when cake delivery boy Michael Healey—a former employee at Harriette's greenhouse—is found dead, the celebration takes a turn. Now Michael's ghost has imprinted on Darcy, meaning that they're bonded until she can untangle the thicket surrounding his murder—and what exactly it has to do with the Witching Hour rose….
"Isn't it nice?" – Heather Blake
Abigail's Thoughts
I'm with Kristina. This style is not to my taste at all.
Julia's Thoughts 
I've fallen out of love with these cartoony paranormal covers.  Blandly contemporary.
Kristina's Thoughts
I usually like these types of covers but these don't do anything for me.
A Witch's Handbook of Kisses and Curses by Molly Harper
Expected publication: May 28th 2013 by Pocket Books
Source: Goodreads
Covers in Series
N/A
A new comedic paranormal romance featuring a witch who finds love while searching for a magical artifact and set in the same "terrific vamp camp" (Publishers Weekly) world of Half Moon Hollow as the Nice Girls series. 
Nola McGavick is on a hunt. A talented but reluctant witch descended from a long line of witches, Nola and her grandmother Fiona run a small clinic in the English countryside. While she sometimes relies on a little healing help from her powers, it's crucial that she track down a set of three artifacts hidden by her estranged grandfather somewhere in Half Moon Hollow, Kentucky—or her whole family will lose its magic, and she and Fiona will have to shut down their clinic.
Renting half of her grandfather's old house, Nola decides to poke around and runs afoul of the other renter, Daniel. Soon she finds out he's a representative from a darker, more ambitious rival family. The two agree to work together and things start to steam up—but can Nola really trust Daniel? Does she ever want to embrace her magic, or would she be better off as a "powerless" but talented nurse?
No Author Comment Available.
Abigail's Thoughts
I like the flirty look over her shoulder pose (and how cute is that title?), but I think I would have liked it even more if her makeup were lighter. Right now she looks like she belongs on a Yasmine Galenorn cover.
Julia's Thoughts 
I like the focus on her and the movement of hair and light.  Those nails just *ruin* his lovely hands, though.  Boooo.
Kristina's Thoughts
I like how she's look out to the reader instead of at the shirtless man. Makes it stand out a bit from the typical covers with male and females on them. And where can we get this handbook because that would be a cool Christmas present.
The Uprising (The Forsaken #2) by Lisa M. Stasse
Expected publication: August 2013 by Simon & Schuster Books for Young Readers
Source: EW.com
Covers in Series
No Description Available.
"I was really excited when I saw the cover for The Uprising. It's a little different from The Forsaken, but it still has the same mysterious, edgy sci-fi feel. I'm totally in love with Lizzy Bromley's work. She designed the cover, and a great British artist named Dan Mountford took the photos for it. Much like The Forsaken, there are a lot of hidden secrets in the cover art. It will probably have more resonance for readers once they've read the book." – Lisa M. Stasse
Abigail's Thoughts
I like it when designers go outside the box for covers, but there is nothing about this that appeals to me. Not a fan.
Julia's Thoughts 
Creepy and striking and yet somehow whimsical.  I'm a fan!
Kristina's Thoughts
I like the bizarre look here. There are interesting details going on with the cut out parts of the head.
Bayou Heat by Alexandra Ivy & Parish by Laura Wright
2013
Source: Author's Blog
Covers in Series
N/A
No Description Available.
No Author Comment Available.
Abigail's Thoughts
Leather, tattoos, and a cougar. It's like the PNR trifecta. Pretty hot.
Julia's Thoughts 
Boo on the mountain lion and the fake tat, but huzzah for the water dripping down his chest!  I'm fickle like that.
Kristina's Thoughts
Sexy side tattoo is sexy. I like how the tribal swirls of the tattoo are reflected in the images behind the title.
Strange Spirits by Chris Marie Green, Nancy Holder, & Linda Thomas-Sundstrom
December 2012
Source: Author's Blog
Covers in Series
N/A
No Description Available.
No Author Comment Available.
Abigail's Thoughts
The little Santa sled silhouette is a cute touch on the otherwise standard UF cover
Julia's Thoughts 
The pink moon is weird, which makes the sleigh silhouette look even weirder.
Kristina's Thoughts
Thumbs up solely for the cute pink moon and pink Santa and sled.

And our picks for Best & Worst covers of the week…
Best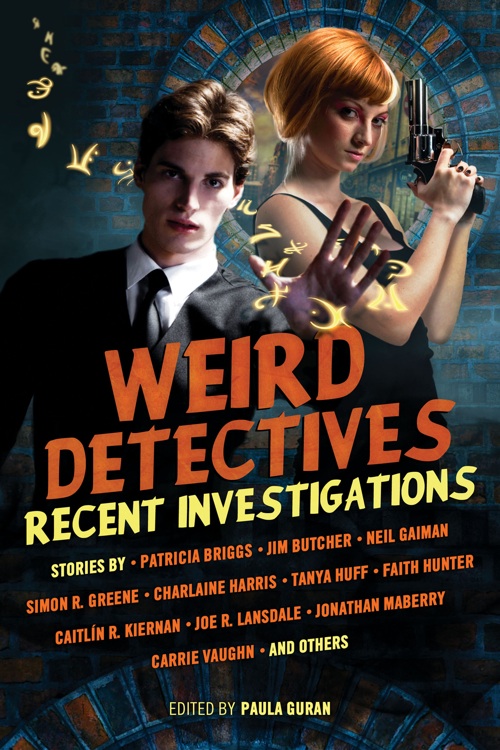 Worst
Leave a comment and tell us your picks for Best and Worst covers? See even more covers on our Pinterest board.

---
Have a cover we should include in an upcoming post? Or want us to reveal a cover? Fill out our Cover Submit form