Today we are excited to have Sean Cummings here to talk about his newest YA novel POLTERGEEKS (available on October 2, 2012 from Strange Chemistry). Stay tuned to the end for a Prize Pack giveaway!
ATUF: With the rest of the world ignorant about magic, is it ever hard keeping what you know a secret?  
SEAN: I think any secret is terribly hard to keep – it doesn't matter whether you've won the lottery and you want to get your ducks in a row before going public or whether your best friend told you something dark and terrible and warned off letting anyone else know. Magic is something I like to think that I write well – having a protagonist like Julie who has a bit of a secret life is fun to write but it's such a big secret that I wanted someone else that she could share her secret life with, hence her sidekick Marcus.
ATUF: What is your favorite type of magic, either theoretical or a practical spell?
SEAN: My favorite kind of magic is the kind that is self-generated and wholly dependent on the practitioner's skill and their ability to channel their spirit. And it comes with a cost – in POLTERGEEKS, I've thrown in the concept of spontaneous human combustion as being the direct result of a practitioner who pushed their spirit beyond its limits; if you push to hard, you can burst into flame and die. Every form of exertion comes with a physical whether you're an athlete or a teen witch like Julie.
ATUF: If you could visit anywhere in the world, what would you like to see and why?
SEAN: Well I'm going to London on September 30th to launch POLTERGEEKS, so I'm really looking forward to that. However what I'd really like to do is to one day visit the First and Second World War battlefields in Europe – particularly in France. I'm a veteran – it's something that's just important to me as a former serviceman.
ATUF: Tell us something you love about your hometown, or something that drives you crazy.
SEAN:  I was born in Ontario Canada but I grew up in Calgary Alberta. What I love about Calgary is that it's a fundamentally new city. The entire downtown core of skyscrapers was pretty much built after 1980. I love entrepreneurial spirit in Calgary and the people are fantastic. One thing I dislike, though, is the traffic. Calgary has a major traffic problem. Also I dislike the fact that the Calgary Flames are perpetual losers year after year.
ATUF: A staple of growing up is often slumber party games and playing with superstitions.  From Bloody Mary to the Ouija Board, is there any urban legend close enough to the truth that you'd warn people to stay away from?
SEAN:  That's a great question. Superstition is something I'd like to tackle a bit more as an author. There's a lot out there we don't entirely understand and let's face it, anyone who has seen PARANORMAL ACTIVITY got the crap scared out of them. I think there's an afterlife – I believe there's forces for good and evil in the world on a spiritual level and when we tinker with the darkness too much, it tends to amplify our darker nature.
Sean Cummings is a comic book geek, superhero junkie, zombie fan and a total nerd. (He's also a gold mine of completely useless information about films made prior to 1960. Don't get him started on "Arsenic and Old Lace" because he won't shut up about it.) He's been writing since his Grade Five teacher Ms. Flowers said that he might possibly have some talent and that he should continue writing…
… which he did and still does every single day.
Sean's published works include Shade Fright (Snowbooks 2010) Funeral Pallor (Snowbooks 2010) and Unseen World (Snowbooks 2011). He is currently working on the follow up to his forthcoming debut Young Adult novel POLTERGEEKS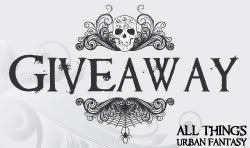 Giveaway provided by Strange Chemistry
A prize pack which includes one copy of SHADE FRIGHT, FUNERAL PALLOR, UNSEEN, and POLTERGEEKS by Sean Cummings
Available on October 2, 2012 from Strange Chemistry
Description:
15-year-old Julie Richardson is about to learn that being the daughter of a witch isn't all it's cracked up to be. When she and her best friend, Marcus, witness an elderly lady jettisoned out the front door of her home, it's pretty obvious to Julie there's a supernatural connection.
In fact, there's a whisper of menace behind increasing levels of poltergeist activity all over town. After a large-scale paranormal assault on Julie's high school, her mother falls victim to the spell Endless Night. Now it's a race against time to find out who is responsible or Julie won't just lose her mother's soul, she'll lose her mother's life.
Enter Giveaway at Sean Cumming's Blog, linked below

Learn how to win at Sean's Prize Pack Post
---
Interested in being a guest on All Things Urban Fantasy? Fill out our Guest Request Form