We've got an ARC copy of IN A FIX to giveaway today.  Abigail's review will be up next week, but she loved it and described it as "a shapeshifting Stephanie Plum mixed with Burn Notice."  Enter the giveaway via the widget below.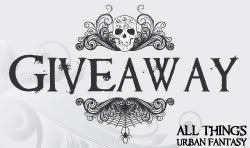 Giveaway provided by Tor Books
One ARC copy of IN A FIX by Linda Grimes
Available on September 4, 2012 from Tor Books
Description:
The start of an original new urban fantasy series starring human chameleon Ciel Halligan
Snagging a marriage proposal for her client while on an all-expenses-paid vacation should be a simple job for Ciel Halligan, aura adaptor extraordinaire. A kind of human chameleon, she's able to take on her clients' appearances and slip seamlessly into their lives, solving any sticky problems they don't want to deal with themselves. No fuss, no muss. Big paycheck.
This particular assignment is pretty enjoyable… that is, until Ciel's island resort bungalow is blown to smithereens and her client's about-to-be-fiancé is snatched by modern-day Vikings. For some reason, Ciel begins to suspect that getting the ring is going to be a tad more difficult than originally anticipated.
Going from romance to rescue requires some serious gear-shifting, as well as a little backup. Her best friend, Billy, and Mark, the CIA agent she's been crushing on for years—both skilled adaptors—step in to help, but their priority is, annoyingly, keeping her safe. Before long, Ciel is dedicating more energy to escaping their watchful eyes than she is to saving her client's intended.
Suddenly, facing down a horde of Vikings feels like the least of her problems.
Enter the giveaway via the widget below -US only

---
Interested in being a guest on All Things Urban Fantasy? Fill out our Guest Request Form
About the author
I am an avid reader and enjoy a variety of genres from mysteries and thrillers to urban fantasy and historical fiction. My foray into urban fantasy started off with a recommendation that I read some of Kelley Armstrong's books. After I saw how wonderfully fun and compelling this genre could be I explored more urban fantasy authors and books. Some of my favorite authors in this genre are Patricia Briggs, Ilona Andrews, and Jim Butcher.