Today's Deadly Destination  is from Tara Fuller's Finn on Heaven, Hell, and Inbetween from INBETWEEN (published on  August 28th 2012 by Entangled Teen). Want to win a copy? Enter via the widget below.
**Visit Dark Faerie Tales today for her Deadly Destination from Nicole Peeler & a chance to win TEMPEST'S FURY**
Tara Fuller's Finn on Heaven, Hell, and Inbetween from INBETWEEN
The Afterlife: What to Expect from a Reaper
There are a crap ton of layers to the afterlife. I'm not going to go into them all, because honestly, there are things even I don't know about. As Easton always tells me, things I don't want to know about. So, you guys are going to hear it from a reapers perspective. First off, there are three places a soul can go when you die.
Let's say you're a real jackass in real life. Well, that's not enough to get you in serious trouble, but let's say you're a jackass that killed a guy. Well, then you meet someone like my friend Easton. Don't get me wrong. Easton's a good guy. (Don't tell him I told you that.) But you'll never know it. All you'll know is the end of his scythe and the sick gleam in his eye while he hauls you to Hell.
But I'm not a murderous jackass! you say. Well, if you're squeaky clean with a heart of gold, it's going to be a lot more pleasant. Then you'll meet Anaya. Or some golden eyes reaper just like her. They'll take you to the golden gates. Heaven. Trust me when I say this is where you want to go.
For those of you that are somewhere in-between. Straddling a moral line. Or so young you haven't really developed into the soul you were destined to be, then you meet me. I'll escort you to the Inbetween. Some of you might call it purgatory. It's a holding place for souls to mature. When you mature into who you were destined to be, either you get chosen to go back again (reincarnation) or you become a shadow demon.
So that's it. When you bite the dust, one of these is your destiny. That is unless you strike a deal, like me and the rest of the reapers. We bought our way out of Hell. We are working to pay a debt. Stay out of the flames so to speak.
So, how about you? Do you think you have what it takes to be a reaper, or at least face yours?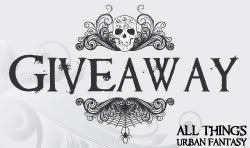 Giveaway provided by Entangled Publishing
One ecopy of INBETWEEN by Tara Fuller
Published on  August 28th 2012 by Entangled Teen
Description:
Since the car crash that took her father's life three years ago, Emma's life has been a freaky — and unending — lesson in caution. Surviving "accidents" has taken priority over being a normal seventeen-year-old, so Emma spends her days taking pictures of life instead of living it. Falling in love with a boy was never part of the plan. Falling for a reaper who makes her chest ache and her head spin? Not an option.
It's not easy being dead, especially for a reaper in love with a girl fate has put on his list not once, but twice. Finn's fellow reapers give him hell about spending time with Emma, but Finn couldn't let her die before, and he's not about to let her die now. He will protect the girl he loves from the evil he accidentally unleashed, even if it means sacrificing the only thing he has left…his soul.
Read our review| View Trailer
Enter the giveaway via the widget below –

 Open Internationally

Click below for more Deadly Destinations
See all the upcoming DD posts 
Enter all the previous giveaways
More DD on Dark Faerie Tales