Today's Deadly Destination is and interview with Susan Dennard about her debut SOMETHING STRANGE AND DEADLY (published on July 24, 2012 from HarperTeen). Want to win a copy? Enter via the widget below.
**Visit Dark Faerie Tales today for her Deadly Destination from James R. Tuck & a chance to win BLOOD AND SILVER**
Interview with Susan Dennard from SOMETHING STRANGE AND DEADLY
ATUF: SOMETHING STRANGE AND DEADLY is set in 1876 Philadelphia.  What made you choose that time period and location for your story?
SD: I've always been fascinated by 19th century civilization. Some of my favorite classics are from that time–Dickens, Poe, Doyle. I also knew that the time period would add some delicious conflict for my heroine–all those SKIRTS and CORSETS, not to mention the suffocating social restrictions. Plus, I've loved steampunk as an aesthetic since I was kid (thank you DINOTOPIA!).
When I was trying to find a setting for SS&D, I knew I wanted a steampunk vibe with some horror elements thrown in.  After some early research online, I stumbled on the Centennial Exhibition–America's first World's Fair–and I thought, "What a COOL place for some zombie take overs!"
ATUF: What can you tell us about the Spirit Hunters? Their lab?
SD: The Spirit-Hunters met a few years before the events of SS&D. Chance–and a nasty haunting–brought them together on a steamboat in the Mississippi. They very rarely get paid, but fortunately, Joseph has some money saved up…and Jie and Daniel can be pretty resourceful when it comes to snagging finding food.
Their lab–a tiny hole in the wall at the Centennial Exhibition–is actually more of an insult than it is a useful space. Daniel takes up most of the space with his inventions and experiments. Fortunately, their drab quarters don't hold them back–and in book 2, A DARKNESS STRANGE AND LOVELY, the team gets a major upgrade in Paris!
ATUF: The zombies in SOMETHING STRANGE AND DEADLY rise out of Laurel Hill Cemetery.  Is this a real location or fictional?  Does it have any distinguishing characteristics?
SD: Laurel Hill IS in fact quite real, and I actually visited the cemetery while I was writing the book. (I probably disturbed the other visitors though, since I ran through the graveyard as if zombies were on my heels and tried to figure out where exactly Eleanor would go!)
One of the most distinguishing characteristics of Laurel Hill is it's white gatehouse, which stood in 1876 and STILL stands today!  Eleanor presses her face against the iron bars to watch the corpses shamble by within, and I actually did the same thing! Well…minus the shambling corpses, of course. 😉
ATUF: What were some of your favorite steampunk elements that you incorporating into SOMETHING STRANGE AND DEADLY?
SD: Well, I definitely wouldn't call SS&D a hardcore steampunk. It's more a gothic adventure with–as you say–steampunk elements (or that's how I see it, at least!). I have to say, I LOVED making up the Spirit-Hunters' inventions. My husband, who's a mechanical engineer, helped me come up with all of them. From the goggles with magnetic powder to the earrings to the explosives, he would help me take my idea and flesh it into something that could actually (well…in theory) work.
ATUF: If SOMETHING STRANGE AND DEADLY were ever made into a movie, who would your dream or, to keep things interesting, nightmare cast be?
SD: Nightmare cast?! Um, if anyone waifish and thin were cast as Eleanor, I'd DIE. Or more likely, I'd punch someone in the nose. 😉
As for a dream cast, I think Rachel Hurd-Wood (with blonde hair and those voluptuous curves) would be a great Eleanor. Or–if she could gain some weight!–then Mia Wasikowska would be the perfect Eleanor Fitt.
I'd also love to see Max Irons as Daniel (swooon!), Anthony Mackie as Joseph, and Jessica Lu as Jie. Ben Barnes is the PERFECT Clarence, and Emma Roberts (with dark hair) would be a great Allison.
Sigh…I love imagining my book as a movie or TV show. Dream big, right? 😉
ATUF: What other projects can we look forwarding to reading from you soon?
SD: Soon? Hmmm…well, there's a SOMETHING STRANGE AND DEADLY novella in the works–shhh! And also the rest of the series (A DARKNESS STRANGE AND LOVELY + an untitled third book).
In the meantime, I'm working on a space opera/romance with author Sarah J. Maas–though who knows when that might actually reach public eyes!
ATUF: What are some of your favorite titles/authors in the paranormal or steampunk genres?
SD: I lovelovelove M.K. Hobson's NATIVE STAR. It's definitely one of my favorite steampunk-ish books out there! I also adore A GREAT AND TERRIBLE BEAUTY by Libba Bray (though it's more gaslamp than steampunk).
ATUF: Finish this statement with as much/little detail as you like: You'll like SOMETHING STRANGE AND DEADLY if you like…
SD: A CLOCKWORK ANGEL by Cassandra Clare or A GREAT AND TERRIBLE BEAUTY by Libba Bray.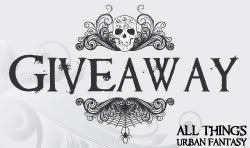 Giveaway provided by Susan Dennard & HarperTeen
2 winners: One winner will receive a copy of SOMETHING STRANGE AND DEADLY & swag
One will receive a copy of SOMETHING STRANGE AND DEADLY 
Published on July 24, 2012  from HarperTeen
Description:
There's something strange and deadly loose in Philadelphia…
The year is 1876 and Eleanor Fitt has a lot to worry about. Her brother has gone missing, her family has fallen on hard times, and her mother is determined to marry her off to any rich young man who walks by. But this is nothing compared to what she's just read in the newspaper—
The Dead are rising in Philadelphia.
And then, in a frightening attack, a zombie delivers a letter to Eleanor…from her brother.
Whoever is controlling the Dead army has taken her brother as well. If Eleanor is going to find him, she'll have to venture into the lab of the notorious Spirit-Hunters, who protect the city from supernatural forces. But as Eleanor spends more time with the Spirit-Hunters, including their maddeningly stubborn yet handsome inventor, Daniel, the situation becomes dire. And now, not only is her reputation on the line, but her very life may hang in the balance.
Read an excerpt|Read our review| View Trailer
Enter the giveaway via the widget below –

US/CA addresses

Click below for more Deadly Destinations
See all the upcoming DD posts 
Enter all the previous giveaways
More DD on Dark Faerie Tales