Today's Deadly Destination  is from Kristi Cook's Aiden Gray on Winterhaven School from MIRAGE (published on June 5th 2012 by Simon Pulse). Want to win a copy? Enter via the widget below.
**Visit Dark Faerie Tales today for her Deadly Destination from Jeaniene Frost & a chance to win ONCE BURNED**
Kristi Cook's Aiden Gray on Winterhaven School from MIRAGE
Welcome to the Winterhaven School.  I'm Aidan Gray.  If you've been "called" to the 'Haven, then you probably already know the school's secret.  Everyone here—students, teachers, administration—has some sort of psychic gift.   That means you have a psychic gift.  Use it wisely, don't break the C.O.P.A. (Code of Paranormal Abilities), and you'll do just fine.
Let's see…campus basics.  I'm sure you've already seen the admin building, with the stained-glass-tiled dome and shiny statue of the school's founder, Washington Irving.  Most of the school's origins are shrouded in secrecy.  All we really know is that Irving donated the land, and it's pretty clear that he knew what was going on—that he wanted to provide a safe haven for people with special abilities.  But beyond that?  Who knows.
Anyway, the dorms are connected to the admin building, divided into two sections, East Hall (juniors and seniors) and West Hall (freshmen and sophomores).  The rooms are big by boarding school standards—nice, even, despite the shared baths.  You get used to it.  Each hall, West and East, has a student lounge, and there's a dining hall on the first floor where all student meals are served.
Follow the corridor out from the dining hall and you'll reach the atrium.  There's a school store, bookstore, and café, plus several study rooms.  The café is always crowded on weekends—actually, it's crowded most of the time.  But it's great for coffee (way better than the stuff they call coffee in the student lounge vending machines) or between-meal snacks.  You can even get an old-fashioned tea service—little sandwiches, scones, clotted cream.  Just one of the Headmaster's eccentricities, but a nice touch, if you ask me.
Head outside and you'll find the quad.  In good weather, the quad's a popular spot to hang-out.  A huge lawn, plenty of benches and shady old oaks.  Off to one side is the school theater, which doubles as a movie theater most weekends.  On the other side, you'll find steps leading up to the gym complex, which includes practice fields, tennis and basketball courts, the aquatic center, and the Winterhaven Warriors stadium.  Believe it or not, we take sports very seriously here at Winterhaven.  At least, that's what I'm told.  Me?  I'm partial to the fencing team.  Girls fencing, to be precise.  The top-seed varsity girls' fencer is hot.  Really, really hot.
Anyway….ahem, where was I?  Oh, right.  Walk straight across the quad—or take one of the sidewalks on either side—and you'll reach the classroom buildings, A, B, C, and D, with a courtyard in the center sporting an enormous stone fountain complete with gargoyles and the like.  Another great hang-out spot.  If you don't mind getting misted by the spray on windy days, that is.
If you head back to the walkway that leads past the theater and follow it down toward the river, you'll pass the last main building on campus, the chapel.  Which, it turns out, is an exact replica of the King's College chapel at Cambridge.  Actually, I can vouch for that–it's pretty much exactly the same, only smaller.  Things like all-school assemblies and graduations are held here, and not much else.  Personally, I'm rather fond of the chapel's loft.  Especially during the full moon.
And there you have it—the campus in a nutshell.  A word of warning, though.  Things at Winterhaven—including the people here—are not always what they seem.  Watch your back.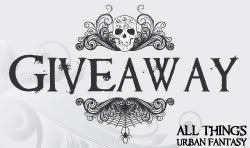 Giveaway provided by Kristi Cook
Two copies of MIRAGE by Kristi Cook
Published on June 5th 2012 by Simon Pulse
Description:
Danger looms large in the sequel to Haven, which Booklist called "a blend of the Gemma Doyle trilogy, the Twilight saga, and Lois Duncan's thrillers."
Violet McKenna is back for her senior year at Winterhaven and thrilled to be with Aidan after a long summer apart. But while their love for each other is as strong as ever, their troubles are far from over.
News of a rogue vampire on a killing spree sets everyone on edge. While Aidan is determined to stop the killer, Violet is chilled by a horrifying vision she simply must prevent…for if she can't, two people she loves will meet a violent end.
In the midst of Violet's fear, a mysterious newcomer enters her life—and he has some vital information not just about her past, but about her future as well. Now everything Violet held as truth is upended, and she is left not knowing whom to trust, if she is in danger, and—worst of all—whether she and Aidan are really meant to be together.
Read an excerpt|Read our review
Enter the giveaway via the widget below –

 Open Internationally

Click below for more Deadly Destinations
See all the upcoming DD posts 
Enter all the previous giveaways
More DD on Dark Faerie Tales