Today's Deadly Destination  is from Cynthia Garner's Tori Joseph on Preternatural Scottsdale, Arizona from SECRET OF THE WOLF (published on June 26th 2012 by Forever). Want to win a copy? Enter via the widget below.
**Visit Dark Faerie Tales today for her Deadly Destination from J.K. Beck & a chance to win WHEN TEMPTATION BURNS**
Cynthia Garner's Tori Joseph on Preternatural Scottsdale, Arizona from SECRET OF THE WOLF
Hi there! I'm Victoria Joseph, Tori to my friends. I'm a preternatural. If you're new around here, that means I'm one of those beings who came through one of the rifts opened by the Moore-Creasy-Devon comet. Mine was in 1866. Let me tell you up front: I'm a werewolf. Now, don't be scared. I don't eat people. I rarely even chase 'em anymore. (That's a joke. It's okay to laugh.)
My job as werewolf liaison to the Council of Preternaturals keeps me pretty busy. I liaise between council members and the werewolf community in my quadrant, plus I'm part of the law enforcement arm of the council. What that means is that I investigate crimes involving werewolves, from minor disturbing the peace complaints to gruesome murders. And when a werewolf is involved, believe me, the murders are pretty gruesome.
On my down time, though, I like to hang out at a local club called the Devil's Domain. It's a popular place with preternaturals. As a matter of fact, I'm heading inside now, so why don't you come with me? There's a nice open area here at the front door, and a nice sized bar. The bartenders are all vampires, and they are killer mixologists. Actually, just about all of the employees are vampires. The owner's one, too, and he tends to hire his own kind as employees.
There's a large dance floor—it's always packed—and booths and a few tables at the back. They don't serve meals here, but they have a fairly large selection of appetizers. For the vamps, there are also rooms in the back, behind the wall of booths, where they can snack in private. The only non-vamps allowed past security are those who are planning to be donors or have been invited for other purposes. From what I hear, lots of clandestine planning goes on in those rooms—it's all very political at times, even in the pret community.
Music's loud, voices are louder, and sometimes the tension between pret clans results in fights breaking out in the club. But that's what the bouncers are for.
Vampires, shapeshifters of every ilk, various types of fey, demons and humans all come here. Next time you're in town, why don't you stop in?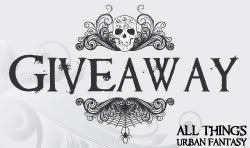 Giveaway provided by Cynthia Garner
One copy of SECRET OF THE WOLF by Cynthia Garner
Published on June 26th 2012 by Forever
Description:
Once a generation, the rift between the paranormal world and the human world opens, allowing supernatural entities to cross. Vampire, demon, or shapeshifter, they can save the world-or send it spiraling into chaos.
As a werewolf liaison to the Council of Preternaturals, Tori Joseph is used to straddling the world between humans and immortals. She plays by the rules and always delivers justice, no matter the cost. But after a string of increasingly brutal attacks results in humans turning into werewolves, Tori doesn't reveal her horrifying suspicion: Someone very close to her might be responsible.
Investigating the paranormal violence, no-nonsense detective Dante MacMillan believes Tori is hiding something. His search for the truth draws him into greater danger as he gets closer to the dark realm of the immortals-and to the sexy werewolf who stirs his primal lust. Now with evil closing in around them, Dante must convince Tori to trust him . . . before her deadly secret destroys them both.
Read an excerpt|Read our review
Enter the giveaway via the widget below –

US addresses only

Click below for more Deadly Destinations
See all the upcoming DD posts 
Enter all the previous giveaways
More DD on Dark Faerie Tales