This week we finish with a bang, as Dan Dos Santos and Mercy Thompson set our hearts aflutter.  It's a delight when a beloved character gets the royal treatment, but some author names transcend cover art.  I was thumbs down on Carolyn Crane's MR. REAL for cover art, but can't wait to get my hands on a copy regardless.  Gorgeous man and his make-believe, evil twin?  Yes, please!
Expected publication: September 4th 2012 by Roc
Source: SF Signal
Covers in Series
Just because a bullet has your name on it, doesn't mean you shouldn't duck…
Either I'm stubborn or it's rigor mortis, but being dead didn't stop me from being a detective. But it's tough out there for a zombie. These days the life-challenged have to register and take monthly tests to prove our emotional stability. See, if we get too low, we go feral. And I've been feeling down lately myself.
So when a severed arm – yeah, just the arm – leaves a mysterious briefcase in my office, my assistant Misty thinks figuring out where it came from will keep me on track. But this job goes deeper and darker than I imagined.
Turns out the people after the briefcase know more about my past life than I can remember, and even more about what I've become.
No Author Comment Available.
Abigail's Thoughts
I'm just not a fan of the statue style used here. It doesn't grab me at all
Julia's Thoughts 
I don't mind the blue wash, but this angle on the cover gives him a baby face that doesn't work with the whole "undead P.I." vibe.  Even worse, the color and hat mean the face is all that captures my eye.  Can't wait to read this one, though, Petrucha's zombie world is one of my favorite.
Kristina's Thoughts
I don't know why he is a statue. Are zombies statue like in this book? Why? Its okay but not that good.
Expected publication: February 26th 2013 by Forever
Source: Wanton Thoughts & Wicked Scribes
Covers in Series
No Description Available.
"Someone has invaded my Winterbalze cover! Why, it's Paul Marron." – Kristen Callihan
Abigail's Thoughts
This pose/clothes is totally old school romance cover. The series is Victorian era paranormal romance, but its tricky to tell from this cover. Paul looks gorgeous as always though
Julia's Thoughts 
They've done a great job with the colors in this series, and complimenting the title.  They also really bring the historical romance vibe, especially with the addition of Archer.  I've read FIRELIGHT, can't wait to catch up with the rest!
Kristina's Thoughts
This looks like one of those old romance covers except this is one of the ones where their clothes are still on all the way. Its very pretty and I love the dress falling into the mist.
Expected publication: December 26th 2012 by Avon
Source: Wanton Thoughts & Wicked Scribes
Covers in Series
No Description Available.
No Author Comment Available.
Abigail's Thoughts
The gritty image just doesn't work in this context. It's too stark somehow. I like the background and overall design of these covers, but not this girl the way they've done her.
Julia's Thoughts 
The blue doesn't work as well as the red, it's too icy to bring the paranormal elements.  The model is the focus, and with her bustier and up-do, this looks more romantic than anything else.
Kristina's Thoughts
I liked the previous cover's design but that corset is really odd looking on her. The colors aren't working for me here.
Expected publication: 2013 by Sourcebooks Casablanca
Source: Wanton Thoughts & Wicked Scribes
Covers in Series
No Description Available.
No Author Comment Available.
Abigail's Thoughts
I don't quite get the lighting/overlay on him…is that supposed to be his jaguar form? Also he looks very young.
Julia's Thoughts 
Pretty good for a bare chest/floating head cover.  I like the intensity of his gaze (and the fact that they left his eyes alone).  The smoke effect took me awhile to figure out, though.
Kristina's Thoughts
What's with his expression? He looks constipated…The overlay of the jaguar isn't working either.
Expected publication: March 1st 2013 by Scholastic
Source: Lov Liv Life Reviews
Covers in Series
N/A
Four hundred years ago, the world ended. And now, on the coast of what was once called Brazil, women rule in the legendary pyramid city of Palmares Três. The city's Queen only cedes her power to a man once every five years — to a Summer King, whose story will grip the city like a fever.
For June Costa, art is everything. Her brilliant creations — from murals and holograms to a delicate pattern of lights in her skin — have impressed (and irritated) her classmates and teachers alike. Her dream is to win the prestigious Queen's Award, and the instant fame and success that come with it. It's a dream she never questions — until she meets Enki. Enki, the newly-elected Summer King, is the hottest thing in Palmares Três. But when June sees Enki, she sees more than piercing amber eyes and a lethal samba: She sees a fellow artist.
Together, June and Enki will create art that Palmares Três will never forget. They will add fuel to a growing rebellion against the government's strict limits on new tech. And June will fall deeply, tragically in love with Enki.
Because like all Summer Kings before him, Enki is destined to die.
No Author Comment Available.
Abigail's Thoughts
Love the glowing floral pattern on her arm. I do wish they'd added something from the Brazilian setting …it sounds very cool.
Julia's Thoughts 
The black in the background is a little flat around her face, but I love the pattern on the back of her shirt, the lights up her arm, and the orb of sparkly green light in front of her.
Kristina's Thoughts
That flower pattern is amazing on her arm!
Expected publication: January 29th 2013 by St. Martin's Press
Source: Heroes & Heartbreakers
Covers in Series
For Gene and the remaining humans—or hepers—death is just a heartbeat away. On the run and hunted by society, they must find a way to survive in The Vast… and avoid the hungry predators tracking them in the dark. But they're not the only things following Gene. He's haunted by the girl he left behind and his burgeoning feelings for Sissy, the human girl at his side.
When they discover a refuge of exiled humans living high in the mountains, Gene and his friends think they're finally safe. Led by a group of intensely secretive elders, the civilisation begins to raise more questions than answers. A strict code of behaviour is the rule, harsh punishments are meted out, young men are nowhere to be found—and Gene begins to wonder if the world they've entered is just as evil as the one they left behind. As life at the refuge grows more perilous, he and Sissy only grow closer. In an increasingly violent world, all they have is each other… if they can only stay alive.
No Author Comment Available.
Abigail's Thoughts
By my count this is the third cover re-do for this series… first, and second both featured James Porto's beautiful photo, and now a third look for THE HUNT to match THE PREY. I get that they are trying to make the series appeal to male and female readers, but I preferred the second style the best.
Julia's Thoughts 
They're really, really hoping to get The Hunger Games vibe with this series, and they're not going to stop making covers until they get it!  I like this round, the background images raise the suspense.
Kristina's Thoughts
I like the title stamped over the image of the girl running. At first I thought it didn't go with the first book's cover but it kind of does in an odd way.
Expected publication: April 16th 2013 by Henry Holt and Co. BYR
Source: Lov Liv Life Reviews
Covers in Series
N/A
Three high school girls become the avenging Furies of Greek legend.
We were only three angry girls, to begin with. Alix, the hot-tempered surfer chick; Stephanie, the tree-hugging activist; and me, Meg, the quiet foster kid, the one who never quite fit in. We hardly knew each other, but each of us nurtured a burning anger: at the jerks in our class, at our disappointing parents, at the whole flawed, unjust world.
We were only three angry girls, simmering uselessly in our ocean-side California town, until one day a mysterious, beautiful classmate named Ambrosia taught us what else we could be: Powerful. Deadly. Furious.
No Author Comment Available.
Abigail's Thoughts
The title design is lovely as are the colors. I also like the composition. The elements could be better integrated though. The girls all look a bit like stickers on the background.
Julia's Thoughts 
Excellent colors, and I love both their hair and their hands intertwined.  The violet title stands out without being out of place.
Kristina's Thoughts
Kind of creepy looking with the floating girls all dressed in white against the stormy backdrop.
Mr. Real (Code of Shadows #1) by Carolyn Crane
Expected publication: October 30th 2012
Source: Author's Blog
Covers in Series
N/A
He finds the girl of his dreams…with the secret agent of his nightmares.
Alix Gordon is a girl who doesn't take life too seriously. What's the fun in that? So when she stumbles across occult software that can bring computer images to life, she conjures up awesome outfits and accessories, and on one drunken and…er…horny night, Sir Kendall, the sexy TV ad spy…who looks exactly like the hot martial arts teacher who once kicked her out of class.
Fighter Paul "Puma" Reinhardt has a secret: the character he improvised to land a part in a TV ad has dark roots in his tortured childhood. Playing Sir Kendall was a huge mistake, and now Paul would do anything to get free of him. A cross country road trip seems just the thing…until Paul finds himself inexplicably drawn to Minnesota and discovers Sir Kendall—in the flesh—with the girl he'd loved from afar. He barges into Alix and Sir Kendall's love nest, determined to stop the madness…somehow.
But is Sir Kendall transforming into something more dangerous anyone can imagine? And what will the super spy do when Paul and Alix get over their resentments and give into their crazy lust for each other?
No Author Comment Available.
Abigail's Thoughts
This book sounds crazy–in a fun Carolyn Crane sort of way. Normally we don't feature self-published titles unless they are continuing a traditionally published series, but Carolyn Crane is a rare exception–we love her. This cover made me think of a genie at first with the pose he's got…but it's well done.
Julia's Thoughts 
Love, love, Carolyn Crane, not a fan of this cover.  The sparkles are too on the nose, and his hair looks slicked back and creepy.
Kristina's Thoughts
Its okay. I get the whole genie look he's doing with his pose which is nice but its kind of plain.
Oath Bound (Unbound #3) by Rachel Vincent
Expected publication: February 19th 2013 by Mira
Source: Author's Blog
Covers in Series
The Tower Syndicate will fall…
The secret daughter of the head of an infamous Skilled crime family, Sera Brandt has hidden her past, her potential and especially her powers. But when a tragedy strikes her other family, Sera needs justice. And the only way to get it is to reveal her heritage– including a rare Skill– and take the reins of the Tower Syndicate from her cunning and malicious aunt.
if she can figure out how…
Kristopher Daniels might have the answer. He's fought the syndicate to protect his sisters, but he'd never realized just how close to the new heir he needed to get….
And if they can survive.
Neither is used to trusting. But there's something between them that can't be ignored. And so Sera is on the run with a man she can't figure out, a target on her back and the new knowledge of just how powerful she really is…
No Author Comment Available.
Abigail's Thoughts
The bright, Spring colors are beautiful and I love the chain overlay. This is my favorite so far.
Julia's Thoughts 
Less urban fantasy, more paranormal romance, I don't like how bright and fuzzy these newer covers are.
Kristina's Thoughts
I love the mixture of light and bright colors.
Expected publication: March 5th 2013 by Orbit
Source: Author's Blog
Covers in Series
Shapeshifter Mercy Thompson's life is calming down, at least enough that she can focus on mundane matters like Black Friday sales. But on her return, Mercy is unable to contact her mate, Alpha Adam Hauptman, or the other members of their pack. All she knows is that Adam is angry and in pain. With the werewolves fighting a political battle to gain acceptance from the public, Mercy fears Adam's disappearance may be related – and that he and the pack are in serious danger. Outclassed and on her own, Mercy may be forced to seek assistance from the most unlikely of allies: the vampire seethe.
No Author Comment Available.
Abigail's Thoughts
I wish I had more thumbs. The combination of Briggs and Santos is just perfect. This is my favorite Mercy cover yet.
Julia's Thoughts 
*swoon* I love the icy colors on this one, it really sets off Mercy's colors.  And who smashed her back windshield?  Someone is in trouble!
Kristina's Thoughts
I had to switch my best cover choice after seeing this one. I love the illustration style here, the tattoos, Mercy's pose. Very cool.

And our picks for Best & Worst covers of the week…
Best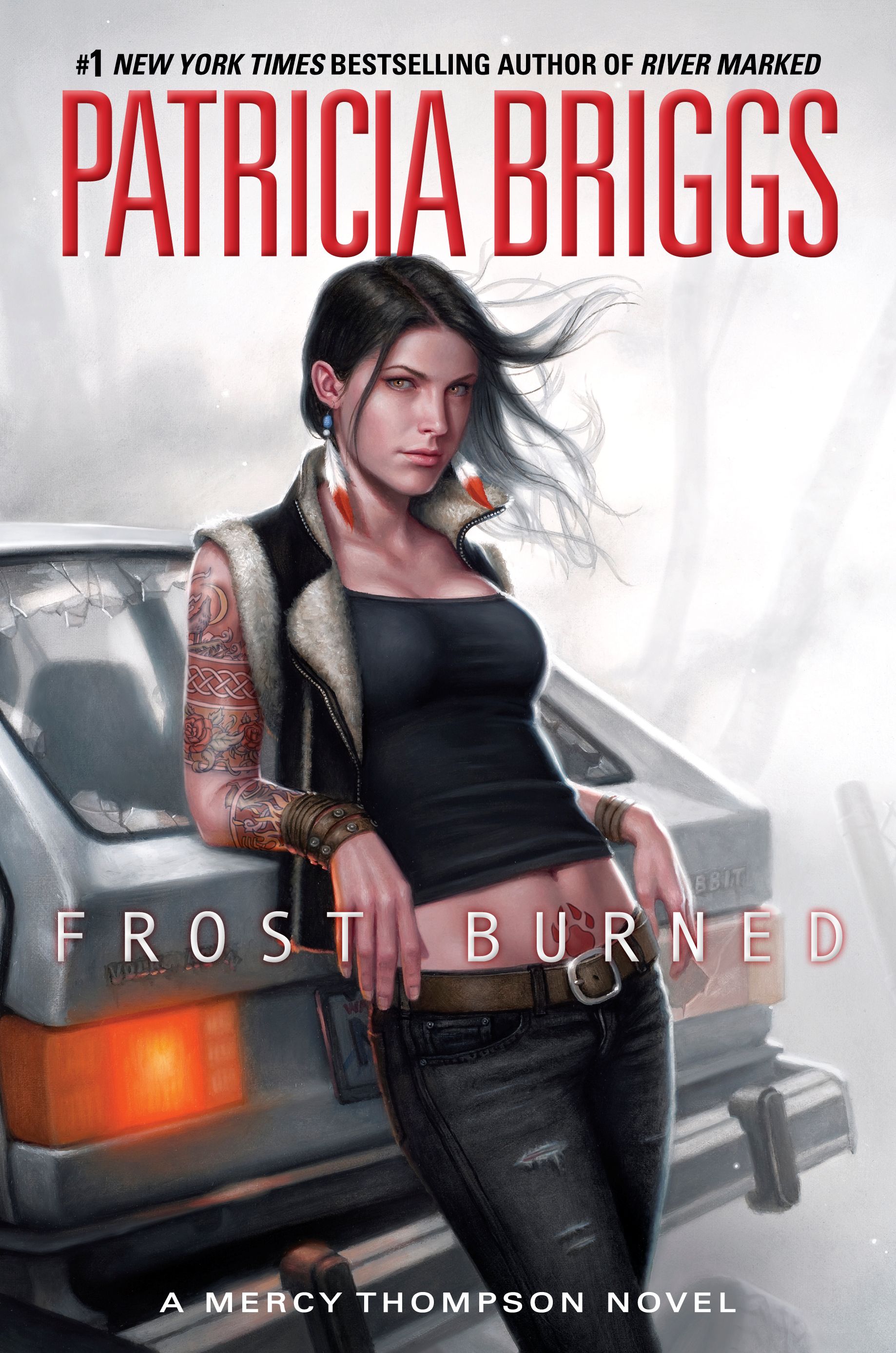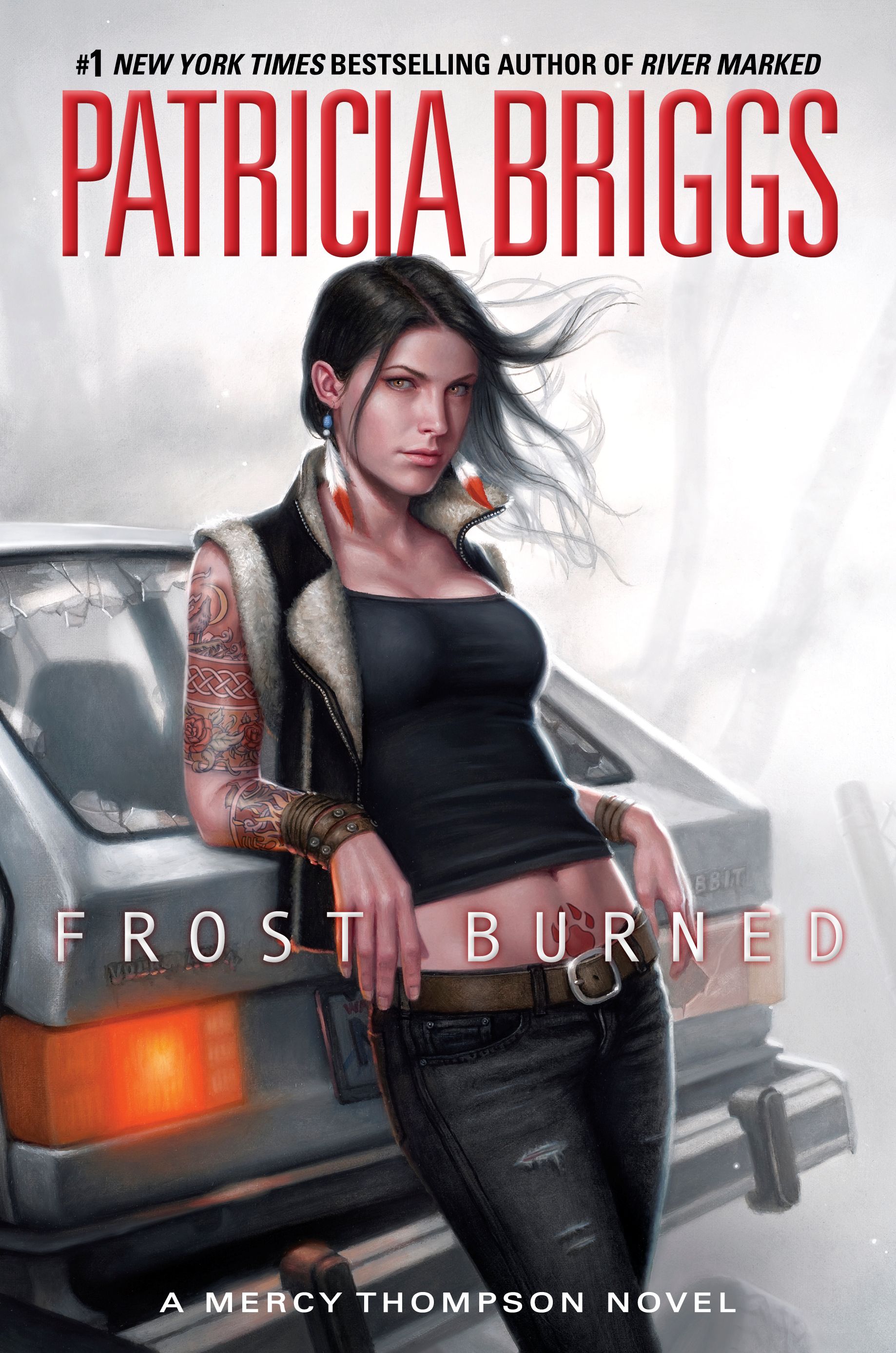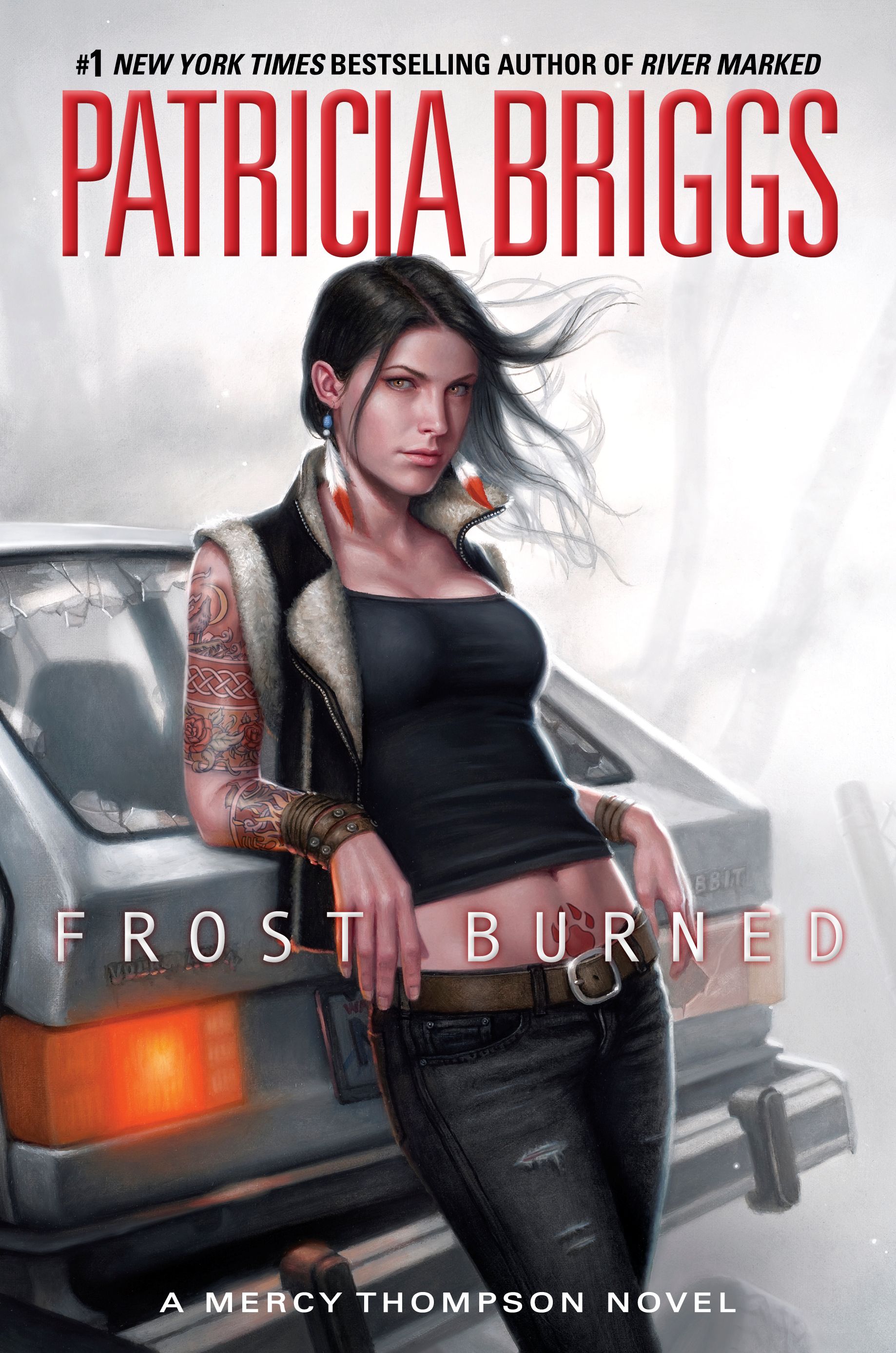 Worst
Leave a comment and tell us your picks for Best and Worst covers? See even more covers on our Pinterest board.

---
Have a cover we should include in an upcoming post? Or want us to reveal a cover? Fill out our Cover Submit form