We are welcoming back Erin Kellison today to talk about FIRE KISSED the fourth in her Shadow series (available now from Zebra). In Julia's review of FIRE KISSED, she said, "Kellison's Shadowseries sits next to Thea Harrison's Elder Races and Eileen Wilks World of the Lupi for the purest blend of my favorite things: romance and magic."  Sounds good, right?  See below for a chance to win a copy.
Erin Kellison's Top 10  great, not-so-great, and really bad fantasy movies from my childhood
First, a huge thank you to All Things Urban Fantasy for having me here today. And thank you to the readers stopping by. I've got a doozy of a list for you. To be entered to win a copy of Fire Kissed, book one in my Shadow Kissed series, just let me know which of these you've seen (liked or hated), or add to the list.
In preparation for this top ten, my husband pulled a list of fantasy and science fiction movies from the eighties, when I was a kid and early teen. I'd seen every single one on the list… when I was kid. I was born between boys and had a dad who loved this kind of stuff, and so I got the benefit of their entertainment.
This list was almost impossible to put together since there were so many movies to choose from. So, in no particular order, here are ten that made me as twisted and weird as I am today. (BTW, I could have probably found a hundred.)
Erin Kellison
Erin Kellison is the author of the
Shadow Series
, which includes
Shadow Bound
and
Shadow Fall
, as well as the upcoming
Shadowman
(Sept 2011), and the e-novella
Shadow Touch
(June 2011). Stories have always been a central part of Erin's life. She attempted her first book in sixth grade, a dark fantasy adventure, and she still has those early hand-written chapters. She graduated summa cum laude with a degree in English Language and Literature and went on for a masters in Cultural Anthropology, focusing on oral storytelling. When she had children, nothing scared her anymore, so her focus shifted to writing fiction.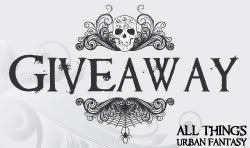 Giveaway provided by Zebra
One copy of FIRE KISSED by Erin Kellsion
Available on July 3rd 2012 by Zebra
Description:
Fae Fire
It is Kaye Brand's power to wield. But outcast from her kind, she's been selling herself to the highest bidder—money for her survival in exchange for a magic glimpse into the flames of the future.
Angel Ice
One of the angelic Order, Jack Bastian has no use for a female like Kaye, as provocative and unexpected as her blazing beauty. Yet he has no choice but to hire her to uncover the secrets of his sworn enemy and her former fiancé, Ferrol Grey.
Magekind
War is inevitable between the defenders of the Order and the mage Houses who threaten to engulf the world in Shadow. For Jack, mage-born Kaye is off limits, no matter how hot the impossible attraction between them. But in the coming darkness, beset by danger and desire, everything is about to change…
 Read an Excerpt | Read our Review
Enter the giveaway via the widget below
---
Interested in being a guest on All Things Urban Fantasy? Fill out our Guest Request Form
About the author