It's the last day of the month which means it's time to check out what we're going to be reading next month in: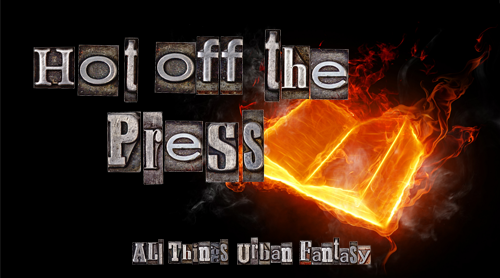 Want to know what titles came out in previous months? View all the previous Hot Off The Press posts here
Welcome to the very first Hot Off The Press post on the new site.  As you can see we've taken advantage of some of the features of our new design and reformatted the style of this post. Covers are bigger, and we've added Goodreads buttons to each title as well as the usual Amazon and Book Depository links (please shop through our links and help support All Things Urban Fantasy).  The coolest change however, that hopefully you're familiar with by now, is the toggled description. Just click the '+ Description' underneath the Buy/Add buttons and the description will be revealed.  No new pages to visit, and it keeps things as clean as possible.
—————————————–
*Release dates are subject to change.  Click '+ Description' to reveal the full description. Please visit our Titles Received For Review page to see which of these titles will be reviewed this month.
41 Adult Titles Releasing in July
 

Angel Betrayed

(The Fallen #2)
by Cynthia Eden

Paperback

Expected publication: July 1st 2012 by Brava

ISBN 0758267614 (ISBN13: 9780758267610)

A LITTLE BIT OF ANGEL LUST.

Sammael – call him Sam – was an angel once. An angel of death. But the dispassionate, watch-from-above thing just wasn't working for him when it meant watching evil torture innocent souls day in and day out. It might have cost him his wings, but these days, he gets to apply the direct method on the bad guys. Problem is, what's making his life difficult is a bad girl…

Seline O'Shaw needs protection, and with the hounds of hell on her tail, she's not going to quibble too hard about where she gets it. Sam's virtue is questionable, but he's smoking hot, massively powerful, and owes her a favor. So what if she's getting a little case of angel lust? There are some damn deadly sins after her hide…

 

Dream Bound

by Kate Douglas

Paperback, 320 pages

Expected publication: July 1st 2012 by Kensington Publishing Corporation

ISBN 075826934X (ISBN13: 9780758269348)

They are creatures of light in search of an energy source to help them survive. So when the Nyrians discover amazing power in the extreme passion and sexual pleasure of humans, they come to Earth to satisfy their needs. For years, Mac Dugan has been trying to find the mysterious being he once loved and then lost. Now he has gathered a group of six highly intuitive and extremely sexual men and women at a secret mountain hideaway. Here he hopes to focus their potent sensuality into highly erotic fantasies that will summon his lover, Zianne. What he doesn't anticipate is each team member making extraordinary sexual discoveries of their own.

 

The Darkest Day

(Immortal Heat #1)
by Britt Bury

ebook, 300 pages
Expected publication: July 1st 2012 by Grand Central Publishing
ISBN 1455523291 (ISBN13: 9781455523290) 

Izel Campbell was raised to believe she is an immortal Fionn with the magical skills of persuasion. But when she travels to Scotland to visit her ancestral home, Izel discovers that she is actually the world's last living human. Forced to run for her life, Izel crosses paths with Kelvin Kerr, the Campbells' greatest foe—and the most magnificent warrior she has ever seen.

A thousand-year-old battle chief of the Kerr clan, Kelvin lives only to avenge his father, who died at the hands of the bloody Campbells. Honor demands he kill the Campbell heir, but when he learns that the lovely Izel is both Campbell and human, Kelvin is torn between duty and desire . . .

 

A Hunger So Wild

(Renegade Angels, #2)
by Sylvia Day

Mass Market Paperback, 1st Edition, 368 pages

Expected publication: July 3rd 2012 by Signet

ISBN 0451237455 (ISBN13: 9780451237453)

Elijah Reynolds is the most dominant of lycans, a rare Alpha whose skill on the hunt is surpassed only by his primal sexuality. When the lycans revolt due to the iron fist of angelic rule, he steps into command, becoming both enemy and coveted ally in the conflict between vampires and angels.

Vashti is the second most powerful vampire in the world, a lethal beauty with a path of devastation in her wake. Tasked with proposing an alliance between vampires and the lycans who killed her mate, Vash approaches Elijah, whose need to avenge a friend demands Vash's death even as his passion demands her surrender.

Soon, their enmity erodes beneath an all-consuming desire. Elijah has never encountered a woman whose warrior spirit and fierce sexual appetite rivals his own, while Vash is faced with the one man strong enough to be her equal. But as war looms, each must decide where their loyalty lies–with their own kind or with the enemy lover they can no longer live without.

 

Blood Before Sunrise

(Shaede Assassin, #2)
by Amanda Bonilla

336 pages

Expected publication: July 3rd 2012 by NAL/Signet Eclipse

ISBN 0451237463 (ISBN13: 9780451237460)

For months Darian and her Shaede guardian Raif have searched for the Oracle who attempted to overthrow the Shaede Nation—and kill Darian in the bargain. But now that they've finally found the half-crazed Oracle, for their efforts they are granted a possibility too painful for Raif to imagine, and too enticing for Darian to ignore.

Darian is determined to reunite Raif and the daughter he thought was dead, but her mission quickly proves dangerous when her lover Tyler is almost killed. And when a brooding and mysterious Fae warrior offers his guidance—at an extraordinary price—Darian finds herself willing to risk everything. As her single-minded hunt turns into an obsession, and she and Tyler grow further apart, Darian finds herself caught between the man she loves like a brother, and the man whose love she can't live without…

 

Even White Trash Zombies Get the Blues

(White Trash Zombie, #2)
by Diana Rowland

Mass Market Paperback, 1st Edition, 320 pages

Expected publication: July 3rd 2012 by DAW

ISBN 0756407508 (ISBN13: 9780756407506)

Angel is starting to settle into this whole "being a zombie" thing, but her problems are far from over. Her felony record is coming back to haunt her, more zombie hunters are popping up, and she's beginning to wonder if her hunky cop-boyfriend is involved with the zombie mafia. Yeah, that's right — the zombie mafia. Throw in a government conspiracy and a secret lab, and Angel's going to need all of her brainpower — and maybe a brain smoothie as well — in order to get through it without falling apart.

 

Fire Kissed

(Shadow, #4)
by Erin Kellison

Mass Market Paperback

Expected publication: July 3rd 2012 by Zebra

ISBN 1420118978 (ISBN13: 9781420118971)

Fae Fire

It is Kaye Brand's power to wield. But outcast from her kind, she's been selling herself to the highest bidder—money for her survival in exchange for a magic glimpse into the flames of the future.

Angel Ice

One of the angelic Order, Jack Bastian has no use for a female like Kaye, as provocative and unexpected as her blazing beauty. Yet he has no choice but to hire her to uncover the secrets of his sworn enemy and her former fiancé, Ferrol Grey.

Magekind

War is inevitable between the defenders of the Order and the mage Houses who threaten to engulf the world in Shadow. For Jack, mage-born Kaye is off limits, no matter how hot the impossible attraction between them. But in the coming darkness, beset by danger and desire, everything is about to change…

 

God Save the Queen

by Kate Locke

Hardcover, 352 pages

Expected publication: July 3rd 2012 by Orbit

ISBN 0316196126 (ISBN13: 9780316196123)

Queen Victoria rules with an immortal fist. 
The undead matriarch of a Britain where the Aristocracy is made up of werewolves and vampires, where goblins live underground and mothers know better than to let their children out after dark. A world where being nobility means being infected with the Plague (side-effects include undeath), Hysteria is the popular affliction of the day, and leeches are considered a delicacy. And a world where technology lives side by side with magic. The year is 2012 and Pax Britannia still reigns.

Xandra Vardan is a member of the elite Royal Guard, and it is her duty to protect the Aristocracy. But when her sister goes missing, Xandra will set out on a path that undermines everything she believed in and uncover a conspiracy that threatens to topple the empire. And she is the key-the prize in a very dangerous struggle.

 

Grave Memory

(Alex Craft, #3)
by Kalayna Price

Mass Market Paperback, 1st Edition, 373 pages

Expected publication: July 3rd 2012 by Roc

ISBN 0451464591 (ISBN13: 9780451464590)

As a Grave Witch, Alex solves murders by raising the dead. While she's always been on friendly terms with Death himself, lately things have become a lot more personal. But the personal takes a backseat to the professional when a string of suicides occur in Nekros City. The shades have no memory of the days leading up to their brutal endings, so despite the very apparent suicides, this is murder. And searching for the answers might mean Alex won't have a life to remember at all…

 

Liquid Lies

(The Elementals, #1)
by Hanna Martine

Paperback, 368 pages

Expected publication: July 3rd 2012 by Berkley

ISBN 042525724X (ISBN13: 9780425257241)

Magic is corporate America's best-kept secret, and Gwen Carroway is superior at selling it …

Gwen possesses the unique ability to pick up any language in an instant—a power that will globally expand the profitable family business. As dutiful future leader of her race of water elementals, she'll do anything to protect her people's secrets and bloodlines—including enter an arranged marriage. Inside, however, she yearns for forbidden human men.

Reed is a mercenary addicted to the money and adrenaline rush of his work. After he inadvertently saves Gwen's life, he ignites her taboo desire for men without magic—and with bodies of gods. Just as things heat up, Reed discovers that Gwen is exactly who he's been hired to kidnap. He resolves to put work before lust, yet her luscious beauty and fiery spirit unravel him…

But there is a terrible truth behind Gwen's family business—and now, caught between the kinsmen she no longer trusts and an enemy bent on vengeance, the only ally she has is her abductor…

 

Night Seeker

(Indigo Court#3)
by Yasmine Galenorm

Mass Market Paperback, 1st Edition, 336 pages

Expected publication: July 3rd 2012 by Berkley

ISBN 0425250326 (ISBN13: 9780425250327)

Eons ago, vampires tried to turn the dark Fae to harness their magic, only to create a demonic enemy more powerful than they could have imagined. Now, the Vampiric Fae are on the move, hunting anyone in their path. As the war with the vampires ratchets up, Myst, Queen of the Indigo Court, enshrouds New Forest in her chilling grasp.

Cicely Waters, owl shifter and Wind Witch, has rescued the Fae Prince Grieve at a great cost. Their reunion has lost them the allegiance of the Summer Queen — and the tolerance of the vampires. In desperation they turn to the Consortium for help. Now, to regain the good will of Lainule, they must dare to enter the heart of Myst's realm. But as Cicely and Grieve embark on their search for the heartstone of Summer, Winter is already wreaking her terrifying revenge. 

Samurai Games

(Ghostwalkers, #10)
by Christine Feehan

Paperback, 416 pages

Expected publication: July 3rd 2012 by Jove Pubns

ISBN 0515151548 (ISBN13: 9780515151541)

In a world so dark and seductive, expect nothing less than a triple-cross in the explosive all-new Ghostwalker novel by #1 New York Times bestselling author Christine Feehan…

In an underground club, a high-ranking public official spends his secret nights indulging in fantasies as exciting as they are depraved. For a seductive employee of the Dungeon, it's her job to fulfill them. But she's playing a far more dangerous game—one of blackmail, politics, and murder that reaches into the shadow world of the Ghostwalkers, and the creation of a spectacular, one-of-a-kind new weapon of defense.

But when a dictator makes his own catastrophic moves, the Ghostwalkers have no choice but to bring in two major players—a man and woman both driven by passion and revenge. Both expendable. Both with nothing left to lose.

 

Stalking the Others

(H&W Investigations, #4)
by Jess Haines

Paperback, 1st Edition, 352 pages

Expected publication: July 3rd 2012 by Kensington

Vampires, werewolves, mages–the Others are very real, and wreaking havoc in Shiarra Waynest's life. But now, she's returning the favor…

Once, she was one of the good guys–or as close as a New York P.I. can get. Then Shiarra Waynest was drawn into the world of the Others. Every faction has its own loyalties and agenda. And Shia's recent betrayal by her ex-boyfriend means that she may be on the verge of becoming a rogue werewolf at the next full moon.

Of course, with all the threats against her, Shia's not sure she'll live long enough to find out. The enigmatic vampire Royce wants her back in his clutches, as do two powerful werewolf packs, along with the police. Instead of going into hiding, Shia is enlisting the aid of her enchanted hunter's belt and every dirty P.I. trick she knows. If she's going down, she'll take out as many of her enemies as she can–and hope that in the process, she keeps whatever humanity she has left…

 

Tainted Night, Tainted Blood

(Kat Redding, #2)
by E.S. Moore

Mass Market Paperback, 1st Edition, 352 pages

Expected publication: July 3rd 2012 by Kensington

ISBN 0758268734 (ISBN13: 9780758268730)

In the darkness, it's easy to lose your way…

Kat Redding is a vampire with a job to do—wiping out the vamps and werewolves who prey on Pureblood humans. Someone has to do it…as long as that someone is her. But suddenly Kat, also known as Lady Death, has competition, and it's causing problems. Vampire houses and werewolf clans alike are blaming her for a spate of gruesome murders, and Kat needs to figure out who's really responsible before she becomes the next target…

On the hunt, she forms an uneasy alliance with both the Luna Cult and a powerful rogue werewolf. But the truths Kat's uncovering—about her enemies and her few remaining confidantes—are far from comforting. And when the chance comes to leave her life of vengeance behind, Kat must decide whether her real motive lies in protecting the innocent, or sating her own fierce hungers…

 

The Asylum Interviews:Bronx

(The Asylum Tales, #0.5)
by Jocelynn Drake

ebook

Expected publication: July 3rd 2012 by Harper Voyager

In the darkness, it's easy to lose your way…

In Low Town, where humans walk and work side-by-side with elves, vampires, ogres, and all manner of creature, it's understandable that people occasionally need a little help in their lives. Whether is love, work, or … other, tattoo artists are there to try to help turn the odds into your favor. When Gage's friend Parker needs help with his love life, tattoo artists Gage and Bronx are only too happy to help. But the incubus ends up getting more than he bargained for with his new tattoo, and his friends are forced to scramble to fix the mess they've created before someone gets hurt.

 

This Dark Earth

by John Horner Jacobs

Paperback, 352 pages

Expected publication: July 3rd 2012 by Gallery Books

ISBN 1451666667 (ISBN13: 9781451666663)

In a bleak, zombie-ridden future, a small settlement fights for survival and looks to a teenager to lead them…

The land is contaminated, electronics are defunct, the ravenous undead remain, and life has fallen into a nasty and brutish state of nature. Welcome to Bridge City, in what was once Arkansas: part medieval fortress, part Western outpost, and the precarious last stand for civilization. A ten-year-old prodigy when the world ended, Gus is now a battle-hardened young man. He designed Bridge City to protect the living few from the shamblers eternally at the gates. Now he's being groomed by his physician mother, Lucy, and the gentle giant Knock-Out to become the next leader of men. But an army of slavers is on its way, and the war they wage for the city's resources could mean the end of mankind as we know it. Can Gus be humanity's savior? And if he is, will it mean becoming a dictator, a martyr, or maybe something far worse than even the zombies?

 

Tin Swift

(Age of Steam, #2)
by Devon Monk

Paperback, 384 pages

Expected publication: July 3rd 2012 by Roc Trade

ISBN 0451464532 (ISBN13: 9780451464538)

 Life on the frontier is full of deceit and danger, but bounty hunter Cedar Hunt is a man whose word is his bond. Cursed with becoming a beast every full moon, Cedar once believed his destiny was to be alone. But now, Cedar finds himself saddled with a group of refugees, including the brother he once thought lost.

Keeping his companions alive is proving to be no easy task, in part because of the promise he made to the unpredictable Madder brothers—three miners who know the secret mechanisms of the Strange. To fulfill his pledge, Cedar must hunt a powerful weapon known as the Holder—a search that takes him deep into the savage underbelly of the young country and high into the killing glim-field skies defended by desperate men and deadly ships.

But the battles he faces are just a glimmer of a growing war stirring the country. To keep his word Cedar must navigate betrayal, lies, and treacherous alliances, risking everything to save the lives of those he has come to hold dear…

 

Geekomancy

by Michael R. Underwood

ebook

Expected publication: July 10th 2012 by Pocket Star

Ree Reyes' life was easier when she just had to worry about scraping together tips from her gig as a barista-and-comicshop slave wage in the port city of Pearson to pursue her ambitions as a screenwriter.

When a scruffy-looking guy storms into the shop looking for a comic like his life depends on it, Ree writes it off as just another day in the land of the geeks. Until a gigantic 'BOOM!' echoes from the alley a minute later, and Ree follows the rabbit hole into Pearson's magical flip-side. Here, astral cowboy hackers fight trolls, rubber-suited werewolves and Elegant Gothic Lolita fate witches by channeling genre tropes and wielding nostalgia-powered props.

Ree joins Eastwood (aka scruffy guy), investigating a mysterious string of teen suicides as she tries to avoid imploding after her own drag-your-heart-through-jagged-glass breakup. But as she digs deeper, Ree discovers Eastwood may not be the knight-in-cardboard-armor she thought. Will Ree be able to stop the suicides, save Eastwood from himself, and somehow keep her job?

 

Fever Moon: The Fear Dorcha

by Karen Marie Moning

Hardcover, 144 pages

Expected publication: July 10th 2012 by Del Rey

ISBN 0345525485 (ISBN13: 978034552548)

An all-new Mac & Barrons story by #1 New York Times bestselling author Karen Marie Moning, marvelously adapted into a full-color graphic novel by writer David Lawrence and illustrator Al Rio

In Fever Moon, we meet the most ancient and deadly Unseelie ever created, the Fear Dorcha. For eons, he's traveled worlds with the Unseelie king, leaving behind him a path of mutilation and destruction. Now he's hunting Dublin, and no one Mac loves is safe.

Dublin is a war zone. The walls between humans and Fae are down. A third of the world's population is dead and chaos reigns. Imprisoned over half a million years ago, the Unseelie are free and each one Mac meets is worse than the last. Human weapons don't stand a chance against them.

With a blood moon hanging low over the city, something dark and sinister begins to hunt the streets of Temple Bar, choosing its victims by targeting those closest to Mac. Armed only with the Spear of Destiny and Jericho Barrons, she must face her most terrifying enemy yet.

 

Shadow of Night

(All Souls Trilogy, #2)
by Deborah Harkness

Hardcover, 592 pages

Expected publication: July 10th 2012 by Viking Adult (first published July 6th 2012)

ISBN 0670023485 (ISBN13: 9780670023486)

"Together we lifted our feet and stepped into the unknown"—the thrilling sequel to the New York Times bestseller A Discovery of Witches

Deborah Harkness exploded onto the literary scene with her debut novel, A Discovery of Witches, Book One of the magical All Souls Trilogy and an international publishing phenomenon. The novel introduced Diana Bishop, Oxford scholar and reluctant witch, and the handsome geneticist and vampire Matthew Clairmont; together they found themselves at the center of a supernatural battle over an enchanted manuscript known as Ashmole 782.

Now, picking up from A Discovery of Witches' cliffhanger ending,Shadow of Night plunges Diana and Matthew into Elizabethan London, a world of spies, subterfuge, and a coterie of Matthew's old friends, the mysterious School of Night that includes Christopher Marlowe and Walter Raleigh. Here, Diana must locate a witch to tutor her in magic, Matthew is forced to confront a past he thought he had put to rest, and the mystery of Ashmole 782 deepens.

Deborah Harkness has crafted a gripping journey through a world of alchemy, time travel, and magical discoveries, delivering one of the most hotly anticipated novels of the season. 

 

West of Want

(Hearts of Anemoi, #2)
by Laura Kaye

Paperback, 400 pages

Expected publication: July, 10, 2012 by Entangled Select

ISBN-10: 1620610558 ISBN-13: 978-1620610558

Betrayal is all he's ever known, but in her, he'll find a love strong enough to be trusted…

When Marcella Raines' twin brother dies, she honors his request to be buried at sea, never expecting the violent storm that swamps her boat. Recently divorced over her infertility and gravely injured, Ella still fights to survive.

Zephyros Martius is the Supreme God of the West Wind and Spring, but being the strongest Anemoi hasn't saved him from betrayal and loss—worse, he's sure his brother Eurus is behind it. When Zeph's heartbreak whips up a storm that shipwrecks a human, his guilt leads him to save her, but he vows not to get involved.

Ella's honesty, empathy, and unique calming influence attract Zeph like no other, and he finds himself wanting…everything. Ella knows Zeph's different and fears rejection, but falls for his otherworldly masculinity and ancient, sad blue eyes. When Eurus threatens Ella, she and Zeph struggle to let go of the past, defend their future, and embrace what they most want—a love that can be trusted.

 

21st Century Dead: A Zombie Anthology

by Christopher Golden

Paperback, 352 pages

Expected publication: July 17th 2012 by St. Martin's Press (first published June 19th 2012)

ISBN 0312605846 (ISBN13: 9780312605841)

The Stoker-award winning editor of the acclaimed, eclectic anthology The New Dead returns with 21st Century Dead, and an all-new lineup of authors from all corners of the fiction world, shining a dark light on our fascination with tales of death and resurrection… with ZOMBIES! The stellar stories in this volume includes a tale set in the world of Daniel H. Wilson's Robopocalypse, the first published fiction by Sons of Anarchy creator Kurt Sutter, and a tale of love, family, and resurrection from the legendary Orson Scott Card. This new volume also includes stories also from other award-winning and New York Times bestselling authors, such as: Simon R. Green, Chelsea Cain, Jonathan Maberry, Duane Swiercyznski, Caitlin Kittredge, Brian Keene, Amber Benson, John Skipp, S. G. Browne, Thomas E. Sniegoski, Hollywood screenwriter Stephen Susco, National Book Award nominee Dan Chaon, and more!

 

Thieftaker

(Thieftaker Chronicles, #1)
by D.B. Jackson

Hardcover, 336 pages

Expected publication: July 17th 2012 by Tor Books(first published July 3rd 2012)

ISBN 0765327619 (ISBN13: 9780765327611)

Boston, 1767: In D.B. Jackson's Thieftaker, revolution is brewing as the British Crown imposes increasingly onerous taxes on the colonies, and intrigue swirls around firebrands like Samuel Adams and the Sons of Liberty. But for Ethan Kaille, a thieftaker who makes his living by conjuring spells that help him solve crimes, politics is for others…until he is asked to recover a necklace worn by the murdered daughter of a prominent family.

Suddenly, he faces another conjurer of enormous power, someone unknown, who is part of a conspiracy that reaches to the highest levels of power in the turbulent colony. His adversary has already killed—and not for his own gain, but in the service of his powerful masters, people for whom others are mere pawns in a game of politics and power. Ethan is in way over his head, and he knows it. Already a man with a dark past, he can ill afford to fail, lest his livelihood be forfeit. But he can't stop now, for his magic has marked him, so he must fight the odds, even though he seems hopelessly overmatched, his doom seeming certain at the spectral hands of one he cannot even see.

 

Dragon Justice

(Paranormal Scene Investigations #4)
by Laura Anne Gilman

Paperback, 1st Edition

Expected publication: July 24th 2012 by Luna

ISBN-10: 0373803486 ISBN-13: 978-0373803484

WE KNEW THE JOB WAS IMPOSSIBLE WHEN WE TOOK IT…In my time with PUPI, formally known as Private, Unaffiliated Paranormal Investigations, I've seen a lot. Learned a lot. And not all of it's been good. But what we do-make people accountable for crimes committed with magic-is important work.Still. Even I need to take a break every now and again. Or so I've just been told (ordered).So hey, vacation. Maybe I'll finally figure out what's going on with the "special bond" between me and the boss man, Benjamin Venec. Venec seems to like that idea-he's invited me down to join him on a jaunt to Philly. But no sooner do I arrive in the City of Brotherly Love than we're called in to look at a dead body.And that's when life gets really complicated….

In my time with PUPI, formally known as Private, Unaffiliated Paranormal Investigations, I've seen a lot. Learned a lot. And not all of it's been good. But what we do-make people accountable for crimes committed  with magic-is important work.Still. Even I need to take a break every now and again.  Or so I've just been told (ordered).So hey, vacation. Maybe I'll finally figure out what's going on with the "special bond" between me and the boss man, Benjamin Venec. Venec seems to like that idea-he's invited me down to join him on a jaunt to Philly. But no sooner  do I arrive in the City of Brotherly Love than we're called in  to look at a dead body.And that's when life gets really complicated….

 

Seduced by Blood

(Sweetblood, #4)
by Laurie London

Mass Market Paperback, 384 pages

Expected publication: July 24th 2012 by HQN

ISBN

0373776691 (ISBN13: 9780373776696)

Deep within the forests of the Pacific Northwest, the battle for supremacy rages on between two vampire coalitions: Guardian enforcers sworn to protect humanity, and Darkbloods, rogues who kill like their ancient ancestors… 

Hot-blooded and hard-edged, Tristan Santiago has an uncanny ability to see beneath the surface-a power that serves him well as the Guardians' region commander. But when a deadly plot against his fellow vampires is uncovered, he must turn to the one woman he can't read: the beautiful yet mysterious Roxanne Reynolds, whose sensual presence soothes his tormented memories. Roxy had put love before duty once before, with devastating results. But to root out a dangerous traitor in their midst, she must put her faith in Santiago, the one man skilled enough to break through her defenses. Posing as lovers, Santiago and Roxy work side by side-and discover a powerful craving that threatens to consume them both…

 

Sentinels: Tiger Bound

by Doranna Durgin

Paperback, 288 pages

Expected publication: July 24th 2012 by Harlequin

ISBN 0373885520 (ISBN13: 9780373885527)

Two wounded souls courageously unite to vanquish a ruthless predator in Doranna Durgin's highly emotional new romance…

Like the Siberian tiger whose form he takes, Maks Altán is a strong, ferocious fighter, and incredibly protective of his Sentinel kin–but thanks to a debilitating injury, he feels anything but capable. That is, until he's sent to guard Katie Maddox, a gorgeous healer who awakens a dangerous lust within him. The problem is, in the shifter world, Katie's deer alter ego is easy prey…and much too tempting for Maks.As unnamed danger lurks just beyond her awareness, Katie has doubts–about her abilities, her role in the Sentinels, and the strong desire she feels toward her new protector. But somehow, the wounded predator and his wary prey must ignore their instincts, their fears, and their dangerous attraction to each other in order to defeat their common enemy…

 

The Covert Wolf

by Bonnie Vanak

Paperback, 288 pages

Expected publication: July 24th 2012 by Harlequin

ISBN 0373885512 (ISBN13: 9780373885510)

 Loyalties collide, passions ignite and a high-stakes adventure ensues in Bonnie Vanak's sensual new military series.…When a mission gone wrong kills his best friend, Navy SEAL Matthew Parker will stop at nothing to destroy the demons who threaten his team. To do so, Matt must locate a mysterious orb before the demons use it to destroy the world. But the only woman who can help
him—Sienna McClare—has her own agenda…and every reason for hating his kind.A half blood, Sienna hopes returning the orb to her people will gain her acceptance back into the only family she's known. But working with a Draicon werewolf like Matt comes with a high price—one that could cost Sienna her dreams. A natural-born leader, her werewolf lover must now teach Sienna to listen to her heart—and go where their all consuming passion leads them….

 

Thirteen

(Women of the Otherworld, #13)
by Kelley Armstrong

Hardcover, 464 pages

Expected publication: July 24th 2012 by Penguin Group USA / Dutton

ISBN 0525952837 (ISBN13: 9780525952831)

 It's been more than ten years, a dozen installments, and hundreds of thousands of copies since Kelley Armstrong introduced readers to the all-too-real denizens of the Otherworld: witches, werewolves, necromancers, vampires, and half-demons, among others. And it's all been leading to Thirteen, the final installment, the novel that brings all of these stories to a stunning conclusion.

A war is brewing—the first battle has been waged and Savannah Levine is left standing, albeit battered and bruised. She has rescued her half brother from supernatural medical testing, but he's fighting to stay alive. The Supernatural Liberation Movement took him hostage, and they have a maniacal plan to expose the supernatural world to the unknowing.

Savannah has called upon her inner energy to summon spells with frightening strength, a strength she never knew she had, as she fights to keep her world from shattering. But it's more than a matter of supernaturals against one another—both heaven and hell have entered the war; hellhounds, genetically modified werewolves, and all forces of good and evil have joined the fray.

Uniting Savannah with Adam, Paige, Lucas, Jaime, Hope, and other lost-but-notforgotten characters in one epic battle, Thirteen is a grand, crowd-pleasing closer for Armstrong's legions of fans.

 

Blood and Feathers

by Lou Morgan

Paperback, 384 pages

Expected publication: July 31st 2012 by Solaris

ISBN 1781080194 (ISBN13: 9781781080191)

"What's the first thing you think of when I say 'angel'?" asked Mallory.
Alice shrugged. "I don't know… guns?"

Alice isn't having the best of days. She was late for work, she missed her bus, and now she's getting rained on. What she doesn't know is that her day's about to get worse: the epic, grand-scale kind of worse that comes from the arrival of two angels who claim everything about her life is a lie.

The war between the angels and the Fallen is escalating; the age-old balance is tipping, and innocent civilians are getting caught in the cross-fire. If the balance is to be restored, the angels must act—or risk the Fallen taking control. Forever.

That's where Alice comes in. Hunted by the Fallen and guided by Mallory—a disgraced angel with a drinking problem and a whole load of secrets—Alice will learn the truth about her own history… and why the angels want to send her to hell.

What do the Fallen want from her? How does Mallory know so much about her past? What is it the angels are hiding—and can she trust either side?

Caught between the power plays of the angels and Lucifer himself, it isn't just hell's demons that Alice will have to defeat…

 

Darklands

(Deadtown, #4)
by Nancy Holzner

Mass Market Paperback, 336 pages

Expected publication: July 31st 2012 by Ace

ISBN 1937007707 (ISBN13: 9781937007706)

They call it Deadtown: the city's quarantined section for its inhuman and undead residents. Most humans stay far from its border—but Victory Vaughn, Boston's only professional demon slayer, isn't exactly human…

Boston's demons have been disappearing, and Vicky's clients are canceling left and right. While fewer demons might seem like a good thing, Vicky suspects foul play. A missing Celtic cauldron from Harvard's Peabody museum leads her to an unwelcome conclusion: Pryce, her demi-demon cousin and bitter enemy, is trying to regain his full powers.

But Pryce isn't alone. He's conjured another, darker villain from Vicky's past. To stop them from destroying everything she loves, she'll have to face her own worst fear—in the realm of the dead itself.

 

Gunmetal Magic

(Kate Daniels #5.5)
by Ilona Andrews

Paperback, 448 pages

Expected publication: July 31st 2012 by Ace

ISBN 0425256138 (ISBN13: 9780425256138)

The New York Times bestselling Kate Daniels novels have been hailed as "top-notch urban fantasy" (Monsters and Critics). Now, Ilona Andrews delves deeper into Kate's world, and reveals its untold stories…
After being kicked out of the Order of the Knights of Merciful Aid, Andrea's whole existence is in shambles. She tries to put herself back together by working for Cutting Edge, a small investigative firm owned by her best friend. When several shapeshifters working for Raphael Medrano—the male alpha of the Clan Bouda, and Andrea's former lover—die unexpectedly at a dig site, Andrea is assigned to investigate. Now she must work with Raphael as her search for the killer leads into the secret underbelly of supernatural Atlanta. And dealing with her feelings for him might have to take a back seat to saving the world…

 

Kitty Steals the Show

(Kitty Norville, #10)
by Carrie Vaughn

Paperback, 304 pages

Expected publication: July 31st 2012 by Tor

ISBN 0765365669 (ISBN13: 9780765365668)

Kitty has been tapped as the keynote speaker for the First International Conference on Paranatural Studies, taking place in London. The conference brings together scientists, activists, protestors, and supernatural beings from all over the world—and Kitty, Ben, and Cormac are right in the middle of it.

Master vampires from dozens of cities have also gathered in London for a conference of their own. With the help of the Master of London, Kitty gets more of a glimpse into the Long Game—a power struggle among vampires that has been going on for centuries—than she ever has before. In her search for answers, Kitty has the help of some old allies, and meets some new ones, such as Caleb, the alpha werewolf of the British Isles. The conference has also attracted some old enemies, who've set their sights on her and her friends.

All the world's a stage, and Kitty's just stepped into the spotlight.

 

Night Forbidden

(Envy Chronicles, #5)
by Joss Ware

Paperback

Expected publication: August 2012 by Avon(first published July 31st 2012)

ISBN-10: 0062018647 ISBN-13: 978-0062018649

The world is ash, destroyed, and now controlled by Strangers. Survivors live in constant peril. But in the heart of Envy, resistance grows . . .

Somehow Bruno "Fence" Washington survived the apocalypse—emerging from a Sedona cave into a strange and terrible new world . . . fifty years later. Now, scouring the ruined earth for answers about the malevolent Strangers, the former extreme sportsman encounters an Amazonian beauty who calls to his every desire, but whose secret could mean his end.

Ana grew up in the ocean, diving far beneath the waves to the remnants of a world she never knew. Try as she might she can't resist the man who tempts her in ways she never knew possible . . . whose touch elicits truths she swore never to reveal. But the passion between them won't be denied even though it means facing a new evil rising up from the roiling waters to blanket the world in unending night.

 

Shadow Rising

(Dark Dynasties #3)
by Kendra Leigh Castle

Mass Market Paperback, 368 pages

Expected publication: July 31st 2012 by Forever

ISBN 1455511641 (ISBN13: 9781455511648)

Ancient Secrets, Dark Passions…

As one of the Grigori, a noble vampire dynasty shrouded in mystery, Ariane has spent her life hidden away in the desert. Like all of her kind, she is a watcher, fated to observe, forbidden to act. Yet when her best friend, Sammael, vanishes, she defies all rules and flees her safe haven to bring him home.

A shape-shifting assassin for the House of Shadows, Damien Tremaine is hired to locate Sammael. His hunt for the wayward Grigori leads him to Ariane, the rogue vamp who stands between him and his bounty. Damien never lets emotion interfere with his work, but a single touch from the sexy, beguiling vampire shatters his self-control. Drawn together by their common goal, what begins as an alliance of necessity soon becomes one of desire. But when the secret at the dark heart of the Grigori comes to light, Damien and Ariane must make a choice that could bind them eternally…or tear them—and everything they care about—apart.


 

Shadows Before the Sun

(Charlie Madigan #4)
by Kelly Gay

Mass Market Paperback, 352 pages

Expected publication: July 31st 2012 by Pocket Books

ISBN 1451625480 (ISBN13: 9781451625486)

The electrifying sequel to the acclaimed urban fantasies The Better Part of Darkness, The Darkest Edge of Dawn, and The Hour of Dust and Ashes!

After filling out mountains of paperwork, Detective Charlie Madigan sets out for a death-defying trip into heavenly Elysia to rescue her partner Hank and bring the siren home. Of course, she doesn't expect to leave behind an all out siren revolution or return home to find that jinn crime boss, Grigori Tennin, has begun a massive search for the divine being, Ahkneri. Tennin's tactics set off a chain reaction that puts Charlie in the crosshairs of the shadowy creature known as Death and awakens Ahkneri from her long sleep. And when Vengeance rises, Atlanta will never be the same


Sin's Dark Caress

(Series Dark Brethren #3)
by Tracey O'Hara

Paperback, 336 pages
Harper Voyager (July 31, 2012)
ISBN-10: 0061783153 ISBN-13: 978-0061783159

An ancient darkness has risen from the ashes…and terror has been loosed upon an unsuspecting world.
Forensic witch Bianca Sin has never seen anything like it: homeless teenage girls torn to pieces by dark magic in the cold shadows of the city. More terrifying still is the symbol written in blood on an alley wall—the unmistakable seal of the Dark Brethren.
Teaming up with NYPD homicide detective Lancelot McManus and an elite task force headed by the shapeshifter Oberon DuPrie, Bianca knows her worse fears have finally come to pass. A new war of annihilation is looming that will plunge the worlds of vampire, shapeshifter, and human into chaos—and two adversarial tribes locked in uneasy truce will need to take up arms together to save the children. Trust will be essential for Sin and McManus, as the hunt forces them to confront their deepest terrors.

 

The Care and Feeding of Stray Vampire

by Molly Harper

Paperback, 1st Edition, 336 pages

Expected publication: July 31st 2012 by Pocket Books

ISBN 1451641834 (ISBN13: 9781451641837)

Iris Scanlon, Half-Moon Hollow's only daytime vampire concierge, knows more about the undead than she'd like. Running all their daylight errands—from letting in the plumber to picking up some chilled O neg—gives her a look at the not-so-glamorous side of vampire life. Her rules are strict; relationships with vamps are strictly business, not friendship—and certainly not anything else. But then she finds her newest client, Cal, poisoned on his kitchen floor, and only Iris can help.

Cal – who would be devastatingly sexy, if Iris allowed herself to think that way – offers Iris a hefty fee for hiding him at her place until he figures out who wants him permanently dead. Even though he's imperious, unfriendly and doesn't seem to understand the difference between "employee" and "servant," Iris agrees, and finds herself breaking more and more of her own rules to help him – particularly those concerning nudity.

Turns out what her quiet little life needed was some intrigue & romance—in the form of her very own stray vampire.

 

The Lady is a Vamp

(Argeneau, #17)
by Lynsay Sands

Paperback, 384 pages

Expected publication: July 31st 2012 by Avon Books

ISBN 0062078070 (ISBN13: 9780062078070)

One late night leads to . . .

Kidnapped! When Jeanne Louise Argeneau left work, she never thought she'd end up tied down by a good-looking mortal. More attracted than annoyed, she quickly realizes there is more to her abductor than meets the eye.

One desperate act leads to . . .

Love? Paul Jones has need of a vampire, and only Jeanne Louise will do. He just has to convince this beauty of a Vamp to help him . . . never imagining that he would fall in love. But with the immortal world's answer to law enforcement hunting them, their time together is running out . . . and Paul and Jeanne Louise will need to risk everything to spend an eternity together.

 

The Witch is Back

(Jolie Wilkins #4)
by H.R. Mallory

Paperback, 368 pages

Expected publication: July 31st 2012 by Random House Publishing Group

ISBN 0345531566 (ISBN13: 9780345531568)

The witching hour has arrived in bestselling author H. P. Mallory's captivating and sexy new novel, starring the most dazzling denizen of the undead, Jolie Wilkins.
 
Funny and feisty witch Jolie Wilkins is back—or rather, she's back to her humble beginnings. Propelled into the past to her old Los Angeles fortune-telling shop, Jolie has no idea she possesses extraordinary powers, and she definitely doesn't remember becoming Queen of the Underworld. But at least she has two incredibly sexy men vying for her affection: Rand Balfour, who looks very familiar, though Jolie can't place his gorgeous face, and Sinjin Sinclair, who is tall, dark, and perfect . . . except for the fangs.

Yet despite her steamy love life, Jolie can't shake the sense that something is not quite right—like she's stuck in a déjà vu gone terribly awry. As both men race against time—and each other—to win Jolie's heart, the fate of the Underworld hangs in the balance. And Jolie's decision can either restore order or create an absolute, drop-dead disaster.

 

Waterborne

(Seaborne, #3)
by Katherine Irons

Paperback, 336 pages
Harper Voyager (July 31, 2012)
ISBN-10: 0061783153 ISBN-13: 978-0061783159

Alexandros, prince of Atlantis and lethal assassin, has a new assignment. Hunt down and eliminate powerful, ruthless Grigori Varenkov, whose fleet of fishing ships is scouring the ocean floors bare of life. But there is a complication in the stunning form of Ree O'Connor, Varenkov's personal chef. When Varenkov's struggle with Alex leaves Ree wounded, Alex gives up his chance to finish his foe in order to save her. Taking her to the underwater kingdom of Lemoria, he plans to heal her and return her to land before resuming his mission. Yet Ree is not the innocent bystander he first believed. And once they give in to the passion between them, no ocean will quench it…

When Temptation Burns

(The Shadow Keepers, #6)
by J.K. Beck

Mass Market Paperback, 352 pages

Expected publication: July 31st 2012 by Bantam(first published February 28th 2012)

ISBN 0345525671 (ISBN13: 9780345525673)

FBI agent Alexis Martin knows that vampires exist—because one of them killed her sister. Assigned to investigate a series of bizarre homicides in Los Angeles, Alexis believes the murders are the work of rogue vampires—perhaps even the monster responsible for her sister's death. Now she finally has a chance for retribution. Even better, Alexis receives unexpected help from a sexy stranger as hungry for rogue blood as she is.

Serge is a centuries-old bad boy who stays off the grid—keeping his secrets, his hunger, and his heart safe from exposure. A new breed of vampire that feeds off other shadowers, Serge finds sweet torture in Alexis's arms. Loving her is a chance to be free from the hiding, the loneliness, the secrecy. But the truth about what he is, and what he's done, may banish him to the dark confines of his own private hell—and destroy the beginnings of their love.
26 YA Titles Releasing in July
Dark Companion

by Marta Acosta

Hardcover, 368 pages

Expected publication: July 3rd 2012 by Tom Doherty Associates

ISBN 0765329646 (ISBN13: 9780765329646)

When foster teen Jane Williams is invited to attend elite Birch Grove Academy for Girls and escape her violent urban neighborhood, she thinks the offer is too good to be true. She's even offered her own living quarters, the groundskeeper's cottage in the center of the birch grove.

Something's not quite right about the school — or is it Jane? She thinks she sees things in the birch grove at night. She's also beginning to suspect that the elegant headmistress and her sons are hiding secrets. Lucky is the gorgeous, golden son who is especially attentive to Jane, and Jack is the sardonic puzzling brother.

The school with its talented teachers and bright students is a dream for a science and math geek like Jane. She also loves her new friends, including hilarious poetry-spouting rich girl, Mary Violet. But the longer Jane stays at Birch Grove, the more questions she has about the disappearance of another scholarship girl and a missing faculty member.

Jane discovers one secret about Birch Grove, which only leads to more mysteries. What is she willing to sacrifice in order to stay at this school…and be bound to Birch Grove forever?

Dark Destiny

(Dark Mirror, #3)
by M.J. Putney

Paperback, 320 pages

Expected publication: July 3rd 2012 by St. Martin's Press

ISBN 0312622864 (ISBN13: 9780312622862)

Tory and her friends are celebrating the success of a second mission to aid WWII Britain when an urgent summons calls them back to their own time: Napoleon is on the brink of invading England. Can a handful of young mages stop an army? In desperation, Merlin's Irregulars ask Rebecca Weiss, an untrained telepath from 1940, to come back to 1804 and change Napoleon's mind before it's too late. As Tory and Allarde make a commitment that will cost him his inheritance, Rebecca promises to do what she can to stop Napoleon even though she is unsure of her magical abilities.  But Tory and her friends
saved the Weiss family from Nazi imprisonment, and Rebecca will risk anything, even her life and her budding relationship with Nick Rainford, to repay them. A daring mission takes Tory and Rebecca and their friends into the heart of the Army of
Boulogne, where Napoleon is plotting invasion.  But while their success may save England, they must still face the bittersweet consequences of their decisions when they return home.

Just for Fins

(Fins, #3)
by Tera Lynn Childs

Hardcover, 272 pages

Expected publication: July 3rd 2012 by Katherine Tegen Books

ISBN 0062192159 (ISBN13: 9780062192158)

When Lily Sanderson decided to remain Crown Princess Waterlily of the mermaid kingdom Thalassinia, she knew she couldn't just coast along in the current. But since she's spent the last couple of years on land—with gorgeous human Quince by her side—Lily's not sure she has the fins to lead a kingdom. Even her maddeningly pretentious cousin Dosinia seems to know more about ruling than she does.

But Lily has to dive in deep to keep her promise to Tellin, her mer bond in name only, whose kingdom is suffering in the changing ocean climate. Lily knows this is a seven seas–sized problem: from sea animals dying to oil spills and threats to humans. They'll need to create some serious waves to make the mer community aware and get it to join together to make things right. Even if that means facing one of the iciest queens in the mer kingdoms.

Just when Lily thinks her double life on land and sea can't get any more complicated, an ancient mer law might separate Lily and Quince after all. It feels as if the pair is up against a solid tsunami wave!

In this third installment in the series that began with Forgive My Fins and Fins Are Forever, Lily will have to find a way to balance safety and justice for the mer people as well as for the humans she loves.

Team Human

by Justine Larbalestier, Sarah Rees Brennan

Hardcover, 344 pages

Expected publication: July 3rd 2012 by HarperTeen

ISBN 0062089641 (ISBN13: 9780062089649)

Just because Mel lives in New Whitby, a city founded by vampires, doesn't mean she knows any of the blood-drinking undead personally. They stay in their part of town; she says in hers. Until the day a vampire shows up at her high school. Worse yet, her best friend, Cathy, seems to be falling in love with him. It's up to Mel to save Cathy from a mistake she might regret for all eternity!

On top of trying to help Cathy (whether she wants it or not), Mel is investigating a mysterious disappearance for another friend and discovering the attractions of a certain vampire wannabe. Combine all this with a cranky vampire cop, a number of unlikely romantic entanglements, and the occasional zombie, and soon Mel is hip-deep in an adventure that is equal parts hilarious and touching.

Tiger Lily

by Jodi Lynn Anderson

Hardcover, 292 pages

Expected publication: July 3rd 2012 by HarperTeen

ISBN 0062003259 (ISBN13: 9780062003256)

Before Peter Pan belonged to Wendy, he belonged to the girl with the crow feather in her hair. . . .

Fifteen-year-old Tiger Lily doesn't believe in love stories or happy endings. Then she meets the alluring teenage Peter Pan in the forbidden woods of Neverland and immediately falls under his spell.

Peter is unlike anyone she's ever known. Impetuous and brave, he both scares and enthralls her. As the leader of the Lost Boys, the most fearsome of Neverland's inhabitants, Peter is an unthinkable match for Tiger Lily. Soon, she is risking everything—her family, her future—to be with him. When she is faced with marriage to a terrible man in her own tribe, she must choose between the life she's always known and running away to an uncertain future with Peter.

With enemies threatening to tear them apart, the lovers seem doomed. But it's the arrival of Wendy Darling, an English girl who's everything Tiger Lily is not, that leads Tiger Lily to discover that the most dangerous enemies can live inside even the most loyal and loving heart.

From the New York Times bestselling author of Peaches comes a magical and bewitching story of the romance between a fearless heroine and the boy who wouldn't grow up.

Waking Storms

(Lost Voices #2)
by Sarah Porter

Hardcover, 400 pages

Expected publication: July 3rd 2012 by Harcourt Children's Books

ISBN 0547482515 (ISBN13: 9780547482514)

After parting ways with her troubled mermaid tribe, Luce just wants to live peacefully on her own. But her tranquility doesn't last long: she receives news that the tribe is on the verge of collapse and desperately needs her leadership. The tribe's cruel queen wants Luce dead. Dorian, the boy Luce broke mermaid law to save, is determined to make her pay for her part in the murder of his family. And while the mermaids cling to the idea that humans never suspect their existence, there are suddenly ominous signs to the contrary. But when Luce and Dorian meet, they start to wonder if love can overpower the hatred they know they should feel for each other. Can Luce fulfill her rightful role as queen of the mermaids without sacrificing her forbidden romance with Dorian?

A Witch in Love

(Winter Trilogy, #2)
by Ruth Warburton

Paperback, 304 pages

Expected publication: July 5th 2012 by Hodder Children's Books

ISBN 1444904701 (ISBN13: 9781444904703)

Anna still finds it hard to believe that Seth loves her and has vowed to suppress her powers, no matter what.

But magic – like love – is uncontrollable. It spills out with terrible consequences, and soon, Anna is being hunted.

FrostFire

(Ruan, #2)
by Zoe Marriott

Paperback, 384 pages

Expected publication: July 5th 2012 by Walker

ISBN 1406318140 (ISBN13: 9781406318142)

Frost is cursed – possessed by a wolf demon that brings death everywhere she goes. Desperate to find a cure, she flees her home, only to be captured by the Ruan Hill Guard. Trapped until she can prove she is not an enemy, Frost grows increasingly close to the Guard's charismatic leader Luca and his second in command, the tortured Arian. Torn between two very different men, Frost fears that she may not be able to protect either of them … from herself.

The Vampire of Highgate

by Asa Baily

Paperback, 304 pages
Expected publication: July 7, 2012 by Hodder Children's Books
ISBN 1444903519

Kathy is an innocent, an outsider who longs to belong somewhere. Anywhere. Dreams of her half-sister Amber and of the centuries old Highgate Vampire are taking her to places she doesn't want to go. Kathy can't stop the sequence of events. If her nightmares and reality collide, the Highgate Vampire will come to take her soul…

Dead of Night

(The Youngbloods #2)
by Lynn Viehl

Paperback, 312 pages

Expected publication: July 8th 2012 by Flux Books

ISBN 073872646X (ISBN13: 9780738726465)

True love . . . and an undying obsession

Catlyn Youngblood has a secret life. Despite being a natural-born vampire hunter like her two older brothers, Cat has fallen for Jesse–an ageless boy from a centuries-old vampire clan.

Cat's job cataloguing rare, mystical texts at a bookstore allows her to meet with Jesse alone every evening. But when girls who look disturbingly similar to Cat start disappearing from town, Cat and Jesse discover frightening clues to their whereabouts within the book collection. Together, they must stop a crazed man from realizing his dark scheme– one that would claim Cat's life.

Crux

by Julie Reece

Paperback

Expected publication: July 9th 2012 by J. Taylor Publishing

  

She should have run. Now, she'll have to fight.

Eighteen year old Birdie may be homeless, but she's surviving, that is until a mysterious guy throws money in the air like a crazy game show host, and she grabs some with the idea she'll be able to buy dinner that night.

In that singular moment, unassuming Birdie becomes the girl in everyone's viewfinder. Thugs want to kill her. Money-guy wants to recruit her. The very hot, very rich, and very out of her league Grey Mathews wants to save her.

Birdie, though, wants nothing to do with any of them, until she realizes fate didn't bring them all together.

Her heritage did.

Now, with only twenty-one days left, she's got to decide whether to follow in the footsteps of those before her or risk her life for people she's only just met.

Dark Water

(Siren, #3)
by Tricia Rayburn

Hardcover, 368 pages

Expected publication: July 10th 2012 by EgmontUSA

ISBN 1606840762 (ISBN13: 9781606840764)

 When seventeen-year-old Vanessa reunites with her biological mother, she faces the dilemma of a siren's existence, that in order to survive she must endanger the lives of those she loves most.

Fury's Fire

(Siren's Storm, #2)
by Lisa Papademetriou

Hardcover, 243 pages

Expected publication: July 10th 2012 by Knopf Books for Young Readers

ISBN 0375868623 (ISBN13: 9780375868627)

 At the end of Siren's Storm, the Sirens were defeated, and now the town of Walfang is once again a peaceful beach community.

Or is it? Gretchen and Will are still haunted by the memories of the night the Sirens were destroyed—Gretchen because she can't remember what happened and Will because he doesn't know how to tell Gretchen what he saw. He doesn't even understand what he saw, but he does know now that Gretchen is more than what she seems, more than a human girl. And at the same time, he is more in love with her than ever.

Gretchen knows there's something wrong, too. She feels like an alien in her own body, but she doesn't know why. And she feels a presence stalking her at every turn. Have the Sirens returned to Walfang? Or has some other force come to claim her?

Poison Tree

by Amelia Atwater-Rhodes

Hardcover, 240 pages

Expected publication: July 10th 2012 by Random House Children's Books

ISBN 0385737548 (ISBN13: 9780385737548)

The rich stew of the author's creations—SingleEarth, vampires, shapeshifters, Tristes, the Bruja Guilds—are at full boil here in the story of two 20-ish young women trying to out run their very different pasts, and figure out where they fit in and who they might become. Each has landed in a more "normal" place, and each wonders if, like a tattoo that can't be covered up, they can ever really fit into "normal."

So Close to You

(So Close to You, #1)
by Rachel Carter

Hardcover, 320 pages

Expected publication: July 10th 2012 by HarperTeen

ISBN 0062081055 (ISBN13: 9780062081056)

Lydia Bentley has heard stories about the Montauk Project all her life: stories about the strange things that took place at the abandoned military base near her home and the people who've disappeared over the years. Stories about people like her own great-grandfather.

When Lydia stumbles into a portal that transports her to a dangerous and strange new reality, she discovers that all the stories she's ever heard about the Montauk Project are true, and that she's in the middle of one of the most dangerous experiments in history.

Alongside a darkly mysterious boy she is wary to trust, Lydia begins to unravel the secrets surrounding the Project. But the truths behind these secrets force her to question all her choices—and if Lydia chooses wrong, she might not save her family but destroy them… and herself.

Neferet's Curse

(House of Night Novellas #3)
by Kristin Cast

Hardcover

Expected publication: July 17th 2012 by St. Martin's Press

ISBN-10: 1250000254 ISBN-13: 978-1250000255

With more than 12 million books in print, rights sold in almost 40 countries, and over two years on the New York Times bestseller list, the House of Night series is an international publishing sensation. Now, the excitement continues as the Cast mother-daughter duo shares the back stories of a few of the House of Night's most important – and mysterious – characters.

In the third House of Night novella, the secret history we've all been waiting for is finally revealed…  Neferet, the Tulsa House of Night's darkly seductive High Priestess, wasn't always a powerful vampyre, but she has always been beautiful. Raised in turn-of-the-century Chicago in a motherless home, her beauty makes her the prey of unwanted attention and abuse, leaving her with scars that will never heal – and a Darkness that will eventually need to find its way out. But when she is Marked and gains strength, both physical and magickal, she turns her anger into power and looks for a way to regain what was stolen from her. From victim to High Priestess, beautiful young woman to powerful seductress, Neferet's journey begins…

Spark

(Sky Chasers #2)
by Amy Kathleen Ryan

Hardcover, 309 pages

Expected publication: July 17th 2012 by St. Martin's Griffin

ISBN 9780312621 (ISBN13: 0978031262135)

Waverly and Kieran are finally reunited on the Empyrean. Kieran has led the boys safely up to this point, and now that the girls are back, their mission seems slightly less impossible: to chase down the New Horizon, and save their parents from the enemy ship. But nothing is truly as it seems…Kieran's leadership methods have raised Seth's hackles— and Waverly's suspicions. Is this really her fiancé? The handsome, loving boy she was torn from just a short time before? More and more, she finds her thoughts aligned with Seth's. But if Seth is Kieran's Enemy No. 1, what does that make her?

In one night, a strange explosion rocks the Empyrean—shooting them off course and delaying their pursuit of the New Horizon—and Seth is mysteriously released from the brig. Seth is the most obvious suspect for the explosion, and Waverly the most obvious suspect for releasing him. As the tension reaches a boiling point, will Seth be able to find the true culprit before Kieran locks them both away—or worse? Will Waverly follow her heart, even if it puts lives at risk? With the balance of power precarious and the clock ticking, every decision counts… every step brings them closer to a new beginning, or a sudden end…

The Unquiet

by Jeannine Garsee

Hardcover, 400 pages

Expected publication: July 17th 2012 by Bloomsbury USA

ISBN 1599907232 (ISBN13: 9781599907239)

When Rinn Jacobs moves to a new town she hopes it will be a fresh start—a place where nobody knows about her past. At first, everything goes according to plan. She falls in with the popular girls at her new school and falls for the very cute boy-next-door Nate. But River Hills High School has a secret. The ghost of a girl who died back when Rinn's mom was a student supposedly haunts a hallway. Rinn's not sure she believes it, but when strange things start happening to her friends, Rinn decides there's only one way to know for sure. She needs to ditch her bipolar meds and see what the voices are really trying to say…Fans of films like Black Swan will be fascinated by this psychological thriller.

Cold Fury

by T.M. Goeglein

Hardcover, 1st Edition, 313 pages

Expected publication: July 24th 2012 by Putnam Juvenile

ISBN 0399257209 (ISBN13: 9780399257209)

Jason Bourne meets The Sopranos in this breathtaking adventure

Sara Jane Rispoli is a normal sixteen-year-old coping with school and a budding romance–until her parents and brother are kidnapped and she discovers her family is deeply embedded in the Chicago Outfit (aka the mob).

Now on the run from a masked assassin, rogue cops and her turncoat uncle, Sara Jane is chased and attacked at every turn, fighting back with cold fury as she searches for her family. It's a quest that takes her through concealed doors and forgotten speakeasies–a city hiding in plain sight. Though armed with a .45 and 96K in cash, an old tattered notebook might be her best defense–hidden in its pages the secret to "ultimate power." It's why she's being pursued, why her family was taken, and could be the key to saving all of their lives.

Action packed, with fresh, cinematic writing, Cold Fury is a riveting and imaginative adventure readers will devour.

Drain You

by M. Beth Bloom

Paperback, 218 pages

Expected publication: July 24th 2012 by HarperTeen

ISBN 0062036866 (ISBN13: 9780062036865)

There's normal, and then there's paranormal, and neither is Quinlan Lacey's cup of Diet Coke.

Quinn's life is a red carpet of weird fashions, hip bands, random parties, and chilling by the pool with her on-and-off BF Libby. There's also her boring job (minimum wage), a crushed out co-worker (way too interested), her summer plans (nada), and her parents (totally clueless). Then one night she meets gorgeous James, and Quinn's whole world turns crazy, Technicolor, 3-D, fireworks, whatever.

But with good comes bad, and unfortunately Quinn's new romance brings with it some majorly evil baggage. LA is crawling with gangs of the undead, all aching to drain something. Now, to make things right, Quinn has to do a lot of things wrong.

Quinn's goal: to stay sane, cool, in love, and alive.

With a one-of-a-kind protagonist, high-fidelity friendships, wicked LA nightlife, and a restless romance, this unforgettable debut from M. Beth Bloom is perfect for fans of Heather Brewer and John Green.

Endlessly

(Paranormalcy, #3)
by Kiersten White

Hardcover, 385 pages

Expected publication: July 24th 2012 by HarperTeen

ISBN 0061985880 (ISBN13: 9780061985881)

Try as she might, Evie can't seem to escape her not-so-normal past. And what was supposed to be a blissfully normal school break is ruined when a massive group of paranormals shows up at her house, claiming that Evie is the only one who can protect them from a mysterious, perilous fate.

The deadly war between the faerie courts looms ever closer. The clock is ticking on the entire paranormal world. And its future rests solely in Evie's hands.

So much for normal.

With a perfect blend of humor and suspense, Endlessly is everything readers could dream of in a conclusion—and the unexpected twists will keep them guessing until the very last page.

Something Strange and Deadly

(Something Strange and Deadly, #1)
by Susan Dennard

Hardcover, 400 pages

Expected publication: July 24th 2012 by HarperTeen

ISBN 0062083260 (ISBN13: 9780062083265)

The year is 1876, and there's something strange and deadly loose in Philadelphia…

Eleanor Fitt has a lot to worry about. Her brother has gone missing, her family has fallen on hard times, and her mother is determined to marry her off to any rich young man who walks by. But this is nothing compared to what she's just read in the newspaper—

The Dead are rising in Philadelphia.

And then, in a frightening attack, a zombie delivers a letter to Eleanor…from her brother.

Whoever is controlling the Dead army has taken her brother as well. If Eleanor is going to find him, she'll have to venture into the lab of the notorious Spirit-Hunters, who protect the city from supernatural forces. But as Eleanor spends more time with the Spirit-Hunters, including their maddeningly stubborn yet handsome inventor, Daniel, the situation becomes dire. And now, not only is her reputation on the line, but her very life may hang in the balance.

Destiny

(Immortal, #4) by Gillian Shields

Hardcover, 384 pages

Expected publication: July 31st 2012 by Katherine Tegen Books

ISBN 0062000411 (ISBN13: 9780062000415)

Everything is connected. We weave in and out of one another's lives, like circles within circles, and everything is for a purpose.

Helen has always been the "crazy" one among the girls of Wyldcliffe, scarred by her bleak past and her troubled relationship with her mother, the former headmistress and leader of the Wyldcliffe coven, Mrs. Hartle.

But Miss Scratton promised Helen that a love "beyond the confines of this world" is waiting for her. Could this be Lynton, the mysterious music student who visits Wyldcliffe for his lessons? And what about the brooch her mother gave her—what can the Seal reveal about Helen's past and future?

Now that Miss Scratton is gone, life at Wyldcliffe takes an even darker turn. An unexpected threat arrives in the form of a new high master, whom Helen remembers from her unhappy childhood. Can Helen, Evie, and Sarah finally overcome Wyldcliffe's darkness? Will Lady Agnes come to their aid? And what sacrifices must they make to fulfill their destiny?

Fearless

(Elemental, #1.5)
by Brigid Kemmerer

ebook

Expected publication: July 31st 2012 by K Teen (Kensington)

Being a force of nature doesn't keep you safe.Hunter Garrity is used to watching his back. The kids at school sense something different about him. And they're right.Hunter has powers that have nothing to do with how hard he can throw a punch.Maybe that's what Clare Kasten is picking up. She's shy, quiet, and intense, but she's sought him out. There's no telling what she wants from him.But Hunter knows enough to sense a secret when it's close. And getting close to Clare is a danger he's ready to face…

Otherkin

(Otherkin, #1)
by Nina Berry

Expected publication: July 31st 2012 by K Teen
ISBN-10: 0758276915 ISBN-13: 978-0758276919

I thought I knew myself. Then I met Caleb.

Dez is a good girl who does as she's told and tries not to be noticed.
Then she rescues a boy from a cage, and he tells her secrets about herself.
Now inside her burns a darkness that will transform her.

Everything is about to change — and neither Caleb, nor the Otherkin, nor those who hunt them are prepared for what Dez will unleash.

The Goddess Legacy

(Goddess Test#2.5)
by Aimee Carter

Paperback, 304 pages

Expected publication: July 31st 2012 by Harlequin Teen

ISBN 0373210752 (ISBN13: 9780373210756)

For millennia we've caught only glimpses of the lives and loves of the gods and goddesses on Olympus. Now Aimé e Carter pulls back the curtain on how they became the powerful, petty, loving and dangerous immortals that Kate Winters knows.

Calliope/Hera represented constancy and yet had a husband who never matched her faithfulness…

Ava/Aphrodite was the goddess of love and yet commitment was a totally different deal…

Persephone was urged to marry one man, yet longed for another…

James/Hermes loved to make trouble for others-but never knew true loss before…

Henry/Hades's solitary existence had grown too wearisome to continue. But meeting Kate Winters gave him a new hope…

Five original novellas of love, loss and longing and the will to survive throughout the ages.
Monthly Must Haves
These are our most anticipated July releases:
| | | |
| --- | --- | --- |
| Abigail's Picks | Julia's Picks | Kristina's Pick's |
|     |      |     |
What are your must have titles for July ? Tell us in the comments.
---
Authors/Publishers: have a book coming out soon?
Request a Review or schedule a visit/giveaway
Please leave a comment if we missed a title and we will update this post.