Today we are welcoming Joe Nassise to ATUF! Joe is stopping here on his blog tour for his latest novel, BY THE BLOOD OF HEROES; book one of The Great Undead War series (available now from Harper Voyager). In my (Kristina's) review, I described it as, "a creepy zombie apocalypse scenario with a dash of steampunk to make an action packed story full of heroism from a bygone era." Today Joe is talking about that very important 'dash' that makes his (and some of the titles he recommends below) so exciting.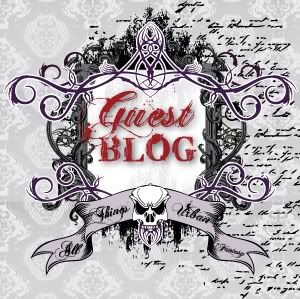 Steampunk
by
Joseph Nassise
Welcome to day seven of The Great Undead War Blog Tour. My thanks to Abigail for having me here.
My name's Joe Nassise and this month kicks off the release of my latest novel, By the Blood of Heroes, book one in the Great Undead War series from Harper Voyager. On every stop of the tour I'm going to tell you something a little different about the series or the process I went through to write it. Today I want to talk a bit about steampunk.
When asked what my new novel is about, I often tell people it's a cross genre mashup of horror and steampunk set in an alternate World War One. This is usually followed by a blank stare that gets accompanied by the inevitable, "Steampunk? What's that?"
Now I know I don't need to tell the regular readers of All Things Urban Fantasy what steampunk is, but for those following along at home, perhaps an explanation is in order. And that, dear friends, is what today's guest post is all about.
The best explanation I've ever heard of steampunk is that offered by Joshua Pfieffer, aka the musician Vernian Process. He says:
"Steampunk simply embodies a time and a place. The time…the late 19th century. The place…a steam powered world, where air travel by fantastic dirigibles is as common as travelling by train or boat (or submarine). A place where national interests are vastly different than our own version of history. A place where the elegant and refined as as likely to get pulled into a grand adventure as the workers, ruffians, and lower classes. A place where the idea of space travel is not so far fetched. A place where lost civilizations are found and lost again. A place where anything is possible and science can be twisted to meet ones own ends. That to me is the essence of Steampunk."
I couldn't agree more.
So what does this mean for By the Blood of Heroes? As the book opens, the year is 1921 but this is a vastly different 1921 than one might expect. The Great War has been going on for seven years. Petroleum has been rejected as too difficult a technology to pursue effectively and the major technologies of the day are clockwork mechanisms and steam-power. Kaiser Wilhelm has used the invention of corpse gas – a dastardly weapon that turns the bodies of the dead into flesh-hungry zombies popularly known as shamblers – to swell the ranks of his army and push the Allied troops nearly off the European continent altogether.
It is in the midst of this familiar-yet-different setting that we are introduced to Captain Michael "Madman" Burke, leader of a rag-team of soldiers who will eventually become known as Burke's Marauders. Burke himself is a walking-and-talking example of steampunk – his left forearm is entirely mechanical, a replacement of the one he lost to a shambler attack several years before. Burke and his team are ordered to undertake a mission behind enemy lines to rescue a downed American pilot. In the course of their mission, they are introduced to some of the latest steampunk technology the Allied powers can produce, from massive war dirigibles like the HMS Victoria to magnetism grenades and Hercules vests.
I had a tremendous amount of fun developing the setting for the series and I hope readers enjoy it as much as I did.
If you find you like steampunk as much as I do, you should also check out Phillipa Ballantine's Ministry of Peculiar Occurrences series, Cherie Priest's Clockwork Century series starting with Boneshaker, Gail Carringer's Parasol Protectorate series (the first of which, Soulless is reviewed here), and Steven Harper's terrific new Clockwork Empire series.
————————————————-
About the author:
I'm the author of more than a dozen novels, including the internationally bestselling TEMPLAR CHRONICLES series, the JEREMIAH HUNT trilogy, and the forthcoming GREAT UNDEAD WAR series. I've written several books in the popular Rogue Angel action-adventure series.
My work has been nominated for both the Bram Stoker Award and the International Horror Guild Award, been praised by such literary masters as Clive Barker and Peter Straub, and been translated into half a dozen languages to date. I have written for both the comic and role-playing game industries and also served two terms as president of the Horror Writers Association, the world's largest organization of professional horror and dark fantasy writers.
Visit Joseph Nassise online:
Website|Twitter|Facebook
Want to read more from Joseph Nassise?
http://ws.amazon.com/widgets/q?rt=tf_ssw&ServiceVersion=20070822&MarketPlace=US&ID=V20070822%2FUS%2Fallthiurbfan-20%2F8003%2Fbc1f9965-a4ec-41c2-a7d3-185b2450ba6e&Operation=GetDisplayTemplate
Book Details

Available Now from Harper Voyager
Description:
An alternate history zombie novel set during World War I that blends the take-no-prisoners heroic grit of Inglorious Basterds with the irreverent inventiveness of Dawn of the Dead…
At the end of 1917, the increasingly desperate Germans introduce a new gas to the battlefield: T-Leiche — "corpse gas" — that radically alters the face of the war. Unlike other chemical weapons that attack the living, T-Leiche resurrects the bodies of the dead, giving the enemy an almost unlimited, if not quite fresh, source of troops.
When legendary Allied pilot and war poster-boy Major Jack Freeman is shot down and taken captive by the Germans, veteran Captain Michael "Madman" Burke is the only man fearless and wild enough to try to rescue the American Ace. With a small squad of heroes — his right-hand man Sergeant Moore, Clayton Manning, the filthy rich big-game hunter turned soldier, and professor Dan Richards, Tesla protege and the resident authority on all things supernatural — Burke must traverse the putrid ground of no man's land to infiltrate the enemy's lines.
Using an experimental dirigible, the team faces incredible danger and finds risk and peril at every turn, including ruthless traitor smugglers and marauding bands of the Kaiser's undead. But only when they arrive at the prison camp is the true importance of their mission unveiled. Now, they just have to get back to their own trenches – if they can stay undead, that is.
---
Interested in guest blogging on All Things Urban Fantasy?
CONTACT ME