We are excited to welcome Alexia Reed who is here to tell is about the first book her new Shadow Ops paranormal romance series, HUNTING THE SHADOWS (available now from Carina Press). Today she is talking about blending her love for science (forensics and anthropology) and suspense with paranormal romances.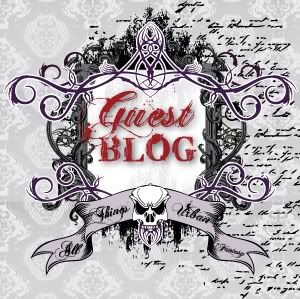 Blending Genres
by
Alexia Reed
When I first started to read, the books I read exclusively were thrillers. I enjoyed those with a fast pace, the kind where they are hunting down killers. Before I got in to science and anthropology, I was very interested in profiling. In fact, I used to fill up notebooks on forensic facts that I found in encyclopedias (I grew up without the net until I was in highschool). When I started to read romance, it was always those with a suspense plot beneath.
I knew when I started writing Hunting the Shadows that I wanted a serial killer plot. It just made the most sense. Add a psychic who goes into the killer's head, witnessing and feeling everything the killer does, and you get a paranormal romantic suspense. But on top of all that, I wanted to try and explain the paranormal through science. It's taking long shots, but, I love trying to make sense of the paranormal in scientific terms. All of these aspects were worked in, creating J.C. and Amy.
Balancing these different aspects can be difficult at times. When you have so many plots, it can be hard to keep track of pacing to make sure everything works. But having great critique partners and editor really helps. One method I tried, was to write out major plot points on colored cue cards that are associated with a certain plot element (i.e. romance, character growth, killer, etc) then lay them all out on the ground. Still, plots can get muddled if you're not careful and my editor helped keep me on track.
I don't usually watch CSI or Bones. As much as I love forensics, these shows drive me crazy and makes people not want to watch them with me. While I understand it's all designed to be entertaining, it's not a 'sexy' profession and some of the techniques they use don't even exist (or work that fast).
With suspenses, there are often formulas. Most times, the killer has been on the screen within the first 15 mins or so, or by chapter 3. This isn't all books, just one I've found over the years. But one tip I didn't catch on (I don't really know actors so therefore wouldn't know one way or another) is that the most "famous" actor is the killer. A couple of friends have pointed out that out to me earlier in the year.
When you read suspense books, do you prefer the killer to be in the book from page 1 or suddenly?
————————————————-
About the author:
While in reality Alexia Reed resides in Ontario, she likes to say that she lives in her own little world. A lover of all things scientific and the paranormal, Alexia uses her books as a way to straddle the realms of fact and fiction—and always with a healthy dose of romance thrown in.
When not writing and reading, Alexia paints, and is the caretaker to two neurotic cats.
Book Details
Available Now from Carina Press
Description:
Amy has spent her entire life in isolation. Locked away in the Centre, a secret government facility where children with extraordinary abilities are raised as highly skilled fighters, she longs for a normal life. A life where being around people doesn't overload her sensitive telepathic mind. A life where she can't see through the eyes of a murderer as he hunts his next victim…
J.C. Nikolaiev was a top researcher, but when his conscience got the better of him, he tried to destroy his work and free his subjects–and was imprisoned as a traitor. To save himself and prevent more people from dying, J.C. must catch the serial killer stalking the halls of the facility. But his only leads come from a woman whose thoughts have invaded his mind…
Finally out of the psych ward, Amy joins forces with J.C. to find the killer before he closes in on them. Can their growing attraction withstand the truths they uncover? read an excerpt…
---
Interested in guest blogging on All Things Urban Fantasy? Fill out our Guest Request Form