We've got another debut author visiting the blog today. Shawntelle Madison's new werewolf urban fantasy debut series debuts tomorrow with COVETED (available on April 24 from Ballantine Books). Shawntelle is sharing the ten sci-fi/fantasy books that that turned her into a genre fan girl, and she's giving away a copy of COVETED too. See details below.
You can read all the previous Top 10 Lists HERE
Top Ten Sci-Fi/Fantasy Books That Rocked Shawntelle Madison's World
by
Shawntelle Madison
In high school I was an avid reader. I read a lot of my mom's books, but I hadn't really jumped into reading sci-fi/fantasy until I encountered these ten series/books that set off an avalanche of reading that turned me into a true fan of the genre. Let the awesomeness commence!
10) Mercy Thompson Series by Patricia Briggs
My latest obsession is the books by Patricia Briggs. I just love, love, love her Mercy Thompson and the Alpha & Omega books. I recommend her to any urban fantasy reader I know.
9) Earth's Children Series by Jean M. Auel
I grew up reading the Earth's Children series in high school and beyond. I remember reading in awe of the richness of those books. I just couldn't fathom the worldbuilding necessary for the author to create such a beautiful set of books.
8) Kushiel's Dart by Jacqueline Carey
I have to admit it–I'd never read a fantasy like Jacqueline Karey's Kushiel's Dart before. I've enjoyed all sorts of fantasies, but I felt like Jacqueline did such a wonderful job of creating a unique and sensual heroine in Phèdre nó Delaunay. The world Jacqueline creates is so luxurious! After reading it my imagination went wild.
7) Dirk & Steele Series by Marjorie M. Liu
I can't recall when I first discovered Marjorie, but all I know is that I adore her books. I think I have all of them and practically went fangirl when I met her the first time. (Yes, I really did.) Just like Kelley Armstrong (check below), Marjorie has an engaging voice and is such a great storyteller.
6) Imajica by Clive Barker
When I thought about this list, I didn't expect to add an author best known for his horror books (huge fan of those by the way) but Clive's Imajica is one of those books I can never forget. I don't have enough room in this blog post to express how many imaginative aspects this book contained. It's a thick book, but it's well worth your time. (Be sure to check out Weaveworld as well, another favorite of mine.)
5) StarDoc series by S.L. Viehl
This is a book that I found around 2005. At the time, I was glad it had been out for a few years so I could buy the second and third book after I inhaled the first one. Dr. Cherijo Grey Veil is one of those characters that is so unique. I loved the scenes where she operated on aliens!
Viehl is an amazing and prolific author!
4) Dragon Delasangre Series by Alan F. Troop
I discovered Alan's books around ten years ago. I recall seeing the blurb for the first book, The Dragon Delasangre, and thinking, whoa, I must have this coolness–an urban fantasy about dragons and their secretive society. It was so worth the purchase. I bought each book in the series and enjoyed reading about the adventures of the main character, Peter Dela Sangre.
3) Eden Trilogy by Harry Harrison
This series first came out in the 1980s, but I remember reading it in high school. I'd sit in my room, listening to the oldies rock station. The story was amazing and imaginative: What would have happened if the dinosaurs survived and evolved to have organic technology alongside stone age man?
2) Bitten by Kelley Armstrong
I read this book around ten years ago and it was my very first urban fantasy. I devoured Kelley's book and since that point became a fan of the genre.
1) Xenogenesis Series by Octavia Butler
By far, it was Octavia's books that made me think seriously about writing. The Xenogenesis Series is so thought-provoking and well written. It's set in a time when the human race is saved by aliens after war ravages the Earth. The aliens, who call themselves the Oankali, are biological traders. It is in their nature to collect and trade genes with other intelligent species. Lilith has a central role in the book as a human who must come to terms with how human race and the Oankali will be altered forever by the exchange.
The books are amazing! I remember inhaling first book in high school and then I couldn't wait to return back to the library to check out the next one. I highly recommend it. Matter of fact, just go ahead and read all her books. 🙂
Visit all the stops on the Keep What You Covet Close blog tour:
————————————————-
About the author:
Shawntelle Madison is a web developer who loves to weave words as well as code. She'd never admit it, but if asked she'd say she covets and collects source code. After losing her first summer job detassling corn, Shawntelle performed various jobs–from fast-food clerk to grunt programmer to university webmaster. Writing eccentric characters is her most favorite job of them all. On any particular day when she's not surgically attached to her computer, she can be found watching cheesy horror movies or the latest action-packed anime. She lives in Missouri with her husband and children.
Visit Shawntelle Madison online:
Website|Blog|Twitter|Facebook
Want to read more from Shawntelle Madison?
http://ws.amazon.com/widgets/q?rt=tf_ssw&ServiceVersion=20070822&MarketPlace=US&ID=V20070822%2FUS%2Fallthiurbfan-20%2F8003%2F2efade7c-94cf-4e34-a4e2-e7a4d4144485&Operation=GetDisplayTemplate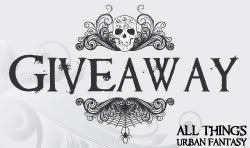 Giveaway provided by Shawntelle Madison
One copy of COVETED by Shawntelle Madison
Available on April 24 from Ballantine Books
Description:
SOMETIMES WHAT YOU COVET IS IMPOSSIBLE TO KEEP.
For werewolf Natalya Stravinsky, the supernatural is nothing extraordinary. What does seem strange is that she's stuck in her hometown of South Toms River, New Jersey, the outcast of her pack, selling antiques to finicky magical creatures. Restless and recovering from her split with gorgeous ex-boyfriend, Thorn, Nat finds comfort in an unusual place: her obsessively collected stash of holiday trinkets. But complications pile up faster than her ornaments when Thorn returns home—and the two discover that the spark between them remains intense.
Before Nat can sort out their relationship, she must face a more immediate and dangerous problem. Her pack is under attack from the savage Long Island werewolves—and Nat is their first target in a turf war. Toss in a handsome wizard vying for her affection, a therapy group for the anxious and enchanted, and the South Toms River pack leader ready to throw her to the wolves, and it's enough to give anybody a panic attack. With the stakes as high as the full moon, Nat must summon all of her strength to save her pack and, ultimately, herself.
Enter the giveaway via the widget below
---
Interested in guest blogging on All Things Urban Fantasy? Fill out our Guest Request Form