Have you joined #TeamAmity yet? There are tons of ways to get involved (and tons of amazing giveaways too) Just search #TeamAmity on twitter to enter them all & don't forget to clickety-click the Choose Amity links as often as possible. As promised, there are several fun ways to show your support for #TeamAmity and the upcoming book INSURGENT by Veronica Roth. Today kicks off a chance for you to win an amazing Dystopian YA Prize Pack including DIVERGENT & INSURGENT!
Which 14 titles can you win?
I adore Dystopian YA. I read a lot of it. A lot. DIVERGENT was one of my highest rated books of 2011 and so what better way to celebrate the upcoming release of INSURGENT than by giving away some of my all time favorite Dystopian YA titles:
*UPDATE* If you already own/have read these titles, you may substitute other Dystopian YA titles
The Hunger Games (The Hunger Games, #1) by Suzanne Collins
Catching Fire (The Hunger Games, #2) by Suzanne Collins
Mockingjay (The Hunger Games, #3) by Suzanne Collins
Inside (Insider, #1-2) by Maria V. Snyder
Under the Never Sky by Veronica Rossi
Delirium (Delirium, #1) by Lauren Oliver
Pandemonium (Delirium, #2) by Lauren Oliver
Shatter Me (Shatter Me, #1) by Tahereh Mafi
Dark Parties by Sara Grant
Wither (The Chemical Garden, #1) by Lauren DeStefano
Fever (The Chemical Garden, #2) by Lauren DeStefano
Enclave (Razorland, #1) by Ann Aguirre
And of course:
Divergent (Divergent, #1) by Veronica Roth
Insurgent (Divergent, #2) by Veronica Roth
How do you enter this giveaway?
By recreating the INSURGENT cover! Yes, it's gorgeous and powerful and unique, but we Amity faction members are all about artistic creativity. So let's see what you all can come up with.
Rules & Guidelines:
Giveaway is open Internationally

There will be two winners: The winner of the best cover will choose three titles to receive. One runner up will choose one title to receive

Submit as many INSURGENT cover recreations as you like

Please do not use inappropriate images (nudity etc.)

Post your cover re-create somewhere online (your blog, twitter, facebook, or even a free hosting site like Photobucket) and then comment on this post with a link to your cover. DO NOT attach your image in an email.

Giveaway is open until Saturday April 28th. The winning covers will be poste
d here on April 30th
Inspiration & Resources
Check out the Amity Tumblr (tons of cool images).
Visit the Team Amity Faction Leader site: Divergent Lexicon
Check out the very cool (and very different) UK covers of DIVERGENT & INSURGENT: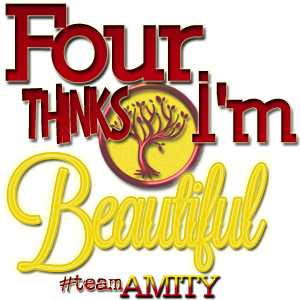 Can't get enough of Four? Dying to hear more from him? If we reach 35,000 preorders of INSURGENT, HarperCollins will release a piece of never-before-seen original writing by #1 New York Times bestselling author Veronica Roth—a pivotal scene from DIVERGENT retold from Four's point of view (squeal)! Grab the widget, pre-order your copy today (if you've already pre-ordered, it counts toward our goal!) and spread the word to your friends. Let's FREE FOUR, Divergent Nation!