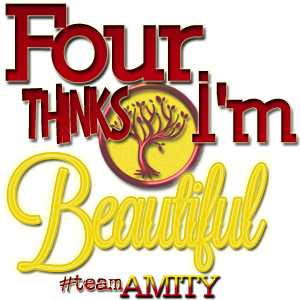 You guys have been hearing me talk all week about #TeamAmity and all the INSURGENT love my faction members are trying to spread. Well now it's time for you to officially JOIN TEAM AMITY too!
If you love music, art, and even reading fiction, you belong on Team Amity. We're not just about peace, we're also about enjoying life's simple pleasures.
Our faction believes in common consent, and reaching decisions that everyone can agree on.
We are self-sustaining and have GREAT food.
And, of course, Four thinks we are beautiful
The first 40 people to sign up with Team Amity will receive swag. (It's good stuff)
Every person who signs up will get a Four Thinks I'm Beautiful bookmark.
Members of Team Amity will receive 5 extra entries into our group giveaway (starting Monday, and it's EPIC)
You will receive an email from your faction leader with special graphics that you can use on your blog, twitter, and facebook pages.
Team members will also be eligible for special challenges and prizes throughout the month.
Fill out our form below so that we can email you!
Post our amazing graphics on your twitter, facebook page, or blog! (we'll email you with a graphics pack to choose from)
Tweet/pimp one of our links! (http://bit.ly/choose_amity & http://bit.ly/amityfaction) & Don't forget to click them yourself!
I just joined #TeamAmity #divergentnation http://bit.ly/choose_amity
Write a blog post about joining Team Amity (will also earn you extra entries in the BIG upcoming giveaway!)
Don't wait, Join me on Team Amity today!
About the author
I am a book lover with an obsession for all things urban fantasy. I cut my teeth on the paranormal genre with Buffy and Twilight before discovering Patricia Briggs and Ilona Andrews. Suffice it to say I've never looked back. I am the co-founder of ARC Swap, and in 2011 I managed the Urban Fantasy portal on both Facebook and Twitter for Tor.com covering 'everything that goes bump in the night in books, movies, TV, and more.'