We are excited to welcome back Laurie London, author of the much loved Sweetblood series. The latest installment, TEMPTED BY BLOOD (available now from HQN Books) was described in Abigail's review as, "imaginative and sensual, the Sweetblood paranormal romance series is one I keep going back to." The covers are what first drew us to this series, but it's the stories that keep us coming back for more. Speaking of those covers, Laurie is spilling inside details about how they created such a sizzling look for the series.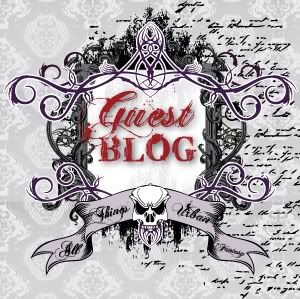 Judging A Book By Its Cover
by
Laurie London
Thanks, Abigail, for having me on today. Hi, everyone! Since the third Sweetblood book, Tempted By Blood, just came out and the series has received a lot of cover love, I thought I'd share what I know about the cover creation process.
The first book, Bonded By Blood, required more back and forth between my publisher's art and editorial departments (which included my input) than Tempted. Once a cover look for the series was decided, it remains consistent with the other books and doesn't need to be reinvented each time.
An in-your-face close-up of a hot guy. Fangs that read sexy, but not horror. The same title and author fonts. It's mainly the colors and models that change with each book.
HQN, my publisher, began working on Tempted's cover almost a year ago. The information they needed from me was like doing a literary analysis about the book…but before it was finished. Not only did they need physical descriptions of the hero and the heroine, but they wanted to know what makes the characters tick, the major themes, the key turning points, any motifs or images and their significance (Dom's filigreed ring from Bonded), as well as important setting details.
Can you imagine? It's the most fun I've ever had writing a term paper!
They don't use stock photography for my covers either—they use actual models from a modeling agency in Toronto.
When the cover for Bonded was shot, the story goes that they weren't planning to use fangs. I wasn't all that crazy about them and neither was my editor. However, on a whim, the photographer, who happened to have a set of plastic fangs with him anyway, had the model put them in for a few of the shots. When they compared the pictures side-by-side, the images with the fangs were sexier, more dangerous, more in-your-face than the ones without, so they went with that look instead.
Another story I've heard is that art directors cringe when the hero of a book has longish hair. Apparently, most male models with long hair don't have the kind of body that says romance hero. In fact, check it out for yourself. Look through a few modeling agency Lookbooks. Longhaired guys tend to be skinny, almost emaciated hipsters. It's the shorthaired models who tend to be buff. This explains why books with longhaired heroes often have a shorthaired guy on the cover (unless the hair is Photoshopped).
As I did revisions for book two, Embraced By Blood, I saw the cover for the first time and noticed Alfonso had short hair. That's why, at the end of the manuscript, I added the part where Lily runs her fingers through his newly cropped hair (thus matching the cover image), saying she misses his longish hair. He tells her he cut it to signify the transformation he went through, that he feels like a new man this way.
If only Tommy Dunn or a longer haired David Beckham could've posed for the cover of Tempted By Blood. But since that wasn't possible, the model they used for Jackson is pretty hot. I'll take short hair and muscles over a long-haired skinny guy any day of the week.
Good thing Santiago in Seduced By Blood, book 4, has short hair. I'm sure that made the art department happy!
So what do you think? Have you read a book where the cover perfectly matches the hero/heroine? How about the opposite? (I have a friend who wouldn't read a book in one of her favorite series for the longest time because the guy on the cover looked like a baseball player she hated.)
————————————————-
About the author:
A graduate of Western Washington University with a BA in Business Administration and a former tester/programmer for a Fortune 500 company, Laurie London now writes from her home near Seattle where she lives with her husband and two children.
Her writing has won and been a finalist in several prestigious contests including the Beacon, the Emerald City Opener, the Marlene, and the Orange Rose.
When not writing, she can be found running, reading, or riding and showing her horse. Someday she hopes to qualify for the Quarter Horse World Show – that is, if her horse doesn't get hurt again.
Visit Laurie London online:
Website|Blog|Twitter|Facebook
Want to read more from Laurie London?
http://ws.amazon.com/widgets/q?rt=ss_ssw&ServiceVersion=20070822&MarketPlace=US&ID=V20070822%2FUS%2Fallthiurbfan-20%2F8003%2F03eb462e-ebbd-41bd-9ebe-0302ecce6971&Operation=GetDisplayTemplate
Book Details
Available now from HQN Books
Description:
Deep within the forests of the Pacific Northwest, the battle for supremacy rages on between two Vampire coalitions:
Guardian enforcers sworn to protect humanity, and Darkbloods, rogues who kill like their ancient ancestors….
He might be known for his effortless charm, but Guardian Jackson Foss is hiding a terrible secret. For months, he has battled the emergence of his dark nature—deadly urges that threaten to consume him. And those cravings only intensify when he meets Arianna Wells, the human he's been assigned to protect. Smart and perceptive, Arianna doesn't seem like a dangerous temptress. Yet she awakens in Jackson an unstoppable need that, if left unchecked, will brand him a traitor…a crime punishable by death.
But soon their bond may be Arianna's only hope. For stalking her in the shadows is a merciless enemy—one who will stop at nothing to claim her completely….
Read an excerpt|Read our review
---
Want to be a guest? Fill out our Guest Request Form