Today is the release of FAIR GAME, the third book in Patricia Briggs Alpha and Omega series (a spin-off of her Mercy Thompson series), which I reviewed earlier today saying that "Briggs is a master storyteller and her deft handling of mythology makes even the most fantastical supernatural worlds feel not just plausible, but every bit as real as our own." In celebration of the new release, Ace has offered a copy of ON THE PROWL, which contains the first Alpha and Omega story. Did I mention it's signed by Patricia Briggs!
Giveaway provided by Ace Books
One signed copy of ON THE PROWL by Patricia Briggs, Eileen Wilks, Karen Chance, Sunny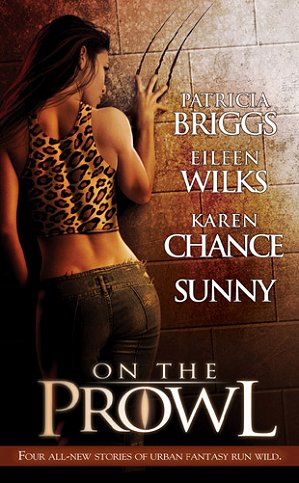 Available now by Berkley
Description:
These all-new paranormal romances from today's hottest authors feature a female werewolf who comes into her own; a Lord who crosses paths with a fiery mage; a mixed-blood Child of the Moon who faces an uncertain future; and a woman whose sixth sense proves to be a dangerous talent.
Alpha and Omega by Patricia Briggs
The werewolf Anna finds a new sense of self when the son of the werewolf king comes to town to quell unrest in the Chicago pack- and inspires a power in Anna that she's never felt before.
Inhuman by Eileen Wilks
Kai has a secret gift of sensing thoughts and desires. What she senses in her neighbor Nathan could be dangerous. Because he has a secret gift, too, and it's about to be let loose.
Buying Trouble by Karen Chance
In a New York auction house, a Lord of the Fey crosses paths with a fiery redheaded mage named Claire. But in this strange underground society, the rarity up for sale is Claire herself.
Mona Lisa Betwining by Sunny
Among the children of the moon, Mona Lisa is of Mixed Blood- part Monere, part human, and destined to be alone. Then she meets a man who could be her salvation- or her downfall.
Read an excerpt |Read our review
Enter the giveaway via the widget below
---
Interested in offering a giveaway on All Things Urban Fantasy? Fill out our Giveaway Form
About the author
I am a book lover with an obsession for all things urban fantasy. I cut my teeth on the paranormal genre with Buffy and Twilight before discovering Patricia Briggs and Ilona Andrews. Suffice it to say I've never looked back. I am the co-founder of ARC Swap, and in 2011 I managed the Urban Fantasy portal on both Facebook and Twitter for Tor.com covering 'everything that goes bump in the night in books, movies, TV, and more.'