The most romantic day of the year is right around the corner, so this year, we've invited two supernatural storytellers to help us all celebrate Paranormal Valentine's Day.  Gena Showalter and Jill Monroe have teamed up to create the perfect read for the holiday: DATING THE UNDEAD (available now from Harlequin).  "This unique guide to dating the undead is formatted just like your favorite magazine… with a paranormal edge. "Dating the Undead" includes tips for dating an immortal, beauty secrets to look eternally fresh, fun quizzes, recipes (including some killer cocktails), tons of photos, and plenty of other fun (and sometimes humorous) articles. The magazine also features ghoulish ads for brands like Coffin Klein, Vladimir's Secret, G'Oréal, Rot Pockets, Jimmy Chew, Got Bludd?, and many others. Haven't heard of these brands? Maybe your undead friends have." Julia's review is coming soon (she emailed me the day she got it to gloat about how 'fabulous' it was), but we've got a little taste for you in the form of the Top 10 Pick Up Lines You Might Hear from an Immortal & a chance to win DATING THE UNDEAD.
You can read all the previous Top 10 Lists HERE
Top 10 Pick Up Lines You Might Hear from an Immortal
by
Gena Showalter & Jill Monroe
Is It Hot In This Dungeon Or Is It You?

The Moon Isn't Full Tonight, But I Bet I Can Make You Howl

I'm Happy Angels Know CPR, Because You Take My Breath Away

Excuse Me Sexy, You're So Hot I Think You Stole My Fire

Baby, Forget Tonight, Let Me Bite You And We Could Block Out Forever

I Have An Eternity And I'd Love To Spend It With You

I Know I Don't Have A Chance, But I Just Wanted To Have A Conversation With Another Angel

Do You Taste As Good As You Look?

You're So Hot When I Look At You I Start To Burn

I'm Not Cold, I Just Need You To Warm Me Up
————————————————-
About the author:
Gena Showalter is the New York Times and USA TODAY bestselling author of the acclaimed Lords of the Underworld series and more than thirty other books. She can most often be found walking around talking to the hot otherworldly guys in her head. Visit her at www.genashowalter.com.
Jill Monroe is the award-winning author of more than eight romance novels. She is convinced every person she meets is more than human, and spends most of her nonwriting time trying to figure out if they're werewolf, vampire, zombie—or, in her husband's case, demon. Sometimes she updates her website, which is www.jillmonroe.com.
Want to read more from Gena Showalter & Jill Monroe?
http://ws.amazon.com/widgets/q?rt=tf_ssw&ServiceVersion=20070822&MarketPlace=US&ID=V20070822%2FUS%2Fallthiurbfan-20%2F8003%2Fa663998e-b59d-4777-9ee4-928593524fd9&Operation=GetDisplayTemplate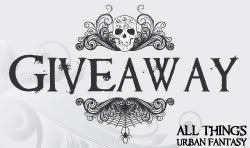 Giveaway provided by Planned Television Arts
One copy of DATING THE UNDEAD by Gena Showalter and Jill Monroe
Available now from Harlequin
Description:
They're Drop-Dead Handsome—and We're Not Kidding!
Welcome to the first and only magazine devoted to loving the immortal man in all of his furry, feathery, fiery glory. As always, this month's issue is a forbidden-fruit salad of features, fiction, fashion, and more, including:
Blood Stains on His Collar, Doritos in His Bed: Is Your Immortal Just a Little Bit…Immoral?
A Kiss is Not Just a Kiss: Immortals We Crave Divulge Their Lip-smacking Turn-ons
Off the Set with the Real Vampires of Vegas: Your Favorite AfterLifetime TV Vamps Let Their Hair Down
Killer Cocktails to Slay Your Dragon, Slake Your Vampire, or Singe Your Angel
Plus your favorite columns and departments:
Ask Gabrielle: Angelic Etiquette for Modern Gals and Ghouls
A View from a Guy: Zombie Jack's Turn
Undead and Well-Read: What's Hot Between the Covers This Month
Angel in the Kitchen: Heavenly Dishes That Don't Take an Eternity to Prepare
There's even a page-turning, strange-but-true paranormal romance that'll keep you up all day! Don't get caught UNDEAD without it!
Read an excerpt|Review coming soon!
Enter the giveaway via the widget below
---
Interested in being a guest on All Things Urban Fantasy? Fill out our Guest Request Form