Today we are welcoming Allison Pang, author and artist responsible for the Abby Sinclair urban fantasy series. We're gearing up for the second book in the series, A SLIVER OF SHADOW (available on February 28, 2012 by Pocket Books), which Abigail reviewed last week. What better way to get excited for more Abby and Phin than looking at some of the amazing art inspired by the series. Let us know which one is your favorite in the comments.
You can read all the previous Top 10 Lists HERE
Top 10 Images Inspired by the Abby Sinclair Series
by
Allison Pang
I've been rather fortunate to know so many fabulous artists who have graced me with their wonderful talents over the last year or so. With that in mind, here's a few of my favorite pieces. (Some of these are gifts and some of these were commissioned by me for various projects.)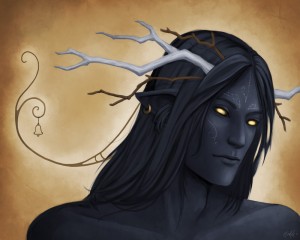 Brystion ~~ Darchala (http://darchala.deviantart.com)
Darchala does nearly all the artwork for my website, including my trading cards. She has a knack for being able to capture the most ethereal bits of my characters with absolutely gorgeous palettes.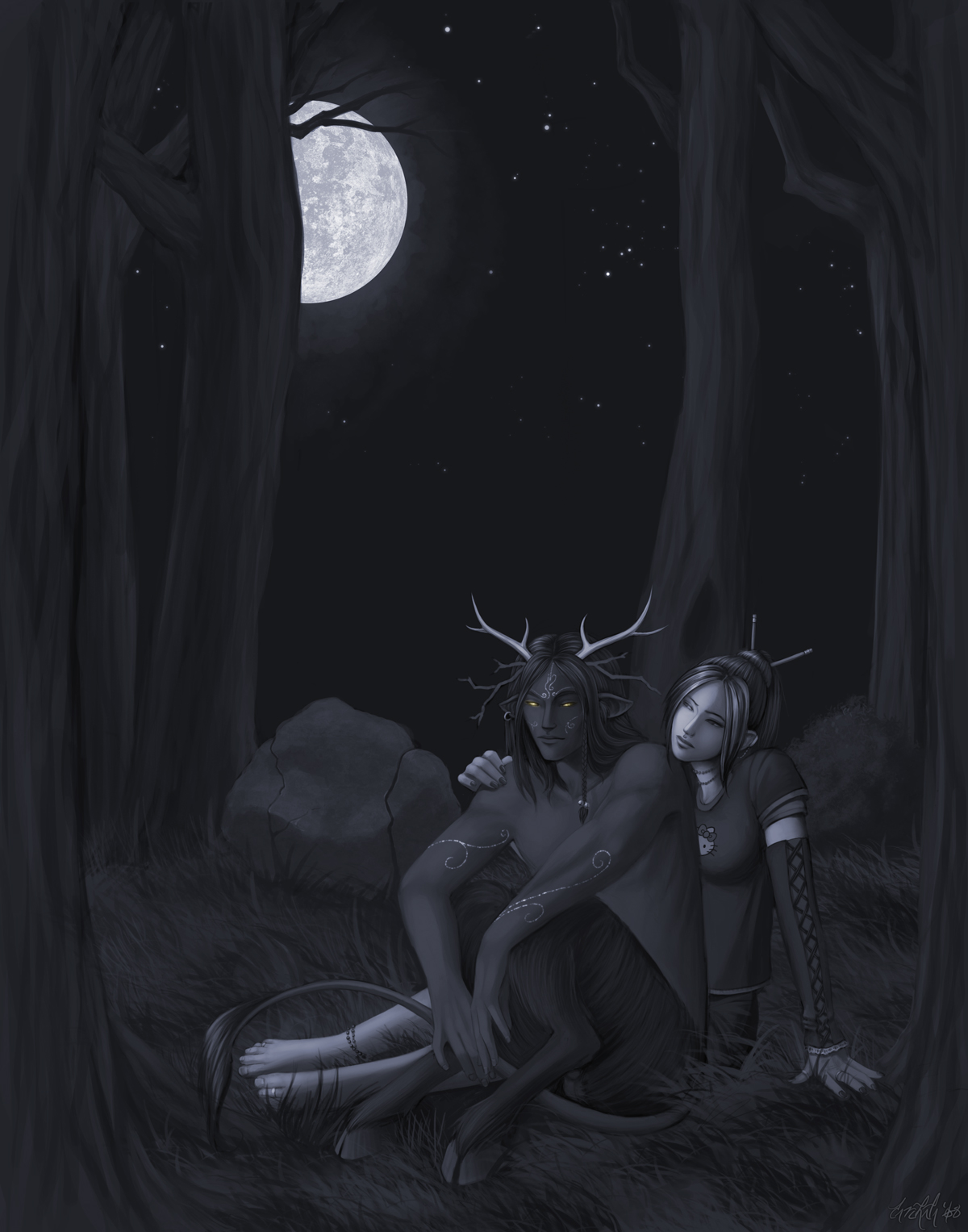 Satyr-Day Night ~~ Darchala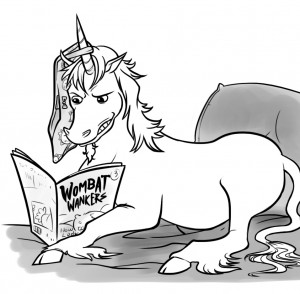 Phineas ~~ Jakface (http://enerjak.deviantart.com)
Jakface is a brilliant comic artist – she's my go-to girl whenever I want something quirky and fun and super fast. Her sense of humor really shines through every piece she does.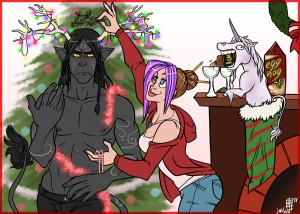 Merry Merry ~~ Jakface (This print is available for Holiday cards via my Zazzle shop.)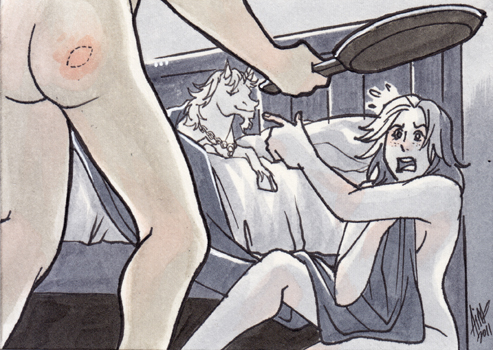 Naked Incubus in My Bedroom ~~ by Aimo (http://aimo.deviantart.com )
Aimo is another fabulous comic artist with a huge fan following in the gaming industry (via Bioware's Dragon Age and Mass Effect.) She and I are actually collaborating on our own online graphic novel project that will go live in the spring. (You can find out more about it at http://www.sadsausagedogs.com )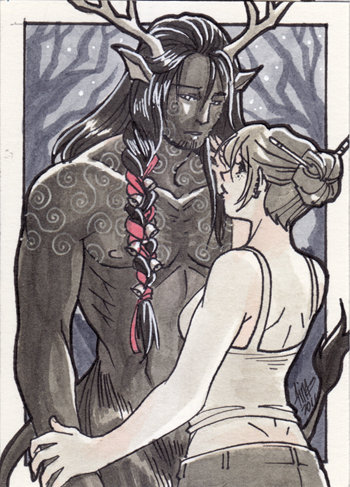 Broken ~~ Aimo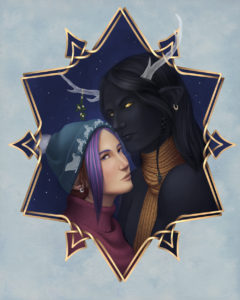 Holly King ~~ Darchala (This will be available as a print next winter/holiday season).
Talivar ~~ Darchala (Available as a trading card from A Sliver of Shadow)
Brystion ~~ Jakface
Dreameater ~~ Allison Pang (this was one of my earlier efforts via Poser since I'm not really much of an artist, but out of all the ones I've attempted to do, it's definitely my favorite.)
For larger versions of most of these artworks (and a chance to see a few of the NSFW variety), you can head over to my website http://www.heartofthedreaming.com Under the Extras menu there's a few subcategories for Art, Sketchcards and Trading Cards with some additional pieces. J
————————————————-
About the author:
A marine biologist in a former life, Allison Pang turned to a life of crime to finance her wild spending habits and need to collect Faberge eggs. A cat thief of notable repute, she spends her days sleeping and nights scaling walls and wooing dancing boys….Well, at least the marine biology part is true. But she was taloned by a hawk once. She also loves Hello Kitty, sparkly shoes, and gorgeous violinists.
She spends her days in Northern Virginia working as a cube grunt and her nights waiting on her kids and cats, punctuated by the occasional husbandly serenade. Sometimes she even manages to writ
e. Mostly she just makes it up as she goes.
Visit Allison Pang online:
Website|Blog|Twitter|Facebook
Want to read more from Allison Pang?
http://ws.amazon.com/widgets/q?rt=tf_ssw&ServiceVersion=20070822&MarketPlace=US&ID=V20070822%2FUS%2Fallthiurbfan-20%2F8003%2F76d70758-3067-43ef-b7c1-6179f867106f&Operation=GetDisplayTemplate
Book Details
Available on February 28th from Pocket Books
Description:
WAR IS HELL. AND WAR WITH HELL IS NO FUN EITHER.
Just when her new life as a TouchStone—a mortal bound to help OtherFolk cross between Faery and human worlds—seems to be settling down, Abby Sinclair is left in charge when the Protectorate, Moira, leaves for the Faery Court. And when the Protectorate's away . . . let's just say things spiral out of control when a spell on Abby backfires and the Faery Queen declares the Doors between their worlds officially closed. The results are disastrous for both sides: OtherFolk trapped in the mortal world are beginning to fade, while Faery is on the brink of war with the daemons of Hell. Along with her brooding elven prince Talivar and sexy incubus Brystion, Abby ventures to the CrossRoads in an attempt to override the Queen's magic. But nothing in this beautiful, dangerous realm will compare to the discoveries she's making about her past, her destiny, and what she will sacrifice for those she loves.
Read an excerpt|Read our Review
---
Interested in being a guest on All Things Urban Fantasy? Fill out our Guest Request Form