I'm excited to have Joan Swan here today, telling us a little bit about the first installment in her Phoenix Rising series, FEVER. FEVER had me hooked from Chapter 1, the hero and heroine have so much drama and danger swirling around them I couldn't wait to find out how things would resolve. As my ARC arrived today, I'll be heading to the couch to satisfy my curiosity once I click "Post". Enter to win your own copy of FEVER below, or if you're not the gambling type, pre-order a copy for March 1. After reading Joan's interview, my finger is itching to pre-order BLAZE as well.

ATUF: I have been excited to read FEVER from the moment I saw the excerpt. Does the Chapter 1 that I read bear any resemblance to where you first started the story? What character or concept was the seed that got you started on FEVER?
Actually, the story always started here—in the hospital exam room where the hero, a convicted murderer, takes the heroine, a doctor filling in for an absent sonographer, hostage. That scene was the beginning of the idea for the book and everything else in the story stemmed from there.
Some elements of the scene changed from the original version because I first wrote Fever as a straight romantic suspense. So when I rewrote, Teague's paranormal ability and Cassie's reaction to it had to be included.
ATUF: You and your heroine share a similar professional background and your husband and Teague are both firefighters. Are there any parts of FEVER that readers would be surprised to hear came from real life experiences?
The idea for the Fever developed from a "What if..?" in my daily work life. I've been a sonographer for twenty years and one of the hospitals where I worked gained a huge prisoner clientele over a year's time span. I went from scanning two or three prisoners a week to scanning five to eight prisoners every single morning. I spent half my day surrounded by guards and inmates and it didn't take long to wonder, "What if a prisoner took someone hostage in an escape attempt?"
I think a lot of readers would actually be shocked to discover how easily an inmate situation could go bad in the hospital setting. Something as simple as a tip off from a hospital employee to a prisoner's family or one officer off his game that day has the potential to tip security off balance.
My coworkers and I were exposed to numerous unsafe situations. Most of those risks resulted from short staffing due to budget cuts, though there were several occasions when guards negligently left me alone or unobserved with prisoners, some restrained, some not. Mind you, all prisoners were from high security facilities—including two for the criminally insane, which houses sexual offenders.
Ninety percent of the time, the officers in CDC were friendly, professional and competent. I have great respect for the difficult work they do. I can't even imagine living with that stress day in and day out. Just as with any profession, there will always be a few members who let things slide or get lazy.
In relation to Teague and my husband, the only similarities come in the form of hazmat firefighting. (Except for the cover, which DH insists he posed for.)
ATUF: Your bio mentions that you enjoy romantic suspense, what inspired you to include paranormal aspects in your Phoenix Rising series?
The market.
I had completed and polished Fever as a straight romantic suspense and submitted to about a dozen agents. After receiving as many rejections, and before I sent it out to another dozen agents, my critique partner told me that the reason it wasn't getting picked up wasn't the story or the writing, but the genre. I was submitting Fever during the downturn of romantic suspense in the market and she told me that if I added a paranormal element to the story, I would have more success.
She and I brainstormed what type of paranormal element fit the idea I already had constructed and what type of paranormal I'd be comfortable writing. I was immediately excited about the way the story took on depth and knew that my CP had been right. (And she'll NEVER let me forget it.)
I took the leap. It took two months to rewrite the manuscript, started submitting again and had two offers of representation from fantastic agents within a month.
ATUF: The next book in your Phoenix Rising series, BLAZE, is due out in October of this year. What do you think readers of FEVER will enjoy in BLAZE? What will they be surprised by?
I think readers will love seeing Teague and Alyssa from FEVER as secondary characters in BLAZE. As a reader, I always wanted to know what characters' lives looked like after The End of a novel, which is why I'm a fan of epilogues. With BLAZE, it's really fun to see how Teague and Alyssa are faring after their ordeal and how their relationship has grown.
Another thing that's really fun about BLAZE is that the reader gets to meet a lot more of the firefighting team involved in the original hazmat fire and see how that has affected all their lives. This group functions like any family of siblings, complete with deep friendships, arguments, unconditional love and
lots of good natured bitching and sniping.
BLAZE turns up the heat on the series, and in rereading the manuscript I realized how much sexier this book is, which might surprise readers.
I also feel my writing skill deepened between FEVER and BLAZE, and I hope readers will find that a pleasant surprise.
ATUF: If FEVER were ever made into a movie, who would your dream, or to keep things interesting, nightmare cast be?
If you'd asked me that about BLAZE, I could have rattled off an actor and actress' name. FEVER is a little tougher. I'm a visual writer, so I choose images of people who look like my H/h in my mind, but I chose the characters for FEVER during revision, not prior to writing, so somehow they didn't fit quite the
same.
Can I get suggestions from the audience?
Hero: White male, 34yo, ripped, intense, dark (personality, not looks).
Heroine: Japanese American (or Hawaiian or Italian or … ) female, 28yo, strong personality.
ATUF: In advanced of reader comments, here's my vote! Michaela Conlin plays Angela on Bones, and I'm a huge fan of her performance. Joe Maganiello is giving me a new appreciation for Alcide on True Blood. I saw Maganiello in person at DragonCon this past year and he stopped me in my tracks. The man is a one person parade float of sexy. Growl, indeed…
ATUF: What are some of your favorite titles/authors in the paranormal genres?
Elisabeth Naughton – Eternal Guardians (and not because she's my CP)
Dean Koontz – What the Night Knows
Kalayna Price – Grave Witch
Oooo, so many more, but I'm blanking….
ATUF: Thanks so much for stopping by, Joan. Come back anytime!
————————————————-
About the author:
Joan Swan is a triple RWA® Golden Heart finalist and writes sexy romantic suspense with a paranormal twist. Her debut novel with Kensington Brava, FEVER, releases February 28, 2012. Her second novel, BLAZE, follows in October, 2012.
In her day job, she works as a sonographer for one of the top ten medical facilities in the nation and lives on the California central coast in beautiful wine country with her husband and two daughters.
Visit Joan Swan online:
Website|Blog|Twitter|Facebook|Goodreads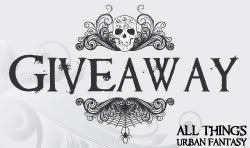 Giveaway provided by the Author.
One copy of FEVER by Joan Swan.
Available on March 1, 2012 from Brava.
Description:
When Dr. Alyssa Foster is taken hostage by a prison inmate, she knows she's in deep trouble. Not just because Teague Creek is desperate for freedom, but because the moment his fingers brush against her skin, Alyssa feels a razor-sharp pang of need…
A man with a life sentence has nothing to lose. At least Teague doesn't, until his escape plan develops a fatal flaw: Alyssa. On the run from both the law and deadly undercover operatives, he can only give her lies, but every heated kiss tells him the fire between them could be just as devastating as the flames that changed him forever…
Read an excerpt|Our review coming soon!
Enter the giveaway via the widget below
---
Interested in being interviewed on All Things Urban Fantasy?
CONTACT ME