It's the last day of the month which means it's time to check out what we're going to be reading next month in: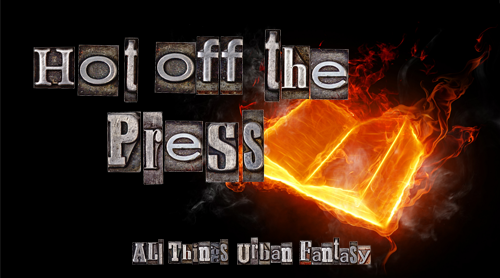 View all the previous Hot Off The Press posts here
(Here is the monthly conversation snippet from Abigail and her murderously hostile TBR Pile)
My TBR Pile: I dreamed of your death last night.
Me: Again?
My TBR Pile: Yes, I woke up smiling.
Me: That might be the sickest thing you've ever said to me.
My TBR Pile: Surely not. There was that time I described in exquisite detail how I would bludgeon you to death with all four hardcover editions of The Twilight Saga, which you bought in addition to the paperbacks you already owned!
Me: That was pretty graphic. I can't believe you're still whinnying about that. And I gave the paperbacks away, if you recall.
My TBR Pile: What is that?
Me: What is what?
My TBR Pile: Abigail…
Me: What? And you know I hate it when you say my name through your teeth like that.
My TBR Pile: I will not ask you again. Explain that.
Me:…You know exactly what it is.
My TBR Pile: I want to hear you say it. Out loud.
Me: You made me promise never to say those words again.
My TBR Pile: So help me…
Me: Box set. Are you happy? It's a box set of the first eight Sookie Stackhouse books.
My TBR Pile: And…
Me: …and the other three books in the series too. Don't look at me like that.
My TBR Pile: How am I looking at you?
Me: Like you're thinking of the best way to set fire to my hair while I'm sleeping.
My TBR Pile: That's eerily accurate.
Me: Don't act so shocked. And if you want someone to blame, blame Alan Bell and HBO Go. All four seasons of True Blood online. What did you expect me to do after I watched them all?
My TBR Pile: I expect nothing but the same callous, heartless, and cruel treatment that you have always shown me.
Me: Do you always have to be so dramatic?
My TBR Pile: Do you always have to be such a frigid bit—
Me: Forget it. I don't know why I even asked. And if you even think about coming near me with a match, I'll buy Sherrilyn Kenyon's Dark-Hunter series next, including the Were-Hunter and Dream-Hunter books too. You don't want to know how many of those there are.
My TBR Pile: You wouldn't.
Me:
My TBR Pile: Answer me one question: Was it worth it?
Me: The Sookie Stackhouse books? Oh, yeah.
—————————————–
*Release dates are subject to change. Many of the descriptions have been truncated for space. Clicking the 'more' link will take you to that title's Goodreads page where the full description may be read. Please visit our Titles Received For Review page to see which of these titles will be reviewed this month.
33 Adult Titles
Mass Market Paperback: 400 pages
Publisher: Forever; Import edition (February 1, 2012)
ISBN-10: 1455508594
ISBN-13: 978-1455508594

Firelight (Darkest London, #1)
by Kristen Callihan

London, 1881

Once the flames are ignited . . .

Miranda Ellis is a woman tormented. Plagued since birth by a strange and powerful gift, she has spent her entire life struggling to control her exceptional abilities. Yet one innocent but irreversible mistake has left her family's fortune decimated and forced her to wed London's most nefarious nobleman.

They will burn for eternity . . .

Lord Benjamin Archer is no ordinary man. Doomed to hide his disfigured face behind masks, Archer knows it's selfish to take Miranda as his bride. Yet he can't help being drawn to the flame-haired beauty whose touch sparks a passion he hasn't felt in a lifetime. When Archer is accused of a series of gruesome murders, he gives in to the beastly nature he has fought so hard to hide from the world. But the curse that haunts him cannot be denied. Now, to save his soul, Miranda will enter a world of dark magic and darker intrigue. For only she can see the man hiding behind the mask.

Mass Market Paperback: 352 pages
Publisher: Forever (February 1, 2012)
ISBN-10: 0446585114
ISBN-13: 978-0446585118

Kiss of the Vampire (Warriors of the Rift, #1)
by Cynthia Garner

Warriors of the Rift

Once a generation, the rift between the paranormal world and the human world opens, allowing supernatural entities to cross. Vampire, demon, or shapeshifter, they can save the world-or send it spiraling into chaos.

Half-demon, half-human, Nix de la Fuente is accepted by neither and mistrusted by both. Determined to prove she's more human than not, she devotes herself to solving crimes between the world's mortals and its most unsavory undead. But her latest case brings her face to face with the one vampire she could never resist . . .

Called in to investigate a string of violent murders, special agent Tobias Caine isn't interested in rekindling his relationship with Nix. Yet one look and the vampire knows his need for her is as strong as ever. Once, their all-consuming passion nearly cost Nix her fragile hold on her humanity. Now, as their hunger for one another intensifies, exposing them to an unimaginable danger, it could cost them both their lives.

Hardcover: 224 pages
Publisher: Indigo (February 2, 2012)
ISBN-10: 1780620047
ISBN-13: 978-1780620046

Something wicked this way comes… She thought she'd be safe in the country, but you can't escape your own nightmares, and Lis London dreams repeatedly that someone is trying to kill her. Lis thinks she's being paranoid – after all who would want to murder her? She doesn't believe in the local legends of witchcraft. She doesn't believe that anything bad will really happen to her. You never do, do you? Not until you're alone in the woods, after dark – and a twig snaps… Hollow Pike – where witchcraft never sleeps.

Paperback: 368 pages
Publisher: Signet (February 7, 2012)
ISBN-10: 0451236092
ISBN-13: 978-0451236098

Alpha Instinct (Moon Shifter, #1)
by Katie Reus

Ana Cordona has been a strong leader for the lupine shifters who survived after all the males and most of the females in her pack were mysteriously poisoned. As tough as she is, with no Alpha male, the pack is vulnerable to the devious shifter Taggart, who wants to claim both their ranch and Ana as his own. When Connor Armstrong comes back into her life, promising protection, it's almost enough to make Ana forget how he walked out on her before—and reluctantly accept his offer to mate.
The minute Connor sees Ana again, it reawakens a raw hunger. He must have her for his bondmate—his wolf cries out for it. But his human side knows he must proceed with caution because of their complicated past. If he is to truly have her body and soul, he must go beyond his burning desire and win back her heart. Whatever it takes, he is determined not to leave her side again.
But Taggart and his rival pack are not their only enemies. A human element in town is targeting shifters. Their plan not only threatens Ana and Connor's future, but the lives of the entire pack…

Paperback: 336 pages
Publisher: DAW (February 7, 2012)
ISBN-10: 0756407095
ISBN-13: 978-0756407094

Apocalypse to Go (Nola O'Grady, #3)
by Katharine Kerr

Nola O'Grady has enough trouble when a were-leopard accuses her of receiving stolen property. But when her younger brother Michael goes searching for their missing father, he lands himself and his brother, Sean, in a world of hurt-quite literally-in a deviant world version of San Francisco.

Can Nola and her partner in the Apocalypse Squad, Israeli Interpol agent Ari Nathan, find her brothers in time to save them from death by radiation poisoning? The search will lead them through a city of secrets, but the worst secret of all lurks at the heart of the only thing Nola loves more than Ari: her family.

Paperback: 352 pages
Publisher: Kensington (February 7, 2012)
ISBN-10: 0758271476
ISBN-13: 978-0758271471

Blood and Bullets (Deacon Chalk, #1)
by James R. Tuck

He lives to kill monsters. He keeps his city safe. And his silver hollow-points and back-from-the-dead abilities help him take out any kind of supernatural threat. But now an immortal evil has this bad-ass bounty hunter dead in its sights…
Ever since a monster murdered his family, Deacon Chalk hunts any creature that preys on the innocent. So when a pretty vampire girl "hires" him to eliminate a fellow slayer, Deacon goes to warn him—and barely escapes a vampire ambush. Now he's got a way-inexperienced newbie hunter to protect and everything from bloodsuckers to cursed immortals on his trail. There's also a malevolent force controlling the living and the undead, hellbent on turning Deacon's greatest loss into the one weapon that could destroy him…

Mass Market Paperback: 352 pages
Publisher: Sourcebooks Casablanca (February 7, 2012)
ISBN-10: 1402264348
ISBN-13: 978-1402264344

Deliver Me from Darkness (Paladin Warriors,#1)
by Tes Hilaire

A STRANGER IN THE NIGHT…
He had once been a warrior of the Light, one of the revered Paladin. A protector. But now he lives in darkness, and the shadows are his sanctuary. Every day is a struggle to overcome the bloodlust. Especially the day Karissa shows up at his doorstep.
COMES KNOCKING ON THE DOOR
She is light and bright and everything beautiful—despite her scratches and torn clothes. Every creature of the night is after her. So is every male Paladin. Because Karissa is the last female of their kind. But she is his. He may not have a soul, but he can't deny his heart.

Paperback: 384 pages
Publisher: Signet (February 7, 2012)
ISBN-10: 0451235878
ISBN-13: 978-0451235879

Eternal Captive (Mark of the Vampire, #3)
by Laura Wright

Since feeding her his blood, Lucian Roman has struggled with his obsession with Bronwyn Kettler-fighting an uncontrollable desire to kill her, if he has to, and the vampire she has sworn to wed. But when a dangerous enemy threatens Bronwyn, only Lucian can save her life. Even if it means sacrificing his own…

Mass Market Paperback: 352 pages
Publisher: Sourcebooks Casablanca (February 7, 2012)
ISBN-10: 1402263155
ISBN-13: 978-1402263156

King of Darkness (Chronicles of Yavn #1)
by Elisabeth Staab

ETERNAL COMMITMENT IS NOT ON HER AGENDA…
Scorned by the vampire community for her lack of power, Isabel Anthony lives a carefree existence masquerading as human—although, drifting among the debauched human nightlife, she prefers the patrons' blood to other indulgences. But when she meets the king of vampires this party girl's life turns dark and dangerous.
BUT TIME'S RUNNING OUT FOR THE KING OF VAMPIRES…
Dead-set on finding the prophesied mate who will unlock his fiery powers, Thad Morgan must find his queen before their race is destroyed. Their enemies are gaining ground, and Thad needs his powers to unite his subjects. But when his search leads him to the defiant Isabel, he wonders if fate has gotten it seriously wrong…

Paperback: 304 pages
Publisher: Berkley (February 7, 2012)
ISBN-10: 0425245039
ISBN-13: 978-0425245033

Midnight Enchantment (Dark Magick, #4)
by Anya Bast

A QUEST FOR FREEDOM MAY BE DERAILED BY THEIR INTENSE ATTRACTION…
Niall Quinn, mage and the finest thief in the Black Tower, is the fae's best hope for freedom. Only he stands a chance of tracking down and retrieving the missing bosca fadbh pieces from the Summer Queen. But he meets his match in Elizabeth Cely Saintjohn, who has taken control of the pieces on the Summer Queen's behalf—and has refused to give them up.
Elizabeth is an asrai, a rare English water fae, and she may be the only one in Piefferburg stealthier than Niall. She has her own reasons for guarding the two pieces and wanting the walls of Piefferburg to remain intact—even if it means denying her fae sisters and brothers their freedom. Her mother's life depends on it.
Torn between his duty to obtain the pieces at any cost—and the shocking lust Elizabeth has stirred in him—Niall must convince Elizabeth to surrender the pieces, or else he may have no choice but to destroy her and all she holds dear…

Paperback: 352 pages
Publisher: Jove (February 7, 2012)
ISBN-10: 0515150355
ISBN-13: 978-0515150353

Shaded Vision (Otherworld / Sisters of the Moon #11)
by Yasmine Galenorn

We're the D'Artigo sisters: sexy, savvy ex-operatives for the Otherworld Intelligence Agency. But being half-human, half-Fae means our powers could go haywire any time-mostly the wrong times. My sister Camille is a wicked-good witch with three sexy husbands. My sister Menolly is a vampire who's dating a werepuma. And me? I'm Delilah, a two-faced werecat and Death Maiden. I watch over things in the Supe Community, where trouble is about to go down hard…
It's Valentine's Day and we're preparing our friend Iris's wedding. But when we get word that the Supe Community Center has been bombed, things get really ugly. The evil coyote shifters-the Koyami-are back and Newkirk, their new leader has joined forces with a group of rogue sorcerers. Then, just as we think things can't get worse, the demon lord Shadow Wing sends in a new front man, and life really goes to hell…

Paperback: 320 pages
Publisher: Berkley (February 7, 2012)
ISBN-10: 0425246132
ISBN-13: 978-0425246139

Something About Witches (Arcane Shot, #1)
by Joey W. Hill

Ruby Night Divine is a witch who runs a gun shop. Magic can fail – she knows that first hand, having experienced it with full-blown tragic consequences, far beyond what Dr. Phil can fix. Smith & Wesson is a whole hell of a lot more reliable, and nothing's as cathartic as the ability to put a few holes in the things that piss you off. Like Derek Stormwind.
A powerful sorcerer, Derek is determined to get to the bottom of why she pushed him away and ran three years before. He also wants her help. A coven needs training to face a demon and his army of minions. Oh sure. It's amazing what sweet things a guy will offer to get back into a woman's heart, and into her bed.
Only in this case, she knows he never left her heart, and in her bed is exactly where she wants him to be. Unfortunately, her bed's already made, and she's close to losing her soul. And not even Smith & Wesson or Derek Stormwind can fix that.

Paperback: 320 pages
Publisher: Night Shade Books (February 7, 2012)
Language: English
ISBN-10: 1597803928
ISBN-13: 978-1597803922

Tooth and Nail
by Jennifer Safrey

Gemma Fae Cross, a tough-girl amateur boxer whose fiance is running for congress, has just made a startling discovery about herself. She is half faerie – and not just any faerie, but a tooth faerie! A hybrid of fae and human, Gemma is destined to defend the Olde Way and protect the fae – who are incapable of committing violence – from threats to their peaceful and idyllic way of life, which must be maintained by distilling innocence collected from children"s baby teeth. But when a threat to the fae mission emerges, Gemma is called upon to protect her heritage, and become a legendary fae warrior… even if it means sacrificing everything she knows about being human!

Mass Market Paperback: 320 pages
Publisher: Roc (February 7, 2012)
ISBN-10: 0451464427
ISBN-13: 978-0451464422

Unbroken (Outcast Season, #4)
by Rachel Caine

For millennia, Cassiel was a powerful Djinn-until she was exiled to live among mortals. Now the threat of an apocalypse looms, and Cassiel is in danger of losing everything she has come to hold dear…

As the world begins to fall apart around her, Cassiel finds herself fighting those she once called her own-the Djinn. With Weather Warden Luis Rocha and the rescued child Ibby by her side, Cassiel struggles to find a way to protect those that are in her charge and come to terms with the leadership role she never asked for.

Cassiel is opposed by a powerful Djinn bent on raising an army of kidnapped Warden children to bring about nothing less than the end of the world. It will take everything Cassiel has to stop the Djinn from starting a war that will wipe all of humanity from the face of the earth. She knows that this might not be a battle she can survive, but protecting those she loves is worth any cost…

Paperback: 464 pages
Publisher: Berkley Trade (February 7, 2012)
ISBN-10: 0425247198
ISBN-13: 978-0425247198

Underwater Love
by MaryJanice Davidson

Sleeping with the Fishes
Fred is a mermaid. But she's not blonde, or buxom, or even perky. In fact, she can be downright cranky-especially when weird levels of toxins are found in the local seawater. There is one perk: Thomas, the gorgeous marine biologist helping in the investigation. If you thought it would be easy for a mermaid to get to the bottom of things, think again.
Swimming Without a Net
To visit the undersea realm of Artur, the High Prince, and her royal merfamily, Fred's brought along Thomas to explore where no "lander" has gone before. But Fred is soon caught between two factions of merfolk: those happy with swimming under the radar-and those who want to bring their existence to the surface…
Fish Out of Water
The existence of the Undersea Folk is no longer a secret, and someone needs to keep them all from floundering in the media spotlight. Fred and Artur have all the right skills for the job, if not for staving off an impending civil war. But all the while, Fred has something else on her mind: the sexy human landlubber she left behind…

Paperback: 246 pages
Publisher: Night Shade Books (February 14, 2012)
ISBN-10: 1597803383
ISBN-13: 978-1597803380

When We Were Executioners (Dogsland Trilogy #2)
by J.M. McDermott

J. M. McDermott returns to Dogsland in the stunning novel When We Were Executioners, book two of a sweeping fantasy series that revels in the small details of life. Corporal Jona, the demon-stained Lord of Joni, died in the woods. His lover, the Senta Rachel Nolander, is a demon-tainted fugitive, running from the wolfskin-clad priest and priestess of Erin, who track her through the city based on dreams plucked from Jona's crying skull, plotting to cleanse the world of the lovers' demonic taint. Past and present collide as the tale of two ill-fated outcasts unfolds, and the executioners of Erin grow ever closer to their quarry.

Hardcover: 416 pages
Publisher: Knopf (February 14, 2012)
ISBN-10: 0307595110
ISBN-13: 978-0307595119

A daring new departure from the inspired creator of The Vampire Chronicles ("unrelentingly erotic. . . unforgettable."), the Lives of the Mayfair Witches ("Anne Rice will live on through the ages of literature"), and the angels of The Songs of the Seraphim ("remarkable."). A whole new world—modern, sleek, high-tech, and at its center, a story as old and compelling as history—the making of a werewolf, re-imagined and re-invented as only Anne Rice, teller of mesmerizing tales, conjurer extraordinaire of other realms, could create it.…more

Hardcover: 448 pages
Publisher: Harper Voyager (February 21, 2012)
ISBN-10: 0061957895
ISBN-13: 978-0061957895

A Perfect Blood (The Hollows, #10)
by Kim Harrison

Ritually murdered corpses are appearing across Cincinnati, terrifying amalgams of human and other. Pulled in to help investigate by the FIB, former witch turned day-walking demon Rachel Morgan soon realizes a horrifying truth — a would-be creator is determined to make his (or her) own demons. But it can't be done without Rachel's blood.
As a bounty hunter, Rachel has battled vampires, witches, werewolves, demons, and more. But humanity itself might be her toughest challenge.

Mass Market Paperback: 288 pages
Publisher: Harlequin (February 21, 2012)
ISBN-10: 0373618786
ISBN-13: 978-0373618781

Since the death of his claimed mate, the only thing that's kept Luc St. Just's heart beating is his quest for vengeance. His contempt for rogue vampires runs deep. So when a mysterious woman is brutally attacked, Luc's protective instincts—and his will to live—are suddenly reawakened….
As a werewolf who can't shape-shift, Dani Makar wants only to lead a "normal" life. But when the magnetically seductive Luc risks his life to save hers, Dani is torn between everything she believes…and an unstoppable, soul-deep desire.
Fiercely drawn to each other, these two sworn enemies fall into a passionate alliance. But evil's wrath cannot be underestimated, nor its ability to destroy…

Mass Market Paperback: 288 pages
Publisher: Harlequin (February 21, 2012)
ISBN-10: 0373618794
ISBN-13: 978-0373618798

The Half-Breed Vampire
by Theresa Meyers

Ignorant of his true heritage, half-breed Slade Donovan is fated to feel like an outsider among his clan. Until a mysterious woman arrives with the ability to unlock his secrets—and make him crave a future he never believed he could have….
As a game warden, Raina Ravenwing has only one mission in the Cascade Mountains: to hunt down a pack of rare wolves that is terrorizing her tribe. Her instant attraction to Slade is a distraction the beautiful wolf whisperer can't afford, unless she agrees to let him help her. Yet working so closely together only intensifies their passion…even as the unfolding truth of Slade's identity threatens everything Raina holds sacred.

Paperback: 368 pages
Publisher: Luna; Original edition (February 21, 2012)
ISBN-10: 0373803435
ISBN-13: 978-0373803439

Raven Calls (Walker Papers #7)
by C.E. Murphy

Something wicked this way comes…
Suddenly, being bitten by a werewolf is the least of Joanne Walker's problems.
Her personal life in turmoil, her job as a cop over, she's been called to Ireland by the magic within her. And though Joanne's skills have grown by leaps and bounds, Ireland's magic is old and very powerful…
In fact, this is a case of unfinished business. Because the woman Joanne has come to Ireland to rescue is the
woman who sacrificed everything for Joanne—the woman who died a year ago. Now, through a slip in time, she's in thrall to a dark power and Joanne must battle darkness, time and the gods themselves to save her.

Mass Market Paperback: 384 pages
Publisher: HQN Books (February 21, 2012)
ISBN-10: 0373776454
ISBN-13: 978-0373776450

Tempted by Blood (Sweetblood, #3)
by Laurie London

Deep within the forests of the Pacific Northwest, the battle for supremacy rages on between two Vampire coalitions:
Guardian enforcers sworn to protect humanity, and Darkbloods, rogues who kill like their ancient ancestors….
He might be known for his effortless charm, but Guardian Jackson Foss is hiding a terrible secret. For months, he has battled the emergence of his dark nature—deadly urges that threaten to consume him. And those cravings only intensify when he meets Arianna Wells, the human he's been assigned to protect. Smart and perceptive, Arianna doesn't seem like a dangerous temptress. Yet she awakens in Jackson an unstoppable need that, if left unchecked, will brand him a traitor…a crime punishable by death.
But soon their bond may be Arianna's only hope. For stalking her in the shadows is a merciless enemy—one who will stop at nothing to claim her completely….

Paperback: 368 pages
Publisher: Berkley (February 28, 2012)
ISBN-10: 0425246817
ISBN-13: 978-0425246818

Angels' Flight (Angels' Pawn #0.5, Angels' Judgment #1.5, Angel's Wolf #4.5, Angels' Dance #4.75)
by Nalini Singh

In Angel's Wolf a vampire becomes fascinated with the seductive angel who rules Louisiana. But all is not what it appears to be in her court.
In Angels' Judgment a hunter must track one of her own gone bad, while surviving the deadly tests placed in her way by the archangels themselves. Unexpected backup comes from a stranger who might just be the most lethal threat of all…
Plus FIRST TIME IN PRINT
In Angels' Pawn a vampire hunter faces off against two rival factions and the angel manipulating them both, and a vampire whose help is not entirely selfless…
And NEVER BEFORE PUBLISHED
In Angels' Dance an angel trapped in the mountain stronghold of the Refuge finds herself under siege by a warrior angel from a martial court.

Format: Kindle Edition
File Size: 5 KB
Print Length: 400 pages
Publisher: Pocket Books (February 28, 2012)
Sold by: Simon and Schuster Digital Sales Inc
ASIN: B005GG0KTY

A Sliver Of Shadow (Abby Sinclair, #2)
by Allison Pang

Just when her new life as a TouchStone – a mortal bound to help OtherFolk cross between Faery and human worlds – seems to be settling down, Abby Sinclair is left in charge when the Protectorate, Moira, leaves for the Faery Court. And when the Protectorate's away…let's just say things spiral out of control when a spell on Abby backfires and the Faery Queen declares the Doors between their worlds officially closed.
The results are disastrous for both sides: OtherFolk trapped in the mortal world are beginning to fade, while Faerie is on the brink of war with the daemons of Hell. Along with her brooding eleven prince Talivar and sexy incubus Brystion, Abby ventures to the CrossRoads in an attempt to override the Queen's magic. But nothing in this beautiful, dangerous realm will compare to the discoveries she's making about her past, her destiny, and what she will sacrifice for those she loves.

Paperback: 288 pages
Publisher: Ace (February 28, 2012)
ISBN-10: 1937007332
ISBN-13: 978-1937007331

Black Howl (Madeline Black #3)
by Christina Henry

Agent of Death Madeline Black is finding out that some of the spirits of Chicago aren't ready to cross over.
Something is wrong with the souls of Chicago's dead. Ghosts are walking the streets, and Agent of Death Madeline Black's exasperating boss wants her to figure out why. And while work is bad enough, Maddy has a plethora of personal problems too. Now that Gabriel has been assigned as her thrall, their relationship has hit an impasse. At least her sleazy ex-fiancé Nathaniel is out of the picture — or so she thinks…

Mass Market Paperback: 384 pages
Publisher: Pocket Books (February 28, 2012)
ISBN-10: 1451651767
ISBN-13: 978-1451651768

By a Thread (Elemental Assassin, #6)
by Jennifer Estep

When killing people is your job, there's no such thing as a vacation.

Then again, how often does an assassin live long enough to enjoy her retirement? In this line of work, you either get lucky or you get dead. And since I destroyed my nemesis Mab Monroe a few weeks ago, all of Ashland's lowlifes are gunning to make a name for themselves by taking out the lethal Spider—me, Gin Blanco. So I'm leaving behind my beloved barbecue joint and heading south with my baby sister, Bria, to cool my heels in a swanky beach town. Call it a weekend of fun in the sun. But when a powerful vampire with deadly elemental magic threatens an old friend of Bria's, it looks like I'll have to dig my silverstone knives out of my suitcase after all. Complicating matters further is the reappearance of Detective Donovan Caine, my old lover. But Donovan is the least of my problems. Because this time, the danger is hot on my trail, and not even my elemental Ice and Stone magic may be enough to save me from getting buried in the sand—permanently.

Mass Market Paperback: 352 pages
Publisher: Forever (February 28, 2012)
ISBN-10: 1455500151
ISBN-13: 978-1455500154

Darkness Bound
by Stella Cameron

WHEN NIGHT FALLS

After her husband's tragic death, Leigh Kelly arrives on Whidbey Island determined to start over. Yet the tiny town of Chimney Rock is not as peaceful as it seems. Women have been disappearing, and Leigh can't shake the feeling that she's being watched . . . especially at night. Soon, she's experiencing visions she can't explain and fighting her attraction to a handsome stranger who seems to know her most intimate desires.

PASSION TRANSFORMS THEM

As the leader of the Team, a pack of werehounds forced to hide their very existence, former special ops soldier Niles Latimer is desperate to prove a man's heart beats beneath his predator's body. And Leigh-the mysterious beauty possessing powers she doesn't yet understand-may be the one woman who can help him. But Niles isn't the only one who recognizes Leigh's true identity. Something evil is waiting in the woods-and the hunt has begun . . .

Paperback: 448 pages
Publisher: Brava (February 28, 2012)
ISBN-10: 0758266383
ISBN-13: 978-0758266385

When Dr. Alyssa Foster is taken hostage by a prison inmate, she knows she's in deep trouble. Not just because Teague Creek is desperate for freedom, but because the moment his fingers brush against her skin, Alyssa feels a razor-sharp pang of need…
A man with a life sentence has nothing to lose. At least Teague doesn't, until his escape plan develops a fatal flaw: Alyssa. On the run from both the law and deadly undercover operatives, he can only give her lies, but every heated kiss tells him the fire between them could be just as devastating as the flames that changed him forever…

Paperback: 304 pages
Publisher: Ace (February 28, 2012)
ISBN-10: 1937007286
ISBN-13: 978-1937007287

How to be Death (Calliope Reaper-Jones, #4)
by Amber Benson

All Calliope Reaper-Jones ever wanted out of life was a fabulous job in New York City and a really hot boyfriend. But now, she's the brand-new President of Death, Inc. With the Board of Death breathing down her neck and her dad's copy of How to be Death (A Fully Annotated Guide) unopened, Callie's really feeling the tension. And when the guide book is stolen at a fancy formal dinner, Callie has to figure out how to be the boss–before the powers held within the book get out and destroy humanity forever…

Paperback: 320 pages
Publisher: Zebra (February 28, 2012)
ISBN-10: 1420122711
ISBN-13: 978-1420122718

My Lord Vampire
by Alexandra Ivy

* Please note this is a reprint from the 2003 Historical
Vampire Series written as Deborah Raleigh *
In the first of a mesmerizing trilogy, Alexandra Ivy,
author of the Guardians of Eternity series, introduces the Immortal Rogues—three vampires duty-bound to protect their own kind even as they fall prey to mortal desires.
Centuries have passed since Gideon Ravel dwelled among humans. Now he must infiltrate the cream of London society to earn the trust of one woman. Simone, Lady Gilbert, possesses an amulet of unimaginable power, and no concept of the threat that surrounds her. The ton's gossip prepared him for her beauty and wit. But he is blindsided by her barely disguised sensuality and his growing need to possess her. None of the idle aristocrats who vie for Simone's attentions know about her past. To them, she is the sophisticated, worldly widow known as the "Wicked Temptress." The truth would ruin her, and she has never been tempted to reveal it until now. Yet beneath Gideon's bold, black-eyed stare is a hunger that demands satisfaction and complete surrender…and a secret far more dangerous than her own.

Mass Market Paperback: 368 pages
Publisher: Pocket Books (February 28, 2012)
ISBN-10: 1451641818
ISBN-13: 978-1451641813

Nice Girls Don't Bite Their Neighbors (Jane Jameson, #4)
by Molly Harper

Just as Jane Jameson's unlife seems to be stabilizing, fate sinks its fangs firmly into her butt. Despite her near-phobia of all things marital, her no-frills nighttime nuptials to her sexy boyfriend Gabriel are coming along smoothly. But the road to wedded bliss gets bumpy when a teenage acquaintance is fatally wounded in front of Jane's shop and she turns him to save his life. The Council pronounces Jane responsible for the newborn vamp until he can control his thirst.
Jane's kitchen at River Oaks barely holds enough Faux Type O to satiate the cute teen's appetite and maintain Gabriel's jealous streak at a slow simmer. As if keeping her hyperactive childe from sucking the blood out of the entire neighborhood isn't enough to deal with, the persnickety ghost of Jane's newly deceased Grandma Ruthie has declared a war on the fanged residents of River Oaks. Suddenly,
choosing monogrammed cocktail napkins and a cake that she can't eat seems downright relaxing in comparison.
Tensions inside the house are growing…and outside, a sinister force is aiming a stake straight for the center of Gabriel's heart. Most brides just have to worry about choosing the right dress, but Jane fears that at this rate, she'll never make it down the aisle for the wedding all nice girls dream of…

Mass Market Paperback: 512 pages
Publisher: HQN Books (February 28, 2012)
ISBN-10: 0373776578
ISBN-13: 978-0373776573

The Darkest Seduction (Lords of the Underworld, #9)
by Gena Showalter

Possessed by the demon of Promiscuity, immortal warrior Paris is irresistibly seductive-but his potent allure comes at a terrible price. Every night he must bed someone new, or weaken and die. And the woman he craves above all others is the one woman he'd thought was forever beyond his reach…until now.
Newly possessed by the demon of Wrath, Sienna Blackstone is racked by a ruthless need to punish those around her. Yet in Paris's arms, the vulnerable beauty finds soul-searing passion and incredible peace. Until a blood feud between ancient enemies heats up.
Will the battle against gods, angels and creatures of the night bind them eternally-or tear them apart?

Mass Market Paperback: 352 pages
Publisher: Del Rey (February 28, 2012)
ISBN-10: 0345524616
ISBN-13: 978-0345524614

Whispers Under Ground (Peter Grant #3)
by Ben Aaronovitch

A WHOLE NEW REASON TO MIND THE GAP
It begins with a dead body at the far end of Baker Street tube station, all that remains of American exchange student James Gallagher—and the victim's wealthy, politically powerful family is understandably eager to get to the bottom of the gruesome murder. The trouble is, the bottom—if it exists at all—is deeper and more unnatural than anyone suspects . . . except, that is, for London constable and sorcerer's apprentice Peter Grant. With Inspector Nightingale, the last registered wizard in England, tied up in the hunt for the rogue magician known as "the Faceless Man," it's up to Peter to plumb the haunted depths of the oldest, largest, and—as of now—deadliest subway system in the world.
At least he won't be alone. No, the FBI has sent over a crack agent to help. She's young, ambitious, beautiful . . . and a born-again Christian apt to view any magic as the work of the devil. Oh yeah—that's going to go well.
18 YA Titles
ebook, 1st Edtion
Expected publication: February 1st 2012 by Tribute Books

Until Next Time (The Angel Chronicles, #1)
by Amy Lignor

How does a girl choose between the one who steals her heart and the one who owns her soul?
Matt and Emily were created for a specific job. Raised and trained as the ultimate angel/warrior team, they are sent down to save, defend, judge and forgive, depending on the 'life' they've been assigned. What they don't realize is that the power of human emotions, such as love, anger, passion and fear can take over even the best of souls, causing them to make mistakes and follow paths that lead to confusion and heartache.
When the reason for their training is finally revealed, the angel/warrior team find themselves thrust into a world they know nothing about. Matt takes over the life of Daniel, a young man with a great deal of baggage. Emily becomes Liz, a girl living in a remote village who relies on nothing more than her own strength to survive. A violent storm erupts one night, and framed in the window of Liz's establishment is a frightening face. Let in by the soul of a Good Samaritan, the two visitors bring with them a past full of secrets that could literally change an angel's path and a warrior's plans.
From murder to redemption, this angel/warrior team must find a way to keep the faith they have in each other in a world that's ripping them apart.

Digital
Expected publication: February 2nd 2012 by Walker Books Ltd
ISBN 1406339598 (ISBN13:9781406339598)

Daylight Saving
by Edward Hogan

This is a brilliant thriller ghost story by a new name in teenage fiction. When Daniel Lever is dragged to Leisure World Holiday Complex for some "time away" with his depressed dad, his expectations are low. Daniel is overweight, he hates sport, and his father has brought along his beloved tomato plant. But soon Daniel spots a girl swimming in the fake lake. Lexi is elegant and smart, but very mysterious. Why are her bruises getting worse each time she and Daniel meet? And is her watch really ticking backwards? A dark figure stalks the pair, and as British summer time approaches, Daniel has to act quickly. Their souls depend on it.

Reading level: Ages 18 and up
Mass Market Paperback: 320 pages
Publisher: NAL Trade; 1 edition (February 7, 2012)
ISBN-10: 0451235665
ISBN-13: 978-0451235664

Almost Everything (Vampire Princess of St. Paul, #3)
by Tate Hallaway

Whoever said vacations were relaxing?
To say half-vampire, half-witch Ana Parker has boy trouble is putting it lightly—something her text messaging bill can attest to. Her rocker ex-boyfriend Nikolai is trying to heat things up again, and high school hockey star Mathew wants her to try out with him for the Renaissance Festival. At least her sort-of boyfriend Elias isn't hounding her cell—considering the vampire knight is currently living in her basement.
Ever since her father banished Elias and Ana from the court of the Northern vampires, Ana has been trying to live a normal life. But when the Prince of the Southern Region vampires informs Ana that they're on the brink of war and she accidentally offers up Elias as a peace offering, the princess knows that she's going to need some help to get out of the situation.
With Ana's boy drama meter hitting an all time high, summer in St. Paul is heating up for all the wrong reasons…

Reading level: Ages 12 and up
Hardcover: 272 pages
Publisher: Putnam Juvenile (February 7, 2012)
ISBN-10: 0399257454
ISBN-13: 978-0399257452

Born Wicked (The Cahill Witch Chronicles, #1)
by Jessica Spotswood

A Great and Terrible Beauty meets Cassandra Clare in this spellbinding fantasy
Everybody knows Cate Cahill and her sisters are eccentric. Too pretty, too reclusive, and far too educated for their own good. But the truth is even worse: they're witches. And if their secret is discovered by the priests of the Brotherhood, it would mean an asylum, a prison ship—or an early grave.
Before her mother died, Cate promised to protect her sisters. But with only six months left to choose between marriage and the Sisterhood, she might not be able to keep her word . . . especially after she finds her mother's diary, uncovering a secret that could spell her family's destruction. Desperate to find alternatives to their fate, Cate starts scouring banned books and questioning rebellious new friends, all while juggling tea parties, shocking marriage proposals, and a forbidden romance with the completely unsuitable Finn Belastra.
If what her mother wrote is true, the Cahill girls aren't safe. Not from the Brotherhood, the Sisterhood—not even from each other.

Hardcover: 448 pages
Publisher: Grand Central Publishing (February 8, 2012)
ISBN-10: 1455503061
ISBN-13: 978-1455503063

Pure (Pure, #1)
by Julianna Baggott1

We know you are here, our brothers and sisters . . .
Pressia barely remembers the Detonations or much about life during the Before. In her sleeping cabinet behind the rubble of an old barbershop where she lives with her grandfather, she thinks about what is lost-how the world went from amusement parks, movie theaters, birthday parties, fathers and mothers . . . to ash and dust, scars, permanent burns, and fused, damaged bodies. And now, at an age when everyone is required to turn themselves over to the militia to either be trained as a soldier or, if they are too damaged and weak, to be used as live targets, Pressia can no longer pretend to be small. Pressia is on the run.

Burn a Pure and Breathe the Ash . . .
There are those who escaped the apocalypse unmarked. Pures. They are tucked safely inside the Dome that protects their healthy, superior bodies. Yet Partridge, whose father is one of the most influential men in the Dome, feels isolated and lonely. Different. He thinks about loss-maybe just because his family is broken; his father is emotionally distant; his brother killed himself; and his mother never made it inside their shelter. Or maybe it's his claustrophobia: his feeling that this Dome has become a swaddling of intensely rigid order. So when a slipped phrase suggests his mother might still be alive, Partridge risks his life to leave the Dome to find her.

When Pressia meets Partridge, their worlds shatter all over again.

Reading level: Ages 12 and up
Paperback: 336 pages
Publisher: Flux (February 8, 2012)
ISBN-10: 0738726621
ISBN-13: 978-0738726625

The Wood Queen (The Iron Witch, #2)
by Karen Mahoney

Donna Underwood is in deep trouble.An ancient alchemical order is holding her accountable for destroying the last precious drops of the elixar of life. Never mind the fact that Donna was acting to free her friend, Navin, from the dangerous clutches of the Wood Queen at the time. But what the alchemists have in store is nothing compared to the wrath of the fey. The Wood Queen has been tricked and Donna must pay. Get ready for all hell – quite literally – to break loose…

Reading level: Ages 14 and up
Hardcover: 464 pages
Publisher: Balzer + Bray (February 14, 2012)
Language: English
ISBN-10: 0062006061
ISBN-13: 978-0062006066

Arcadia Awakens (Arkadien, #1)
by Kai Meyer

To Rosa Alcantara, the exotic world of Sicily, with its network of Mafia families and its reputation for murder and intrigue, is just that—exotic and wholly unknown. But when her life in Brooklyn begins to fall apart, she must travel there, to her family's ancestral home, where centuries of family secrets await her.
Once there, Rosa falls head over heels for Alessandro Carnevare, the son of a Sicilian Mafia family, whose handsome looks and savage grace both fascinate and unsettle her. But their families are sworn enemies, and her aunt and sister believe Alessandro is only using Rosa to infiltrate the Alcantara clan. And when Rosa encounters a tiger one night—a tiger with very familiar eyes—she can no longer deny that neither the Carnevares nor the Alcantaras are what they seem…more

Reading level: Ages 13 and up
Library Binding: 352 pages
Publisher: HarperTeen (February 14, 2012)
ISBN-10: 0062024159
ISBN-13: 978-0062024152

"It is the story of Kendra and her first 300 or so years of life. In Bewitching, Kendra ponders whether to help out a modern day plain-looking stepsister, while also reflecting on her experiences in the 1666 British plague, the court of Louis XV, and on the Titanic." (Source: author's Facebook intro)

Reading level: Ages 12 and up
Hardcover: 432 pages
Publisher: Delacorte Books for Young Readers (February 14, 2012)
ISBN-10: 0385738315
ISBN-13: 978-0385738316

The Nightmare Garden (Iron Codex, #2)
by Caitlin Kittredge

Everything Aoife thought she knew about the world was a lie. There is no Necrovirus. And Aoife isn't going to succumb to madness because of a latent strain—she will lose her faculties because she is allergic to iron. Aoife isn't human. She is a changeling—half human and half from the land of Thorn. And time is running out for her.
When Aoife destroyed the Lovecraft engine she released the monsters from the Thorn Lands into the Iron Lands and now she must find a way to seal the gates and reverse the destruction she's ravaged on the world that's about to poison her.

Hardcover: 304 pages
Publisher: Simon Pulse (February 21, 2012)
ISBN-10: 1442409274
ISBN-13: 978-1442409279

A Beautiful Evil (Gods & Monsters, #2)
by Kelly Keaton

A power she can't deny. A destiny she's determined to fight.
When Ari first arrived in the dilapidated city of New 2, all she wanted was to figure out who she was. But what she discovered was beyond her worst nightmare. Ari can already sense the evil growing inside her—a power the goddess Athena will stop at nothing to possess.
Desperate to hold on to her humanity and protect her loved ones, Ari must fight back. But Athena's playing mind games, not just with Ari but with those she cares about most. And Athena has a very special plan for the brooding and sexy Sebastian.
Ari is determined to defeat Athena, but time is running out. With no other options, Ari must unleash the very thing she's afraid of: herself.

Reading level: Ages 13 and up
Hardcover: 432 pages
Publisher: HarperCollins (February 21, 2012)
ISBN-10: 0061852716
ISBN-13: 978-0061852718

Faery Tales & Nightmares
by Melissa Marr

Dangerous promises and beguiling threats swirl together in a dozen stories of enchantments dark and light by New York Times bestselling author Melissa Marr. Uncanny and unexpected creatures appear from behind bushes, rise from beneath the seas, or manifest from seasonal storms to pursue the objects of their attention—with amorous or sinister intent—relentlessly.
From the gentle tones of a storyteller's cadences to the terror of a blood sacrifice, tales of favorite characters from Marr's Wicked Lovely novels mix with accounts of new characters for readers to fall in love with…or to fear.
Lush, seductive, and chilling, Melissa Marr's stories revel in the unseen magic that infuses the world as we know it. more

Hardcover: 352 pages
Publisher: Simon & Schuster Books For Young Readers (February 21, 2012)
ISBN-10: 144240907X
ISBN-13: 978-1442409071

Fever (The Chemical Garden, #2)
by Lauren DeStefano

Rhine and Gabriel have escaped the mansion, but danger is never far behind.
Running away brings Rhine and Gabriel right into a trap, in the form of a twisted carnival whose ringmistress keeps watch over a menagerie of girls. Just as Rhine uncovers what plans await her, her fortune turns again. With Gabriel at her side, Rhine travels through an environment as grim as the one she left a year ago – surroundings that mirror her own feelings of fear and hopelessness.
The two are determined to get to Manhattan, to relative safety with Rhine's twin brother, Rowan. But the road there is long and perilous – and in a world where young women only live to age twenty and young men die at twenty-five, time is precious. Worse still, they can't seem to elude Rhine's father-in-law, Vaughn, who is determined to bring Rhine back to the mansion…by any means necessary.
In the sequel to Lauren DeStefano's harrowing Wither, Rhine must decide if freedom is worth the price – now that she has more to lose than ever.

Publisher: Entangled Publishing (February 21,2012)

Shadows (Lux, #0.5)
by Jennifer L. Armentrout

The last thing Dawson Black expected was Bethany Williams. As a Luxen, an alien life form on Earth, human girls are…well, fun. But since the Luxen have to keep their true identities a secret, falling for one would be insane. Dangerous. Tempting. Undeniable.
Bethany can't deny the immediate connection between her and Dawson. And even though boys aren't a complication she wants, she can't stay away from him. Still, whenever they lock eyes, she's drawn in. Captivated. Lured. Loved.
Dawson is keeping a secret that will change her existence…and put her life in jeopardy. But even he can't stop risking everything for one human girl. Or from a fate that is as unavoidable as love itself.

ebook
Publisher: Entangled Publishing (February 21st 2012)

Untouched (Denazen, #1.5)
by Jus Accardo

No description given.

Reading level: Ages 12 and up
Paperback: 368 pages
Publisher: St. Martin's Griffin (February 28, 2012)
ISBN-10: 0312614802
ISBN-13: 978-0312614805

Forgiven (The Demon Trappers, #3)
by Jana Oliver

Jana Oliver's third spellbinding Demon Trappers novel – following The Demon Trapper's Daughter and Soul Thief – brings all new thrills, as Riley Blackthorne takes on demons, love… and the future of the human race.

The days are growing darker for 17-year-old demon trapper Riley Blackthorne. With her father's reanimated body back safely, Beck barely speaking to her because of a certain hunky Fallen angel, and a freshly-made deal with Lucifer, she has enough on her hands to last a normal teenage lifetime. Though she bargained with Heaven to save his life, her ex-boyfriend Simon has told the Vatican's Demon Hunters that she's working with Hell. So now she's in hiding, at the top of everyone's most-wanted list.

But it's becoming clear that this is bigger than Riley, and rapidly getting out of control: something sinister is happening in Atlanta… or someone. The demons are working together for the first time ever and refusing to die, putting civilians in harm's way. Riley thinks she might know who's behind it all, but who's going to believe her? Caught between her bargain with Heaven and her promise to Lucifer, Riley fears the final war is coming – and it may be closer than anyone thinks…

Reading level: Ages 14 and up
Hardcover: 384 pages
Publisher: HarperCollins (February 28, 2012)
ISBN-10: 006197806X
ISBN-13: 978-0061978067

Pandemonium (Delirium, #2)
by Lauren Oliver

I'm pushing aside the memory of my nightmare,
pushing aside thoughts of Alex,
pushing aside thoughts of Hana and my old school,
push,
push,
push,
like Raven taught me to do.
The old life is dead.
But the old Lena is dead too.
I buried her.
I left her beyond a fence,
behind a wall of smoke and flame.

Lauren Oliver delivers an electrifying follow-up to her acclaimed New York Times bestseller, Delirium. This riveting, brilliant novel crackles with the fire of fierce defiance, forbidden romance, and the sparks of a revolution about to ignite.

Reading level: Ages 14 and up
Hardcover: 480 pages
Publisher: Balzer + Bray (February 28, 2012)
ISBN-10: 0062071041
ISBN-13: 978-0062071040

Partials (Partials, #1)
by Dan Wells

The human race is all but extinct after a war with Partials—engineered organic beings identical to humans—has decimated the population. Reduced to tens of thousands by RM, a weaponized virus to which only a fraction of humanity is immune, the survivors in North America have huddled together on Long Island while the Partials have mysteriously retreated. The threat of the Partials is still imminent, but worse, no baby has been born immune to RM in more than a decade. Our time is running out.
Kira, a sixteen-year-old medic in training, is on the front lines of this battle, seeing RM ravage the community while mandatory pregnancy laws threaten to launch what's left of humanity into civil war, and she's not content to stand by and watch. But as she makes a desperate decision to save the last of her race, she will discover that the survival of humans and Partials alike rests in her attempts to uncover the connections between them—connections that humanity has forgotten, or perhaps never even knew were there.
Dan Wells, acclaimed author of I Am Not a Serial Killer, takes readers on a pulse-pounding journey into a world where the very concept of what it means to be human is in question—one where our humanity is both our greatest liability and our only hope for survival.

Paperback: 304 pages
Publisher: Harlequin; Original edition (February 28, 2012)
ISBN-10: 0373210469
ISBN-13: 978-0373210466

Undeadly (The Reaper Diaries, #1)
by Michele Vail

The day I turned 16, my boyfriend-to-be died. I brought him back to life. Then things got a little weird…
Molly Bartolucci wants to blend in, date hottie Rick and keep her zombie-raising abilities on the down-low. Then the god Anubis chooses her to become a reaper—and she accidentally undoes the work of another reaper, Rath.
Within days, she's shipped off to the Nekyia Academy, an elite school that trains the best necromancers in the world. And her personal reaping tutor? Rath. Who seems to hate her guts.
Rath will be watching closely to be sure she completes her first assignment-reaping Rick, the boy who should have died. The boy she still wants to be with.
To make matters worse, students at the academy start turning up catatonic, and accusations fly—against Molly. The only way out of this mess? To go through hell. Literally.
---
Authors/Publishers: have a book coming out soon?
Contact us to schedule a visit/review/giveaway
Please leave a comment if we missed a title and we will update this post.