Virna DePaul has stopped by this afternoon to tell us a little bit about how her Para-Ops series has broadened her real life horizons. We often ask how an author's "day job" impacts their writing, today Virna gives us a glimpse of how the international action and drama of her characters has spiced up her actual day.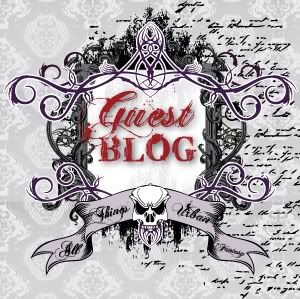 Life After Fiction
by
Virna DePaul
It's probably true that there's a little bit of me in each of the characters that I write. It's definitely true that in becoming a writer, I've had to face some fears and dig deep to investigate who I am, what I believe, and what I want out of life. Writing has forced me to try new things, in real life and in my imagination, that have helped me become a more well-rounded person. For example, I not only overcame my fear of flying and started traveling again (had to, in order to go to all those wonderful writing conferences!), but I've done some amazing things through my Para-Ops characters.
I've traveled across the U.S., and to North Korea and France.
Parachuted out of a spy plane in a bat suit.
Competed in drag down-knock out wrestling matches.
Ridden a motorcycle.
Pole danced and stripped in a night club.
Learned to fight with a knife, gun, or whatever else was handy.
Impregnated a vampire.
Had sex in various places in various ways with various….
Well, the list goes on and on. But truly, the one thing that I continue to experience through my characters is learning to love myself and others. In my paranormals, I bring love to vampires, weres, mages, wraiths, and shape-shifters. In my contemporaries, I bring love to ordinary humans, be they wounded cops or women struggling with the hands they were dealt. With every book I write, I hope I bring my readers not just love, but entertainment, emotion, pleasure, thrills, passion, empowerment, hope, and joy. It's a tall order, but it's always my intent.
————————————————-
About the author:
Virna's latest release is Chosen By Sin, Book 3 in the Para-Ops novels. You can read an excerpt and learn more at www.chosenbysin.com
Virna DePaul is a former prosecutor and now national bestselling author of the Para-Ops Novels. She also writes contemporary romantic suspense for Harlequin Romantic Suspense (It Started That Night, May 2012) and HQN (Shades Of Desire, June 2012).
Visit Virna DePaul online:
Website|Blog|Twitter|Facebook
Want to read more from Virna DePaul
http://ws.amazon.com/widgets/q?rt=tf_ssw&ServiceVersion=20070822&MarketPlace=US&ID=V20070822%2FUS%2Fwhaireatodand-20%2F8003%2F03b667f5-6a6e-430d-ba06-003657679ab0&Operation=GetDisplayTemplate
Available now from CreateSpace
Description:
Five years after the Second Civil War ends, humans and Otherborn—humanlike creatures with superhuman DNA—still struggle for peace. To ensure the continued rights of both, the FBI forms a Para-Ops team with a unique set of skills.
For now, werebeast Dex Hunt serves on the Para-Ops team, but his true purpose is to kill the werewolf leader he blames for his mother's death. Biding his time, Dex keeps his emotional distance from his team members and anyone else he might care for, including a mysterious vampire he met in LA.
As a doctor, vampire Jesmina Martin has dedicated her immortal life to healing others. As a scientific researcher, she's trying to prolong life spans, in particular those of her adoptive dragon-shifter family and the werewolf who saved her as a child. Her greatest hope lies with Dex, a werebeast she believes can gift immortality to others.
Only Dex knows nothing about his gift or the fact Jesmina wants to harness it. After a passionate night together neither expects to see the other again. Weeks later, they are reunited in France and forced to acknowledge a fragile miracle—a new life struggling to survive. At the same time, they must stop a group of rebel shape-shifters hoping to unleash every demon in hell. But before Dex and Jesmina can save their child or the world , they must relinquish their secrets, face their fears, and open themselves to love.
---
Interested in guest blogging on All Things Urban Fantasy? CONTACT ME