The Elder Races series is characterized by "interesting mythology, snappy dialogue, and smoking chemistry", and is definitely among my all time favorite Paranormal Romances.  The author behind the magic, Thea Harrison, has stopped by to answer some questions about her latest Elder Races novella, TRUE COLOR,S and give away an eARC to one lucky reader. TRUE COLORS is also available now from Samhain Publishing, so those who can't stand waiting to win can enjoy the sweet, instant delivery of buying their own copy.  In our interview today Thea talks a little bit about her writing career, offers insights into the hero and heroine of TRUE COLORS, and dropped hints about Elder Races #5 (that sound you hear is me squealing with joy, do not adjust your computer).  I hope you enjoy reading this conversation as much I enjoyed having it, thanks for stopping by! 

An Interview with Thea Harrison
ATUF: You took a break from writing to pursue a number of degrees, careers, and raise your family.  What was the catalyst that brought you back to writing?
The biggest catalyst was the economic downturn. I had always wanted to write another book, but it became the kind of thing that would happen someday whenever I found time. A combination of challenging factors came together that ended up providing an opportunity. I was not able to find a library job after graduating with my MLS, since libraries have been hit very hard by the recession, and the job I did have at a nonprofit was phased out. So I went down to part-time and the position ended. I was job hunting through all of this, and I literally put out hundreds of resumes and applications (I think I ended up with five interviews in total), and while this was going on, I decided to write DRAGON BOUND. After that, one thing led to another very rapidly. Within a few months, I had acquired an agent, and Cindy Hwang at Berkley was the first person my agent queried. A terrible time had become, for me, a dream come true.
ATUF: Though Dragos and Pia are my favorite Elder Races pair to date (with Rune and Carling close behind), each new couple slips into the spotlight so seamlessly I get the sense that it's the Elder Races world itself that is the true "main character" of this series.  Which, if either, came first for you in creating these books, the characters or the intricate mythology around them?
This is a very hard question to answer! The first thing that came were images, and then, I think, Pia and Dragos, but the mythology followed so soon afterward, it's hard to separate them. I haven't used some of the original images yet, and in fact I plan to in the next couple of books. I think you are probably correct, though, in calling the world itself the true "main character" that keeps getting bigger and more wonderful with every story I tell.
ATUF: As implied in the series name, most of your characters have hundreds if not thousands of years of backstory behind their present day Happily Ever Afters.  Do all of those years feel like a puzzle you have to solve or more like a playground that lets you stretch out and have some fun?
Both! I recently told Amy, my agent, that many series have a start and end definition to them. For example, a trilogy has a specific story arc. This series began with a book and a "wow, it would be cool if someone wanted a sequel." As a result, the world building for the Elder Races series feels kind of like one very long jazz session. I never know where the riffs are going to take me, and it's a constant challenge to keep the world building consistent with previous stories.
ATUF: If you could be a character living in the Elder Races world, what would you be and where would we find you?
This is always a fun question! I tend to answer this kind of thing according to mood. Today I feel a bit hermitlike, so I probably would choose to be a nesting Wyr of some sort that lives just outside a small town.
ATUF: As this is the first novella in the Elder Races series (and the first one from Samhain), can fans of the series expect a different flavor or angle in TRUE COLORS?
I think there's actually a great deal of consistency between the novella and the books. The entire series to date has a strong angle of urban fantasy to it, although I work to keep the stories grounded in paranormal romance by focusing exclusively on the male and female main characters.
However one thing I am exploring in the shorter stories (I've recently completed a second novella) is telling the story of characters that are more the type of people you might meet on the street if you lived in that world. The books tend to be bigger stories, with characters who are somehow influential on the world canvas. In TRUE COLORS, the two main characters are a cop and a school teacher.
ATUF: Alice and Gideon are the first couple in this series who we haven't met before in prior books, can you give us one of your favorite characteristics of either of them to whet our appetite?
One of the things that I love about Alice is that she is a quieter personality, and somewhat bookish. She's quite a contrast from someone like, say, Aryal, who is a total nutcase, as I imagine a harpy would be. And one of the things that I adore about Gideon is that he is a ex-soldier, looking to retire and figure out what "home" is. He knows he needs it, but he doesn't understand how to get there. I found him, while capable, strong and steady, also poignant and quite loveable.
ATUF: After enjoying TRUE COLORS (and ORACLE'S MOON this coming March) are there any projects your fans can look forward to?
The second novella in the Elder Races has gone out on submission… at the moment it has a working title NATURAL EVIL, and I will post and tweet updates if that title changes. I LOVED writing that story! No contract yet, so no publication date—yet. Also, I'm writing book five of the ER series, which is following Pia and Dragos again. They face a lot of challenges that have built up over the last several stories, and actually that means the story itself is quite challenging to write! Publication for book five is currently set for the autumn 2012.
I have another two book contract outside of the Elder Races series, which is untitled at this point.  The first book is slated to come out in 2013, and of course I'll post and tweet all about that too as more info becomes available.
Again, it's been a pleasure to visit with you, and to answer your questions. Thanks again for having me!
ATUF: Thanks so much for stopping by, Thea. Come back anytime!
————————————————-
About the author:
Thea Harrison is the pen name for author Teddy Harrison. Thea has traveled extensively, having lived in England and explored Europe for several years. Now she resides in northern California. She wrote her first book, a romance, when she was nineteen and had sixteen romances published under the name Amanda Carpenter.
She took a break from writing to collect a couple of graduate degrees and a grown child. She experienced waitressing as a teenager, has worked as an activist for a non-profit consumer rights organization, has been a receptionist, an office manager, a penniless graduate student, a director of development and research, and a single mom. Her graduate degrees are in Philanthropic Studies and Library Information Science, but her first love has always been writing fiction. She's back with her paranormal Elder Races series. The release date for her first paranormal, Dragon Bound, is May 3, 2011.
She adores animals and currently resides with several small pets that have very large personalities.
Visit Thea Harrison online:
Website|Twitter|Facebook
Want to read more from Thea Harrison?
http://ws.amazon.com/widgets/q?rt=tf_ssw&ServiceVersion=20070822&MarketPlace=US&ID=V20070822%2FUS%2Fwhaireatodand-20%2F8003%2Fde891ed5-a882-4abd-9502-d03874690c6f&Operation=GetDisplayTemplate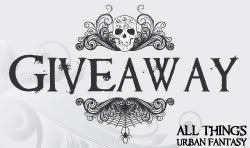 Giveaway provided by the Author
One eARC of TRUE COLORS by Thea Harrison
Available now from Samhain Publishing, Ltd.
Description:
Meeting your soulmate? Great. Preventing your possible murder? Even better.
Alice Clark, a Wyr and schoolteacher, has had two friends murdered in as many days, and she's just found the body of a third. She arrives at the scene only minutes before Gideon Riehl, a wolf Wyr and current detective in the Wyr Division of Violent Crime—and, as Alice oh-so-inconveniently recognizes at first sight, her mate.
But the sudden connection Riehl and Alice feel is complicated when the murders are linked to a serial killer who last struck seven years ago, killing seven people in seven days. They have just one night before the killer strikes again. And every sign points to Alice as the next victim.
Product Warnings
This book contains a hot police detective, a violent murderer on the hunt, and a heroine that can blend in anywhere…
Read an excerpt|Review Coming Soon!
Enter the giveaway via the widget below
---
Interested in being interviewed on All Things Urban Fantasy? 
CONTACT ME