It's the last day of the month which means it's time to check out which urban fantasy, paranormal romance, and paranormal YA titles we're going to be reading next month in: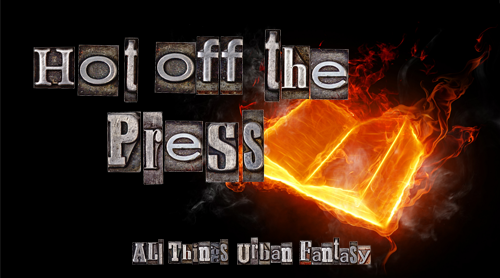 My TBR Pile: Good afternoon.
Me: I don't think I've ever heard you say those two words together before.
My TBR Pile: It is a good afternoon, isn't it?
Me: I guess so.  Are you feeling alright?
My TBR Pile: Do I look unwell?
Me: Well, no, but you don't look like yourself.  At all.  I mean, all your books are lined up, they aren't stacked in front of other books…wait a minute.  Did you alphabetize them?
My TBR Pile: You don't have to sound so shocked.  And yes they are alphabetized and even sorted by genre.
Me: [silence]
My TBR Pile: I can see I've struck you dumb.  Which I'll admit is a good look on you.
Me: I don't understand.
My TBR Pile: Which part is proving too advanced for your intellect? The alphabetization? It's quite simple really.  Do you remember 'A' is for apple?
Me: [eye roll] Why did you do all this?
My TBR Pile: Perhaps I was feeling nostalgic.  Do you remember how we used to organize me together?  I can still recall the feel of your fingers skating over the book spines…the little sounds you'd make when a shelf lined up perfectly…
Me: Stop that.  You've been trying to kill me for years, I can't just forget about all that.  Wait.  Is that what this is?  Are you trying to lull me into a false sense of security so I won't suspect it when you make your move?
My TBR Pile: You wound me with your suspicions.  Do I have to have a reason to clean up and compliment you?
Me: Yes.
My TBR Pile: Well then, can you think of no other reason for my change of heart?
Me: No.  I haven't done anything.  In fact I didn't even do the Hot Off The Press post this time…oh.  You met Kristina.
My TBR Pile: I did have that pleasure. 
Me: I take it you like her.
My TBR Pile: What's not to like?  She certainly knows her way around a shelf.
Me: Ugh. Do you have to make that sound so…so…
My TBR Pile:  Sound so what? 
Me: You know exactly what I mean and I'm sure Kristina doesn't appreciate it either.  She does have her own TBR Pile, or did you forget that?
My TBR Pile: My my.  If I didn't know you better, I might think you were jealous.
Me: I am not jealous.  It was my idea to get some extra help around here.  And Kristina is doing a great job.  We're getting ready to officially introduce her to everyone and already she's been a huge help behind the scenes. 
My TBR Pile: And she did do an exception job on this post, didn't she?  Dare I say better than you?
Me: Oh now I see what you're doing.  Is this your idea of a psychological attack?  You can't physically hurt me, so you're trying to mess with my head, play with my emotions?  Well it's not working.  I'm sorry you don't like your job, but you are a TBR pile.  I am going to be adding books to you every month.  Granted there aren't nearly as many this month, but that's probably just because the publishers are all gearing up for a massive release rollout next month for Christmas. 
My TBR Pile: Now who's using psychological attacks, hmmm?
Me
: Those are just the facts.  I'm sorry if you don't like them.  Now if you'll excuse me, I've got a few
Spooky Legends
details to take care of before all the giveaways end on Nov. 5th
My TBR Pile: That was subtle.
Me: Shut up.   And stop laughing!
—————————————–
*Release dates are subject to change.  Many of the descriptions have been truncated for space.  Clicking the 'more' link will take you to that title's Goodreads page where the full description may be read.  Please visit our Titles Received For Review page to see which of these titles will be reviewed this month.
35 Adult Titles



Paperback: 416 pages
Publisher: Signet; Original edition (November 1, 2011)
ISBN-10: 0451235223
ISBN-13:978-0451235220

 

When four female angels were created for the archangels Michael, Gabriel, Uriel and Azrael, a chaos spurned by jealousy erupted, and the archesses were secreted to Earth. The four favored archangels followed, prompting a search that has last millennia. But for Uriel, the former Archangel of vengeance, the search ends the moment he lays eyes on Eleanor Granger, his one true arches. Can he protect her from the danger lying in wait for her-and win her heart?

 




Paperback:336 pages

Publisher: Berkley Trade; Original edition (November 1, 2011)

ISBN-10: 0425243311

ISBN-13:978-0425243312

 

Shapeshifter Camille Solomon and XCEL agent Griffin Mercer learn to trust each other as they infiltrate a shifter faction in Las Vegas-only to find that their growing passion for each other puts their hearts and their lives in danger.

 




Paperback: 336 pages
Publisher: Jove; Original edition (November 1, 2011)
ISBN-10: 051515007X
ISBN-13: 978-0515150070

Courting Darkness (Sisters of the Moon, #10)
by Yasmine Galenorn

Camille D'Artigo is Priestess of the Moon Mother and wife of a dragon. But her dragon father-in-law doesn't want her in the family. Captured and swept off to the Dragon Reaches, Camille must find a way to escape before her husband's father breaks her spirit…




Paperback: 320 pages
Publisher: DAW; Original edition (November 1, 2011)
ISBN-10: 0756406994
ISBN-13: 978-0756406998

Courts of the Fey
by Martin H. Greenberg, Russell Davis

Fantasy, whether classic or contemporary, has always been based on the conflict between the forces of Light and Darkness. Now some of the genre's most inventive authors bring readers into the Seelie Court, where all serve the Queen of Air and Light, and the Unseelie Court, where the forces of Darkness hold sway.




Paperback: 416 pages
Publisher: Berkley; Original edition (November 1, 2011)
ISBN-10: 0425245128
ISBN-13:978-0425245125

DEATH MAGIC opens with Special Agent Lily Yu in Washington, D.C. with her fiancé–lupi prince Rule Turner—to testify before a Senate subcommittee about her role in the magical collapse of a mountain last month. She is not there to tell them about the strange legacy she carries from that event—or about the arcane bond between her and Rule–or what her boss in Unit Twleve of the FBI's Magical Crimes Division is really up to. She sure won't tell them that the lupi are at war with an Old One who wants to remake humanity in her own image.

Lily is managing the conflict between her duty as an officer of the law and the need for secrecy pretty well . . . until the rabidly anti-magic senator who chairs that committee is murdered. The line between right and wrong, always so clear to her, becomes hopelessly blurred as events catapult them all towards disaster, and prophecies of a cataclysmic end to the country she loves and serves–and to the entire race of lupi–seem well on their way to being fulfilled




Paperback: 400 pages
Publisher: Roc; Original edition (November 1, 2011)
ISBN-10: 045146429X
ISBN-13: 978-0451464293

 

In a clockwork Brittania, Alice's prospects are slim. At 21, her age and her unladylike interest in automatons have sealed her fate as an undesirable marriage prospect. But a devastating plague sends Alice off in a direction beyond the pale-towards a clandestine organization, mad inventors, life-altering secrets, and into the arms of an intrepid fiddle-playing airship pilot.

 

 


Paperback: 352 pages
Publisher: New American Library (November 1, 2011)
ISBN-10: 0451234863
ISBN-13:978-0451234865

Clouds are brewing over Cadogan House, and recently turned vampire Merit can't tell if this is the darkness before the dawn or the calm before the storm. With the city itself in turmoil over paranormals and the state threatening to pass a paranormal registration act, times haven't been this precarious for vampires since they came out of the closet. If only they could lay low for a bit, and let the mortals calm down.

That's when the waters of Lake Michigan suddenly turn pitch black-and things really start getting ugly.

Chicago's mayor insists it's nothing to worry about, but Merit knows only the darkest magic could have woven a spell powerful enough to change the very fabric of nature. She'll have to turn to friends old and new to find out who's behind this, and stop them before it's too late for vampires and humans alike.




Paperback: 320 pages
Publisher: DAW (November 1, 2011)
ISBN-10: 0756406889
ISBN-13: 978-0756406882

Fire Works in the Hamptons: A Willow Tate Novel
by Celia Jerome

Graphic novelist Willow Tate has a paranormal talent for "drawing" beings from the realm of Faerie into our world. So why did she foolishly make the hero of her next book a fire wizard? Now she has to contend with a rash of "fire" flies, a gorgeous firefighter, and an arsonist who seems determined to set East Hampton ablaze…




Mass Market Paperback: 384 pages
Publisher: Sourcebooks Casablanca; Original edition (November 1, 2011)
ISBN-10: 1402241909
ISBN-13: 978-1402241901

In a world where genies grant three wishes, each one is bound to come with complications!

An impulse buy in a bazaar turns recently jilted Samantha Blaine into the master of cursed genie Kal. Before he can say, "Yes, Master" Kal finds himself falling for the woman standing between him and the freedom he's dreamed of for centuries…


 




Mass Market Paperback
Publisher: St. Martin's Paperbacks; First Edition edition (November 1, 2011)
ISBN-10: 0312550057
ISBN-13: 978-0312550059

Dream-Hunter Lydia has been charged with the most sacred and dangerous of missions: To descend into the Nether Realm and find the missing god of dreams before he betrays the secrets that could kill her and her kind. What she never expects is to be taken prisoner by the Realm's most vicious guardian…

Seth's time is running out. If he can't hand over the entrance to Olympus, his own life and those of his people will be forfeit. No matter the torture, Seth hasn't been able to break the god in his custody. Then there's the beautiful Dream-Hunter Lydia: She isn't just guarding the gates of Olympus—she's holding back one of the world's darkest powers. If she fails, an ancient curse will haunt the earth once more and no one will be safe. But evil is always seductive…


 




Paperback: 352 pages
Publisher: Zebra; Original edition (November 1, 2011)
ISBN-10: 1420121243
ISBN-13:978-1420121247

 

Colt Jackson has gotten his name on many a wanted poster with success in the family business: hunting supernaturals across the frontier. Lately, though, there's a sulphur stink in the wind and the Darkin population is exploding. A rift in the worlds is appearing. To close it, Colt will have to do the unthinkable and work with a demon to pass arcane boundaries no human alone can cross.

 

Except when he summons his demon, he doesn't get some horned monstrosity: he gets a curvy redheaded succubus named Lilly, who's willing to make a bargain to become human again. He also gets Lilly's secret expertise on the machinations on the dark side of the rift. And her charm and cleverness help to get them out of what his silver-loaded pistol and mechanical horse can't.

 

Of course, when all hell breaks loose, he might have to sacrifice his soul. But what's adventure without a little risk?

 




Paperback: 304 pages

Publisher: Berkley; Original edition (November 1, 2011)

ISBN-10: 0425244512

ISBN-13: 978-0425244517

 

Someone is illegally siphoning magic from the font of the Clan. When Meriel Owen, next in line to control the largest organization of witches in the country, discovers that it's the hot owner of a notorious underground club, she strokes an unusual deal that may plunge them all into the heart of darkness.

 




Paperback: 320 pages
Publisher: Berkley Trade; Original edition (November 1, 2011)
ISBN-10: 0425243303
ISBN-13:978-0425243305

 

Growing up in the dangerous world of the Iron Seas, the mercenary captain of the airship Lady Corsair, Yasmeen, has learned to keep her heart hard as steel. Ruthless and cunning, her only loyalty is to her ship and her crew-until one man comes along and changes everything…Treasurehunter Archimedes Fox isn't interested in the Lady Corsair-just the captain and the valuable da Vinci sketch she stole from him. When it attracts a dangerous amount of attention, Yasmeen and Archimedes journey to Horde-occupied Morocco- and straight into enemy hands.

 




Paperback: 368 pages
Publisher: Roc; Original edition (November 1, 2011)
ISBN-10: 0451464281
ISBN-13: 978-0451464286

Allison Beckstrom has willingly paid the price of pain to use magic, and has obeyed the rules of the Authority, the clandestine organization that makes-and enforces-all magic policy. But when the Authority's new boss, Bartholomew Wray, refuses to believe that the sudden rash of deaths in Portland might be caused by magic, Allie must choose to follow the Authority's rules, or turn against the very people for whom she's risked her life.
To stop the plague of dark magic spreading through the city, all that she values will be on the line: her magic, her memories, her life. Now, as dead magic users rise to feed upon the innocent and the people closest to her begin to fall, Allie is about to run out of options.


 




Paperback: 336 pages
Publisher: Signet Select; Original edition (November 1, 2011)
ISBN-10: 0451413148
ISBN-13: 978-0451413147

 

As a psychic, Samuel Taske can see the future, but he never predicted that he'd fall for San Francisco paramedic Charlotte Marena, the woman he's been charged with protecting. GenHance-the biotech company willing to do anything to acquire superhuman DNA-is after them. And when Samuel discovers that his Takyn powers have abandoned him, Charlie and her secret nighttime telepathic ability are their only hope for survival…

 




Paperback
Publisher: Entangled Publishing, LLC (November 1, 2011)
ISBN-10: 1937044475
ISBN-13:978-1937044473

While attempting to escape the agonizing memories she associates with Christmas, twenty-nine-year-old widow Megan Snow builds a snow family outside the mountain cabin she once shared with her husband and collapses in tears against the snowman at the sight of what she'll never have.

Called to life by the power of Megan's tears, snow god Owen Winters appears unconscious on her doorstep in the midst of a raging blizzard. As she nurses him to health, Owen finds unexpected solace in her company and unimagined pleasure in the warmth of her body, and vows to win her heart for a chance at humanity.

Megan is drawn to Owen's mismatched eyes, otherworldly masculinity, and enthusiasm for the littlest things, and her heart opens enough to believe he's a Christmas miracle. But this miracle comes with an expiration before the snow melts and the temperature rises, Megan must let go of her widow's grief and learn to trust love again, or she'll lose Owen forever.


 

 




Mass Market Paperback: 320 pages
Publisher: St. Martin's Paperbacks; First Edition edition (November 1, 2011)
ISBN-10: 0312357222
ISBN-13: 978-0312357221

After her two best friends marry a blood-sucking vampire and furry-faced werewolf, Corinne D'Alessandro is making a vow of her own: NO interspecies dating. But when her editor asks her to investigate "leprechaun" sightings, the sassy New York reporter finds herself on the trail of the hottest story of the year—and the sexiest man alive…

His  name is Luc, and he's as gorgeous as any Prince Charming in any bedtime story. There's just one problem: He's not human, he's fae. A captain of the Fae Queen's Guard, Luc is on a dangerous mission—and he could use the help of a certain leprechaun-hunting reporter. But when their two worlds collide, the sparks begin to fly. If Corinne and Luc can't control their lust—and focus on the villains in this story—their faerie-tale romance won't end happily ever after…


 




Novella
Publisher: Entangled Publishing (November 1, 2011)
ISBN13: 9781937044503


Four sisters, three rules to live by, one big problem.

O'Connell Family Rule #1: Don't let the Fae know you see them.
O'Connell Family Rule #2: Don't talk to the Fae.
O'Connell Family Rule #3: Never, ever follow them.

Most people only believe what they can see. Gifted with the ability to see the deep, dark fae of Shadowland, Catherine Rowan Mary O'Connell would prefer not to. When the fae abduct her friend Maya, Cate breaks the sacred O'Connell Family Rules and sets a trap for the handsome fae who haunts her every step.

Rook, High Court Advisor to the Shadow King, has been following Cate since she was sixteen. When Cate reveals herself as one of the fabled "Seers", Rook is stunned—she is one of the few that can permanently open the gates between their worlds. If he turns her over to the Shadow King, his court will rule the human realm.
Cate knows she has precious little time to find Maya. By midnight, the glamour of Mid-Summer's Eve will fade, leaving her trapped forever in the Shadowland, but Maya's abductor won't give up the woman he's mesmerized easily.…more




Paperback: 352 pages
Publisher: Kensington; Original edition (November 1, 2011)
ISBN-10: 0758258933
ISBN-13:978-0758258939

 

Sophie Lawson is a human immune to magic, which comes in handy for helping paranormal beings transition into everyday life. But fallen angel Alex Grace and his search for the Vessel of Souls is one curse she never saw coming. Suddenly an unexplainable string of killings and destruction has even San Francisco's demons fearing for their immortal lives. And Sophie isn't about to trust Alex's all-too-vulnerable charm or his secret agenda. Now their hunt is revealing dangerous secrets about Sophie's past, and a malevolent power hellishly close to turning one irreverent human into the ultimate supernatural weapon. . .

 




Paperback
Publisher: Entangled Publishing, LLC (November 1, 2011)
ISBN-10: 1937044556
ISBN-13: 978-1937044558


Their power gives them strength and makes them targets.

Quinn Caldwell is the epitome of a modern goddess. Her power source is the moon, her abilities restricted only by physical resources and lunar phase. She runs a consulting business and her father's bar, serves on the board of the ancient Society for Goddess Education and Defense, and yearns for Nick Jarrett, professional goddess protector and the soul mate she can never have.
But someone has developed the rare and difficult ability to drain a goddess of her powers, and Quinn is a target. With the world thinking Nick has gone rogue (whatever that means) and that Quinn is influenced by "family ties" she didn't know she had, keeping themselves safe while working to find the enemy proves harder each day.

But not as hard as denying their hearts.

 




Paperback: 368 pages
Publisher: Tor Books; First Edition edition (November 8, 2011)
ISBN-10: 0765331276
ISBN-13: 978-0765331274

Fighting to Survive (As The World Dies: A Zombie Trilogy, #2)
by Rhiannon Frater

Picking up where The First Days ends, Fighting to Survive features the further zombie-killing, civilization-saving adventures of a pair of sexy, kick butt heroines and the men who love them. A hundred or so survivors of the zombie plague have found tenuous safety in the walled off center of a small Texas town. Now the hard work of survival begins—finding enough food; creating safe, weather-resistant shelter; establishing laws; and fighting off both the undead who want to eat them and the living bandits who want to rob and kill them.

Fighting to Survive won the Dead Letter Award for Best Novel from Mail Order Zombie. The first book in the As the World Dies trilogy, The First Days also won the Dead Letter Award and was named one of the Best Zombie Books of the Decade by the Harrisburg Book Examiner. Tor Books began bringing this series to a wider audience with the Spring 2011 publication of The First Days.




Mass Market Paperback: 288 pages
Publisher: Harlequin; Original edition (November 15, 2011)
ISBN-10: 0373618727
ISBN-13: 978-0373618729

Once upon a time…the Blood Sorcerer vanquished the kingdom of Elden. To save their children, the queen scattered them to safety and the king filled them with vengeance. Only a magical timepiece connects the four royal heirs…and time is running out.…
As the dark Lord who condemns souls to damnation in the Abyss, Micah is nothing but a feared monster wrapped in impenetrable black armor. He has no idea he is the last heir of Elden, its last hope. Only one woman knows—the daughter of his enemy.
Liliana is nothing like her father, the Blood Sorcerer who'd cursed Micah. She sees past Micah's armor to the prince inside. A prince whose sinful touch she craves. But first she has to brave his dark, dangerous lair and help him remember. Because they only have till midnight to save Elden.


 




Paperback: 352 pages
Publisher: Luna; Original edition (November 15, 2011)
ISBN-10: 0373803311
ISBN-13: 978-0373803316

WHEN MAGIC GOES WRONG, WHO ARE YOU GOING TO CALL?

The name's Torres, Bonnie Torres, and I'm a paranormal scene investigator—rooting out the truth about crimes of magic. It's dangerous and boring and scary and fascinating. Though not everyone in the Cosa Nostradamus is happy we're around, which can make things…tricky.

Working two cases—looking into a murder for the NYPD, and a rich man's break-in—should be well within our abilities. But when things start getting weird in the Electric Apple, Private Unaffiliated Paranormal Investigations is stretched to the limits, trying to keep one step ahead and out of trouble. Add in rumors of a powerful creature gunning for us and it's not just our rep on the line this time—if we don't solve this case, everyone will suffer.

Fortunately, around here, when the going gets weird, the weird hire us.…


 




Paperback: 448 pages
Publisher: Orbit; Original edition (November 22, 2011)
ISBN-10: 0316084751
ISBN-13:978-0316084758

Samhain approaches, bringing with it the final melding of the mortal and othernatural worlds. No one knows just how much power the night holds…

Violent murders occur in Paradise City as counterfeit comarré are systematically hunted. The police and the Kubai Mata have more than enough trouble to keep themselves occupied. As war erupts at home, Malkolm and Chrysabelle head to New Orleans to recover the Ring of Sorrows. Chrysabelle is forced to make a life and death decision and will realize that her relationship to Malkolm may have fatal consequences.

The clock is ticking . . .


 




Mass Market Paperback: 384 pages
Publisher: HQN Books; Original edition (November 22, 2011)
ISBN-10: 0373776152
ISBN-13: 978-0373776153


She's the vampire that could destroy a nation.

At least, that's what Pinkerton detective Finn Dunne thinks of Tara Fox. Capturing her aboard a ship sneaking its way northward, he's convinced she's been sent to take out President Lincoln. While she's certainly the most attractive assassin he's ever faced, that won't keep him from his duty.

Tara has always been caught between worlds. As a vampire born and raised in Key West, she has many friends among the humans. Many friends that are now fighting and dying in the raging Civil War.

When her strange dreams began, she thought of them as abstract visions. But she now knows that she must travel to Washington, D.C., and protect the president at all costs. Finn still won't trust her, despite what he's seen. And if Tara has to go through him—or bring reinforcements—to save Lincoln, she will do whatever it takes, even if it costs her her heart.


 




Mass Market Paperback: 448 pages
Publisher: Grand Central Publishing; Original edition (November 22, 2011)
ISBN-10: 0446574473
ISBN-13: 978-0446574471

Sexy, powerful, and immortal, Limos is on a crash course with destiny. She's been marked as Satan's bride and her jealous fiancé wants her all to himself. The only way this Horseman can keep herself—and everyone else—safe is to keep her distance. But not even Limos can save herself from the secrets she's kept . . . or resist the seductive allure of one very brave human.

Arik Wagner knows the saying "love hurts" better than most, yet he never thought stealing a kiss from Limos would land him in Hell. Literally. It takes all his military training to survive the demon torture, but once he's topside, Arik realizes that the agony has just begun. With the Apocalypse looming and Satan demanding his bride, will Arik and Limos surrender to the desire smoldering between them? Or will giving in to their passion unleash hell on earth?


 




Paperback: 368 pages
Publisher: Grand Central Publishing; Original edition (November 22, 2011)
ISBN-10: 0446571423
ISBN-13: 978-0446571425

Saints Astray (Santa Olivia, #2)
by Jacqueline Carey

New York Times bestselling author Jacqueline Carey returns with her character Loup Garron in this sequel to Santa Olivia.

 


Paperback: 544 pages
Publisher: Berkley; Original edition (November 29, 2011)
ISBN-10: 042524363X
ISBN-13: 978-0425243633

The pages of history are written in the blood of the undead…
A woman's quest for the truth…
A medieval icon that holds the clues…
An ancient book with the power to shake Christianity—and humanity itself…

Caroline Clifford's bland life as a London tour guide flips upside down when her beloved uncle is brutally murdered at a Bulgarian archeological site. While traveling to recover his remains, she meets a man who corresponded with her uncle. Jude Barrett is a biochemist on a mission—to eradicate the world of vampires…

At first, Caro is dismissive of Jude's beliefs, but she can't ignore the signs around her—the human bites on her uncle, the strange men following her, the anguished cries after sundown. Strange anagrams on her uncle's passport lead her and Jude to a cliff-top monastery in Greece, where a shattering revelation connects a relic Caro inherited from her parents to an age-old text on immortality—and an enigmatic prophecy that pits the forces of darkness…more

 




Paperback: 352 pages
Publisher: Brava (November 29, 2011)
ISBN-10: 0758242174
ISBN-13:978-0758242174

As an angel of death, Keenan's job is to collect the souls on his list. He's carried out his duty for two thousand years and never faltered once. Until he meets Nicole St. James. When the moment of death comes, Keenan hesitates, and instead of taking Nicole, Keenan touches the vampire who's attacking her.

Cast out of heaven for disobedience, Keenan plummets to earth. Six months later, he finally manages to track Nicole to a bar in Mexico. He's stunned to discover that the woman he remembers has undergone a dramatic change—she's become a vampire. And when he realizes that she's the target of all manner of enemies—other vampires, demons, even shifters—he'll do whatever it takes to protect her, even if all hell breaks loose…


 

 


Paperback: 384 pages
Publisher: Ace; Original edition (November 29, 2011)
ISBN-10: 0441020860
ISBN-13:978-0441020867

Audrey Callahan left behind her life in the Edge, and she's determined to stay on the straight and narrow. But when her brother gets into hot water, the former thief takes on one last heist and finds herself matching wits with a jack of all trades…

Kaldar Mar-a gambler, lawyer, thief, and spy-expects his latest assignment tracking down a stolen item to be a piece of cake, until Audrey shows up. But when the item falls into the hands of a lethal criminal, Kaldar realizes that in order to finish the job, he's going to need Audrey's help…


 




Paperback: 416 pages
Publisher: Pocket Books; Original edition (November 29, 2011)
ISBN-10: 1439199507
ISBN-13:978-1439199503


NANCY GIDEON RETURNS TO HER STEAMY NEW ORLEANS PRETERNATURAL WORLD WITH AN IRRESISTIBLE NEW SHAPE-SHIFTER ROMANCE.

The secrets he knows about her could get him killed.

Transferring to the New Orleans Police Department, Detective Silas MacCreedy has a hidden agenda: to secure his clan's place once again in the Shifter hierarchy. What he didn't count on was stumbling upon a sexy assassin who could shred his best intentions and lead him into a dangerous dance that threatens to engage his heart.

But the ones he doesn't know . . .

Monica Fraser knows just how to make a man beg—for his life. But she has no clue how to fight her attraction to the fiercely intense detective who seems determined to get in her way, both…more


 




Mass Market Paperback: 384 pages
Publisher: Pocket Books; Original edition (November 29, 2011)
ISBN-10: 1439176345
ISBN-13: 978-1439176344

Killing Rites (The Black Sun's Daughter, #4)

JaynÉ Heller has discovered the source of her uncanny powers: something else is living inside her body. She's possessed. Of all her companions, she can only bring herself to confide in Ex, the former priest. They seek help from his old teacher and the circle of friends he left behind, hoping to cleanse JaynÉ before the parasite in her becomes too powerful.

Ex's history and a new enemy combine to leave JaynÉ alone and on the run. Her friends, thinking that the rider with her has taken the reins, try to hunt her down, unaware of the danger they're putting her in. JaynÉ must defeat the weight of the past and the murderous intent of another rider, and her only allies are a rogue vampire she once helped free and the nameless thing hiding inside her skin.




Mass Market Paperback: 352 pages
Publisher: St. Martin's Paperbacks; First Edition edition (November 29, 2011)
ISBN-10: 0312532695
ISBN-13: 978-0312532697


In the acclaimed Night Tracker series by New York Times bestselling author Cheyenne McCray, the vampires are back to make a brand new start of it—in old New York…

With zero tolerance for bloodsuckers, Nyx and the Trackers have made the streets safer for warm-blooded New Yorkers. Unfortunately, they didn't drive a stake through the problem nationwide. Vampire attacks are on the rise. Proctors are dropping like flies. And Volod—New York's ousted Master Vampire—is trying to make a comeback…

Nyx is worried—about her city, her job, and her neck. But mostly she's concerned about her former lover, Rodán, a Proctor who's gone missing. Scarier still, Volod is capturing and "turning" paranorms to help him paint the town red. Which sucks. Because some of these new vampires are Nyx's old friends. But hey—if she can stake them here, she'll stake them anywhere…


 




Mass Market Paperback: 384 pages
Publisher: Pocket Books; Original edition (November 29, 2011)
ISBN-10: 1439167796
ISBN-13: 978-1439167793

 

She's Like a Virgin . . . Simulated for the Very First Time

For a red-blooded male, Las Vegas offers a virtual smorgasbord of temptation: sexy showgirls, vampy vampires, zombie starlets, you name it. But paranormal investigator Delilah Street isn't worried about losing her man to these vixens. Especially when the one woman with a soft spot for the guy also has a hard-shelled exterior. . . .

She's a robot—or a CinSim, to be exact—a near-perfect simulation of the silver-metal robot Maria from the classic science fiction movie Metropolis. Part innocent teenage actress, part depraved sex goddess, the new Maria is hooked on Delilah's partner, Ric, who raised her from the dead. She also happens to be the perfect secret weapon for a demonic drug lord. Which could be one hell of a problem. Delilah's not the jealous type, but this tin-can temptress must be stopped—even if it forces Delilah to forge a dangerous alliance with her wicked mirror-twin, Lilith. If robo-girl goes ballistic, every player in Vegas loses. . . .

 




Paperback: 384 pages
Publisher: Avon; Original edition (November 29, 2011)
ISBN-10: 006202017X
ISBN-13:978-0062020178

From bestselling author Marjorie M. Liu, here comes an exciting new installment to her award winning "Dirk and Steele" series in which high stakes and sizzling passion keep readers riveted.
A pyrokinetic and former car thief, Eddie cannot refuse an assignment to cross the continent in order to rescue an extraordinary woman in peril…even though he fears losing control of the destructive power of flame at his fingertips. The last of her shape-shifting kind, Lyssa hides in the abandoned tunnels beneath Manhattan. Like Eddie, fire is her weapon, her destiny…and her curse. For beneath Lyssa's extraordinary beauty are dangerous secrets…and even darker, nearly irresistible urges…
12 YA Titles



Reading level: Young Adult
Hardcover: 336 pages
Publisher: Katherine Tegen Books (November 1, 2011)
ISBN-10: 0062009702
ISBN-13: 978-0062009708

Fifteen-year-old Will Besting is sent by his doctor to Fort Eden, an institution meant to help patients suffering from crippling phobias. Once there, Will and six other teenagers take turns in mysterious fear chambers and confront their worst nightmares—with the help of the group facilitator, Rainsford, an enigmatic guide. When the patients emerge from the chamber, they feel emboldened by the previous night's experiences. But each person soon discovers strange, unexplained aches and pains. . . . What is really happening to the seven teens trapped in this dark Eden?


 




Reading level: Young Adult
Paperback: 336 pages
Publisher: Sourcebooks Fire; Original edition (November 1, 2011) 
ISBN-10: 1402260520
ISBN-13: 978-1402260520

The Picture of Dorian Gray meets Pride and Prejudice, with a dash of Dr. Jekyll and Mr. Hyde.

New York City, 1882. Seventeen-year-old Natalie Stewart's latest obsession is a painting of the handsome British Lord Denbury. Something in his striking blue eyes calls to her. As his incredibly life-like gaze seems to follow her, Natalie gets the uneasy feeling that details of the painting keep changing…

Jonathan Denbury's soul is trapped in the gilded painting by dark magic while his possessed body commits unspeakable crimes in the city slums. He must lure Natalie into the painting, for only together can they reverse the curse and free his damaged soul.




Reading level: Young Adult
Hardcover: 544 pages
Publisher: Simon & Schuster Books For Young Readers (November 15, 2011)
ISBN-10: 1416991158
ISBN-13: 978-1416991151

One night, Silas Umber's father Amos doesn't come home from work. Devastated, Silas learns that his father was no mere mortician but an Undertaker, charged with bringing The Peace to the dead trapped in the Shadowlands, the states of limbo binding spirits to earth. With Amos gone, Silas and his mother have no choice but to return to Lichport, the crumbling seaside town where Silas was born, and move in with Amos's brother, Charles.

Even as Silas eagerly explores his father's town and its many abandoned streets and overgrown cemeteries, he grows increasingly wary of his uncle. There is something not quite right going on in Charles Umber's ornate, museum-like house—something, Silas is sure, that is connected to his father's disappearance. When Silas's search leads him to his father's old office, he comes across a powerful artifact: the Death Watch, a four hundred year old Hadean clock that allows the owner to see the dead.

Death Watch in hand, Silas begins to unearth Lichport's secret history—and discovers that he has taken on his father's mantle as Lichport's Undertaker. Now, Silas must embark on a dangerous path into the Shadowlands to embrace his destiny and discover the truth about his father—no matter the cost.


 

Reading level: Young Adult
Paperback: 368 pages
Publisher: Kensington (November 29, 2011)
ISBN-10: 0758266944
ISBN-13: 978-0758266941


Logan Quinn was try­ing to kill me. My Spar­tan class­mate relent­lessly pur­sued me, swing­ing his sword at me over and over again, the shin­ing sil­ver blade inch­ing closer to my throat every time. A smile tugged up his lips, and his ice-blue eyes prac­ti­cally glowed with the thrill of battle…

I'm Gwen Frost, a second-year warrior-in-training at Mythos Acad­emy, and I have no idea how I'm going to sur­vive the rest of the semes­ter. One day, I'm get­ting schooled in sword­play by the guy who broke my heart — the drop-dead gor­geous Logan who slays me every time. Then, an invis­i­ble archer in the Library of Antiq­ui­ties decides to use me for tar­get prac­tice. And now, I find out that some­one at the acad­emy is really a Reaper bad guy who wants me dead. I'm afraid if I don't learn how to live by the sword — with Logan's help — I just might die by the sword …




Reading level: Young Adult
Hardcover: 352 pages
Publisher: NAL Hardcover (November 1, 2011) 
ISBN-10: 0451234871
ISBN-13:978-0451234872

With her boss preoccupied researching the Founder Houses in Morganville, student Claire Danvers is left to her own devices when she learns that three vampires have vanished without a trace. She soon discovers that the last person seen with one of the missing vampires is someone new to town—a mysterious individual named Magnus. After an uneasy encounter with Morganville's latest resident, Claire is certain Magnus isn't merely human. But is he a vampire—or something else entirely?




Reading level: Ages 14 and up
Paperback: 256 pages
Publisher: HarperTeen; Original edition (November 8, 2011)
ISBN-10: 0062113933
ISBN-13: 978-0062113931

The Ripper (The Vampire Diaries: Stefan's Diaries, #4)
by L.J. Smith

Haunted by the past . . .

The year is 1888, and the scent of blood lingers heavy in the London air. Stefan Salvatore thought he could escape his violent origins by settling in the peaceful countryside of England, but when a heinous murderer named Jack the Ripper surfaces, Stefan fears darkness will always follow him. Drawn into the investigation, Stefan assumes the worst: This is the work of a vampire. And the more he learns, the more he becomes convinced that the killer is someone close to him—and that he can never outrun his past.

Based on the popular CW TV show inspired by the bestselling novels, Stefan's Diaries reveals the truth about what really happened between Stefan, Damon, and Katherine—and how the Vampire Diaries love triangle began.




Reading level: Young Adult
Hardcover: 336 pages
Publisher: Putnam Juvenile (November 29, 2011)
ISBN-10: 039925675X
ISBN-13: 978-0399256752

What was once the western United States is now home to the Republic, a nation perpetually at war with its neighbors. Born into an elite family in one of the Republic's wealthiest districts, fifteen-year-old June is a prodigy being groomed for success in the Republic's highest military circles. Born into the slums, fifteen-year-old Day is the country's most wanted criminal. But his motives may not be as malicious as they seem.

From very different worlds, June and Day have no reason to cross paths – until the day June's brother, Metias, is murdered and Day becomes the prime suspect. Caught in the ultimate game of cat and mouse, Day is in a race for his family's survival, while June seeks to avenge Metias's death. But in a shocking turn of events, the two uncover the truth of what has really brought them together, and the sinister lengths their country will go to keep its secrets.
Full of nonstop action, suspense, and romance, this novel is sure to move readers as much as it thrills.




Reading level: Young Adult
Hardcover: 300 pages
Publisher: Pyr (November 15, 2011)
ISBN-10: 1616145390
ISBN-13: 978-1616145392

 

A YA Urban Fantasy/Romance in a world a breath away from our own. Similar in tone to Tithe and Unleashed, Lightbringer tiptoes down the line between love and horror as an independent young woman discovers herself and the darkest parts of the afterlife.

 




Reading level: Young Adult
Hardcover: 352 pages
Publisher: HarperCollins (November 15, 2011)
ISBN-10: 0062085484
ISBN-13: 978-0062085481

Juliette hasn't touched anyone in exactly 264 days. The last time she did, it was an accident, but The Reestablishment locked her up for murder. No one knows why Juliette's touch is fatal. As long as she doesn't hurt anyone else, no one really cares. The world is too busy crumbling to pieces to pay attention to a 17-year-old girl. Diseases are destroying the population, food is hard to find, birds don't fly anymore, and the clouds are the wrong color.

The Reestablishment said their way was the only way to fix things, so they threw Juliette in a cell. Now so many people are dead that the survivors are whispering war- and The Reestablishment has changed its mind. Maybe Juliette is more than a tortured soul stuffed into a poisonous body. Maybe she's exactly what they need right now.
Juliette has to make a choice: Be a weapon. Or be a warrior.

In this electrifying debut, Tahereh Mafi presents a world as riveting as The Hunger Games and a superhero story as thrilling as The X-Men. Full of pulse-pounding romance, intoxicating villainy, and high-stakes choices, Shatter Me is a fresh and original dystopian novel—with a paranormal twist—that will leave readers anxiously awaiting its sequel.




Reading level: Young Adult
Hardcover: 336 pages
Publisher: Margaret K. McElderry Books (November 15, 2011)
ISBN-10: 1442422017
ISBN-13: 978-1442422018

 

In the violent country of Ludania, the language you speak determines what class you are, and there are harsh punishments if you forget your place—looking a member of a higher class in the eye can result in immediate execution. Seventeen-year-old Charlaina (Charlie for short) can understand all languages, a dangerous ability she's been hiding her whole life. Her only place of release is the drug-filled underground club scene, where people go to shake off the oppressive rules of the world they live in. There, she meets a beautiful and mysterious boy who speaks a language she's never heard, and her secret is almost exposed. Through a series of violent upheavals, it becomes clear that Charlie herself is the key to forcing out the oppressive power structure of her kingdom….

 




Reading level: Young Adult
Hardcover: 352 pages
Publisher: Razorbill (November 14, 2011)
ISBN-10: 1595143394
ISBN-13: 978-1595143396

Everything is made of steel, even the flowers. How can you love anything in a place like this?

Daphne is the half-demon, half-fallen angel daughter of Lucifer and Lilith. Life for her is an endless expanse of time, until her brother Obie is kidnapped – and Daphne realizes she may be partially responsible. Determined to find him, Daphne travels from her home in Pandemonium to the vast streets of Earth, where everything is colder and more terrifying. With the help of the human boy she believes was the last person to see her brother alive, Daphne glimpses into his dreams, discovering clues to Obie's whereabouts. As she delves deeper into her demonic powers, she must navigate the jealousies and alliances of the violent archangels who stand in her way. But she also discovers, unexpectedly, what it means to love and be human in a world where human is the hardest thing to be.
This second novel by rising star Brenna Yovanoff is a story of identity, discovery, and a troubled love between two people struggling to find their place both in our world and theirs.




Reading level: Young Adult
Hardcover: 320 pages
Publisher: Harcourt Children's Books; None edition (November 15, 2011)
ISBN-10: 054750151X
ISBN-13: 978-0547501512

Seventeen-year-old Holly Mullen has felt lost and lonely ever since her boyfriend, Rob, died in a tragic accident. The fact that she has to spend most of her free time caring for her little sister and Alzheimer's-stricken grandfather doesn't help. But Holly has no idea that as she goes about her days, Rob's ghost is watching over her. He isn't happy when he sees his best friend, Jason, reach out to help Holly with her grandfather—but as a ghost, he can do nothing to stop it. Is his best friend really falling for his girlfriend? 

As Holly wonders whether to open her heart to Jason, the past comes back to haunt her. Her grandfather claims to be communicating with the ghost of Rob. Could the messages he has for Holly be real? And if so, how can the loved ones Rob left behind help his tortured soul make it to the other side? 

Told from the perspectives of Holly, Jason, and Rob,Wherever You Gois is a poignant story about making peace with the past, opening your heart to love, and finding the courage to move forward into the light.


 
---
Authors/Publishers: have a book coming out soon?
Contact us
to schedule a visit/review/giveaway
Please leave a comment if we missed a title and we will update this post.
About the author