A big welcome back to
Regan Hastings
who is here today telling us about her budding witch protagonist Teresa Santiago from the upcoming
VISIONS OF SKYFIRE
, Book Two of the
Awakening
series (coming October 4th from Signet Books).  Our review will be coming soon.  Just in time for Halloween, Regan is hosting a costume contest where you can win copies of VISIONS OF MAGIC and some delicious treats!  See details below.
---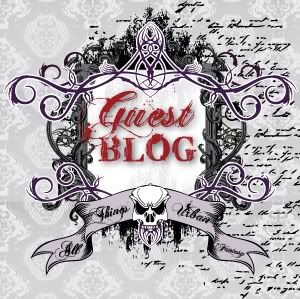 How Will You Find Your Magic?
by
Regan Hastings
Imagine this: You're six years old, drawing pictures in the sand at your grandmother's feet.
"Come here," she says. "I think you're old enough to understand."
But you don't understand, not really. Because what she tells you is that you're different than everyone else you've ever met. "Special," she says, but you're at the age when you don't want to be special. You want to be like everyone else. You want to blend in, to conform.
This is what happened to Teresa Santiago, the heroine of VISIONS OF SKYFIRE (October 4, 2011). Since Teresa was very young, her grandmother has been preparing her for her destiny. Teresa will be one of the most powerful witches the world has ever known, and the fate of that world will someday rest squarely on Teresa's slim shoulders.
Although Teresa didn't feel magic, she never doubted her grandmother's word. Like it or not, she was special. But until her magic awakened, she had no idea how her powers would manifest themselves. All she could do was to train for every possibility so that when the day of Awakening inevitably arrived, she would be ready to harness those powers to save the world. . . with the help of Rune, her Eternal warrior-protector, of course.
I think we can all relate to the search for that "something special" in ourselves. When we're young, our parents and grandparents tell us we can be anything. But "anything" is such a big word, it's impossible to grasp. How do you decide which "anything" is right for you? How do you find your own magic in this overwhelming world?
Have you ever noticed that most people tend to choose careers they were exposed to as a child? If your mother is a biomedical engineer, then being a biomedical engineer seems like a realistic path for you because you've seen it done by a person you know. It's relatable. It doesn't feel like as much of a reach. That's why I truly think Teresa had the right idea. She didn't know what her magic powers would be, so she trained for everything, studied everything, educated herself about every type of magic in order to be as prepared as possible.
If you haven't yet found your magic – if you don't yet know what makes you special – then cast a wide net. Try everything that sparks your interest. Find opportunities through work, volunteer gigs, or hobbies. Don't limit yourself to doing or being what people you know have done or been. You don't have to wait for your powers to awaken. You can make it happen!
Halloween is just around the corner – and what a fun way to live out our fantasies for a night! To help you celebrate, I'm holding the "Awaken Your Inner Witch Costume Contest" for the Best and Most Pathetic Halloween Costumes. Email your picture with "Best Costume" or "Pathetic Costume" in the subject line to [email protected] before September 30. The picture must be of you, but it can be of you at any age. On September 30, I'll post the pictures in two separate albums at www.facebook.com/reganhastings for everyone to enjoy. Be sure to tell your friends to come click like! The winner in each category will receive a copy of VISIONS OF MAGIC, Book 1 of The Awakening, and delicious brownies from Fat Witch Bakery in New York.
(The contest is open to international fans, who, if they win, will receive a $25 e gift card to Amazon.com in place of the other prizes.)
What is the funniest Halloween costume you have ever seen?
————————————————-
Regan Hastings is Maureen Child, the USA Today Bestselling author of more than one hundred romance novels and novellas. A six time nominee for the prestigious RITA award from the Romance Writers of America, Maureen's books have been translated into dozens of languages around the world and she's even had one of her books made into a CBS-TV movie.
Regan/Maureen do agree on one thing completely. Love really can conquer all.  And in the world of dark paranormal…that's the only thing you can count on.
Visit Regan Hastings online:
Website|Facebook
Want to read more from Regan?
Book Details
VISIONS OF SKYFIRE by Regan Hastings

Coming October 4, 2011 by Signet Book
Description:
Every witch has a destined mate, an Eternal who will serve as her guardian and complete her powers. Once the coven has awakened, the witches must race against time to join with their Eternals and protect the relics that will prevent the destruction of the world…
The Awakening is upon Teresa Santiago. Despite training for this moment since she was a child, Teresa is unprepared for the vastness of her power or for her attraction to Rune, her Eternal protector and destined mate.
United by purpose—and passion—Teresa and Rune must locate one of the missing artifacts before its power unleashes the forces of darkness on the world. His strength and her ability to summon lightning should be enough to protect them from the government agents charged with imprisoning witches. But their enemies are both mortal and magical—and danger follows Teresa at every turn.
In this ultimate battle between good and evil, only through sacrifice will love conquer all…
---
Interested in guest blogging on All Things Urban Fantasy?  CONTACT ME