A big welcome back to author Justin Gustainis today who is celebrating the recent release for his 3rd Quincey Morris urban fantasy, SYMPATHY FOR THE DEVIL (available now from Solaris Books).  He's talking with us about the hidden 'easter egg' pop culture references in books and giving you the chance to find some of his easter eggs through a special contest and win a $50 Amazon GC & have a character named after you in the next book.  See details below
---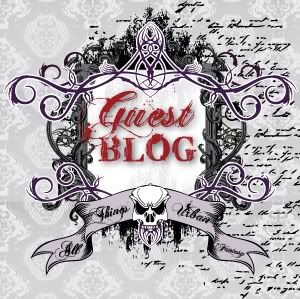 The Fine Art of the "Easter Egg"
by
Justin Gustainis
     I have to confess that I love Easter eggs – I have even before I knew what they were called.  Now, I'm not referring to those elaborate creations that Faberge used to make for the Russian royal family, nor do I mean the things that little (and some not so little) kids color every Spring.  I'm talking about the hidden references to popular culture characters and objects that appear in some fiction.
     I first came upon Easter eggs of the literary variety in the fiction of Kim Newman, especially his Anno Dracula stories.  The name comes from the first book in the series (there are three so far, along with several novellas and short stories) which is based on the assumption that the events described in Stoker's novel are true – except that, instead of being driven out of England, Dracula defeated Van Helsing and his band of vampire hunters.  Then the Count went on to woo (probably with vampiric influence) and wed Queen Victoria, thus becoming Prince Consort of England – from which position the evil Count is free to create vampires left and right, soon resulting in an England that is half "warm" and half "cold."  And that's just backstory – the novel (which has been long out of print but was recently reissued in a new edition) begins
several years following Dracula's ascension to the throne.
     And oh, the Easter eggs!  Newman brings in practically every vampire of fiction, film, and television and makes each one a character (either major or minor) in the story.   Lord Ruthven (John Polidori's vampire nobleman who was probably an inspiration for the literary Count Dracula) is Prime Minster; the prison that is the Tower of London is run by the cruel, ratlike Count Orlock, whom film aficionados will recognize as the titular nosferatu in Murnau's film of the same name… well, you get the idea.  And it isn't just fictional vampires who make an appearance.  They are joined by historical figures like V.I. Lenin (who isn't named, but the description of a balding agitator in a cloth cap shouting "What's to be done?" is enough to tip off history buffs) and fictional ones like Mycroft Holmes, Fu Manchu, and Dr. Henry Jekyll.
     If imitation is the sincerest form of flattery, then I've flattered the hell out of Mr. Newman in my Morris & Chastain novels.  I sometimes hear from readers who are crowing with delight over someone (or something) spotted in passing.  Characters who have been referred to (or made brief
appearances) in the first two books (Black Magic Woman and Evil Ways) include Jack Crow (from Vampire$), Clive Barker's private eye Harry D'Amour, Andy Sipowitz (NYPD Blue), Frank Black (Millennium), Lamont Cranston (The Shadow), Jack Crawford and Wil Graham (Red Dragon), and Chicago's #1 wizard, whose favorite bar is used in a scene with Jim Butcher's kind permission.
     Why is he telling us all this?  Because there's a contest, kids – and it's built around the most recent Morris & Chastain novel, Sympathy for the Devil.  Tell me about the Easter eggs you spot in that book (there are more than thirty).  The person who finds the most gets a $50 Amazon gift card and I'll name a character after you in the next adventure of Quincey Morris and Libby Chastain.  Full details are on my web site www.justingustainis.com.
     So, if you want to test your knowledge of popular culture and maybe win a really cool prize besides, get your hands on a copy of Sympathy for the Devil (preferably by buying it) and start reading.  Good luck to all!
———————————–
About Justin Gustainis
Justin Gustainis was born in Northeast Pennsylvania in 1951. He attended college at the University of Scranton, a Jesuit university that figures prominently in several of his writings.
After earning both Bachelor's and Master's degrees, he was commissioned a Lieutenant in the U. S. Army.
Mr. Gustainis currently lives in Plattsburgh, New York, and is a Professor of Communication at Plattsburgh State University.
Visit Justin Gustainis online:
Website
Want to read more from Justin Gustainis?
---
Book Details
SYMPATHY FOR THE DEVIL by Justin Gustainis

Available now from Solaris Books
Senator Howard Stark wants to be President of the United States. So does the demon inside him. With the competing candidates dropping out due to scandal, blackmail, and 'accidental' death, Stark looks like a good bet to go all the way to the White House. And if he gets there, Hell on Earth will follow.
Occult investigator Quincey Morris and white witch Libby Chastain are determined to stop this evil conspiracy. But between them and Stark stand the dedicated agents of the US Secret Service – as well as the very forces of Hell itself. Quincey and Libby will risk everything to exorcise the demon possessing Stark. If they fail, 'Hail to the Chief' will become a funeral march – for all of us.
---
Interested in guest blogging on All Things Urban Fantasy?  CONTACT ME