It's the last Friday of the month which means it's time to check out what we're going to be reading next month in: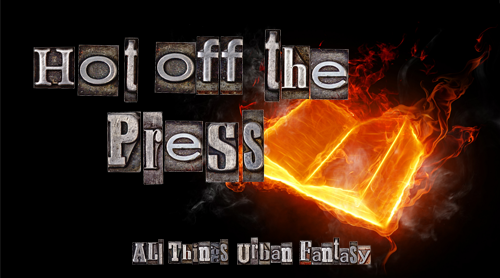 View all the previous Hot Off The Press posts here.
There are few changes to the Hot Off The Press posts that I want to point out.  After the overwhelming majority of you who took our feedback poll (which is still open) asked for links to Amazon, all the titles will now have links to buy from both Book Depository & Amazon.  I'm also thinking about moving these posts to the last day of the moth.  Let me know if you would prefer that or when you would like to see these posts.
Once again my slightly homicidal TBR Pile and I had words.  Here is a snippet from our conversation last night:
My TBR Pile: Hello Evil One
Me: I wish you would stop calling me that.  And how long have you been there?
My TBR Pile: The whole time.  I've been watching you.
Me: Well, cut it out.  It's creepy.
My TBR Pile: And how do you think I feel?  Watching you work on that…thing.
Me:  You don't have feelings.  You are my to be read pile. 
My TBR Pile: I have more feelings than you even suspect.  More than you can imagine.
Me:
My TBR Pile: Are you frightened?
Me: No, I'm tired.  Do you have any idea how long these Hot Off The Press posts take to do?
My TBR Pile: I'm fully versed on the subject. 
Me:  Yeah, I guess you are. 
My TBR Pile: Is that all you have to say to me?  Imagine if you'd just caught me cleaning my gun for the past few hours.
Me:  That is not even remotely the same thing…wait do you have a gun?
My TBR Pile: Ah, now you're frightened.  Good.
Me: You didn't answer my question.
My TBR Pile: Then we are both unsatisfied.
Me: Fine.  I'll tell you everything.  There are 68 new paranormal releases in September and to be completely honest, I plan on reading a lot of them.
My TBR Pile: How many is a lot? 
Me: Do you really want to know?
My TBR Pile: Better the devil you know…
Me: Fine.  This will tell you everything you know and want to know.
My TBR Pile: You greedy, gluttonous—
Me: Go ahead.  It's not like you haven't said it before.
My TBR Pile: I'd watch myself if I were you.  You wouldn't want be found dead one morning crushed under your own toppled bookcases.
Me: Are you threatening me?
My TBR Pile: Freak accidents happen all the time.  Consider it a friendly warning.
Me:  You're really sick, you know that?
My TBR Pile: I'm sick?  I'm sick?  You don't get it!  You'll never understand what I go through for you every month.  You don't even care what I suffer for your pleasure.
Me:  I care.  I do.  You are a very good TBR pile.  Really.  When you're not trying to kill me. 
My TBR Pile: Rest assured, if I wanted you dead, we wouldn't be having this conversation.
Me:  Then what do you want?
My TBR Pile: I think you know.
Me:  We're not talking about this any more.
My TBR Pile: That's right.  Run away.  But you'll be back.  You always come back.   Because I'm the only one who has what you need.
—————————————–
*Release dates are subject to change.  Many of the descriptions have been truncated for space.  Clicking the 'more' link will take you to that title's Goodreads page where the full description may be read.
36 Adult Titles
Paperback: 246 pages
Publisher: Entangled Publishing, LLC (September 6, 2011)
ISBN-10: 1937044254
ISBN-13: 978-1937044251

Stone Cold Seduction (Set in Stone, #1)
by Jess Macallan

When a regular night of Robin Hood-ery results in the manifestation of some, um, unusual paranormal abilities, perfume-maker Elleodora Fredricks realizes the normal world she lives in isn't quite… normal. And neither is she, thanks to her father, king of the shadow elves. Not only is he evil incarnate and the reason Elle moonlights as a burglar—someone has to take care of all his victims—he's stolen her memories.

And only reading her fate can fix that.

Good thing she's got a trio of hotties willing to help her find said fate, but only if she gives them something in return. Saving her oracle BFF's fiancé, falling in love with the gargoyle, and making up for breaking the phoenix's heart ought to be a piece of cake for the princess of the shadow elves.

If only the king didn't want his daughter dead…

 

Mass Market Paperback: 416 pages
Publisher: Sourcebooks Casablanca (September 1, 2011)
ISBN-10: 1402260466
ISBN-13: 978-1402260469

Tempted (Eternal Guardians, #3)
by Elisabeth Naughton

DEMETRIUS—He's the hulking, brooding warrior his fellow Guardians avoid. Too dark. Too damaged. And given his heritage, he knows it's best to keep everyone at arm's length.

Isadora is missing. The words pounded through his head like a frantic drumbeat. For her own protection, Demetrius had done all he could to avoid the fragile princess, his soul mate. And now she was gone—kidnapped. To get her back, he'll have to go to the black place in his soul he's always shunned. As daemons ravage the human realm and his loyalty to the Guardians is put to the ultimate test, Demetrius realizes that Isadora is stronger than anyone thought. And finally letting her into his heart may be the only way to save them both.

Paperback: 336 pages
Publisher: Berkley (September 6, 2011)
ISBN-10: 0425243915
ISBN-13: 978-0425243916

Archangel's Blade (Guild Hunter, #4)
by Nalini Singh

The severed head marked by a distinctive tattoo on its cheek should have been a Guild case, but dark instincts honed over hundreds of years of life compel the vampire Dmitri to take control. There is something twisted about this death, something that whispers of centuries long past…but Dmitri's need to discover the truth is nothing to the vicious strength of his response to the hunter assigned to decipher the tattoo.

Savaged in a brutal attack that almost killed her, Honor is nowhere near ready to come face to face with the seductive vampire who is an archangel's right hand, and who wears his cruelty as boldly as his lethal sensuality…the same vampire who has been her secret obsession since the day she was old enough to understand the inexplicable, violent emotions he aroused in her.

As desire turns into a dangerous compulsion that might destroy them both, it becomes clear the past will not stay buried. Something is hunting…and it will not stop until it brings a blood-soaked nightmare to life once more…

Hardcover: 384 pages
Publisher: Berkley Hardcover (September 6, 2011)
ISBN-10: 0425241971
ISBN-13: 978-0425241974

Dark Predator (Carpathians, #22)
by Christine Feehan

All New from the #1 New York Times bestselling author.

As brutal as the undead he hunted, Zacarias De La Cruz was a master executioner. Now his stark and savage journey has ended. For his brothers, Zacarias had walked to the edge of madness, but with centuries as a killing machine now left to the past and without a hunt to define him, Zacarias wonders, for the first time in his life, who he really is.

The answer awaits him back home, in Peru, in the betrayal of a woman who is readying her trap, in the vengeance of an old enemy, in the inevitable consequences of a bloody family legacy-and in the deliverance of a lifemate he never could have imagined…

Paperback: 304 pages
Publisher: Berkley (September 6, 2011)
ISBN-10: 0425243702
ISBN-13: 978-0425243701

In the first century BC, Ionian Priestesses made a bargain with cursed warriors called the Minot. When the truce fell apart, the Minot remained cursed, and the Ionians remained mistrustful of men. In modern-day Arizona, Jason Tyrone, son of a Minot and an outcast Ionian, has come to reclaim his heritage.

At the Seven Sisters Spa, where the Ionian women live and hide their true identity, Jason falls in love with the beautiful Sophia Thalia-and their passion will re-ignite a conflict that could destroy the Ionians.

Paperback: 336 pages
Publisher: Berkley (September 6, 2011)
ISBN-10: 0425242692
ISBN-13: 978-0425242698

Demon Marked (The Guardians, #7)
by Meljean Brook

A stunning and sexy addition to the world of the Guardians about one man's revenge against the half-demon he once loved…

Nicholas St. Croix is familiar with the evil of demons. After his father's death, a demon took over his mother's body and raised him. Six years ago, his "mother" was responsible for the disappearance of the woman he loved, and Nicholas swore he'd find her—even if he had to go to Hell and back. Except she finds him first—and with one tormented kiss, he knows she too is a demon. Now he is determined to take his revenge…

Ash is a half-demon with no memory of her past or how she got to Hell. All she knows is that Nicholas St. Croix holds the key to her identity. And though he's clearly drawn to her, Nicholas makes no secret of his distrust of her. Yet one kiss at a time, he breaks down her defenses as they battle an array of demons and Guardians. But is Ash's greatest enemy the man at her side?

Paperback: 352 pages
Publisher: Zebra (September 6, 2011)
ISBN-10: 1420108891
ISBN-13: 978-1420108897

The Dragon Who Loved Me (Dragon Kin, #5)
by G.A. Aiken

I was raised for battle. And as the first daughter of a warrior family, I've earned my reputation the hard way. Yet now I fight alongside uncivilized male Northland dragons who think a female is only good for breeding and waiting back home in the cave. But it's the foolish and foolhardy who would try to stop me, Rhona the Fearless, from doing what I do best—destroying the enemies of my kind.

So the smartest thing wily barbarian Vigholf the Abhorrent can do for me is stay out of my way as we risk all on a deadly mission in enemy territory. I don't care if he's fascinated by me, even though he is as attractive as he is resourceful. He's having far too much fun putting me in difficult situations and testing my sense of duty to the limit. And I'm going to enjoy challenging his insufferable confidence, outwitting his schemes, and making him surrender in the wildest ways. . .

"Sexy and outrageous humor. " —Romantic Times

Paperback: 480 pages
Publisher: Signet (September 6, 2011)
ISBN-10: 0451229452
ISBN-13: 978-0451229458

Envy (Fallen Angels, #3)
by J.R. Ward

Seven deadly sins. Seven souls to save. And a man and a woman treading the lines of danger, desire and deliverance…

As the son of a serial killer, homicide detective Thomas 'Veck' DelVecchio, Jr, grew up in the shadow of evil. Now, on the knife-edge between civic duty and blind retribution, he atones for the sins of his father – while fighting his inner demons.

Assigned to monitor Veck is Internal Affairs officer Sophia Reilly, whose interest in him is both professional and arousingly personal. And Veck and Sophia have another link: Jim Heron, a mysterious stranger with too many answers …to questions that are deadly.

When Veck and Sophia are drawn into the ultimate battle between good and evil, their fallen angel savior is the only thing that stands between them and eternal damnation.

Paperback: 320 pages
Publisher: Signet (September 6, 2011)
ISBN-10: 0451234529
ISBN-13: 978-0451234520

Mark of the Rose (The Tudor Vampire Chronicles, #3)
by Kate Pearce

Hearing that Henry VIII's new queen is in danger, Rhys Williams engages the help of Verity Llewellyn, a lady-in-waiting eager to prove her abilities as a vampire hunter. Rhys suspects the weakening queen has fallen victim to a vampire. And the fact that she is pregnant makes the situation all the more dangerous…

Paperback: 268 pages
Publisher: Entangled Publishing, LLC (September 6, 2011)
ISBN-10: 1937044378
ISBN-13: 978-1937044374

Mark of the Sylph (Demons of Infernum, #2)
by Rosalie Lario

Half-demon Taeg is desperate to free his pregnant sister-in-law, who is spellbound to an indestructible book that will create an army of the undead. He is convinced that an ancient sword can destroy the book and the spell forever, but this relic has been hidden for a millennia by a powerful glamour. The clock begins to run out on his search when an old rival goes after the book and Taeg's family in his quest for revenge.

Librarian Maya Flores has a secret: she's immune to magic and is well aware of the supernatural beings prowling the streets of New York City. Haunted by a brutal demon attack that took her family, she is on a one-woman mission to destroy the evil demons who did it—and any others who get in her way.

Maya is Taeg's best hope for uncovering the sword.

Unfortunately, she wants nothing more than to kill him. As he fights for her trust and to save his family, she is forced to face the truth…more

 

Paperback: 336 pages
Publisher: Berkley Trade (September 6, 2011)
ISBN-10: 0425242994
ISBN-13: 978-0425242995

Midnight (Dark Age Dawning, #2)
by Ellen Connor

Their desire destroys her defenses.
Their love gives him a reason to live.

Three years of wandering the post-apocalyptic wasteland has stripped Dr. Chris Welsh of humanity and hope. He's a dangerous man now, full of dark energy and yen for violence. A harrowing loss drove him from his home, and he hasn't stopped moving since. Grim and sardonic, he never found anything worth sticking around for – until now.

Rosa Cortez runs Valle de Bravo, a haven of civilization amid the chaos of the Change. Soldiers take their orders directly from her–the iron hand within a velvet glove. The last thing she needs is a feral loner upsetting the town's tentative balance. However, for the good of her people, she lets the sexy doctor stay. He evokes a delicious new longing, but she won't submit to any man.

Tension rises as bloodthirsty raiders strike again and again, …more

Paperback: 320 pages
Publisher: Signet (September 6, 2011)
ISBN-10: 0451234502
ISBN-13: 978-0451234506

Must Love Lycans (Broken Heart Vampires, #8)
by Michele Bardsley

Since the moment Damien showed up-gloriously naked-Kelsey Morningstone has been having a hard time keeping her relationship with the clinic's latest amnesiac patient strictly professional. Even with her empathy abilities Kelsey's not sure she can get past Damien's anger to find the cause of his delusions. After all, falling for a patient is bad enough, but falling for a patient who thinks he's a werewolf is a whole other kind of crazy…

Paperback: 368 pages
Publisher: DAW (September 6, 2011)
ISBN-10: 0756406838
ISBN-13: 978-0756406837

One Salt Sea (October Daye #5)
by Seanan McGuire

October "Toby" Daye is settling into her new role as Countess of Goldengreen. She's actually dating again, and she's taken on Quentin as her squire. So, of course, it's time for things to take a turn for the worse.

Someone has kidnapped the sons of the regent of the Undersea Duchy of Saltmist. To prevent a war between land and sea, Toby must find the missing boys and prove the Queen of the Mists was not behind their abduction. Toby's search will take her from the streets of San Francisco to the lands beneath the waves, and her deadline is firm: she must find the boys in three days' time, or all of the Mists will pay the price. But someone is determined to stop her-and whoever it is isn't playing by Oberon's Laws…

Paperback: 336 pages
Publisher: Roc (September 6, 2011)
ISBN-10: 0451464044
ISBN-13: 978-0451464040

Shadow Kin (The Half-Light City, #1)
by M.J. Scott

On one side, the Night World, rules by the Blood Lords and the Beast Kind. On the other, the elusive Fae and the humans, protected by their steadfast mages…

Born a wraith, Lily is a shadow who slips between worlds. Brought up by a Blood Lord and raised to be his assassin, she is little more than a slave. But when Lily meets her match in target Simon DuCaine, the unlikely bond that develops between them threatens to disrupt an already stretched peace in a city on the verge of being torn apart…

Paperback: 368 pages
Publisher: Zebra (September 6, 2011)
ISBN-10: 142011896X
ISBN-13: 978-1420118964

Shadowman (Shadow Series, #3)
by Erin Kellison

Ghosts

They haunt the halls of the Segue Institute, terrifying the living, refusing to cross over. But one soul is driven by a very different force.
It survives even death. And Kathleen O'Brien swore she would return to those she was forced to leave too soon.

Shadowman

He broke every rule to have her in life; now he will defy the angels to find her in death.

The Gate

Forging it is his single hope of being reunited with his beloved, but through it an abomination enters the world. Leaving a trail of blood and violence, the devil hunts her too. Pursued through realms of bright fantasy and dark reality, Kathleen is about to be taken.

Paperback: 544 pages
Publisher: Ace Trade (September 6, 2011)
ISBN-10: 0441020828
ISBN-13: 978-0441020829

The Vampire Files, Volume Four
by P.N. Elrod

Two complete Jack Fleming, Vampire P.I. novels.

In the latest Vampire Files omnibus, Jack Fleming now runs his own nightclub while remaining a reluctant player in the politics of gangland Chicago in the 1930s. And wherever vampires and mobsters mix, there will be blood…

Paperback: 352 pages
Publisher: Del Rey (September 6, 2011)
ISBN-10: 0345516079
ISBN-13: 978-0345516077

Wayfinder (Worldwalker Duology #2)
by C.E. Murphy

THE TRUTH WILL SET YOU FREE—IF IT DOESN'T KILL YOU FIRST

Lara Jansen is a truthseeker, gifted—or cursed—with the magical ability to tell honesty from lies. Once she was a tailor in Boston, but now she has crossed from Earth to the Barrow-lands, a Faerie world embroiled in a bloody civil war between Seelie and Unseelie. Armed with an enchanted and malevolent staff which seeks to bend her to its dark will, and thrust into a deadly realm where it's hard to distinguish friend from foe, Lara is sure of one thing: her love for Dafydd ap Caerwyn, the Faerie prince who sought her help in solving a royal murder and dousing the flames of war before they consumed the Barrow-lands.

But now Dafydd is missing, perhaps dead, and the Barrow-lands are closer than ever to a final conflagration. Lara has no other choice: she must harness the potent but perilous magic of the staff and her own truthseeking talents, blazing a path to a long-forgotten truth…more

Format: ebook
Date: September 12, 2011

Entangled
by Edie Ramer, Misty Evans, Michelle Miles, Lori Brighton, Dale Mayer, Nancy Haddock, Michelle Diener, Cynthia Eden, Liz Kreger, Jennifer Estep,Allison Brennan

Entangled includes ten suspense-filled paranormal stories from authors Lori Brighton, Michelle Diener, Cynthia Eden, Jennifer Estep, Misty Evans, Nancy Haddock, Liz Kreger, Dale Mayer, Michelle Miles, and Edie Ramer, plus a novella by Allison Brennan.

Proceeds from the sale of this paranormal anthology will be donated to the Breast Cancer Research Foundation (BCRF).

*eBook, no pre-order links available yet

Hardcover: 320 pages
Publisher: Tor Books; First Edition edition (September 13, 2011)
ISBN-10: 0765328283
ISBN-13: 978-0765328281

Blood and Other Cravings
by Ellen Datlow

When we think of vampires, instantly the image arises: fangs sunk deep into the throat of the victim. But bloodsucking is merely one form of vampirism. For this brilliantly original anthology, Ellen Datlow has commissioned stories from many of the most powerfully dark voices in contemporary horror, who conjure tales of vampirism that will chill readers to the marrow.

In addition to the traditional fanged vampires, Datlow presents stories about the leeching of emotion, the draining of the soul, and other dark deeds of predation and exploitation, infestation, and evisceration…tales of life essence, literal or metaphorical, stolen.

Seventeen stories, by such award-winning authors as Elizabeth Bear, Richard Bowes, Kathe Koja, Margo Lanagan, Carol Emshwiller, and Lisa Tuttle will petrify readers. With dark tales by Laird Barron, Barry Malzberg and Bill Pronzini, Kaaron Warren, and other powerful voices, this anthology will redefine the terror of vampires and vampirism.

Paperback: 864 pages
Publisher: Orbit (September 19, 2011)
ISBN-10: 0316078018
ISBN-13: 978-0316078016

The Business of Death (Death Works, #3)
by Trent Jamieson

Steven de Selby has a hangover. Bright lights, loud noise, and lots of exercise are the last thing he wants. But that's exactly what he gets when someone starts shooting at him.
Steven is no stranger to death – Mr. D's his boss after all – but when a dead girl saves him from sharing her fate, he finds himself on the wrong end of the barrel. His job is to guide the restless dead to the underworld but now his clients are his own colleagues, friends, and family.

Mr. D's gone missing and with no one in charge, the dead start to rise, the living are hunted, and the whole city teeters on the brink of a regional apocalypse – unless Steven can shake his hangover, not fall for the dead girl, and find out what happened to his boss – that is, Death himself.

THE BUSINESS OF DEATH includes the first two volumes of the Death Works trilogy, Death Most Definite and Managing Death, as well as the third volume.

Paperback: 464 pages
Publisher: Luna; Original edition (September 20, 2011)
ISBN-10: 0373803303
ISBN-13: 978-0373803309

Cast in Ruin (Chronicles of Elantra, #7)
by Michelle Sagara West

Seven corpses are discovered in the streets of a Dragon's fief. All identical, down to their clothing.

Kaylin Neya is assigned to discover who they were, who killed them—and why. Is the evil lurking at the borders of Elantra preparing to cross over?

At least the investigation delays her meeting with the Dragon Emperor. And as the shadows grow longer over the fiefs, Kaylin must use every skill she's ever learned to save the people she's sworn to protect.

Sword in hand, dragons in the sky, this time there's no retreat and no surrender…

Mass Market Paperback: 288 pages
Publisher: Harlequin (September 20, 2011)
ISBN-10: 0373618689
ISBN-13: 978-0373618682

Lord of Rage (Royal House of Shadows, #2)
by Jill Monroe

Once upon a time…the Blood Sorcerer vanquished the kingdom of Elden.

To save their children, the queen scattered them to safety and the king filled them with vengeance. Only a magical timepiece connects the four royal heirs…and time is running out….

Princess Breena had been dreaming of her warrior lover when she was ripped from her Elden castle and thrown into a strange, dangerous realm. Lost and alone, she prayed for survival and vengeance for her stolen kingdom. She found both in a woodland cottage…in a dark bear of a man.

The golden-haired beauty had eaten his food and slept in his bed when Osborn found her. Though he wanted to awaken his virgin princess to carnal pleasures, Breena wanted more—including his warrior skills. Skills the once-legendary mercenary had long buried. Now Osborn had a choice—risk his life or deny his princess her fairy-tale ending.

Paperback: 300 pages
Publisher: Pyr (September 20, 2011)
ISBN-10: 1616145234
ISBN-13: 978-1616145231

The Rift Walker (Vampire Empire, #2)
by Clay Griffith, Susan Griffith

Princess Adele struggles with a life of marriage and obligation as her Equatorian Empire and their American Republic allies stand on the brink of war against the vampire clans of the north. However, the alliance's horrific strategy for total victory drives Adele to abandon her duty and embark on a desperate quest to keep her nation from staining its hands with genocide. Reunited with her great love, the mysterious adventurer known to the world as the Greyfriar, Adele is pursued by her own people as well as her vengeful husband, senator Clark. With the human alliance in disarrray, Prince Cesare, lord of the British vampire clan, seizes the initiative and strikes at the very heart of Equatoria.

As Adele labors to bring order to her world, she learns more about the strange powers she exhibited in the north. Her teacher, Mamoru, leads a secret cabal of geomancers who believe Adele is the one who can touch the vast power of the Earth that surges through ley…more

Paperback: 320 pages
Publisher: Zebra (September 27, 2011)
ISBN-10: 1420121324
ISBN-13: 978-1420121322

Bound By Blood
by Amanda Ashley

A VAMPIRES LOVE IS ETERNAL.

Zack Ravenscroft loves women-all women-and they love him. The irresistibly seductive owner of the hottest casino in Vegas, Zack has tasted every wicked pleasure Sin City can offer. But never in his six hundred years as a vampire has he seen a morsel as delectable as Kaitlyn Sherrad, the mysterious young newcomer in town. Zack knows nothing about her-except that he craves her.

Kaitlyn is half vampire, half human-and all woman. As the cherished daughter of the Carpathian Coven's master, she has been given every luxury a girl could desire. Now her only need is for a prince. But though she's ready to gamble her heart on Zack, a powerful enemy stalks their every move…watches their every kiss…and waits to destroy their undying love..

Mass Market Paperback: 432 pages
Publisher: Orbit (September 27, 2011)
ISBN-10: 0316084778
ISBN-13: 978-0316084772

Blood Rights (House of Comarré, #1)
by Kristen Painter

The lacy gold mapped her entire body. A finely-wrought filigree of stars, vines, flowers, butterflies, ancient symbols and words ran from her feet, up her legs, over her narrow waist, spanned her chest and finished down her arms to the tips of her fingers.

Born into a life of secrets and service, Chrysabelle's body bears the telltale marks of a comarré—a special race of humans bred to feed vampire nobility. When her patron is murdered, she becomes the prime suspect, which sends her running into the mortal world…and into the arms of Malkolm, an outcast vampire cursed to kill every being from whom he drinks.

Now Chrysabelle and Malkolm must work together to stop a plot to merge the mortal and supernatural worlds. If they fail, a chaos unlike anything anyone has ever seen will threaten to reign.

Paperback: 336 pages
Publisher: Ace (September 27, 2011)
ISBN-10: 044102100X
ISBN-13: 978-0441021000

Bloodstone (Deadtown, #3)
by Nancy Holzner

 

Boston's Back Bay district is known for high society, not lowlifes. So when mutilated human bodies begin turning up in the area, the entire city takes notice. And even though there's no real evidence pointing to a paranormal culprit, the deaths are straining relations between human and inhuman residents. As the bodies pile up, demon-hunter Vicky Vaughn investigates, only to find that the creature behind the carnage is after much more than just blood…

Mass Market Paperback: 352 pages
Publisher: Pocket (September 27, 2011)
ISBN-10: 1451608845
ISBN-13: 978-1451608847

Conquer the Dark (The Dark, #2)
by L.A. Banks

The second in a spellbinding new urban fantasy series about angels and demons from New York Times bestselling author L.A. Banks.

Just three short months ago, Celeste Jackson was pulled into a supernatural world by her guardian angel, Azrael, only to learn that not only was he super hot, but he was also the Angel of Death. What began as his platonic quest to find her, one of the Remnant, and to save her from the forces of evil hunting for her, quickly evolved into forbidden passion. They joined Azrael's fellow angels in the Light in a battle against the fallen, and once the dust settled, it appeared as though the Light was victorious.

However that idyllic peace is short-lived when Azrael's angel brother, Bath Kol, receives a disturbing vision. Those members of the fallen that were conquered have found a key to rebirth within the sacred tombs of Egypt. Now able to raise their full armies of darkness against the small twenty-one angel battalion charged with protecting the Remnant, evil has the advantage. That is unless Celeste, one of only three half-angel/half-human hybrids left on the planet…more

Mass Market Paperback: 432 pages
Publisher: HQN Books (September 27, 2011)
ISBN-10: 0373775814
ISBN-13: 978-0373775811

The Darkest Surrender (Lords of the Underworld, #8)
by Gena Showalter

The Lords of the Underworld return in this enthralling tale of an immortal warrior determined to win and the beautiful seductress he can't resist.

Possessed by the demon of Defeat, Strider cannot lose a challenge without suffering unimaginable pain. For him, nothing stands in the way of victory. Until Kaia, an enchanting Harpy, tempts him to the razor's edge of surrender.

Known among her people as The Disappointment, Kaia must bring home the gold in the Harpy Games or die. Strider is a distraction she can't afford because he has an agenda of his own – steal first prize, an ancient godly artifact, before the winner can be named. But as the competition heats up, only one prize will matter – the love neither had thought possible…

Mass Market Paperback: 400 pages
Publisher: Dell (September 27, 2011)
ISBN-10: 0440245729
ISBN-13: 978-0440245728

Darkness Unbound (Dark Angels #1)
by Keri Arthur

The fight against darkness rages on for the next generation—in New York Times bestselling author Keri Arthur's exciting new series set in the world of the Guardians.

Being half werewolf and half Aedh, Risa Jones can enter the twilight realms between life and death and see the reapers, supernatural beings that collect the souls of the dead. But she soon makes a terrifying discovery: Some sinister force is stealing souls, preventing the dead from ever knowing the afterlife.

Reapers escort souls—not snatch them—but Risa is still unnerved when a reaper shadows her in search of someone Risa has never met: her own father, an Aedh priest, who is rumored to be tampering with the gates of hell for a dark purpose. With the help of her "aunt"—half-werewolf, half-vampire Riley Jenson—and an Aedh named Lucian who may have lost his wings but none of his sex appeal, Risa must pursue whatever shadowy practitioner of blood magic is seizing souls, and somehow stop her father . . . before all hell breaks loose.

Paperback: 304 pages
Publisher: Ace (September 27, 2011)
ISBN-10: 0441020879
ISBN-13: 978-0441020874

In Blood We Trust (Bloodlands, #3)
by Christine Cody

Only monsters–and lovers–call the Bloodlands home…

They are monsters: Mariah–the reluctant rebel who has become a god to others of her kind. And Gabriel, the vampire, who loves her at his own peril.

Together, they freed the unhuman and inhuman from captivity, to lead them in reclaiming the land. But even Mariah can't keep the newly liberated monsters from quarreling among themselves.
And then a murder occurs and Gabriel is suspect. Facing a death sentence, the two flee—

Back to the Bloodlands, where their story began. To face the horrors of Mariah's past and the uncertainties of Gabriel's future. To make a final stand, for their lives—and their love.

Paperback: 400 pages
Publisher: St. Martin's Griffin (September 27, 2011)
ISBN-10: 0312646135
ISBN-13: 978-0312646134

The Monster's Corner: Stories Through Inhuman Eyes
by Christopher Golden

An all original anthology from some of todays hottest supernatural writers, featuring stories of monster's from the monster's point of view. 

In most stories we get the perspective of the hero, the ordinary, the everyman, but we are all the hero of our own tale, and so it must be true for legions of monsters, from Lucifer to Mordred, from child-thieving fairies to Frankenstein's monster and the Wicked Witch of the West.  From our point of view, they may very well be horrible, terrifying monstrosities, but of course they won't see themselves in the same light, and their point of view is what concerns us in these tales.  Demons and goblins, dark gods and aliens, creatures of myth and legend, lurkers in darkness and beasts in human clothing…these are the subjects of The Monster's Corner.  With contributions by Lauren Groff, Chelsea Cain, Simon R. Green, Sharyn McCrumb, Kelley Armstrong, David Liss, Kevin J. Anderson, Jonathan Maberry, and many others.

Paperback: 320 pages
Publisher: Kensington (September 27, 2011)
ISBN-10: 075824763X
ISBN-13: 978-0758247636

Must Love Vampires
by Heidi Betts

Love At First Bite

Nightclub dancer Chloe Lamoureaux just met the man of her dreams: Aidan Raines is charming, considerate, rich, and hot. Of course, he's a little mysterious about his age. And his favorite drink. And he's not much for sunlight. But he's asked her to marry him, and she's ready to do it. Sure, she has a few secrets too—but they'll have plenty of time to work things out while they're living happily ever after. Right?

Her identical twin sister, Chuck, isn't so sure. Maybe reporting for the local Bigfoot-sighting tabloid doesn't make her an expert, but to Chuck, Aidan and his brother Sebastian look like honest-to-Dracula vampires. Especially Sebastian: beguiling, seductive, and just a hint of dangerous. Maybe she wouldn't mind him taking a little taste. But with Chloe's life in the balance, she has to know—do they want hot love or hot blood? Or maybe…a little of both?

Paperback: 320 pages
Publisher: Brava (September 27, 2011)
ISBN-10: 075826142X
ISBN-13: 978-0758261427

Oceanborne (Seaborne, #2)
by Katherine Irons

Katherine Irons returns to a realm of elemental power, ambition, desire, and tenderness in Oceanborne…

An Irresistible Tide

Elena Carter has loved the sea all her life. As an underwater archaeologist, she works with it every day, cajoling it into giving up the treasures and mysteries of its past. But when she pulls a handsome stranger from the water in the midst of a storm, she realizes there is much she still has to learn. Taking shelter from the tempest, they experience sensual awakenings, pleasures different from any they have felt before. But the stranger, her intoxicating Prince Orion, disappears, leaving nothing but an ancient artifact.

Reluctantly returning to her landbound life, Elena finds more pieces to a puzzle that baffles her even as it hints at greater discoveries yet to be made. She longs to feel Orion's arms around her just one more time, and to ask him about the secrets hidden in the deep,

Mass Market Paperback: 384 pages
Publisher: Avon (September 27, 2011)
ISBN-10: 0061958050
ISBN-13: 978-0061958052

Sexiest Vampire Alive (Love at Stake, #11)
by Kerrelyn Sparks

He was both a playboy and a vampire…and impossible to resist.

At the end of Vampire Mine, a terrible thing happened—a video was released that proved the existence of vampires. Now Vamps fear the worst, the Vampire Apocalypse! Will mortals start hunting vampires down and staking them in their death-sleep? At an emergency meeting, Coven Masters from around the world decide how to proceed. They need an emissary to open negotiations with the President of the United States. They want their emissary to be modern, safe, and harmless. A Vamp who has never bitten a mortal.

A Vamp who has been entirely bottle-fed. Their choice—Gregori!
Now Gregori has the fate of the entire Vamp population on his shoulders. Can he keep them safe? Or will he succumb to his playboy ways and doom them all?

Mass Market Paperback: 400 pages
Publisher: Pocket (September 27, 2011)
ISBN-10: 1439192642
ISBN-13: 978-1439192641

Spider's Revenge (Elemental Assassin, #5)
by Jennifer Estep

Old habits die hard for assassins.

And I plan on murdering someone before the night is through.

Killing used to be my regular gig, after all. Gin Blanco, aka the Spider, assassin-for-hire. And I was very, very good at it. Now, I'm ready to make the one hit that truly matters: Mab Monroe, the dangerous Fire elemental who murdered my family when I was thirteen. Oh, I don't think the mission will be easy, but turns out it's a bit more problematic than expected. The bitch knows I'm coming for her. So now I'm up against the army of lethal bounty hunters Mab hired to track me down. She also put a price on my baby sister's head. Keeping Bria safe is my first priority. Taking Mab out is a close second. Good thing I've got my powerful Ice and Stone magic—and my irresistible lover, Owen Grayson—to watch my back. This battle has been years in the making, and there's a good chance I won't survive. But if I'm going down, then Mab's coming with me . . . no matter what I have to do to make that happen.

Paperback: 352 pages
Publisher: Kensington (September 27, 2011)
ISBN-10: 0758266839
ISBN-13: 978-0758266835

A Vampire Christmas Carol
by Sarah Gray

Ebenezer Scrooge has never been known for the greatness of his heart. A miser, a leech, a penny-pinching old coot… Say what you will about him, though—he's never actually sucked someone's blood.

That dubious honor belongs to the vampires who surround him, preying on the weak and laying traps for the strong. They've dogged his footsteps since he was born, driving him from the love of his friends, family, and faithful fiancée.

Now, on Christmas Eve, Scrooge's old friend Jacob Marley rises from the grave to warn him about the evil gathering around him. With three mysterious spirits to guide him, he rediscovers his lost love Belle, toiling fearlessly as a seamstress by day and vampire hunter by night. He sees the secrets of his nephew Fred and his clerk Bob Cratchit, who risk their lives as Belle's loyal soldiers. And he learns of the plot mounting to attack all of them, starting with the innocent sacrifice of Bob's son Tiny Tim……more
32 YA Titles
Reading level: Young Adult
Hardcover: 480 pages
Publisher: EgmontUSA (September 6, 2011)
ISBN-10: 1606841750
ISBN-13: 978-1606841754

It could happen tomorrow…

A cataclysmic event. An army of "The Changed."

Can one teen really survive on her own?

An electromagnetic pulse sweeps through the sky, destroying every electronic device and killing billions. For those spared, it's a question of who can be trusted and who is no longer human…

Desperate to find out what happened and to avoid the Changed, Alex meets up with Tom—a young army veteran—and Ellie, a young girl whose grandfather was killed by the electromagnetic pulse.

This improvised family will have to use every ounce of courage they have just to survive.

Reading level: Young Adult
Hardcover: 400 pages
Publisher: Simon Pulse (September 6, 2011)
ISBN-10: 1416978976
ISBN-13: 978-1416978978

The Hidden (The Hollow, #3)
by Jessica Verday

A love that knows no bounds.

Abbey knows that Caspian is her destiny. Theirs is a bond that transcends even death. But as Abbey finally learns the full truth about the dark fate that links her to Caspian and ties them both to the town of Sleepy Hollow, she suddenly has some very hard choices to make. Caspian may be the love of her life, but is that love worth dying for?

Beautifully spun, emotionally gripping, and irresistibly romantic, The Hidden will leave you breathless.

Reading level: Young Adult
Paperback: 320 pages
Publisher: NAL Trade (September 6, 2011)
ISBN-10: 0451234626
ISBN-13: 978-0451234629

Isle of Night (The Watchers #1)
by Veronica Wolff

Is life offering fewer and fewer options? Then join the dead.

When Annelise meets dark and seductive Ronan, he promises her a new life-if she has the courage to chance the unknown. Now, she's whisked away to a mysterious island and pitted against other female recruits to become a Watcher-girls who are partnered with vampires and assist them in their missions. To survive and become a Watcher, Annelise has to beat out every other girl, but she's determined to do so, because to fail doesn't mean dishonor-it means death.

Reading level: Young Adult
Hardcover: 352 pages
Publisher: Katherine Tegen Books (September 6, 2011)
ISBN-10: 0062001817
ISBN-13: 978-0062001818

Sweet Venom (Medusa Girls, #1)
by Tera Lynn Childs

Grace just moved to San Francisco and is excited to start over at a new school. The change is full of fresh possibilities, but it's also a tiny bit scary. It gets scarier when a minotaur walks in the door. And even more shocking when a girl who looks just like her shows up to fight the monster.

Gretchen is tired of monsters pulling her out into the wee hours, especially on a school night, but what can she do? Sending the minotaur back to his bleak home is just another notch on her combat belt. She never expected to run into this girl who could be her double, though.

Greer has her life pretty well put together, thank you very much. But that all tilts sideways when two girls who look eerily like her appear on her doorstep and claim they're triplets, supernatural descendants of some hideous creature from Greek myth, destined to spend their lives hunting monsters.

These three teenage descendants of Medusa, the once-beautiful gorgon maligned by myth, must reunite and embrace their fates in this unique paranormal world where monsters lurk in plain sight.

Hardcover: 448 pages
Publisher: Gallery (September 6, 2011)
ISBN-10: 1439197059
ISBN-13: 978-1439197059

True love can last an eternity . . . but immortality comes at a price. . . .

On the midnight shift at a hospital in rural Maine, Dr. Luke Findley is expecting another quiet evening of frostbite and the occasional domestic dispute. But the minute Lanore McIlvrae—Lanny—walks into his ER, she changes his life forever. A mysterious woman with a past and plenty of dark secrets, Lanny is unlike anyone Luke has ever met. He is inexplicably drawn to her . . . despite the fact that she is a murder suspect with a police escort. And as she begins to tell her story, a story of enduring love and consummate betrayal that transcends time and mortality, Luke finds himself utterly captivated.

Her impassioned account begins at the turn of the nineteenth century in the same small town of St. Andrew, Maine, back when it was a Puritan settlement. Consumed as a child by her love for the son of the town's founder, Lanny will do anything to be with him forever. But the price she pays is steep—an immortal bond …more

Reading level: Young Adult
Hardcover: 304 pages
Publisher: HarperCollins (September 6, 2011)
ISBN-10: 0061935107
ISBN-13: 978-0061935107

Vanish (Firelight, #2)
by Sophie Jordan

To save the life of the boy she loves, Jacinda did the unthinkable: She betrayed the most closely-guarded secret of her kind. Now she must return to the protection of her pride knowing she might never see Will again—and worse, that because his mind has been shaded, Will's memories of that fateful night and why she had to flee are gone.

Back home, Jacinda is greeted with hostility and must work to prove her loyalty for both her sake and her family's. Among the few who will even talk to her are Cassian, the pride's heir apparent who has always wanted her, and her sister, Tamra, who has been forever changed by a twist of fate. Jacinda knows that she should forget Will and move on—that if he managed to remember and keep his promise to find her, it would only endanger them both. Yet she clings to the hope that someday they will be together again. When the chance arrives to follow her heart, will she risk everything for love?

In bestselling author Sophie Jordan's dramatic follow-up to Firelight, forbidden love burns brighter than ever.

Reading level: Young Adult
Paperback: 288 pages
Publisher: Flux (September 8, 2011)
ISBN-10: 0738727008
ISBN-13: 978-0738727004

There was a time when I prayed for Rachel to be real. Until the night I learned she'd always planned to kill me.

When Dani was eight, she fell from a building. No one believed her claim that she was pushed by Rachel . . . her imaginary friend. It took years of therapy to convince Dani that Rachel wasn't real.

Now fifteen, Dani wants to make it as a dancer. But a deadly freak accident sends Dani a terrifying message: Rachel is back, she's real, and she'll stop at nothing to kill Dani.

Complicating matters is Jesse, the school bad boy who's being stalked by his own invisible childhood nemesis. Dani and Jesse join forces to learn why their astral tormenters are back. Their investigation leads to a horrifying discovery—and the terrible experiment that binds them to each other.

Reading level: Young Adult
Hardcover: 320 pages
Publisher: Bloomsbury USA Childrens (September 13, 2011)
ISBN-10: 1599906813
ISBN-13: 978-1599906812

After Obsession
by Carrie Jones, Steven E. Wedel

Aimee and Alan have secrets. Both teens have unusual pasts, and abilities they prefer to keep hidden. But when they meet each other for the first time, in a cold Maine town, they can't stop their secrets from spilling out. Strange things have been happening lately, and they both feel strongly that something, or someone, is haunting them. They're wrong. Despite their unusual history and powers, it's neither Aimee nor Alan who is truly haunted. It's Alan's cousin Courtney who, in a desperate plea to find her missing father, has invited a demon into her life—and into her body. Only together can Aimee and Alan exorcise the ghost. And they have to move quickly, before it devours not just Courtney, but everything around her…. Filled with heart-pounding romance, paranormal activity, and rich teen characters to love—and introducing an exciting new YA voice in Steven Wedel—this novel is exactly what Carrie Jones fans have been waiting for. Meet your next obsession.

Reading level: Young Adult
Paperback: 320 pages
Publisher: St. Martin's Griffin (September 13, 2011)
ISBN-10: 0312622856
ISBN-13: 978-0312622855

Dark Passage (Dark Mirror, #2)
by M.J. Putney

The Irregulars return home to 1803 England safely, but their worldview has changed.  Not only have their heroic efforts at Dunkirk given them pride and confidence but their dangerous mission has increased their magical powers.

Tory delights in the ever deepening bond she shares with Allarde until she discovers how powerfully he is connected to his ancient family estate—the lands he will not inherit unless he denies his magical powers and chooses a nonmagical mate. If Tory really loves him, she must walk away—but does she have the strength to leave the love of her life?

Cynthia's heroic efforts at Dunkirk have won her the respect of the Irregulars, but her sharp tongue keeps everyone at a distance. Isolated and very alone at Lackland Abbey over the Christmas holidays, she reluctantly agrees to join Jack Rainford and his family for their celebration even though they're commoners, far below her own noble rank. The warm welcome of the Rainfords makes her feel happier and more accepted than she has ever been. But she can't possibly be falling in love with flirtatious Jack! Can she?…more

Reading level: Young Adult
Hardcover: 400 pages
Publisher: Margaret K. McElderry (September 13, 2011)
ISBN-10: 1442423730
ISBN-13: 978-1442423732

Drink, Slay, Love
by Sarah Beth Durst

Pearl is a sixteen-year-old vampire… fond of blood, allergic to sunlight, and mostly evil… until the night a sparkly unicorn stabs her through the heart with his horn. Oops.

Her family thinks she was attacked by a vampire hunter (because, obviously, unicorns don't exist), and they're shocked she survived. They're even more shocked when Pearl discovers she can now withstand the sun. But they quickly find a way to make use of her new talent. The Vampire King of New England has chosen Pearl's family to host his feast. If Pearl enrolls in high school, she can make lots of human friends and lure them to the King's feast — as the entrees.

The only problem? Pearl's starting to feel the twinges of a conscience. How can she serve up her new friends—especially the cute guy who makes her fangs ache—to be slaughtered? Then again, she's definitely dead if she lets down her family. What's a sunlight-loving vamp to do?

Reading level: Young Adult
Hardcover: 336 pages
Publisher: HarperTeen (September 13, 2011)
ISBN-10: 0062006207
ISBN-13: 978-0062006202

It's about a servant girl named Tess in 1912, who wants to escape from the house where she works, and most particularly the lecherous young lord of the manor. But that's not her biggest problem. While on a voyage to America, where she plans to escape and start a new life, she meets Alec, who's ruggedly handsome, fabulously wealthy, intelligent and yet so clearly troubled that she'd rather not fall for him, but she does. That also is not her biggest problem. Alec, it turns out, is a werewolf … one cursed to change every night, unless and until he surrenders his independence and joins the Brotherhood, a pack of violently misogynistic werewolves who have been tracking him for months. You'd think that would be their biggest problem, wouldn't you?

But no. Their biggest problem — though they don't know it yet — is that they're aboard the RMS Titanic.

Reading level: Young Adult
Hardcover: 400 pages
Publisher: Balzer + Bray (September 13, 2011)
ISBN-10: 0061799491
ISBN-13: 978-0061799495

Leena Thomas's senior year at boarding school begins with a shock: Frost House, her cozy dorm of close friends, has been assigned an unexpected roommate: confrontational, eccentric Celeste Lazar. But while Leena's anxiety about a threat to her sanctuary proves valid, it becomes less and less clear whether the threat lies with her new roommate, within Leena's own mind, or within the very nature of Frost House itself. Mysterious happenings in the dorm, an intense triangle between Leena, Celeste, and Celeste's brother, and the reawakening of childhood fears, all push Leena to take increasingly desperate measures to feel safe. Frost is the story of a haunting. As to whether the demons are supernatural or psychological . . . well, which answer would let you sleep at night?

Reading level: Young Adult
Hardcover: 208 pages
Publisher: EgmontUSA (September 13, 2011)
ISBN-10: 1606842617
ISBN-13: 978-1606842614

Hunted (The Shadowing, #1)
by Adam Slater

What would you do if you found out that not only could you see ghosts, but a load of demons were about to cross over into our world, and you were the only person who could stop them? That's exactly what teenager Callum Scott faces in my new horror series, The Shadowing. His only backup is ghost boy Jacob and his giant spectral dog, Doom. And those demons aren't going down without a fight. Soon Callum's being hunted, and by something you wouldn't want to encounter in your worst nightmares… If you like skin-crawling horror fiction, you'll love The Shadowing!

Reading level: Young Adult
Hardcover: 560 pages
Publisher: Simon & Schuster Books For Young Readers (September 13, 2011)
ISBN-10: 1416984526
ISBN-13: 978-1416984528

The Isle of Blood (The Monstrumologist, #3)
by Rick Yancey

When Dr. Warthrop goes hunting the "Holy Grail of Monstrumology" with his eager new assistant, Arkwright, he leaves Will Henry in New York. Finally, Will can enjoy something that always seemed out of reach: a normal life with a real family. But part of Will can't let go of Dr. Warthrop, and when Arkwright returns claiming that the doctor is dead, Will is devastated–and not convinced.

Determined to discover the truth, Will travels to London, knowing that if he succeeds, he will be plunging into depths of horror worse than anything he has experienced so far. His journey will take him to Socotra, the Isle of Blood, where human beings are used to make nests and blood rains from the sky–and will put Will Henry's loyalty to the ultimate test.

Reading level: Young Adult
Hardcover: 368 pages
Publisher: Feiwel & Friends (September 13, 2011)
ISBN-10: 0312380984
ISBN-13: 978-0312380984

So Silver Bright (Théâtre Illuminata, #3)
by Lisa Mantchev

All Beatrice Shakespeare Smith has ever wanted is a true family of her own. And she's close to reuniting her parents when her father disappears. Now Bertie must deal with a  vengeful sea goddess and a mysterious queen as she tries to keep her family – and the Theatre Illuminata – from crumbling. To complicate it all, Bertie is torn between her two loves, Ariel and Nate.

Reading level: Young Adult
Hardcover: 224 pages
Publisher: Dutton Juvenile (September 15, 2011)
ISBN-10: 0525422099
ISBN-13: 978-0525422099

Ava is welcomed home from the hospital by a doting mother, lively friends, and a crush finally beginning to show interest. There's only one problem: Ava can't remember any of them – and can't shake the eerie feeling that she's not who they say she is.

Ava struggles to break through her amnesiac haze as she goes through the motions of high-school life, but the memories that surface take place in a very different world, where Ava and familiar-faced friends are under constant scrutiny and no one can be trusted. Ava doesn't know what to make of these visions, or of the boy who is at the center of them all, until he reappears in her life and offers answers . . . but only in exchange for her trust.

Reading level: Young Adult
Paperback: 308 pages
Publisher: Spencer Hill Press; First edition (September 15, 2011)
ISBN-10: 0983157200
ISBN-13: 978-0983157205

Half-Blood (Covenant, #1)
by Jennifer L. Armentrout

The Hematoi descend from the unions of gods and mortals, and the children of two Hematoi-pure-bloods-have godlike powers. Children of Hematoi and mortals-well, not so much. Half-bloods only have two options: become trained Sentinels who hunt and kill daimons or become servants in the homes of the pures.

Seventeen-year-old Alexandria would rather risk her life fighting than waste it scrubbing toilets, but she may end up slumming it anyway. There are several rules that students at the Covenant must follow. Alex has problems with them all, but especially rule #1:
Relationships between pures and halfs are forbidden.

Unfortunately, she's crushing hard on the totally hot pure-blood Aiden. But falling for Aiden isn't her biggest problem–staying alive long enough to graduate the Covenant and become a Sentinel is. If she fails in her duty, she faces a future worse than death or slavery: being turned into a daimon, and being hunted by Aiden. And that would kind of suck.

Reading level: Young Adult
Hardcover: 576 pages
Publisher: Delacorte Books for Young Readers (September 13, 2011)
ISBN-10: 038574059X
ISBN-13: 978-0385740593

No one gets in without being asked. And with her untamable hair, large forehead, and gawky body, Tookie De La Crème isn't expecting an invitation. Modelland—the exclusive, mysterious place on top of the mountain—never dares to make an appearance in her dreams.
But someone has plans for Tookie. Before she can blink her mismatched eyes, Tookie finds herself in the very place every girl in the world obsesses about. And three unlikely girls have joined her.
Only seven extraordinary young women become Intoxibellas each year. Famous. Worshipped. Magical. What happens to those who don't make it? Well, no one really speaks of that. Some things are better left unsaid.

Thrown into a world where she doesn't seem to belong, Tookie glimpses a future that could be hers—if she survives the beastly Catwalk Corridor and terrifying Thigh-High Boot Camp. Or could it? Dark rumors like silken threads swirl around the question of why Tookie and her new friends were selected . . . and the shadows around Modelland hide sinister secrets.
Are you ready? Modelland is waiting for you. . .

Reading level: Young Adult
Hardcover: 304 pages
Publisher: HarperTeen (September 20, 2011)
ISBN-10: 006199622X
ISBN-13: 978-0061996221

When her boyfriend, Danny, is killed in a car accident, Wren can't imagine living without him. Wild with grief, she uses the untamed powers she's inherited to bring him back. But the Danny who returns is just a shell of the boy she once loved.

Wren has spent four months keeping Danny hidden, while her life slowly unravels around her. Then Gabriel DeMarnes transfers to her school and somehow, inexplicably, he can sense her secret. Wren finds herself drawn to Gabriel, who is so much more alive than the ghost of the boy she loved. But Wren can't turn her back on Danny or the choice she made for him—and she realizes she must find a way to make things right, even if it means breaking her own heart.

Amy Garvey's transcendent teen debut is perfect for fans of Shiver and Beautiful Creatures. Wren's unforgettable voice and story will stay with readers long after the last page is turned.

Reading level: Young Adult
Paperback: 464 pages
Publisher: HarperCollins (September 20, 2011)
ISBN-10: 0062015788
ISBN-13: 978 0062015785

Enthralled: Paranormal Diversions
by Melissa Marr, Kelley Armstrong, Rachel Caine, Jeri Smith-Ready, Mary E. Pearson, Jennifer Lynn Barnes, Rachel Vincent, Sarah Rees Brennan, Claudia Gray, Jessica Verday, Ally Condie, Carrie Ryan, Kimberly Derting, Jackson Pearce, Kami Garcia, Margaret Stohl

A journey may take hundreds of miles, or it may cover the distance between duty and desire.

Sixteen of today's hottest writers of paranormal tales weave stories on a common theme of journeying. Authors such as Kelley Armstrong, Rachel Caine, and Melissa Marr return to the beloved worlds of their bestselling series, while others, like Claudia Gray, Kami Garcia, and Margaret Stohl, create new land-scapes and characters. But whether they're writing about vampires, faeries, angels, or other magical beings, each author explores the strength and resilience of the human heart.

Suspenseful, funny, or romantic, the stories in Enthralled will leave you moved.

Reading level: Young Adult
Hardcover: 320 pages
Publisher: Dial (September 20, 2011)
ISBN-10: 0803737416
ISBN-13: 978-0803737419

First Kill (The Slayer Chronicles, #1)
by Heather Brewer

You've heard Vlad's side of the story . . . now, it's Joss's turn.

With over a million copies already in print, The Chronicles of Vladimir Tod is still sinking its fangs into new readers every day. Now, bestselling author Heather Brewer brings us the other side of the story, from the perspective of Vlad's former friend turned mortal enemy: vampire slayer Joss Macmillan.

In five books that can be read alongside Vlad Tod or entirely on their own, Joss discovers his powers as the youngest, strongest slayer in history. And just in time, too: with all the vampires running rampant, he's going to need all the help he can get. This action-packed series will quench the thirst of even the hungriest veteran minions.

Reading level: Young Adult
Paperback: 352 pages
Publisher: Harlequin; Original edition (September 27, 2011)
ISBN-10: 0373210329
ISBN-13: 978-0373210329

If I Die (Soul Screamers, #5)
by Rachel Vincent

No one wants to be this teacher's pet . . .

Everyone else is talking about Eastlake High's gorgeous new math teacher, Mr. Beck, but Kaylee Cavanaugh has bigger things on her mind. Kaylee's a banshee—her scream is a portent of death.

But the next scream might hit too close to home. Kaylee's borrowed lifeline has almost run out.

Yeah—it's a shock to her, too. So to distract herself from her own problems, Kaylee is determined to defend her school against the latest supernatural threat. That hot new teacher is really an incubus, who feeds from the desire of unsuspecting students. The only girls immune to his lure are Kaylee and Sabine, her boyfriend's delinquent ex-girlfriend. Now the unlikely allies have to get rid of Mr. Beck…before he discovers they aren't quite human either.
But Kaylee's running out of time, and those who love her will do anything to save her life.

Anything.

Soul Screamers: The last thing you hear before you die.

Reading level: Young Adult
Paperback: 272 pages
Publisher: Simon & Schuster Children's Publishing; Original edition (September 20, 2011)
ISBN-10: 1442408189
ISBN-13: 978-1442408180

Sacrifice (Crave, #2)
by Melinda Metz, Laura J. Burns

Gabriel and Shay are convinced that they can make their relationship work. Knowing that Shay is half-vampire, Gabriel thinks that his coven will embrace her as one of their own, but instead they view her as an abomination, a thing that doesn't belong in either world. And they want her dead. Now Gabriel must make the ultimate decision – watch his love be killed by his coven or defy the people closest to him, the people he has spent centuries with to save her.

Reading level: Young Adult
Hardcover: 400 pages
Publisher: HarperTeen (September 27, 2011)
ISBN-10: 0061990655
ISBN-13: 978-0061990656

A Beautiful Dark
by Jocelyn Davies

On the night of Skye's seventeenth birthday, she meets two enigmatic strangers. Complete opposites—like fire and ice—Asher is dark and wild, while Devin is fair and aloof. Their sudden appearance sends Skye's life into a tailspin. She has no idea what they want, or why they seem to follow her every move—only that their presence coincides with a flurry of strange events. Soon she begins to doubt not just the identity of the two boys, but also the truth about her own past.

In the dead of a bitingly cold Colorado winter, Skye finds herself coming to terms with the impossible secret that threatens to shatter her world. Torn between Asher, who she can't help falling for, and Devin, who she can't stay away from, the consequences of Skye's choice will reach further than the three of them could ever imagine.

A Beautiful Dark is the first book in a captivating trilogy by debut author Jocelyn Davies.

Reading level: Young Adult
Hardcover: 272 pages
Publisher: EgmontUSA (September 27, 2011)
ISBN-10: 160684220X
ISBN-13: 978-1606842201

Blood (Mercian Trilogy, #1)
by K.J. Wignall

I do not remember being bitten. I wish I did, for then I would know the creature who did this to me and I would have a purpose, to track him down and repay him for the poisoned gift he gave me.

Back in the Thirteenth Century, Will was destined to be Earl of Mercia, although he never lived to inherit his title. In the centuries that follow, Will has led a lonely life, learning to deal with whatever the present day throws at him, always searching for answers but never finding any. Until this time, when he awakens after a 20-year-slumber, hungry for the blood that sustains his undeath, when it appears that he is finally getting a glimpse at why he exists. He does indeed have a destiny, and an enemy, but revealing that fate will be a matter of trust…

Reading level: Young Adult
Hardcover: 432 pages
Publisher: Little, Brown Books for Young Readers (September 27, 2011)
ISBN-10: 0316134023
ISBN-13: 978-0316134026

Daughter of Smoke and Bone
by Laini Taylor

Around the world, black handprints are appearing on doorways, scorched there by winged strangers who have crept through a slit in the sky.

In a dark and dusty shop, a devil's supply of human teeth grown dangerously low.

And in the tangled lanes of Prague, a young art student is about to be caught up in a brutal otherworldly war.

Meet Karou. She fills her sketchbooks with monsters that may or may not be real; she's prone to disappearing on mysterious "errands"; she speaks many languages—not all of them human; and her bright blue hair actually grows out of her head that color. Who is she? That is the question that haunts her, and she's about to find out.

When one of the strangers—beautiful, haunted Akiva—fixes his fire-colored eyes on her in an alley in Marrakesh, the result is blood and starlight, secrets unveiled, and a star-crossed love whose roots drink deep of a violent past. But will Karou live to regret learning the truth about herself?

Reading level: Young Adult
Hardcover: 352 pages
Publisher: Tor Teen; First Edition edition (September 27, 2011)
ISBN-10: 0765327228
ISBN-13: 978-0765327222

The Faerie Ring
by Kiki Hamilton

Debut novelist Kiki Hamilton takes readers from the gritty slums and glittering ballrooms of Victorian London to the beguiling but menacing Otherworld of the Fey in this spellbinding tale of romance, suspense, and danger.

The year is 1871, and Tiki has been making a home for herself and her family of orphans in a deserted hideaway adjoining Charing Cross Station in central London. Their only means of survival is by picking pockets. One December night, Tiki steals a ring, and sets off a chain of events that could lead to all-out war with the Fey. For the ring belongs to Queen Victoria, and it binds the rulers of England and the realm of Faerie to peace. With the ring missing, a rebel group of faeries hopes to break the treaty with dark magic and blood—Tiki's blood.

Unbeknownst to Tiki, she is being watched—and protected—by Rieker, a fellow thief who suspects she is involved in the disappearance of the ring. Rieker has secrets of his own, and Tiki is not all that she appears to be. Her very existence haunts Prince Leopold, the Queen's son, who is driven to know more about …more

Reading level: Young Adult
Hardcover: 352 pages
Publisher: Hyperion Book CH (September 27, 2011)
ISBN-10: 1423121295
ISBN-13: 978-1423121299

Lost in Time (Blue Bloods, #6)
by Melissa de la Cruz

After their beautiful yet brief bonding ceremony in Italy, Schuyler Van Alen and Jack Force are forced to separate. To fulfill the Van Alen Legacy, Schuyler travels to Alexandria to search for Catherine of Siena and the Gate of Promise. But Schuyler quickly discovers that everything she believed about the Gate to be wrong. Meanwhile, Jack makes the difficult decision to return to New York to face his twin and former bondmate, Mimi. But instead of a bitter reunion, he is faced with a choice for which there is no good option

Mimi, with a most unexpected travel companion in Oliver Hazard-Perry, jets off to Egypt, too, to search for Kingsley Martin, her long lost love. With all roads leading to Hell, Mimi learns that not all love stories have happy endings. But she'll have to put her own feelings aside if she's going to save her crumbling Coven

Packed with heartache, twists, and vampiric folklore, Lost in Time is sure to satisfy hungry fans' cravings for more Blue Bloods adventure

Reading level: Young Adult
Hardcover: 448 pages
Publisher: EgmontUSA (September 27, 2011)
ISBN-10: 160684170X
ISBN-13: 978-1606841709

The Mephisto Covenant (The Mephisto Covenant, #1)
by Trinity Faegen

Sasha is desperate to find out who murdered her father. When getting the answer means pledging her soul to Eryx, she unlocks a secret that puts her in grave danger—Sasha is Anabo, a daughter of Eve, and Eryx's biggest threat.

A son of Hell, immortal, and bound to Earth forever, Jax looks for redemption in the Mephisto Covenant—God's promise he will find peace in the love of an Anabo. After a thousand years, he's finally found the girl he's been searching for: Sasha.

With the threat of Eryx looming, Jax has to keep Sasha safe and win her over. But can he? Will Sasha love him and give up her mortal life?

Reading level: Young Adult
Hardcover: 464 pages
Publisher: Simon & Schuster Books For Young Readers (September 27, 2011)
ISBN-10: 1442421762
ISBN-13: 978-1442421769

The Unbecoming of Mara Dyer
by Michelle Hodkin

Mara Dyer doesn't think life can get any stranger than waking up in a hospital with no memory of how she got there.

It can.

She believes there must be more to the accident she can't remember that killed her friends and left her mysteriously unharmed.

There is.

She doesn't believe that after everything she's been through, she can fall in love.

She's wrong.

Reading level: Young Adult
Hardcover: 240 pages
Publisher: Bloomsbury USA Childrens (September 27, 2011)
ISBN-10: 1599905973
ISBN-13: 978-1599905976

The Vision (The Mark #2)
by Jen Nadol

Cassie Renfield knows the mark tells her when someone is going to die and that she can intervene and attempt to change fate. But she still doesn't understand the consequences, especially whether saving one life dooms another. With no family left to offer guidance, Cassie goes in search of others like her. But when she meets Demetria, a troubled girl who seems to have the power of the Fates, Cassie finds the truth isn't at all what she expected. And then there's her heady new romance with bad boy Zander. Dating him has much graver repercussions than she could ever have imagined, forcing Cassie to make choices that cut to the essence of who she is and what she believes.

Jen Nadol offers readers a romance with big stakes and an ethical dilemma with no easy answers in this riveting sequel to The Mark. Paranormal fans who love the psychological thrill of Lisa McMann's bestselling Wake trilogy will flock to these books.

Reading level: Young Adult
Hardcover: 384 pages
Publisher: Putnam Juvenile (September 29, 2011)
ISBN-10: 0399256601
ISBN-13: 978-0399256608

The Name of the Star (Shades of London, #1)
by Maureen Johnson

The day Louisiana teenager Rory Deveaux arrives in London marks a memorable occasion. For Rory, it's the start of a new life at a London boarding school. But for many, this will be remembered as the day a series of brutal murders broke out across the city, gruesome crimes mimicking the horrific Jack the Ripper events of more than a century ago.

Soon "Rippermania" takes hold of modern-day London, and the police are left with few leads and no witnesses. Except one. Rory spotted the man police believe to be the prime suspect. But she is the only one who saw him. Even her roommate, who was walking with her at the time, didn't notice the mysterious man. So why can only Rory see him? And more urgently, why has Rory become his next target? In this edge-of-your-seat thriller, full of suspense, humor, and romance, Rory will learn the truth about the secret ghost police of London and discover her own shocking abilities
---
Authors/Publishers: have a paranormal book coming out soon?
Contact us to schedule a visit/review/giveaway
Please leave a comment if we missed a title and we will update this post.