**Visit Dark Faerie Tales today for her Deadly Destination tour of Jenna Black's Avalon from Dana Hathaway & a chance to win SIRENSONG**
From the Southwest yesterday to the Old West today, this Deadly Destinations tour takes us to Hallelujah, Oregon with Rose small from  Devon Monk's DEAD IRON (available now from Roc & you can read my review HERE). This isn't just any Old West, it's full of steam and the supernatural, a glorious magic meets machine Old West.  Thanks to the wonderful people at Penguin/Roc Books, three of you who comment on this post will win a copy of the book!  See details below
---
Rose Small's Guide to Hallelujah, Oregon
by
Devon Monk
There's a reason my mama left me as a baby on the store keeper's doorstep in Hallelujah, Oregon, a dying town tucked up tight against the curve of the Blue and Wallowa Mountains.
A reason she wanted me far away from the ravages of war in the South and farther from the universities back East full of devisers creating matics and tickers with the wild sciences not fit for a lady.
It wasn't because she hated me, no. She loved me, I'm sure it's so. Might even have been proud of my curiosity, my knack with metal and bolt and hammer.  Might have thought Rose Small, her daughter, could be a deviser as good as any man. Fly her own airship one day and see the wide of the world.
I'd grown up in this lumber and wool town, hoping for the chance to touch the sky, or lose myself in some fierce abandon of gears and steam and iron. Creating.  Devising. Changing the world in some good way. Even though I'm not quite the same as other folk in our little town.
Because I have a secret. One I've never been willing to tell another soul. That is, until the little Gregor boy disappeared in the night. Snatched out of his bed, quick as flash lightning over Powder Keg Bluff. Poor little Elbert got himself plucked away by the Strange.
You think the tales of faeimps and monsters in the dark aren't real? Well, I reckon you're mistaken. Because I can see them. The monsters in the dark. The Strange. The rags of bone and bits of cog and stretch of sinew. They're walking our streets, tucked in our shadows, cozy in our nightmares. They're spreading across this great country like death's last exhalation. And they aim to kill, devour, destroy.
The Strange are coming, step-in-step with the railroad that's laying down dead iron tracks with steam promises. Promises the rail will hitch our little town up to a brighter future and a fine tomorrow. It's a pretty sort of promise. One I think might come about. That is, if the monsters don't tear us apart first.
Yes, there's a reason my mama left me here in Hallelujah Oregon. So I'd grow up learning the ways of metal with the blacksmith, Mr. Gregor. So I'd see Mr. Cedar Hunt, the sorrowful-eyed bounty hunter ride into this town with his cursed heart. So I'd meet the crazy Madder brothers who can coax silver out of the bones of the world. Maybe mostly, so I'd befriend the witch Mae, and share her burden of grief before her own magic takes away all her soul.
My mama didn't desert me because she hated me. No, I like to think I got left because of her love.  She loved this little town. And she knew I wasn't nothing like the folks here.
Beast, Strange, magic, or matic, I'm not afraid. Not afraid to stand up and fight for Hallelujah, Oregon. So that maybe, someday, it can have itself a fine tomorrow.
———————————–
About Devon Monk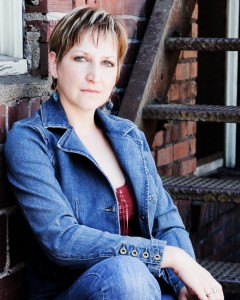 Devon Monk has one husband, two sons, and a dog named Mojo. She lives in Oregon and is surrounded by colorful and numerous family members who mostly live within dinner-calling distance of each other. She has sold over fifty short stories to fantasy, science fiction, horror, humor, and young adult magazines and anthologies. Her stories have been published in five countries and included in a Year's Best Fantasy collection. When not writing, Devon is either knitting, remodeling the house-that-was-once-a-barn, or hosting a family celebration.
Want to read more from Devon Monk?
---

Giveaway provided by Roc Books
3 copies of DEAD IRON by Devon Monk

Available now from Roc
Description:
Welcome to a new America that is built on blood, sweat, and gears…
In steam age America, men, monsters, machines, and magic battle for the same scrap of earth and sky. In this chaos, bounty hunter Cedar Hunt rides, cursed by lycanthropy and carrying the guilt of his brother's death. Then he's offered hope that his brother may yet survive. All he has to do is find the Holder: a powerful device created by mad devisers-and now in the hands of an ancient Strange who was banished to walk this Earth.
In a land shaped by magic, steam, and iron, where the only things a man can count on are his guns, gears, and grit, Cedar will have to depend on all three if he's going to save his brother and reclaim his soul once and for all…
Click HERE to read an excerpt | Click HERE to read our review
Order from
Giveaway Guidelines
Open to US addresses only

Leave a comment for Devon & a way to contact you unless it's listed in your profile

All Deadly Destinations winners will be announced on August 7th

See our Giveaway Policy if you have any questions

---
Interested in guest blogging on All Things Urban Fantasy? CONTACT ME
About the author
I am a book lover with an obsession for all things urban fantasy. I cut my teeth on the paranormal genre with Buffy and Twilight before discovering Patricia Briggs and Ilona Andrews. Suffice it to say I've never looked back. I am the co-founder of ARC Swap, and in 2011 I managed the Urban Fantasy portal on both Facebook and Twitter for Tor.com covering 'everything that goes bump in the night in books, movies, TV, and more.'