Please welcome Theresa Meyers, author of  THE VAMPIRE WHO LOVED ME, available now from Harlequin books. Theresa is talking today about why she writes paranormal books (hint it involves burgling—but tidy—elves) and don't forget to visit all the stops on Theresa's book tour courtesy of Bewitching Book Tours.  Leave a comment for a chance to win the Vampire Love prize pack.  See details below. 
---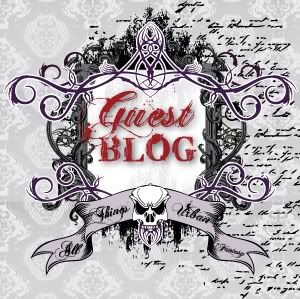 by
Theresa Meyers
In a lot of ways being here at All Things Urban Fantasy feels like coming home. When people interview me and ask me, "Why do you write paranormal books?" I inevitably end up answering that paranormal is kind of my normal.
No I wasn't raised by faeries and didn't go to Hogwarts, but I did have a mother who really was extraordinary. In fact the first thing I got published in a national magazine when I was 17 was a story about her titled, "My Mother, Unusual in a Normal Sort of Way". They made a big deal of it at the high school, ordering copies of the magazine for all the students to read in junior English. The funny thing was the editor of the magazine had put this reader guide with questions at the back of the story. One of the questions was, "How did the author use exaggeration and hyperbole to deepen character?"
My best friend, who sat right in front of me in English, turned around and snickered. "You didn't exaggerate. That's really how your mom is."
I grinned at her. "I know that, and you know that, but apparently they don't know that."
She would do things like read the story of the Shoemaker and the Elves to me at bedtime and then, as she was kissing me, she'd perk up and say, "Listen. Do you hear that?" Outside my bedroom window I could hear teeny, tiny voices talking about cleaning my room. The next morning I woke to find my room had been cleaned. My mother assured me it was likely the elves living in the large stump in the backyard and proceeded to make cookies and little clothes with me for the elves. I didn't find out until I was in my late 20's that it had actually been a tape-recorder strategically placed beneath my bedroom window with a very large gap at the beginning of the tape.
She taught us all the different herbs and wild things that grew around us. Which ones were edible, which ones would help an upset stomach. In short, she imbued us with a sense of the magical all around us in our everyday lives. She also gave me a passion for reading and story-telling by reading to us with different character voices for each character (a trait I've carried with my own children. You should see how excited they get if I tell them we're going to read Harry Potter because they like my voices better than the movies'.)
All of this filters into my writing. I know when I start writing that I'm creating a world, but for me as a writer, it's a very real place in my head. Many times it's so clear it's like watching a movie. Only I have smell-o-vision too. I can back the movie up and see what gestures or facial expressions a character made when the other one was talking. I can taste the salt in the air coming off the Puget Sound and hear the seagulls cry when I write about the Cascade Vampire Clan. I can see those vampires flux into nothingness and pass through a wall. For me as a writer, my greatest success comes when my reader can see that movie too and share in it with me.
I also weave in a lot of history and real world materials when I write. Things like basing my vampires on the biological theory that viruses can take down even the top predator in a food chain. By having my vampires be created via a virus, it allows me to utilize all the moments in our history where viruses have made a profound impact on our social consciousness and carry those feelings into the writing.
While it's true I write love paranormal love stories, what I really see myself doing is writing about two people who live in a society, which is reflected in the choices they make, their backgrounds, their relationships and their taboos. They might be werewolves, vampires, shape-shifters or dark fae, but in the end they are very real people with profound emotions.
So does that make me a different kind of normal? I don't know. I just know that I enjoy writing the books I do, and practically everything I write comes with a paranormal bent to it. I believe that love itself is magical and that it's never too late to embrace the unknown. I hope you get a chance to sample some of the worlds I create, whether it's my vampires in the Sons of Midnight, steampunk in the Legend Chronicles or dark fae in the Shadow Sisters. Thanks for letting me show you a glimpse of my world.
More About Theresa Meyers:
Raised by a bibliophile who made the dining room into a library, Theresa has always been a lover of books and stories. First a writer for newspapers, then for national magazines, she started her first novel in high school, eventually enrolling in a Writer's Digest course and putting the book under the bed until she joined Romance Writers of America in 1993. In 2005 she was selected as one of eleven finalists for the American Title II contest, the American Idol of books. She is married to the first man she ever went on a real date with (to their high school prom), who she knew was hero material when he suffered through having to let her parents drive, and her brother sit between them in the backseat of the car. They currently live in a Victorian house on a mini farm in the Pacific Northwest with their two children, three cats, an old chestnut Arabian gelding, an energetic mini-Aussie shepherd puppy, several rabbits, a dozen chickens and an out-of-control herb garden.

Want to read more from Theresa?
---


Giveaway provided by Theresa Meyers via Bewitching Book Tours
Vampire Love Pack which includes a pair of high-quality customizable fangs you can use again and again, an autographed copy of The Vampire Who Loved Me and a luxury bubble bar from LUSH so you can soak your cares away in a truly movie-style bubble bath while you read.
Book Details
THE VAMPIRE WHO LOVED ME by Theresa Meyers
Dr. Rebecca Chamberlin hated nothing more than the vampires who had turned her loved ones into creatures of the night…until she became one herself. Now her experimental vaccine has become more urgent than ever, and has made her the target of vampire security chief Achilles Stefanos.
Built like a god with golden hair and an irresistible allure, Achilles made her feel passion the way no mortal man had before. Beck could no more deny her craving for him than she could the hated bloodlust in her veins. But when her vaccine fell into the wrong hands, Beck had a difficult choice to make—one that challenged everything she'd always believed…
Read an excerpt HERE
GIVEAWAY GUIDLINES
Open US only
Leave a comment or question for Theresa
Winner will be chosen on July 2nd


---
Interested in guest blogging on All Things Urban Fantasy?  CONTACT ME
About the author
I am a book lover with an obsession for all things urban fantasy. I cut my teeth on the paranormal genre with Buffy and Twilight before discovering Patricia Briggs and Ilona Andrews. Suffice it to say I've never looked back. I am the co-founder of ARC Swap, and in 2011 I managed the Urban Fantasy portal on both Facebook and Twitter for Tor.com covering 'everything that goes bump in the night in books, movies, TV, and more.'