Deadly Destinations: Your Guide to Killer Hot Spots
July 1 – July 31st
Hosted by All Things Urban Fantasy (ATUF) & Dark Faerie Tales (DFT)
See the announcement post with all the details about this event HERE
What's the saying in real estate? Location, location, location.  Well in Paranormal fiction it's worldbuilding, worldbuilding, worldbuilding.  We wanted to think of an event that would promote all the new paranormal titles releasing from June through August and tie them together with the Summer season. We thought a vacation theme would be perfect, but instead of hitting the typical getaway spots, we'd invite you to visit all the different supernatural worlds/locations (guided by your favorite characters) from 62 of the most anticipated new Summer releases.
Plus we want you to have souvenirs to remember your trip by, so we'll be having giveaways for all 62 titles too and even a BONUS giveaway!
Travel Tips:
SAVE THIS PAGE: The 'tours' below will each be linked as they post

There are over 175 books & ARCs to win (+ gift cards & other goodies)

There is no limit to the number of giveaways you can win

All giveaways begin the day they post & end on August 7th

There are no requirements to enter giveaways…

…But you can grab the graphic below & help spread the word!
*Giveaway details subject to change prior to posting*
Spread the world
Tweet using hashtag #deadlydestinations
&
Grab the badge: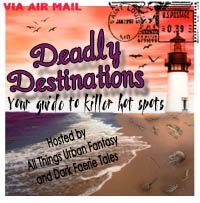 About the author
I am a book lover with an obsession for all things urban fantasy. I cut my teeth on the paranormal genre with Buffy and Twilight before discovering Patricia Briggs and Ilona Andrews. Suffice it to say I've never looked back. I am the co-founder of ARC Swap, and in 2011 I managed the Urban Fantasy portal on both Facebook and Twitter for Tor.com covering 'everything that goes bump in the night in books, movies, TV, and more.'