It's the last Friday of the month which means it's time to check out what we're going to be reading next month in: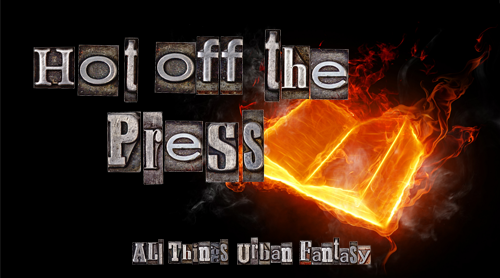 *Release dates are subject to change.  Most of the descriptions have been truncated for space.  Clicking the 'more' link will take you to that title's Goodreads page where the full description may be read. 
Please visit our Titles Received For Review page to see which of these titles will be reviewed this month.
*And don't forget to check out the previous Hot Off The Press posts for even more titles*
June (46 Adult Titles)
Mass Market Paperback: 416 pages
Publisher: Sourcebooks Casablanca; Original edition (June 1, 2011)
ISBN-10: 1402251742
ISBN-13: 978-1402251740

Demons Prefer Blondes (Demons Unleashed, #1)
by Sidney Ayers

Killer new haircut? $50
Creepy antique chest? $100
Unleashing Hell on Earth? Priceless!

A BAD DAY FOR A DEMON…

Rafe Deleon is a senior demon and he resents like hell his assignment to Earth to retreive the Chest of the Damned before it ends up in the wrong hands. But then he meets beautiful, intriguing succubus, Lucy Gregory, and she's just unleashed a whole load of trouble…

REALLY SUCKS FOR A SUCCUBUS…

Lucy's chic suburban salon has suddenly become the Underworld's center of mass chaos and destruction. The only good in a day going rapidly down the tubes is the arrival of a gorgeous demon who's adamant he can help her…

But Lucy has quite a few deeply unpleasant–not to mention deadly and hateful–surprises ahead of her. Surely there's never been a worse time to tryout a new boyfriend…

Format: eBook
File Size: 194 KB
Publisher: HQN Books (June 1, 2011)
ISBN-10: 1459205932
ISBN -13: 978-1459205932

Hidden by Blood
by Laurie London

Deep within the forests of the Pacific Northwest, two vampire coalitions battle for supremacy—Guardians who safeguard humanity and Darkbloods, rogues who will stop at nothing to satisfy their craving for the sweetest of human blood.

Now, former Army Ranger Finn McKentry finds himself imprisoned as a blood slave, forced to submit to an enemy more powerful than any he's encountered before. Only Brenna Stewart, the woman he'd loved and lost, can set him free—but the secret she harbors might lead them down the most dangerous path of all…

"Dark and sinfully sexy."

—New York Times bestselling author Cherry Adair on Bonded by Blood

Mass Market Paperback: 416 pages
Publisher: Sourcebooks Casablanca; Original edition (June 1, 2011)
ISBN-10: 1402245521
ISBN-13: 978-1402245527

Heart of the Highland Wolf (Heart of the Wolf, #7)
by Terry Spear

Ian McNeill, laird of Argent Castle finds his capital squandered through unwise investments and the wolf clan's home that has been theirs for centuries is in danger of being forfeit for nonpayment of taxes. When a movie producer contacts him with the notion of using his castle to produce a movie, Ian abhors the idea, but it's his only salvation. Even worse, his people become extras in this epic Highland movie. But when one American werewolf romance author, Julia Wildthorn, slips into the castle under the guise of being with the movie company, except she is trying to jumpstart her muse with writing a book set in old-world Scotland–specifically about his castle and his people as the characters in her newest book venture–she and Ian tangle.

Mass Market Paperback: 384 pages
Publisher: Harper Voyager; Original edition (June 1, 2011)
ISBN-10: 0061456799
ISBN-13: 978-0061456794

The Neon Graveyard (Signs of the Zodiac, #6)
by Vicki Pettersson

Once she was a soldier for the Light, the prophesied savior who would decide the outcome of the eternal conflict raging unseen in the dark corners of her glittering hometown. Now Joanna Archer is just another mortal—still born of an impossible union of Shadow and Light . . . still hunted by both—and carrying the unborn child of a lover held captive by a depraved demon goddess. Joining forces with a band of rogue Shadow agents, Joanna's ready to storm the stronghold of her demonic foe, risking everything to enter this ghastly, godforsaken realm where the price of admission is her eternal soul. Because in a world that has stripped her of her power, identity, and fortune, Joanna has nothing left to lose—except her baby, her future, and the epic war poised to consume the city.

Format: ebook
File Size: 308 KB
Publisher: Zebra Books (June 1, 2011)
ISBN 10: 1-4201-2395-5
ISBN 13: 978-142012395-1

Shadow Touch (Shadow Series)
by Erin Kellison

MAGIC

It is bleeding into our world, bringing with it banshees, wraiths, fae from the twisting forests of Twilight. But Elllie's problem is a very different kind of phenomenon…

SHADOW

It ought to be attached to her; instead it has a life of its own. And her dark mirror image is a wild thing, willfully seducing the very man Ellie hoped could help.

SCIENCE

Cam has devoted his career to exploring the boundaries between this world and the Hereafter. But nothing could prepare him for the mischief and mayhem of a soul split in two.

SURRENDER

Paperback: 336 pages
Publisher: Orbit (June 2, 2011)
ISBN-10: 0316043818
ISBN-13: 978-0316043816

The Deadliest Bite (Jaz Parks, #8)
by Jennifer Rardin

I have two choices. Carve Brude's name into Hell's bile-encrusted gates. Or lose my soul.

After an assassination attempt on Vayl, I find myself pulled into a tangled web that takes the gang to Romania. So how will I save a ghost, rescue a demon, and cheat the Great Taker out of a soul he's slavering for while defeating my nastiest foe yet so that Vayl can, at last, cherish a few precious years with his sons? With careful planning, major violence, and one (hopefully) final trip to Hell.

Format: ebook
File Size: 442 KB
Publisher: Carina Press (June 6, 2011)

Goddess With A Blade
by Lauren Dane

Armed with a blessed blade and blood from a goddess, Rowan Summerwaite's got a divine mission. Embodying a Vampire's worst nightmare is a big job, but someone's got to do it.

Freshly returned from a political firestorm that erupted after she'd executed the last Scion, Rowan hopes for a period of peace and quiet with the new replacement.

But before long, human women are being found in and around Las Vegas and it's clear to her the killer is a Vampire. Clive Stewart rules his Vampires with an iron fist in the wake of a spectacular failure on the part of his predecessor. He doesn't make the mistake of underestimating The Hunter. He knows she's a predator just like him so he agrees to help her investigation. Within limits.

But nothing between Clive and Rowan stays within the lines and before long, things are tangled and dangerous both personally and professionally.

Paperback: 352 pages
Publisher: Tor Books; First Edition edition (June 7, 2011)
ISBN-10: 0765325772
ISBN-13: 978-0765325778

Chicks Kick Butt
by Rachel Caine, Kerrie Hughes, Elizabeth Vaughan, Carole Nelson Douglas, P.N. Elrod, Nancy Holder, L.A. Banks, Rachel Vincent , Karen Chance, Lilith Saintcrow, Cheyenne McCray, Susan Krinard, Jeanne C. Stein, Jenna Black

Chicks are awesome—and never more so than when they are kicking some serious vampire/werewolf/demon/monster butt.

Chicks Kick Butt is an anthology that features one of the best things about the urban fantasy genre: strong, independent, and intelligent heroines who are quite capable of solving their own problems and slaying their own dragons (or demons, as the case may be).

Edited by Kerrie Hughes and Rachel Caine, Chicks Kick Butt features original stories from thirteen authors, eleven of whom are New York Times bestsellers.

Hardcover: 384 pages
Publisher: Roc Hardcover (June 7, 2011)
ISBN-10: 0451463951
ISBN-13: 978-0451463951

For Heaven's Eyes Only (Secret Histories, #1) 
by Simon R. Green

The fifth Eddie Drood novel from the New York Timesbestselling author.

After the murder of the Drood Matriarch, the family finds itself vulnerable to evil. This time, it's a Satanic Conspiracy that could throw humanity directly into the clutches of the Biggest of the Bads…

Paperback: 336 pages
Publisher: Signet(June 7, 2011)
ISBN-10: 0451233778
ISBN-13: 978-0451233776

Everdark (The Dark Ink Chronicles, #2)
by Elle Jasper

Curse the darkness…before it curses you.

Tattoo artist Riley Poe thought she knew the shady side of Savannah—until her brother was taken by a cult of vampires. Allying herself with hot-blooded vampire Eli Dupré, she got her brother back. But her courage—and her one-of-a-kind blood type—made her an irresistible temptation for some very bad bloodsuckers.

After barely surviving an ambush by enemy undead, she has inherited certain traits of her attackers: heightened senses, lightning reflexes, unreal strength. Eli trains Riley to use her new vampiric tendencies, teaching her control and skills she's never imagined needing. But when a new trait—a telepathic link with a rampaging vampire—manifests itself, Riley knows she has to put her new skills to the test to stop the killer before he strikes again.

Long used to taking care of herself, Riley has trouble asking for help, even from the powerful vampire she loves….

Paperback: 304 pages
Publisher: Berkley (June 7, 2011)
ISBN-10: 0425241831
ISBN-13: 978-0425241837

Forgotten Sea (Children of the Sea, #5)
by Virginia Kantra

A lost soul…

Fallen angel Lara Rho is eager to prove herself as a Seeker–one called to rescue other children of air before they are hunted down by the children of fire. Drawn to rootless, restless sailor Justin Miller, she is determined to save him. But Justin is no angel…

A lost life…

Charming drifter Justin is reluctant to get tangled up in port with conscientious Lara. A child of the sea, Justin remembers nothing of his life before the day he was plucked from a shipwreck seven years ago. But one impulsive act lands him literally on the side of the angels and on the run for his life. Lara and Justin must work together to uncover his identity–before what they don't know kills them both.

A passionate journey of discovery…more

Paperback: 384 pages
Publisher: Signet (June 7, 2011)
ISBN-10: 0451231953
ISBN-13: 978-0451231956

Frostbound (The Dark Forgotten, #4)
by Sharon Ashwood

As a snowstorm locks down the city, more than the roads are getting iced. Someone's beheaded the wrong girl, and vampire-on-the-lam Talia Rostova thinks it was meant to be her. Now she's the prime suspect in her own botched murder—and the prisoner of her smoking-hot neighbor.

Lore is a hellhound, bred to serve and protect, so he's not freeing Talia until he's sure that she's the prey and not the hunter. You'd think a beautiful woman in his bedroom would be a good thing, but trouble-prone Talia has run afoul of someone more sinister than your average lunatic killer. An ancient Undead is wreaking vengeance on the city—and on her—and Lore will have to go far beyond a stake to put him back in his grave . . .

Paperback: 336 pages
Publisher: Berkley Trade; Original edition (June 7, 2011)
ISBN-10: 0425241696
ISBN-13: 978-0425241691

Nightfall (Dark Age Dawning, #1)
by Ellen Connor

Growing up with an unstable, often absent father who preached about the end of the world, Jenna never thought, in her wildest nightmares, that his predictions would come true. Or that he would have a plan in place to save her–one that includes the strong, stoic man who kidnaps and takes her to a remote cabin in the Pacific Northwest.

The mysterious ex-Marine named Mason owes a life-debt to Jenna's father. Skilled and steadfast, he's ready for the Change, but Jenna proves tough to convince. Until the power grid collapses and the mutant dogs attack–vicious things that reek of nature gone wrong.

When five strangers appear, desperate to escape the bloodthirsty packs, Jenna defies her protector and rescues them. As technology fails and the old world falls away, Jenna changes too, forever altered by supernatural forces. To fight for their future, she and Mason must learn to trust their instinctive passion–a flame that will see…more

Mass Market Paperback: 336 pages
Publisher: Berkley; Original edition (June 7, 2011)
ISBN-10: 0425241769
ISBN-13: 978-0425241769

Hexed
by Ilona Andrews, Yasmine Galenorn, Allyson James, Jeanne C. Stein

Magic Dreams by Ilona Andrews
Old legends and frightening nightmares came to life in Magic Dreams. The shapeshifting Tigress Dali Harimau finds herself in deep water when she must challenge a dark being to a battle of wits, or risk losing the man she secretly longs for.

Ice Shards by Yasmine Galenorn
Iris Kuusi, a Finnish house sprite who lives with the D'Artigo sisters, must journey to the frozen Northlands to confront the crazed shadow of her former lover she's accused of murdering, so she can break the curse keeping her from marrying the man she loves.

Double Hexed by Allyson James
It starts, innocently enough, with a leaky faucet. Janet calls her plumber, Fremont, to help fix a faucet in a guest room, when all hell breaks loose—literally. Blood sprays from the faucets and a message appears on the mirror in blood: "You are doomed." Janet and her friends find themselves locked in her hotel, victims of a hex

Mass Market Paperback: 320 pages
Publisher: Del Rey; Original edition (June 7, 2011)
ISBN-10: 0345522494
ISBN-13: 978-0345522498

Hexed (Iron Druid Chronicles #2)
by Kevin Hearne

Atticus O'Sullivan, last of the Druids, doesn't care much for witches. Still, he's about to make nice with the local coven by signing a mutually beneficial nonaggression treaty—when suddenly the witch population in modern-day Tempe, Arizona, quadruples overnight. And the new girls are not just bad, they're badasses with a dark history on the German side of World War II.

With a fallen angel feasting on local high school students, a horde of Bacchants blowing in from Vegas with their special brand of deadly decadence, and a dangerously sexy Celtic goddess of fire vying for his attention, Atticus is having trouble scheduling the witch hunt. But aided by his magical sword, his neighbor's rocket-propelled grenade launcher, and his vampire attorney, Atticus is ready to sweep the town and show the witchy women they picked the wrong Druid to hex.

Paperback: 336 pages
Publisher: Signet; Original edition (June 7, 2011)
ISBN-10: 0451233786
ISBN-13: 978-0451233783

Hexes and Hemlines (A Witchcraft Mystery, #3)
by Juliet Blackwell

Lily gets called away from her vintage clothing store to give police a witch's take on how the leader of a rationalist society could be murdered, surrounded by superstitions he discredited.

Evidence points to dark witchcraft. Lily's determined to use magic of her own to find the murderer, before everyone's luck runs out.

Hardcover: 336 pages
Publisher: Berkley Hardcover (June 7, 2011)
ISBN-10: 0425241130
ISBN-13: 978-0425241134

Hit List (Anita Blake, Vampire Hunter, #20)
by Laurell K. Hamilton

The #1 New York Times bestselling Anita Blake, Vampire Hunter series continues!

Word has leaked to Anita Blake that hit men are headed for St. Louis- and that she, Jean-Claude, and Richard are the targets.

Paperback: 432 pages
Publisher: Signet Select; Original edition (June 7, 2011)
ISBN-10: 0451413075
ISBN-13: 978-0451413079

Hunt the Moon (Cassandra Palmer, #5)
by Karen Chance

Cassandra Palmer recently defeated a god, which you'd think would buy a girl a little time off. But it doesn't work that way when your job description is Pythia-the world's chief clairvoyant. Cassie is busier than ever, trying to learn about her power, preparing for her upcoming coronation, and figuring out her relationship with the enigmatic sexy master vampire, Mircea.

But someone doesn't want Cassie to become Pythia, and is willing to go to any lengths to make sure the coronation ceremony never happens- including attacking her mother before Cassie is even born.

Paperback: 336 pages
Publisher: Berkley; Original edition (June 7, 2011)
ISBN-10: 0425241807
ISBN-13: 978-0425241806

Hunter's Fall (The Hunters #13)
by Shiloh Walker

Nessa lost her memory following a near-death experience. Dominic is a Hunter dealing with his own problems with memory and sanity. When the two are put together to battle the forces of darkness-while trying to restore what they've lost-their all-consuming passion becomes an even greater unknown.

Paperback: 304 pages
Publisher: Berkley; Original edition (June 7, 2011)
ISBN-10: 0425241823
ISBN-13: 978-0425241820

Shadow Walker (Stormwalker #3)
by Allyson James

Stormwalker Janet Begay returns home only to have the ground collapse beneath her-literally. After tumbling two hundred feet underground, Janet is rescued by her dragon boyfriend, Mick. But something dark touches Mick while in the sinkhole, and Janet might lose him forever unless she recruits the most unlikely of allies to stop the growing shadow.

Paperback: 480 pages
Publisher: Signet; Original edition (June 7, 2011)
ISBN-10: 0451233751
ISBN-13: 978-0451233752

Storm Kissed (Final Prophecy, #6)
by Jessica Andersen

When sexy Nightkeeper Dez goes rogue, the bounty hunter enlisted to catch him is Reese, his former lover. The sexual energy between them is hotter than ever-but the life-and-death stakes attached to the chase may pull them apart for good.

Paperback: 336 pages
Publisher: Berkley; Original edition (June 7, 2011)
ISBN-10: 0425241793
ISBN-13: 978-0425241790

Vampire in Atlantis (Warriors of Poseidon, #7)
by Alyssa Day

The most unexpected of all allies to Poseidon's warriors has proven to be the fiercest-Daniel, a vampire and Night Guild mage. But even the strongest alliance can be destroyed when a vampire's oath crosses paths with a maiden's quest, and an eleven-thousand-year-old desire is reborn.

Paperback: 240 pages
Publisher: Tachyon Publications (June 15, 2011)
ISBN-10: 1616960140
ISBN-13: 978-1616960148

The Uncertain Places
by Lisa Goldstein

An ages-old family secret breaches the boundaries between reality and magic in this fresh retelling of a classic fairy tale. When Berkeley student Will Taylor is introduced to the mysterious Feierabend sisters, he quickly falls for enigmatic Livvy, a chemistry major and accomplished chef. But Livvy's family—vivacious actress Maddie, family historian Rose, and their mother, absent-minded Sylvia—are behaving strangely. The Feierabend women seem to believe that luck is their handmaiden, even though happiness does not necessarily follow. It is soon discovered that generations previous, the Feierabends made a contract with a powerful, otherworldly force, and it is up to Will and his best friend to unravel the riddle of this supernatural bargain in order to save Livvy from her predestined fate.

Mass Market Paperback: 384 pages
Publisher: HQN Books (June 21, 2011)
ISBN-10: 0373775865
ISBN-13: 978-0373775866

Embraced by Blood (Sweetblood, #2)
by Laurie London

Alfonso Serrano is a hunted man. For months he's managed to elude the Darkbloods, vengeful foes who won't rest until he's dead. But he still craves one dangerous temptation: Lily DeGraff, the sexy Guardian agent he'll risk anything to protect.

Lily is a wanted woman. Her talent for tracking Sweet—a rare blood type that's addictive to vampires—makes her a prime target for enemy capture. Her only hope is the stealthy vampire operative who stole into her bed…then left her in despair. Danger aside, Lily won't let Alfonso near her heart again—until an irresistible hunger threatens to draw them back together… and into an assassin's snare.

Mass Market Paperback: 288 pages
Publisher: Harlequin (June 21, 2011)
ISBN-10: 0373618638
ISBN-13: 978-0373618637

Nightwalker (Nocturne)
by Connie Hall

All her life, Takala Rainwater hoped to find the mother who'd abandoned her and her sisters. But she'd never expected the woman to be a shadowy double agent in the spy-ridden underworld. Nor did she anticipate falling for the very vampire who wanted her mother destroyed.

Like his name, Striker Dark was ruthless…and the sexiest thing Takala had seen in both worlds. Her white-magic power—and her willpower—was defenseless against him. But Takala didn't know the long-dead passion she roused in him could end her mortal life. For centuries, Striker had denied himself human blood, but now Takala had resurrected that bloodlust…and only hers would satisfy him…

Paperback: 450 pages
Publisher: Night Shade Books (June 21, 2011)
ISBN-10: 1597802204
ISBN-13: 978-1597802208

Happily Ever After
by Gregory Maguire, Susanna Clarke, Bill Willingham, Neil Gaiman

For most of us, fairy tales touch some primal chord. This appeal taps that appeal with new and reconstructed fairy tales by major genre writers including Gregory Maguire, Patricia Briggs, Peter Straub, Neil Gaiman, Holly Black, Charles de Lint, Bill Willingham, Susanna Clarke, and many others. A 450-page dip into the deepest core of childhood.

Mass Market Paperback: 288 pages
Publisher: Harlequin (June 21, 2011)
ISBN-10: 037361862X
ISBN-13: 978-0373618620

Vacation with a Vampire…and Other Immortals: Vampires in ParadiseImmortal (Nocturne)
by Maggie Shayne, Maureen Child

Let's face it—vacation is great! We could all use a warm summer night on a beach, the sand still hot from the sun, with the moon rising on the horizon. If it could be paired with a handsome, sexy man—an immortal man—wouldn't that be the icing on the cake? Nothing says holiday quite like a walk in paradise with a gorgeous vampire…or spending a twilight eve with a charismatic Highlander. And the best part? While you may get a sexy bite or two, it's guaranteed that you won't get a sunburn!

Don't be afraid to dip your toes into these two seductive and enthralling stories from Maggie Shayne and Maureen Child.

Come on in and leave your cares behind…

Hardcover: 288 pages
Publisher: Hyperion (June 21, 2011)
Language: English
ISBN-13: 978-1401323905

Witches of the East End (The Beauchamp Family, #1)
by Melissa de la Cruz

From the author of the highly addictive and bestselling Blue Bloods series, with almost 3 million copies sold, comes a new novel, Melissa de la Cruz's first for adults, featuring a family of formidable and beguiling witches.

The three Beauchamp women–Joanna and her daughters Freya and Ingrid–live in North Hampton, out on the tip of Long Island. Their beautiful, mist-shrouded town seems almost stuck in time, and all three women lead seemingly quiet, uneventful existences. But they are harboring a mighty secret–they are powerful witches banned from using their magic. Joanna can resurrect people from the dead and heal the most serious of injuries. Ingrid, her bookish daughter, has the ability to predict the future and weave knots that can solve anything from infertility to infidelity. And finally, there's Freya, the wild child, who has a charm or a potion that can cure most any heartache.

Mass Market Paperback: 432 pages
Publisher: Pocket (June 28, 2011)
ISBN-10: 1439167923
ISBN-13: 978-1439167922

Black Heart Loa (Hoodoo, #2)
by Adrian Phoenix

"An eye for an eye is never enough."

Kallie Rivière, a Cajun hoodoo apprentice with a bent for trouble, learned the meaning of those ominous words when hoodoo bogeyman Doctor Heron targeted her family for revenge. Now, while searching for her still-missing bayou pirate cousin, Kallie finds out the hard way that someone is undoing powerful gris gris, which means that working magic has become as unpredictable as rolling a handful of dice. The wards woven to protect the Gulf coast are unraveling, leaving New Orleans and the surrounding bayous vulnerable just as an unnatural storm—the deadliest in a century—is born. As the hurricane powers toward the heart of all she loves, Kallie desperately searches for the cause of the disturbing randomness, only to learn a deeply unsettling truth: the culprit may be herself. To protect her family and friends, including the sexy nomad Layne Vallin, Kallie steps into the jaws of danger . . . and finds a loup garou designed to steal her heart—literally.

Mass Market Paperback: 432 pages
Publisher: Harper Voyager (June 28, 2011)
ISBN-10: 0061851825
ISBN-13: 978-0061851827

Burn the Night (Dark Days, #6)
by Jocelynn Drake

The Great Awakening approaches…

After eons in exile, the naturi have broken their chains and now roam the Earth bent on revenge. It is the sworn duty of Mira, the Fire Starter, to protect the Nightwalker race—though even she may be powerless to withstand the horrific onslaught. As Mira and her brave lover, the vampire slayer Danaus, stand ready to do battle, thousands of winged shapeshifters darken the skies. The war of ultimate extermination has begun, and the battleground is Mira's home turf.

The humans don't yet recognize the doom descending upon them. And the Nightwalkers will surely perish unless they unite with outcast naturi who claim to want peace. But these unexpected "allies" are the same demons who have long worked for Mira's destruction—and in these darkest of days the lines between friend and foe will blur treacherously before the bloody end of all things.

Mass Market Paperback: 352 pages
Publisher: St. Martin's Paperbacks (June 28, 2011)
ISBN-10: 0312389361
ISBN-13: 978-0312389369

Crave The Moon (Nightcreature, #11)
by Lori Handeland

Gina O'Neill will do anything to hold on to her beloved ranch that has been in her family for generations. Enter Mateo Mecate, an archeologist whose greatest wish is to dig there. Prepared to despise Matt—and to thwart his agenda—Gina cannot deny the shocking desire she feels for him.

Matt believes that the Nahua Springs Ranch holds an important key to Aztec history—one that will restore his standing in the archeological community. But he never expects to go head-to-head with the maddeningly sensuous owner, Gina. The ranch seems to have cast a spell on them both…

When Gina and Matt delve into the secrets of this ancient place, they awaken something unspeakably evil—a shapeshifter who is centuries old. A werewolf with vengeance on its mind. A sorcerer of incredible power. Can Gina and Matt defeat this enemy—even as their conflicts deepen…and their attraction grows more dangerous?

Mass Market Paperback: 368 pages
Publisher: Forever (June 28, 2011)
ISBN-10: 1609418379
ISBN-13: 978-1609418373

Dark Awakening (Dark Dynasties #1)
by Kendra Leigh Castle

Enter the world of the Dark Dynasties . . .

For centuries, shapeshifting vampire Tynan MacGillivray has prowled the night as an outcast, valued only for his ferocious hunting skills. When a feud among the immortals escalates into all-out war, he is ordered by his ruthless queen to locate a Seer-a human woman with a special gift-who can secure victory for their clan. Ty's search leads him to a quiet New England town, but once he has the Seer in his grasp, her touch awakens within him a hunger like he's never known . . .

Lily Quinn has always been different. Since childhood, she's had vivid nightmares and an eerie sixth sense. When a sexy, silver-eyed stranger demands her help, Lily plunges into a new world of danger and sensuality. With Ty, she discovers sizzling passions she cannot deny and powers she cannot control. Soon, it is clear that Lily is much more than a Seer-she holds the key to ancient secrets and unthinkable destruction. But will a vampire's vow of eternal protection stop these evil forces . . . or unleash her dark destiny?

Mass Market Paperback: 400 pages
Publisher: Angry Robot; Original edition (June 28, 2011)
ISBN-10: 0857661124
ISBN-13: 978-0857661128

Dark War (Nekropolis, #3)
by Tim Waggoner

Meet Matt Richter. Zombie. PI.

From his arrival at Nekropolis, Matt has found himself embroiled in disputes with the city's vampire lords, shapeshifters, golems and other monstrosities.

Nothing has prepared him for the Dark War.

File Under: Urban Fantasy [ Turf | Fang Gangs | Endurance | Dead Streets ]

Mass Market Paperback: 416 pages
Publisher: Dell (June 28, 2011)
ISBN-10: 0440246113
ISBN-13: 978-0440246114

Deeper Than Midnight (Midnight Breed, #9)
by Lara Adrian

DELIVERED FROM THE DARKNESS, A WOMAN FINDS HERSELF PLUNGED INTO A PASSION THAT IS DEEPER THAN MIDNIGHT.

At eighteen, Corinne Bishop was a beautiful, spirited young woman living a life of privilege as the adopted daughter of a wealthy family. Her world changed in an instant when she was stolen away and held prisoner by the malevolent vampire Dragos. After many years of captivity and torment, Corinne is rescued by the Order, a cadre of vampire warriors embroiled in a war against Dragos and his followers. Her innocence taken, Corinne has lost a piece of her heart as well—the one thing that gave her hope during her imprisonment, and the only thing that matters to her now that she is free.

Assigned to safeguard Corinne on her trip home is a formidable golden-eyed Breed male called Hunter. Once Dragos's most deadly assassin, Hunter now works for the Order, and he's hell-bent on making Dragos pay for his manifold sins. Bonded to Corinne …more

Mass Market Paperback: 288 pages
Publisher: Orbit; Original edition (June 28, 2011)
ISBN-10: 031610292X
ISBN-13: 978-0316102926

Eat Slay Love (Living With the Dead, #3)
by Jesse Petersen

Sarah and David have survived the zombie apocalypse. They stood side by side and fought the undead, mad scientists, and even bionic monsters until the unthinkable happened. A zombie bite. But not even that could stop them. Now, with a possible cure in hand, they're headed east, looking for a safe zone behind the rumored "Wall." They're feeling pretty optimistic.

That is until Dave stops sleeping and starts lifting huge objects.

Eat. Slay. Love.

Because they haven't got a prayer.

Mass Market Paperback: 320 pages
Publisher: Harper Voyager (June 28, 2011)
ISBN-10: 0061990825
ISBN-13: 978-0061990823

Feast: Harvest of Dreams
by Merrie Destefano

Madeline MacFadden ("Mad Mac" to fans of her bestselling magical stories) spent blissful childhood summers in Ticonderoga Falls. And this is where she wants to be now that her adult life is falling apart. The dense surrounding forest holds many memories, some joyous, some tantalizingly only half-remembered. And she's always believed there was something living in these wooded hills.

But Maddie doesn't remember the dark parts — and knows nothing of the mountain legend that holds the area's terrified residents captive. She has no recollection of Ash, the strange and magnificent creature who once saved her life as a child, even though it is the destiny of his kind to prey upon humanity. And soon it will be the Harvest. . . the time to feast.

Once again Maddie's dreams — and her soul — are in grave danger. But magic runs deep during Harvest. Even a spinner of enchanted tales has wondrous powers of her own.

Paperback: 304 pages
Publisher: Ace (June 28, 2011)
ISBN-10: 0441020496
ISBN-13: 978-0441020492

Green Eyed Envy (Shades of Fury, #2)
by Kasey MacKenzie

Jealousy can be a killer…
As a Fury, Marissa Holloway belongs to an Arcane race that has meted out justice since time immemorial. As Boston's chief magical investigator, it's her duty to solve any crimes committed by or against supernaturals.

Months have gone by since Riss discovered some unwelcome truths about her past–and managed to stop a supernatural war. Since then things have been quiet. Too quiet. But that all changes when the bodies of Bastai, shapeshifters also known as Cats, begin piling up in Boston's magical underbelly–even though the legendary shifters are supposed to have ninety-nine lives.

One common thread ties the victims together: all were old flames of FBI Agent Harper Cruz. And since Harper and Riss's lover Scott Murphy enjoyed a one-night stand before he and Riss reunited, the Fury has twice the incentive to crack the case wide open, before the killer's green-eyed gaze turns in Scott's direction…

Mass Market Paperback: 400 pages
Publisher: Orbit; Original edition (June 28, 2011)
ISBN-10: 0316127191
ISBN-13: 978-0316127196

Heartless (The Parasol Protectorate, #4)
by Gail Carriger

Lady Alexia Maccon, soulless, is at it again, only this time the trouble is not her fault. When a mad ghost threatens the queen, Alexia is on the case, following a trail that leads her deep into her husband's past. Top that off with a sister who has joined the suffragette movement (shocking!), Madame Lefoux's latest mechanical invention, and a plague of zombie porcupines and Alexia barely has time to remember she happens to be eight months pregnant.

Will Alexia manage to determine who is trying to kill Queen Victoria before it is too late? Is it the vampires again or is there a traitor lurking about in wolf's clothing? And what, exactly, has taken up residence in Lord Akeldama's second best closet?

Mass Market Paperback: 384 pages
Publisher: Pocket; Original edition (June 28, 2011)
ISBN-10: 1451620527
ISBN-13: 978-1451620528

Kindling the Moon (Arcadia Bell, #1)
by Jenn Bennett

A new urban fantasy series about a magician and daughter of accused serial killers who must clear their names—or pay for their crimes with her life.

Being the spawn of two infamous occultists (and alleged murderers) isn't easy, but freewheeling magician Arcadia "Cady" Bell knows how to make the best of a crummy situation. After hiding out for seven years, she's carved an incognito niche for herself slinging drinks at the demon-friendly Tambuku Tiki Lounge.

But she receives an ultimatum when unexpected surveillance footage of her notorious parents surfaces: either prove their innocence or surrender herself. Unfortunately, the only witness to the crimes was an elusive Æthyric demon, and Cady has no idea how to find it. She teams up with Lon Butler, an enigmatic demonologist with a special talent for sexual spells and an arcane library of priceless stolen grimoires. Their research soon escalates into a storm of conflict involving missing police evidence, the decadent Hellfire Club, a ruthless bounty hunter, and a powerful occult …more

Mass Market Paperback: 320 pages
Publisher: Tor Books; Original edition (June 28, 2011)
ISBN-10: 0765365650
ISBN-13: 978-0765365651

Kitty's Big Trouble (Kitty Norville, #9)
by Carrie Vaughn

Kitty Norville is back and in more trouble than ever.  Her recent run-in with werewolves traumatized by the horrors of war has made her start wondering how long the US government might have been covertly using werewolves in combat. Have any famous names in our own history might have actually been supernatural?  She's got suspicions about William Tecumseh Sherman.  Then an interview with the right vampire puts her on the trail of Wyatt Earp, vampire hunter.

But her investigations lead her to a clue about enigmatic vampire Roman and the mysterious Long Game played by vampires through the millennia.  That, plus a call for help from a powerful vampire ally in San Francisco, suddenly puts Kitty and her friends on the supernatural chessboard, pieces in dangerously active play.  And Kitty Norville is never content to be a pawn. . . .

Mass Market Paperback: 400 pages
Publisher: Pocket; Original edition (June 28, 2011)
ISBN-10: 1439170371
ISBN-13: 978-1439170373

Lord of Shadows (Heirs of Kilronan Trilogy #2)
by Alix Rickloff

Who is working the demon arts . . .
Was it her murdered father? Her fugitive brother? It has been seven years since Lady Sabrina Douglas cloistered herself with the Sisters of High Danu, but the questions remain. She is Other—a mixture of Fey and mortal—quietly using her powers to heal. That is, until she saves a half-drowned man, his soldier's body a roadmap of scars, his fathomless eyes filled with heartbreaking loneliness. The inexplicable connection overwhelms her defenses, touching her heart, mind . . . and body.
. . . and to what end?
A man with no memory, Daigh MacLir seeks his past, even as unknown threats fill him with monstrous rage and inhuman abilities. But as a desperate game of hunter and hunted is played out from ballrooms to bedrooms, what Daigh discovers is more chilling than anyone could possibly imagine. Defying death was only the first step in the task he has been set, and Sabrina his last hope. But dare he risk involving her? Daigh has been summoned to find an ancient king, and even the powers of love may not be enough to win the battle against the powers of darkness.

Mass Market Paperback: 368 pages
Publisher: Pocket Star (June 28, 2011)
ISBN-10: 1439159904
ISBN-13: 978-1439159903

Mystical Warrior (Midnight Bay, #3)
by Janet Chapman

An eleventh-century lass with a stubborn streak unleashes the red-hot hero inside her modern lover in bestselling author Janet Chapman's irresistible new Midnight Bay adventure.

Trace Huntsman's peaceful life has headed to hell in a hand-basket ever since stunningly beautiful Fiona Gregor moved into the vacant apartment above his house. Kidnapped centuries earlier and transformed into a red-tail hawk, Fiona is human once more and must learn how to be a modern woman. But damned if Trace is going to be the one to teach her. Not when her mere presence ignites a fiery passion deep within his cautious heart.

Fiona longs to overcome the painful memories of her tragic past—to let down her guard and become a mother again. But so far her handsome landlord is not exactly thrilled with the stray animals—and suitors—that keep following her home. When the wizard Maximilian Oceanus shows up, Trace reaches the end of his rope. Weird things happen when Mac is around—raging storms …more

Paperback: 352 pages
Publisher: Kensington; Original edition (June 28, 2011)
ISBN-10: 0758242158
ISBN-13: 978-0758242150

Never Cry Wolf
by Cynthia Eden

RUNNING WITH A DANGEROUS CROWD
Lucas Simone is not the kind of guy you mess with. He's big, he's strong, and his eyes hint at a wilder side most women can't handle. Of course, that's because his predatory instincts are no metaphor–he's a genuine Grade-A top-quality werewolf, tough enough to fight his way to dominance over the scariest pack on the West Coast. There's only one chink in his armor. Unlike most alpha dogs, Lucas has a reputation for protecting the weak and innocent.

Sarah King is counting on that protective impulse–it's the only thing standing between her and certain death. There are only two problems: one, she's not quite as innocent as she'd like Lucas to believe. And two, if he doesn't stop stoking Sarah's animal lust, it's only a matter of time before her own wild side gets unleashed…

Paperback: 320 pages
Publisher: Ace; Original edition (June 28, 2011)
ISBN-10: 0441020518
ISBN-13: 978-0441020515

Spectyr (Book of the Order, #2)
by Philippa Ballantine

Though one of the most powerful Deacons, Sorcha Faris has a tarnished reputation to overcome, which is why she jumps at the chance to investigate a string of murders in the exotic city of Orithal. But it is there that her lover, the shapeshifting rival to the throne, is targeted by a cruel and vengeful goddess, unwittingly unleashed by the Emperor's sister.

Paperback: 336 pages
Publisher: Dark Horse (June 28, 2011)
ISBN-10: 1595825460
ISBN-13: 978-1595825469

Supernatural Noir
by Ellen Datlow, Tom Piccirilli, Lucius Shepard, Brian Evenson, John Langan, Joe R. Lansdale, Richard Bowes, Elizabeth Bear, Lee Thomas, Nick Mamatas, Gregory Frost, Melanie Tem, Laird Barron, Nate Southard, Paul G. Tremblay, Jeffery Ford, Caitlín R. Kiernan

A hit man who kills with coincidence… A detective caught in a war between two worlds… A man whose terrible appetites hide an even darker secret… Dark Horse once again teams up with Hugo and Bram Stoker award-winning editor Ellen Datlow (Lovecraft Unbound) to bring you this masterful marriage of the darkness without and the darkness within. Supernatural Noir is an anthology of original tales of the dark fantastic from twenty modern masters of suspense, including Brian Evenson, Joe R. Lansdale, Caitlin R. Kiernan, Nick Mamatas, Gregory Frost, and Jeffrey Ford.

Wild & Steamy (Includes: Iron Seas, #1.5; Midnight Liasons, #0.5; The Disillusionists Trilogy, #2.5)
by Meljean Brook, Jill Myles, Carolyn Crane

Mina Wentworth and the Blushing Bounder by Meljean Brook – An Iron Seas novella: Detective Inspector Mina Wentworth isn't pleased when she discovers that her new assistant is the prudish Constable Newberry. With a brutal murder to solve, the last thing she needs is to be shadowed by a disapproving bounder. But while the search for the killer puts their lives in danger, Constable Newberry faces a danger of another kind: to his heart, by the woman forced to marry him. What will it take for this prudish bounder to convince his wife to stay?

Vixen by Jill Myles – A Midnight Liaisons novella: Miko's denied her were-fox nature for far too long and turned her back on her vixen heritage. But when she meets two very sexy cat-shifters, she has to decide if she truly wants to give up on her frisky side, or embrace it. Because the were-fox in her doesn't want to choose between both men…it wants them both.…more
June (23 YA Titles)
Format: ebook
File Size: 213 KB
Publisher: Harlequin Teen (June 1, 2011)

Summer's Crossing (Iron Fey, #3.5)
by Julie Kagawa

A Midsummer's Nightmare? Robin Goodfellow. Puck. Summer Court prankster, King Oberon's right hand, bane of many a faery queen's existence—and secret friend to Prince Ash of the Winter Court. Until one girl's death came between them, and another girl stole both their hearts.

Now Ash has granted one favor too many and someone's come to collect, forcing the prince to a place he cannot go without Puck's help—into the heart of the Summer Court. And Puck faces the ultimate choice—betray Ash and possibly win the girl they both love, or help his former friend turned bitter enemy pull off a deception that no true faery prankster could possibly resist.

An ebook exclusive novella from Julie Kagawa's Iron Fey series

Reading level: Young Adult
Hardcover: 272 pages
Publisher: Point (June 1, 2011)
ISBN-10: 0545283752
ISBN-13: 978-0545283755

The Vampire Stalker
by Allison van Diepen

What if the characters in a vampire novel left their world–and came into yours?

Amy is in love with someone who doesn't exist: Alexander Banks, the dashing hero in a popular series of vampire novels. Then one night, Amy meets a boy who bears an eerie resemblance to Alexander. In fact, he IS Alexander, who has escaped from the pages of the book and is in hot pursuit of a wicked vampire named Vigo. Together, Amy and Alexander set out to track Vigo and learn how and why Alexander crossed over. But when she and Alexander begin to fall for each other, Amy wonders if she even wants him to ever return to the realm of fiction.

Paperback: 256 pages
Publisher: Non Basic Stock Line (June 2, 2011)
ISBN-10: 1849411484
ISBN-13: 978-1849411486

Betrayal (Dark Touch #4)
by Amy Meredith

A hot new boyfriend. Prom just round the corner. And not a demon in sight …Things have never been better for Eve Evergold, Deepdene's kick-ass witch. But when things seem too good to be true, they usually are. An evil far greater than Eve has ever known is at work in Deepdene – and it's hell-bent on turning her closest friends against her. This time, it looks like Eve is going to have to face her demons alone…

Paperback: 384 pages
Publisher: Hodder Childrens (June 2, 2011)
ISBN-10: 1444904485
ISBN-13: 978-1444904482

Dark Heart Rising (Dark Heart Forever #2)
by Lee Monroe

Jane and Luca's story continues …but not quite as they had planned. When challenges and threats from the immortal world of Nissilum rip the young lovers apart, Jane is bereft. Without Luca's dancing green eyes, and gentle smile, Jane feels lost, sad and alone. But then a trip to Paris with her grandmother thrusts her in the path of the amiable Soren – a kindred spirit who may be just the distraction she needs …Meanwhile in Nissilum, Luca struggles with the loyalties and expectations that come with being a part of the immortal world. A world that is about to be shaken at its very core: rumblings of mounting unrest are spreading, and with rumours of an angel rebellion growing no creature is safe — especially not a mortal girl who has fallen in love with a wolf boy…

Reading level: Young Adult
Hardcover: 336 pages
Publisher: St. Martin's Griffin (June 7, 2011)
ISBN-10: 0312642075
ISBN-13: 978-0312642075

Everlasting (The Immortals, #6)
by Alyson Noel

Everlasting is the sixth and final installment of the epic love story that has enchanted readers across the world. Ever and Damen have spent centuries facing down bitter rivals, jealous friends and their own worst fears-all in the hope of being together forever. Now in Everlasting, their destiny is finally within reach.

Will they be united-or torn apart forever? Readers will finally discover the truth in this anxiously awaited conclusion!

Reading level: Young Adult
Paperback: 336 pages
Publisher: NAL Trade (June 7, 2011)
ISBN-10: 0451233883
ISBN-13: 978-0451233882

Flying Blind (Dragon Diaries #1)
by Deborah Cooke

The next generation of shape-shifting dragons from the popular author of the Dragonfire novels.

Zoë Sorensson is perfectly normal, except she's been told she's destined for great things. Zoë's the one female dragon shapeshifter of her kind. But Zoë is at the bottom of the class when it comes to being Pyr and her powers are AWOL, so she's sent to a Pyr boot camp.

Zoë quickly realizes that she has to master her powers yesterday, because the Pyr are in danger and boot camp is a trap. The Mages want to eliminate all shifters and the Pyr are next in line-unless Zoë and her friends can work together and save their own kind.

Reading level: Young Adult
Hardcover: 416 pages
Publisher: HarperTeen (June 7, 2011)
ISBN-10: 0062026771
ISBN-13: 978-0062026774

Hereafter (Hereafter, #1)
by Tara Hudson

Can there truly be love after death?

Drifting in the dark waters of a mysterious river, the only thing Amelia knows for sure is that she's dead. With no recollection of her past life—or her actual death—she's trapped alone in a nightmarish existence. All of this changes when she tries to rescue a boy, Joshua, from drowning in her river. As a ghost, she can do nothing but will him to live. Yet in an unforgettable moment of connection, she helps him survive.

Amelia and Joshua grow ever closer as they begin to uncover the strange circumstances of her death and the secrets of the dark river that held her captive for so long. But even while they struggle to keep their bond hidden from the living world, a frightening spirit named Eli is doing everything in his power to destroy their newfound happiness and drag Amelia back into the ghost world . . . forever.

Reading level: Young Adult
Paperback: 200 pages
Publisher: Smart Pop (June 7, 2011)
ISBN-10: 1935618555
ISBN-13: 978-1935618553

Nyx in the House of Night: Mythology, Folklore and Religion in the PC and Kristin Cast Vampyre Series
by P.C. Cast, Karen Mahoney, Amy H. Sturgis

With more than 10 million copies sold internationally, and 7 million copies in print in North America alone, P.C. and Kristin Cast's House of Night series, featuring fledgling teenage vampyre Zoey Redbird and her friends at the Oklahoma House of Night vampyre boarding school, is more than just another vampire series.

A big part of the reason is its strong mythological underpinnings. From Nyx, the goddess worshipped by the series vampyres, to the Cherokee legend that drives the plot, the House of Night series is infused with elements from multiple mythos and religious traditions to create a new, modern mythology all its own.

Edited by P.C. Cast, Nyx in the House of Night—a 2-color illustrated guide to the House of Night series—brings these rich mythological influences to life, providing the real-world stories …more

Reading level: Young Adult
Hardcover: 272 pages
Publisher: Hyperion Book CH (June 7, 2011)
ISBN-10: 1423134672
ISBN-13: 978-1423134671

Queen of the Dead (The Ghost and the Goth, #2)
by Stacey Kade

After being sent back from the light, Alona Dare – former homecoming queen, current Queen of the Dead – finds herself doing something she never expected: working. Instead of spending days perfecting her tan by the pool (her typical summer routine when she was, you know, alive), Alona must now cater to the needs of other lost spirits. By her side for all of this – ugh – "helping of others" is Will Killian: social outcast, seer of the dead, and someone Alona cares about more than she'd like.

Before Alona can make a final ruling on Will's "friend" or "more" status, though, she discovers trouble at home. Her mom is tossing out Alona's most valuable possessions, and her dad is expecting a new daughter with his wicked wife. Is it possible her family is already moving on? Hello! She's only been dead for two months! Thankfully, Alona knows just the guy who can put a stop to this mess.

Unfortunately for Alona, Will has other stuff on his mind,  …more

Reading level: Young Adult
Paperback: 352 pages
Publisher: Speak (June 9, 2011)
ISBN-10: 0142412597
ISBN-13: 978-0142412596

My life seriously couldn't get any worse.

First, my rightful designation of dragon slayer is STOLEN right out from under me by Curtis Green. Sure, he's really cute, but that doesn't give him an excuse.

On top of that, I am assigned to slay fairies. I know what you're thinking—how hard could it be, right? Wrong! These menacing beasts with their tiny hipster clothes and mocking sarcasm love taunting me. And they won't STOP!

But the thing that tops my list of stuff to ruin my day? That would be the GIANT KILLER FAIRY that I have to hunt down and slay because I am the only one who can see it. There is someone who can help me.

Unfortunately…it's Curtis.

It's going to be a fairy bad day

Reading level: Young Adult
Hardcover: 400 pages
Publisher: Margaret K. McElderry (June 14, 2011)
ISBN-10: 1416963839
ISBN-13: 978-1416963837

The Demon's Surrender (The Demon's Lexicon Trilogy, #3)
by Sarah Rees Brennan

The Goblin Market has always been the center of Sin's world. But now the Market is at war with the magicians, and Sin's place is in danger. Thrown out of the Market she loves, Sin is thrown together with brothers Nick and Alan—whom she's always despised.

Alan has been marked by a magician and is being tortured so that the magicians can get to Nick. As Sin watches Alan struggle to protect the demon brother he loves, she begins to see him in a new light—but she and Mae are locked in a fierce rivalry over who will inherit the leadership of the Goblin Market, and a decisive battle with the Aventurine Circle is looming. Mae's brother, Jamie, is holed up with the magicians, his loyalties in question. And Nick—well, who knows what a demon might do to save his brother? How far will Nick go to save Alan—and what will it cost them all? Find out in this gripping conclusion to the trilogy Scott Westerfeld says is "full of shimmery marvels and bountiful thunder."

Reading level: Young Adult
Hardcover: 400 pages
Publisher: EgmontUSA (June 14, 2011)
ISBN-10: 1606841440
ISBN-13: 978-1606841440

One hour to rewrite the past . . .

For seventeen-year-old Emerson Cole, life is about seeing what isn't there: swooning Southern Belles; soldiers long forgotten; a haunting jazz trio that vanishes in an instant. Plagued by phantoms since her parents' death, she just wants the apparitions to stop so she can be normal. She's tried everything, but the visions keep coming back.

So when her well-meaning brother brings in a consultant from a secretive organization called the Hourglass, Emerson's willing to try one last cure. But meeting Michael Weaver may not only change her future, it may change her past.

Who is this dark, mysterious, sympathetic guy, barely older than Emerson herself, who seems to believe every crazy word she says? Why does an electric charge seem to run through the room whenever he's around? And why is he so insistent that he needs her help to prevent a death that never should have happened?


Reading level: Young Adult
Hardcover: 432 pages
Publisher: Delacorte Books for Young Readers (June 14, 2011)
ISBN-10: 0385739168
ISBN-13: 978-0385739160

Passion (Fallen, #3)
by Lauren Kate

"Every single lifetime, I'll choose you. Just as you have chosen me. Forever."

Luce would die for Daniel. And she has. Over and over again. Throughout time, Luce and Daniel have found each other, only to be painfully torn apart: Luce dead, Daniel left broken and alone. But perhaps it doesn't need to be that way. . . .

Luce is certain that something—or someone—in a past life can help her in her present one. So she begins the most important journey of this lifetime . . . going back eternities to witness firsthand her romances with Daniel . . . and finally unlock the key to making their love last.

Cam and the legions of angels and Outcasts are desperate to catch Luce, but none are as frantic as Daniel. He chases Luce through their shared pasts, terrified of what might happen if she rewrites history.
Because their romance for the ages could go up in flames . . . forever.…more

Reading level: Young Adult
Hardcover: 368 pages
Publisher: EgmontUSA (June 14, 2011)
ISBN-10: 1606841688
ISBN-13: 978-1606841686

Trial by Fire (Raised by Wolves, #2)
by Jennifer Lynn Barnes

Bryn is now leader of the Cedar Ridge pack of werewolves and she's convinced that her pack is different – it's democratic and fair. Then Bryn finds a battered teenage Were, Connor, bleeding on her front porch. He begs Bryn to protect him from an abusive leader; Bryn takes him into her pack.

But Bryn's Were partner Chase doesn't trust the new boy, and the more time she spends helping Connor, the more aggressive Chase becomes. Bryn is not sure if it's jealousy, or Were possessiveness but for the first time she starts to feel suffocated by the bond she and Chase share.

Filled with action, unlikely allies, and deadly conspiracies, Trial by Fire will change Bryn forever. She is soon to realize that to lead a pack of werewolves, she must give in to her animal instincts and become a little less human. And as hard as it's going to be, Bryn is going to have to do it alone.
There can only be one alpha.

Reading level: Young Adult
Hardcover: 336 pages
Publisher: Knopf Books for Young Readers (June 14, 2011)
ISBN-10: 0375867015
ISBN-13: 978-0375867019

When Willie arrives in Indian Territory, she knows only one thing: no one can find out who she really is. To escape a home she doesn't belong in anymore, she assumes the name of a former classmate and accepts a teaching job at the Cherokee Female Seminary.

Nothing prepares her for what she finds there. Her pupils are the daughters of the Cherokee elite—educated and more wealthy than she, and the school is cloaked in mystery. A student drowned in the river last year, and the girls whisper that she was killed by a jealous lover. Willie's room is the very room the dead girl slept in. The students say her spirit haunts it.

Willie doesn't believe in ghosts, but when strange things start happening at the school, she isn't sure anymore. She's also not sure what to make of a boy from the nearby boys' school who has taken an interest in her—his past is cloaked in secrets. Soon, even she has to admit that the revenant may be trying to tell her something. . . .

Reading level: Young Adult
Hardcover: 272 pages
Publisher: Balzer + Bray (June 21, 2011)
ISBN-10: 0062008242
ISBN-13: 978-0062008244

A Need So Beautiful
by Suzanne Young

We all want to be remembered. Charlotte's destiny is to be Forgotten…

Charlotte's best friend thinks Charlotte might be psychic. Her boyfriend thinks she's cheating on him. But Charlotte knows what's really wrong: She is one of the Forgotten, a kind of angel on earth, who feels the Need—a powerful, uncontrollable draw to help someone, usually a stranger.

But Charlotte never wanted this responsibility. What she wants is to help her best friend, whose life is spiraling out of control. She wants to lie in her boyfriend's arms forever. But as the Need grows stronger, it begins to take a dangerous toll on Charlotte. And who she was, is, and will become–her mark on this earth, her very existence–is in jeopardy of disappearing completely.

Charlotte will be forced to choose: Should she embrace her …more

Reading level: Young Adult
Hardcover: 384 pages
Publisher: HarperTeen (June 21, 2011)
ISBN-10: 0061986704
ISBN-13: 978-0061986703

Till death

Jana Webster and Michael Haynes were in love. They were destined to be together forever.

Do

But Jana's destiny was fatally flawed. And now she's in Dead School, where Mars Dreamcote lurks in the back of the classroom, with his beguiling blue eyes, mysterious smile, and irresistibly warm touch.

Us

Michael and Jana were incomplete without each other. There was no room for Mars in Jana's life—or death—story. Jana was sure Michael would rush to her side soon.

Part

But things aren't going according to Jana's plan. So Jana decides to do whatever it takes to make her dreams come true—no matter what rules she has to break.

Reading level: Young Adult
Hardcover: 352 pages
Publisher: Walker Childrens; First Edition edition (June 21, 2011)
ISBN-10: 080279839X
ISBN-13: 978-0802798398

Haunting Violet
by Alyxandra Harvey

Violet Willoughby doesn't believe in ghosts. But they believe in her. After spending years participating in her mother's elaborate ruse as a fraudulent medium, Violet is about as skeptical as they come in all matters supernatural. Now that she is being visited by a very persistent ghost, one who suffered a violent death, Violet can no longer ignore her unique ability. She must figure out what this ghost is trying to communicate, and quickly because the killer is still on the loose.

Afraid of ruining her chance to escape her mother's scheming through an advantageous marriage, Violet must keep her ability secret. The only person who can help her is Colin, a friend she's known since childhood, and whom she has grown to love. He understands the true Violet, but helping her on this path means they might never be together. Can Violet find a way to help this ghost without ruining her own chance at a future free of lies?

Reading level: Young Adult
Paperback: 304 pages
Publisher: HarperTeen (June 28, 2011)
ISBN-10: 0061965715
ISBN-13: 978-0061965715

Eternity (Fallen Angel, #2)
by Heather Terrell

The end . . or a new beginning?

As Ellie comes to grips with her destiny as the Elect One, her relationship with Michael grows tense. When she meets a mysterious boy names Rafe, things get even more complicated.

Yet the time has come for the Elect One to stand against the group of fallen angels who are bent on destroying the world. In order to face the immeasurable malevolence heading her way, Ellie tries to put her personal life aside. But she soon learns that whoever holds her heart also holds the key to mankind's salvation — or destruction. As the end days approach, Ellie is faced with an epic decision. Who does her heart really belong to? And is her love strong enough to save the world?

Reading level: Young Adult
Paperback: 256 pages
Publisher: Simon Pulse; Mti edition (June 28, 2011)
ISBN-10: 1442441348
ISBN-13: 978-1442441347

Fallen (The Nine Lives of Chloe King, #1)
by Liz Braswell

Chloe King is a normal girl. She goes to class (most of the time), fights with her mom, and crushes on a boy…or two. But around her sixteenth birthday, Chloe finds that perhaps she isn't so normal after all. There's the heightened night vision, the super fast reflexes – oh, and the claws.

As she discovers who she is – and where she comes from – it is clear she is not alone. And someone is trying to get her.

Chloe has nine lives. But will nine be enough?

Reading level: Young Adult
Hardcover: 272 pages
Publisher: Katherine Tegen Books (June 28, 2011)
ISBN-10: 0061914681
ISBN-13: 978-0061914683

Fins Are Forever (Fins, #2)
by Tera Lynn Childs

On Lily Sanderson's eighteenth birthday she'll become just a girl—still a mergirl, true, but signing the renunciation will ink Princess Waterlily of Thalassinia out of existence. That leaves plain old Lily living on land, dating the boy she loves, and trying to master this being-human thing once and for all.

Now that Lily and Quince are together, mer bond or not, she's almost content to give up her place in the royal succession of Thalassinia. But just when she thinks she has everything figured out, the waves start to get rough. Lily's father sends a certain whirlpool-stirring cousin to stay with her on land. What did Doe do to get herself exiled from Thalassinia and stuck in terraped form when everyone knows how much she hates humans? And why why why is she batting her eyelashes at Lily's former crush, Brody?

The seafoam on the raging surf comes when a merboy from Lily's past shows up—Tellin asks Lily for something that clouds her view of the horizon. There's a future with Quince on land, her loyalty to the kingdom in the sea, and Lily tossing on the waves in …more

Reading level: Young Adult
Hardcover: 384 pages
Publisher: HarperTeen (June 28, 2011)
ISBN-10: 006199443X
ISBN-13: 978-0061994432

The Siren's Cry (The Otherworldlies #2)
by Jennifer Anne Kogler

Fern is not like other girls. She's extremely sensitive to sunlight, has strange and vivid visions, and has the ability to teleport—anywhere, anytime. Fern is an Otherworldly, a special kind of vampire that has assimilated to the human world. What's more, Fern has just discovered that she's one of the Unusual Eleven, a special group of Otherworldlies prophesied to change the fate of Otherworldlies and humans alike. On a school trip to Washington, DC, her most vivid vision yet reveals another Unusual in danger, and Fern realizes what's at stake: The Unusuals are being hunted, and it's up to her to save them.

Reading level: Young Adult
Hardcover: 304 pages
Publisher: Dutton Juvenile (June 30, 2011)
ISBN-10: 0525422471
ISBN-13: 978-0525422471

As reality slips and time stands still, Consuela finds herself thrust into the world of the Flow. Removed from all she loves into this shifting world overlapping our own, Consuela quickly discovers she has the power to step out of her earthly skin and cloak herself in new ones-skins made from the world around her, crafted from water, fire, air. She is joined by other teens with extraordinary abilities, bound together to safeguard a world they can affect, but where they no longer belong.

When murder threatens to undo the Flow, the Watcher charges Consuela and elusive, attractive V to stop the killer. But the psychopath who threatens her new world may also hold the only key to Consuela's way home.
---
Authors/Publishers: have a book coming out soon?
Contact us to schedule a visit/review/giveaway
Please leave a comment if we missed a title and we will update this post.