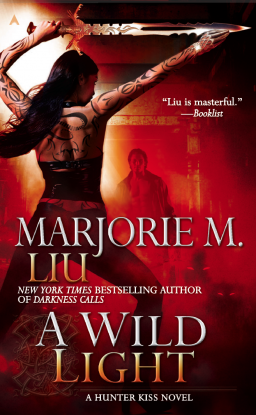 Book Description
For too long Maxine Kiss has felt an inexplicable darkness inside her-a force she channels into hunting the demons bent on destroying the human race. But when she finds herself covered in blood and crouched beside her grandfather's dead body with no memory of what happened, Maxine begins to fear that the darkness has finally consumed her.
 Reviewed
Book 3 in The Hunter Kiss Series
~Reviewed by Julia~
A WILD LIGHT opens with Maxine standing over the corpse of her grandfather with no recollection of what took place and no memories of Grant, the love of her life. While amnesia gambits are among my least favorite literary devices (Why not just tell the reader you want a "do over" on your back-story? ), in Liu's hands this opening unfolds to become an integral part of the long overdue courtship between Maxine and Grant.
Maxine's relationship with Grant Cooperon takes place largely "off camera." I saw their beginnings in the short story Hunter Kiss, but their attraction up until this point in the series has a largely "trust me, we're made for each other" flavor. In Liu's hands amnesia is not just a device that retreads old ground and brings Maxine and Grant back to where they started, she gives them a true clean slate. First impressions, a first kiss, and all the uncertainty, poignancy and zest of falling in love.
My experience to date with the Hunter Kiss series overall has been hit or miss. While I greatly enjoyed Hunter Kiss and The Iron Hunt, I fought to finish Darkness Comes over a period of several weeks. Maxine herself is being thrust into a confusing swirl of multi-dimensional events and time periods, and Marjorie Liu manages to convey those emotions without losing the reader entirely. I did revisited Darkness Comes for this review and I'm glad I did, if only because it further heightened my enjoyment of the book that followed. While this most recent Hunter Kiss novel does shed some light on the nuts and bolts of the forces in Maxine's life, it more powerfully illuminates a realistic world with no one right answer. A WILD LIGHT is one of my favorite books this year, and the entire Hunter Kiss series has been bumped up to my top ten list. I can't wait to read the next book in the series
Sexual Content: An explicit sex scene.
My Rating (out of 5):
Excellent – Loved it! Buy it now & pre-order the sequel.
Click HERE to read an excerpt of A WILD LIGHT
Product Details
Publisher: Ace Books
Published: 27 July 2010
Format: Paperback 320 pages
Categories: Fantasy
ISBN 13: 9780441019014 ISBN 10: 0441019013
Cover Art: N/A 
*Disclosure: We received this book courtesy of Wunderkind PR
---
Disagree with this review?  Contact me with your review for this or any other book reviewed on ATUF and I might use it for 2nd Opinion Review.
About the author