I'm thrilled today to welcome Jennifer Estep, author of the new Elemental Assassin series to All Things Urban Fantasy. I've had Jennifer's first book in that series, Spider's Bite, under my Can't Wait For sidebar taunting me with its unavailability (it releases on January 26th), and as I told Jennifer, this interview only made the wait worse.  Get ready to suffer along with me in the hurts-so-good sense, because this book sounds awesome!  And Jennifer is giving away a copy of Spider's Bite at the end of this interview.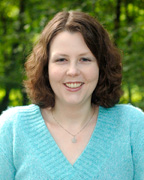 Jennifer Estep writes the Elemental Assassin urban fantasy series. Jennifer is also the author of the Bigtime paranormal romance series for Berkley. By day, Jennifer is an award-winning features page designer for a daily newspaper with a wide range of media and journalism experience. She's also a certifiable fangirl and an authority on fantasy literature and culture. Jennifer is a member of Romance Writers of America, Science Fiction and Fantasy Writers of America, and other writing groups. Jennifer's books have been featured in Cosmopolitan, Entertainment Weekly, Southern Living, and a variety of other publications.
---
Spider's Bite (Elemental Assassin, Book 1) releases January 26, 2010
Book Description: "My name is Gin, and I kill people." My name is Gin Blanco. They call me the Spider — the most feared assassin in the South (and a part-time cook at the Pork Pit BBQ joint.) As a Stone elemental, I can hear the whispers of the gravel beneath my feet and feel the vibrations of the soaring mountains above me, though I don't use my powers on the job unless I absolutely have to. Call it professional pride.
After a ruthless Air elemental double-crossed me and killed my handler, I'm out for revenge. And I'll exterminate anyone who gets in my way. I may look hot in a miniskirt, but I'm still one of the bad guys. Which is why I'm in trouble when irresistibly rugged Detective Donovan Caine agrees to help. The last thing a coldhearted killer needs when she's battling a magic more powerful than her own is a sexy distraction … especially when he wants her dead just as much as the enemy.
---
Interview
ATUF: For readers new to your books, specifically your new urban fantasy debut Spider's Bite, what can we expect from this series?
JE: Spider's Bite is the first book in my new Elemental Assassin series. The book focuses on Gin Blanco, an assassin codenamed the Spider. When she's not busy killing people and righting wrongs, Gin runs a barbecue restaurant called the Pork Pit in the fictional southern metropolis of Ashland. The city is also home to giants, dwarves, vampires, and elementals – Air, Fire, Ice, and Stone. Gin is an elemental herself with the rare ability to control two elements – Ice and Stone in her case.
In Spider's Bite, Gin gets double-crossed on her latest hit, and her mentor/handler ends up being murdered. So Gin sets out to avenge his death and find out who set her up and why. Along the way, she teams up with Donovan Caine, a sexy detective. Donovan hates Gin for killing his partner but finds himself drawn to her despite his best intentions. There's lots of action, lots of magic, and more than a little romance.
ATUF: Can you explain the elemental magic system you created in the Elemental Assassin series?
JE: Basically, in the Elemental Assassin series, elementals are people who can create, control, and manipulate one of the four elements – Air, Fire, Ice, and Stone. Some folks can also use offshoots of these four areas. For example, water would be an offshoot of Ice, while metal would be one of Stone. Elementals can do a variety of things with their magic, everything from creating Ice sculptures to using oxygen and other Air molecules to heal wounds. Another example would be Gin's Stone magic, which lets her make her own skin as hard as marble, among other things.
There's a lot of duality in my magic system, since two of the elements compliment each other (like Air and Fire or Ice and Stone) and two elements oppose each other (like Ice vs. Fire or Air vs. Stone).
ATUF: There is also a rune system employed.  Can you tell us a little about that?
JE: In Spider's Bite, many of the characters use runes as a way to identify their powers, their family connections, and even their businesses to others. A few folks imbue their runes with magic to do certain things (like to serve as warnings/alarms), but really, they are just cool symbols more than anything else.
For example, Gin had a rune when she was a little girl – a spider rune that she wore like a medallion on a chain around her neck. The rune is shaped like a circle surrounded by eight thin rays and is the symbol for patience – something that an assassin like Gin needs a lot of. Other runes in the book include a cloud (used by an Air elemental healer) and a heart with an arrow through it (which is a symbol for a local nightclub where anything goes).
ATUF: Ashland is the fiction setting you created for the EA series.  How did you conceive this alternate world and what is unique about it?
JE: I'm a Southern girl, and I thought it would be really cool to create this dark, gritty, urban fantasy world that also had a heavy Southern flavor to it. There's something really dark and gothic about the South anyway, especially if you've ever been to any of the older towns like Savannah, Ga., or Charleston, S.C. There's a lot of history, a lot of tragedy, and a lot of ghosts in the South.
Once I decided to make Ashland a Southern metropolis, I started thinking about some of the places that I could have Gin hang out – and a barbecue restaurant came to mind. I don't think there's anything more Southern than great barbecue, and I eventually created Gin's restaurant, the Pork Pit, with that idea in mind.
In many ways, Ashland is just like any other Southern city – only much, much darker and more violent. It's just a place where anything can happen, which often leads to a world of trouble for Gin.
ATUF: You wrote three books in Bigtime series about "sexy superheroes, evil ubervillains, and smart, sassy gals looking for love." Are there any elements (no pun intended) from that series that you're bringing over to the Elemental Assassin series?
JE: Well, the Elemental Assassin series is much, much darker than my Bigtime books, and there are no superheroes or spandex. But I think both of my series have a lot of the same elements in common – a strong, kick-butt heroine, a cool fantasy world, lots of action scenes, and some sizzling romance. And Gin is definitely the sassiest heroine that I've written so far!
Everything is just darker and grittier in the Elemental Assassin series, including the humor. But I hope folks who enjoyed my Bigtime series will give Spider's Bite and the rest of the Elemental Assassin books a chance.
ATUF: I love the titles for the first three Elemental Assassin books:  Spider's Bite (Jan. 26, 2010), Web of Lies (June 2010), Venom (October 2010). Do you have any rejected arachnid themed titles you could share with us?
JE: Spider's Bite was actually titled "Gin on the Rocks" when I submitted it. I envisioned all the books having the word "Gin" in the title – "Bitter Gin," "Gin with a Twist," etc. But we decided to go in a different direction, so I brainstormed some spider-related titles with folks in my writers' group, my editor, and my agent, among others.
We threw around a lot of different titles – "Death Weaver," "The Deadly Web She Weaves," etc. We also came up with some real groaners, but I think the worst one of those was "Eight Legs of Justice." That's the one I remember!
ATUF: On your website you mention that you "wanted to write a different kind of book with the Elemental Assassin series – a dark, gritty urban fantasy full of magic, power, and danger." What prompted that desire?
JE: I've always been fascinated by assassin characters, especially those in fantasy books. Assassins can be everything from fun to sexy to dangerous to just downright creepy. I had been trying to write an epic fantasy assassin book for a couple of years, but it just wasn't working the way that I wanted it too.
My Bigtime books are light, fun, zany, comic book spoofs, but dark urban fantasy and paranormal romance has really taken off in popularity in recent years. So I decided to try writing a much darker book – an urban fantasy with my long-percolating assassin character/world. And it finally started clicking for me.
So part of it was looking at the marketplace and seeing what was on the shelves, and part of it was me finally finding the right way to tackle this story that I had been wanting to tell for so long.
Plus, writing a darker book really let me stretch myself as a writer. I think that people who write the exact same kind of books over and over again can become bored or just stagnate and not keep growing as a writer. Besides, I have too many different story ideas in my head to just write one type of book for the rest of my career. I think that I've done some of my best work to date in the Elemental Assassin series. I hope readers will agree!
ATUF: Spider Bite's main character, Gin is a part-time cook, who moonlights as an assassin, and there are recipes mentioned in the book (which we can find on your website – the Chocolate Chip Pound Cake sounds yummy).  Is this an example of art imitating life with your own culinary skills?
JE: I do enjoy cooking, and I love watching the Food Network, but I'm no skilled, gourmet chef by any stretch of the imagination! When I cook, I like to keep things quick, easy, and simple – mix-and-stir recipes, I jokingly call them. Mix some stuff together, put it in a baking dish, and throw it in the oven. Those are my kind of recipes.
And the Chocolate Chip Pound Cake recipe is yummy – it's so simple to make and so chocolatey. The cake turns out perfect every single time!
ATUF: What are some of your favorite urban fantasy books past, present, or future?
JE: Hmm, this is a toughie just because there are so many great books out there, and I can't mention them all! I like the Dresden Files by Jim Butcher and the Hollows/Rachel Morgan series by Kim Harrison. Those are some of the first urban fantasy books that I read.
I also read a lot of epic and young adult fantasy and paranormal romance. I've recently enjoyed reading "The Lies of Locke Lamora" by Scott Lynch; "The Sword-Edged Blonde" by Alex Bledsoe; "Graceling" by Kristin Cashore; and "The Hunger Games" by Suzanne Collins. For paranormal romance, I enjoy reading folks like Kresley Cole, Jeaniene Frost, Sherrilyn Kenyon. I could go on and on … Too many great books, too little time!
ATUF: Do you have a dream cast in mind if Spider's Bite were to be made into a movie?
JE : I think Jennifer Garner would be great as my main character/assassin Gin Blanco. I really loved Garner on the TV show Alias, and she can be tough and vulnerable at the same time, just like Gin is. I also think that Hugh Jackman would be great as Finnegan Lane, Gin's foster brother/partner in crime. Jackman is sexy and mischievous at the same time, just like Finn is.
Thank you so much for stopping by Jennifer!
www.jenniferestep.com
---
Excerpt from chapter one of Spider's Bite:
In order to kill people, you have to get close to them. Put yourself in their world. Make their likes your likes. Their habits your habits. Their thoughts your thoughts.
For this job, putting myself in Evelyn Edwards's world had meant getting tossed into Ashland Asylum. To Evelyn and her orderly underlings, I was just another schizo dragged off the streets, driven crazy by elemental magic, drugs, or a combination of the two. Another poor, lost ward of the state who wasn't worth their time, attention, consideration, or sympathy.
I'd spent the last few days locked up in the asylum convincing Evelyn and the others I was just as June-bug crazy as the rest of the babbling psychos. Spouting nonsense about being an assassin. Drooling. Finger-painting with the moldy peas they served for lunch. I'd even hacked off gobs of my long, bleached blond hair during craft time to keep up the pretense. The orderlies on call had taken the scissors away from me, but not before I'd used them to pry a screw loose from the rec room table.
The same screw I'd sharpened to a two-inch-long, dartlike point. The same screw I had palmed in my hand. The same screw I was going to shove into Evelyn's throat. The weapon rested on my palm, and the steel felt rough against my scarred skin. Hard. Substantial. Cold. Comforting.
Of course, I didn't really need a weapon to kill the shrink. I could have offed Evelyn with my Stone magic. Could have reached for the elemental power flowing through my veins. Could have tapped into the acres of granite the asylum was constructed out of and made the whole building come crashing down on her head. Using my Stone magic was easier than breathing.
Call it professional pride, but I didn't use my elemental power to kill unless I absolutely had to, unless there was no other way to get the job done. Just too easy otherwise. But even more important, magic got you noticed in these parts. Especially elemental magic. If I started collapsing buildings on people or braining them with bricks, the police and other, more unsavory characters would be sure to take note—and an unhealthy interest in me. I'd made more than my share of enemies over the years, and the only reason I'd stayed alive this long was by keeping to the shadows. By creeping in and out of places completely unnoticed, just the way my namesake did.
Besides, there were plenty of ways to make someone quit breathing. I didn't need my magic to help me with that…
Read the first chapter of Spider's Bite in its entirety by clicking here.
---
Want to read more from the Elemental Assassin series?
Spider's Bargain: This is a short story that takes place before the events of Spider's Bite, the first book in the Elemental Assassin series. In Spider's Bargain, Gin Blanco takes on a corrupt cop, but only one of them will be left standing in the end. Click here to read it.
Giveaway
A copy of Spider's Bite (Elemental Assassin, book 1) by Jennifer Estep
GIVEAWAY GUIDELINES
Open US residents only
Must be a follower or subscribe via email (right sidebar)
You must include your email – [at] is fine
Leave a comment about this interview OR answer the question: What kind of elemental would you like to be?
Entries must be received by Midnight MST on January 30th